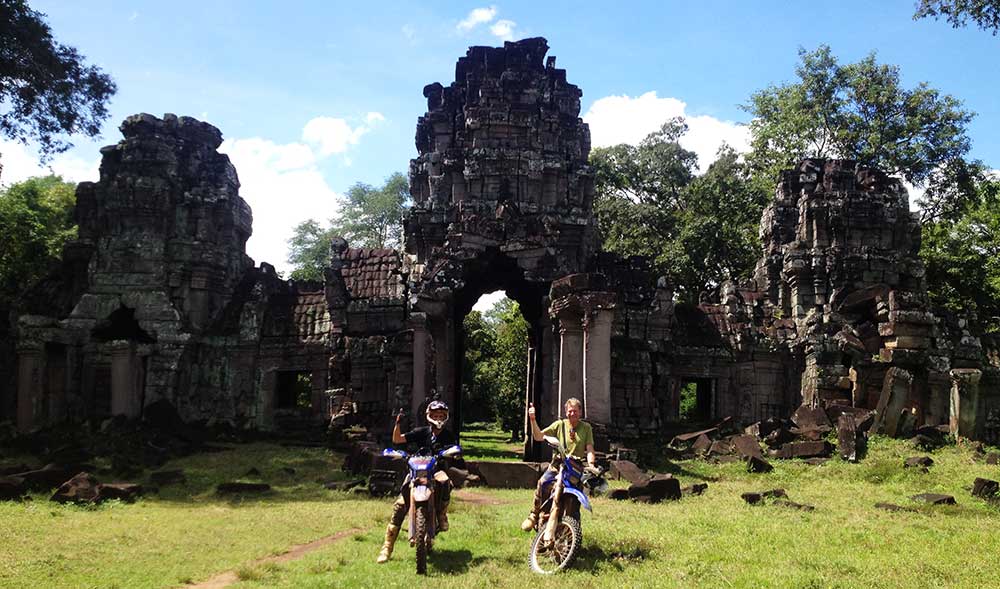 Having just finished a nine day tour I rushed back up to Siem Reap to meet with Kurt from the USA, who had signed up for our Tomb Raider tour; Six days of jungle tracks, dirt roads and remote temples.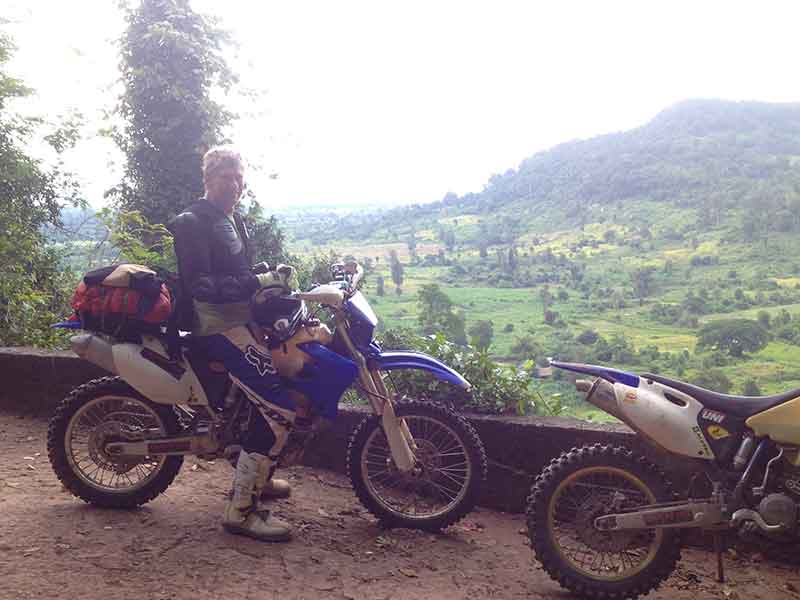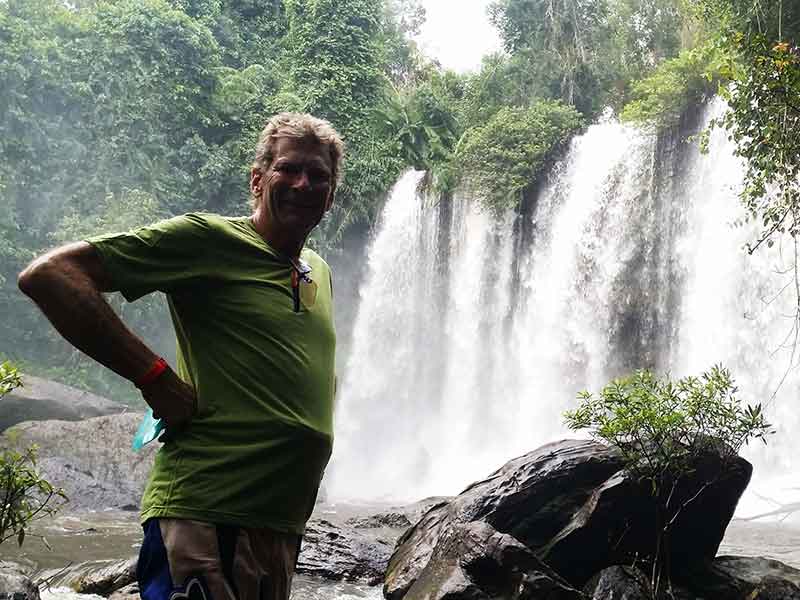 We started off the tour with a night on Kulen Mountain, the ancient pre-Angkor capital. We drove through picturesque villages and some nice section s of single track as we made our way through the forest to the base of the mountain. Kurt was up for trying the local culinary delights, so we stopped for a drink and some honeycomb bee larvae and stuffed frog. Tasty! We started the climb up the mountain, which was pretty easy going as the road up there is in good condition. After stopping for lunch Kurt checked out the waterfall, while I fixed another puncture…number 5 in 48 hours! We were going to see the Stone Elephant, but as it was getting late we opted for the main trail to our homestay for the night in Anlong Thom village. We traversed our way through puddles and rutted trails arriving just before sunset. After a shower, we feasted on the spread they always provide for us there. Nice one Mr. Pich!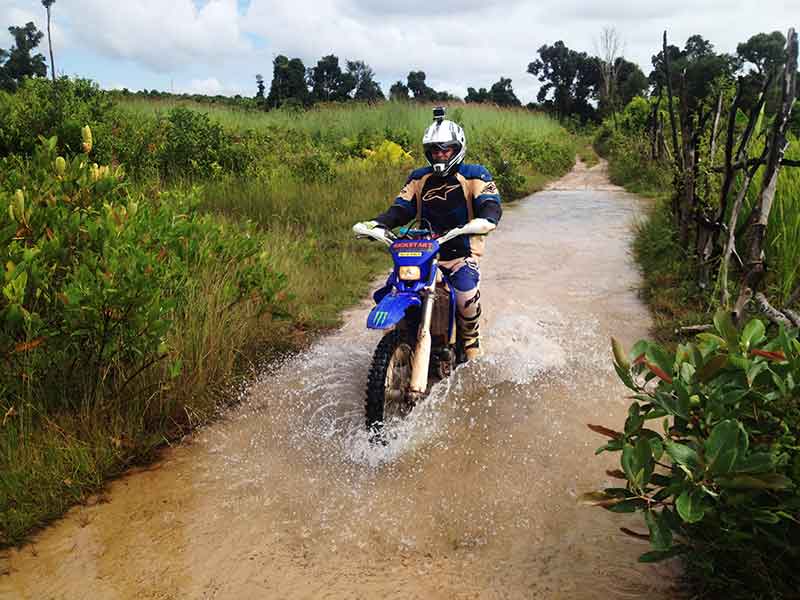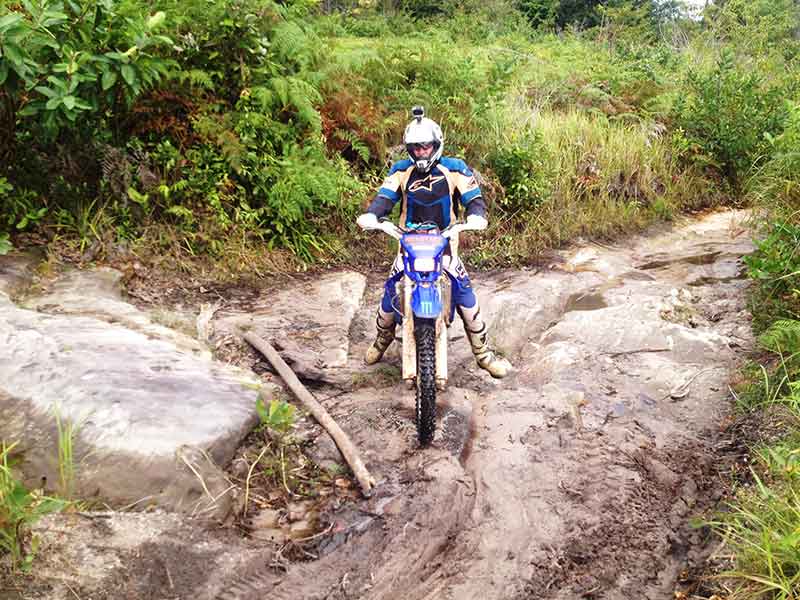 Next day Kurt wasn't feeling so good and after several trips to the toilet we jumped on the bikes, but poor Kurt was on & off the bikes for most of the morning. We think it was the coffee! We took the back trails up the mountain, which was fairly gnarly in places due to the rain and run off from the mountain. For someone who was not feeling 100% Kurt did really well, as we battled through sandy ruts, waterlogged sections and rocky climbs. Then as we wove through through the cashew nut tree plantations and forced our way through the tall elephant grass we finally made it to the stone elephant after a rest at one of the many temples scattered on the mountain. The sight that beheld us as we walked down the small trail was definitely worth it; Just a little glimpse into an ancient past. [See previous blog on the history of Phnom Kulen]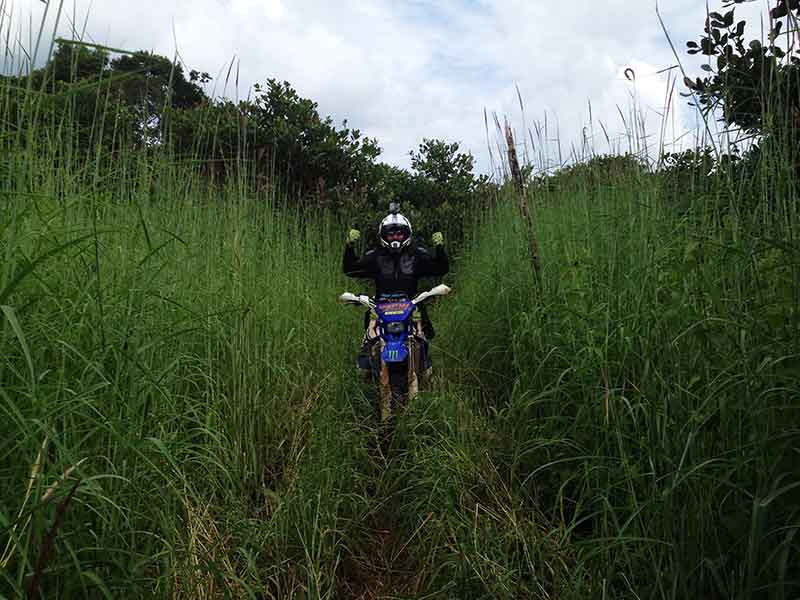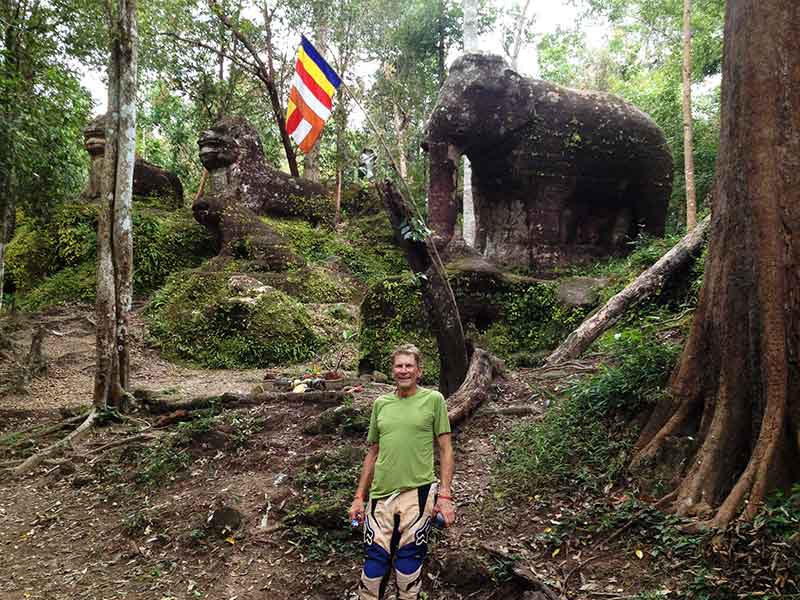 By this time Kurt was feeling better, and we made better progress as we wound our way down the mountain. We cut through the nearby hills to Srey Noy where we stopped for a late lunch. As it took most of the morning to get down the mountain, and I was still worried about Kurt's condition, we jumped on the highway to Anlong Veng. Food and several green tea frappes later Kurt was a new man! We decided to hit the hay early.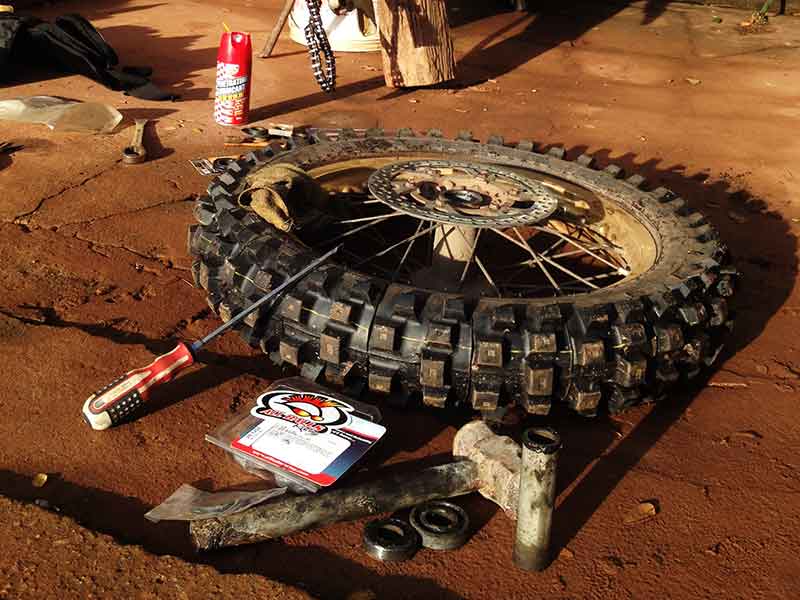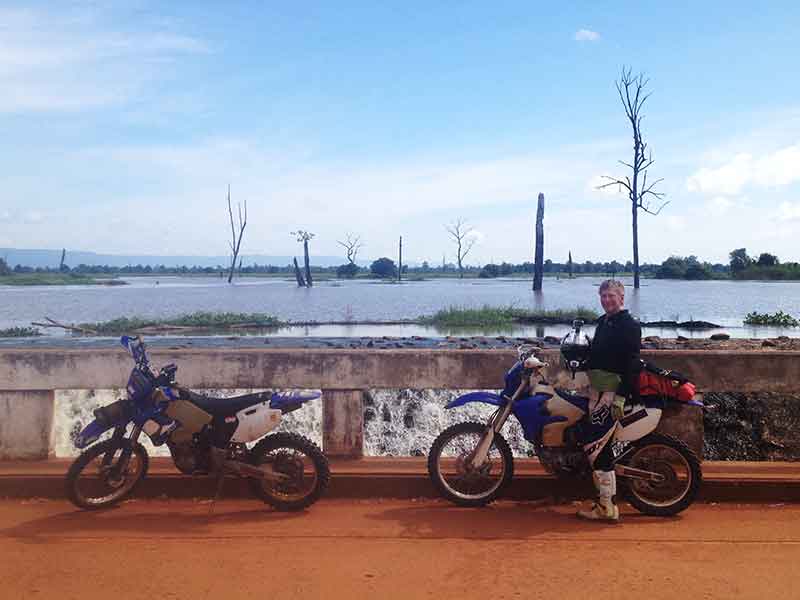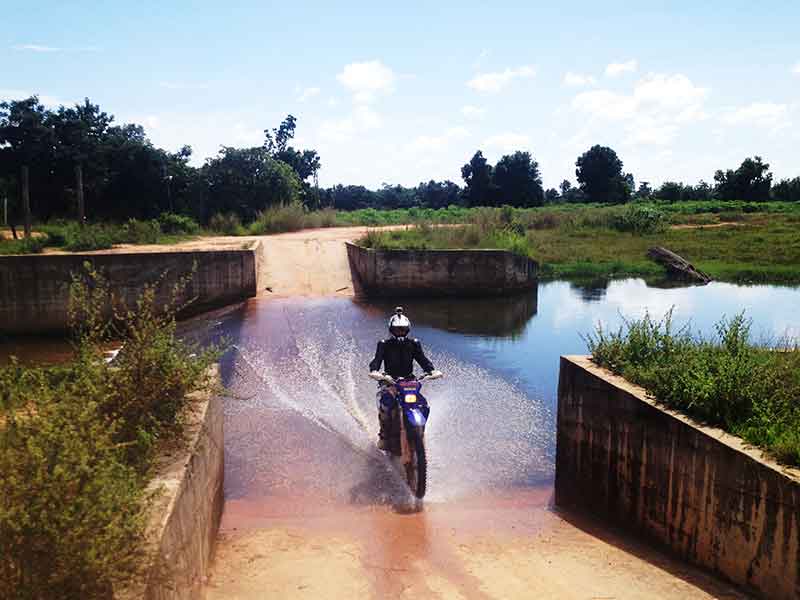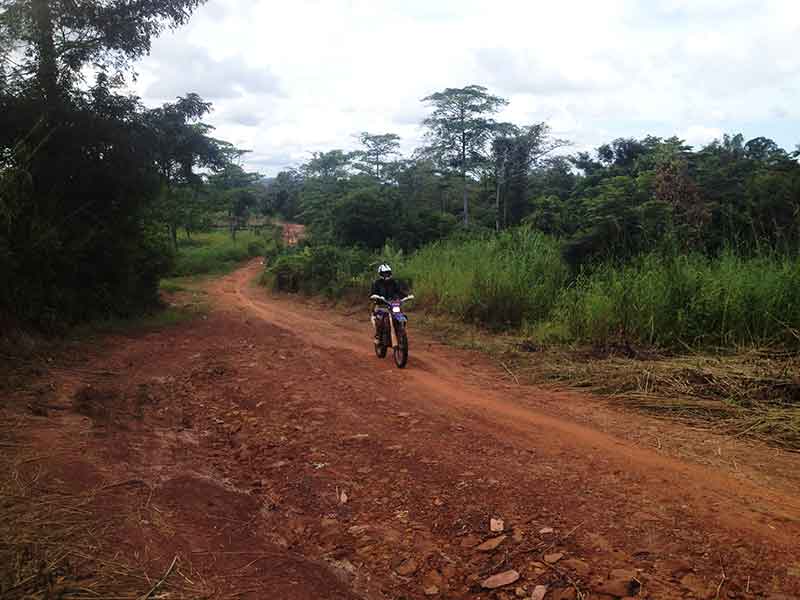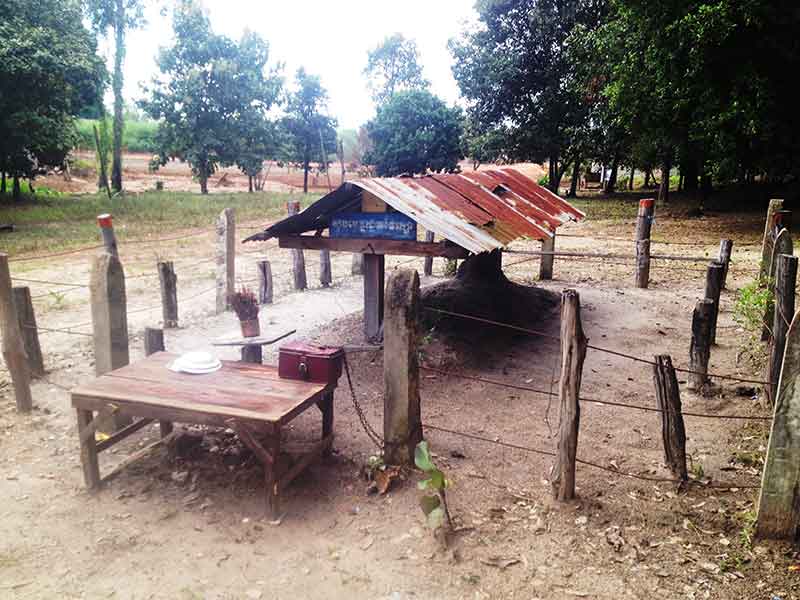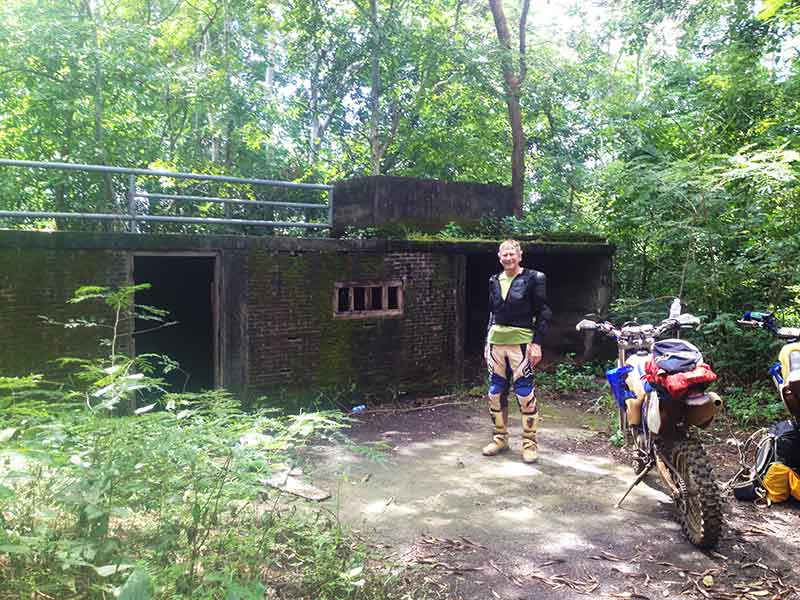 I got up early the next day to check the bikes over. I had noticed that my rear bearing was on its last legs while we were on Kulen and had asked La to send a set up with the taxi the next day. They had arrived before we did the night before. One of the many advantages of doing tours in Cambodia, it's very easy to get emergency items sent anywhere in the country. Cambodia is a country of contradictions with some things being very flexible, while getting basic everyday tasks done can be nigh on impossible sometimes. Bikes prepped, we had a quick brekkie and then I showed Kurt the Khmer Rouge historical sites around the town. Then we headed up the mountain for a fun bit of riding on the trails to Pol Pot's house and grave.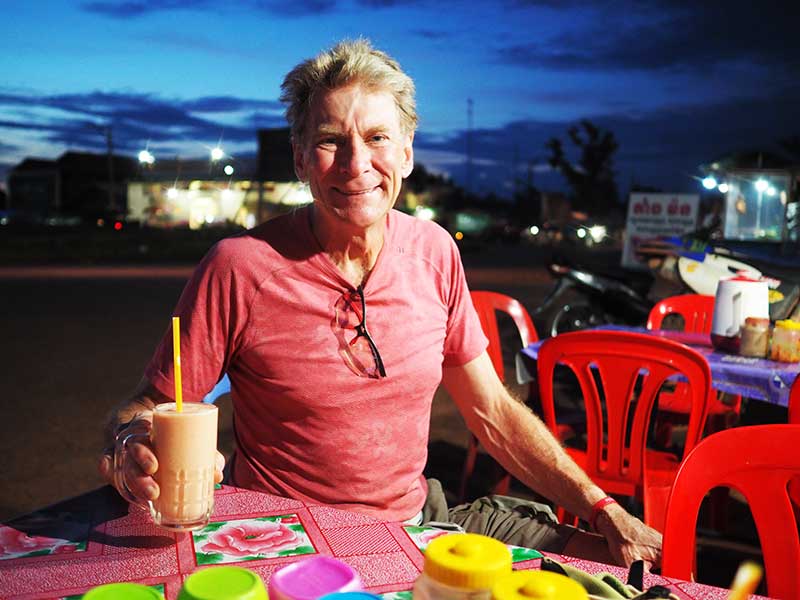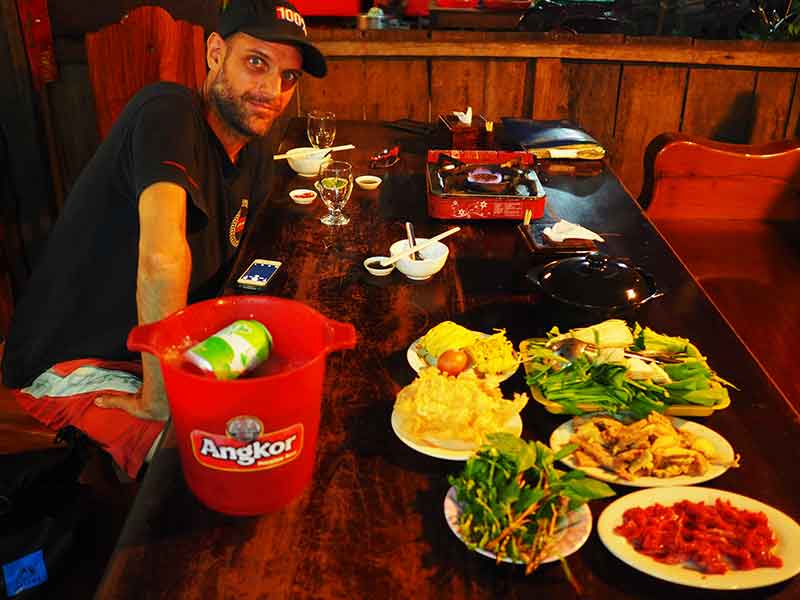 In the afternoon we headed to Preah Vihear on red dirt roads, taking our time and stopping in some of the villages for drinks and to chat to the locals, who were as always friendly and accommodating. We got in midafternoon, and after some laundry… hit the town. A one horse town! We had a milkshake made from the fresh fruits available here, and then Kurt checked out the many wood shops before we headed to our complimentary Beef Soup stop on this leg of the tour.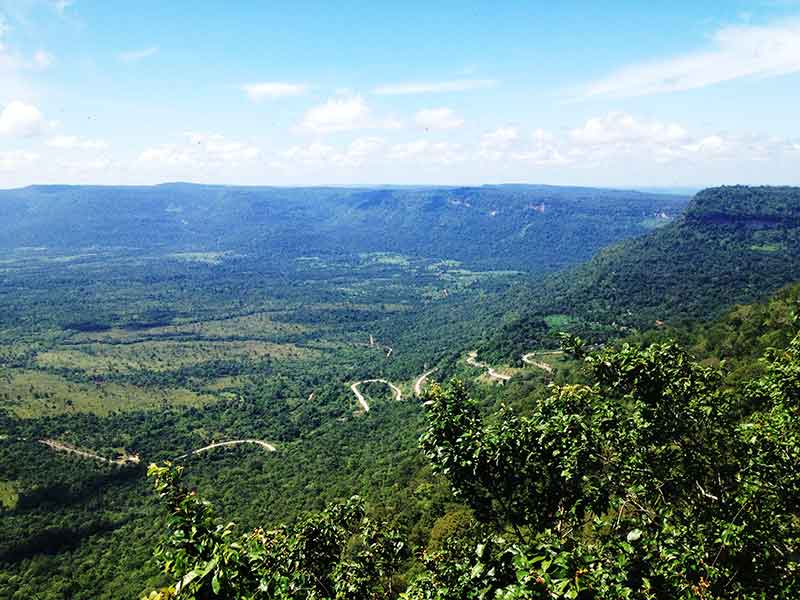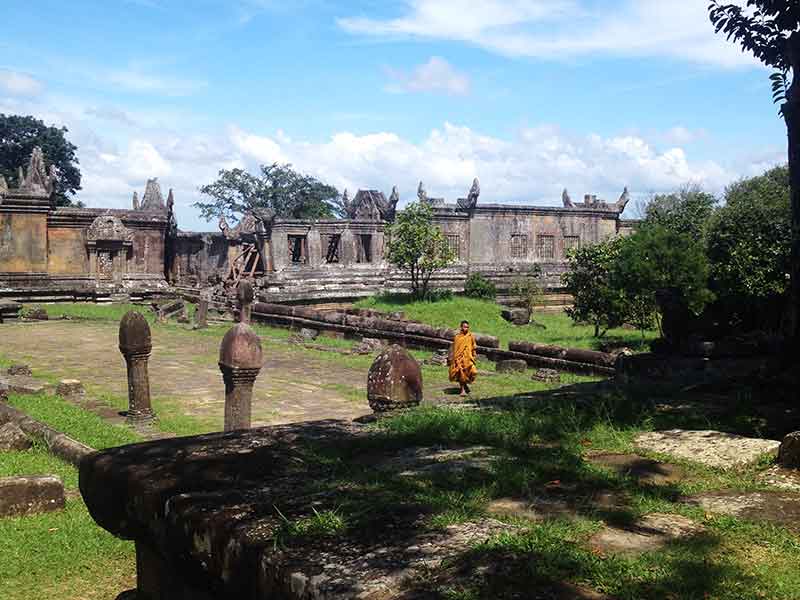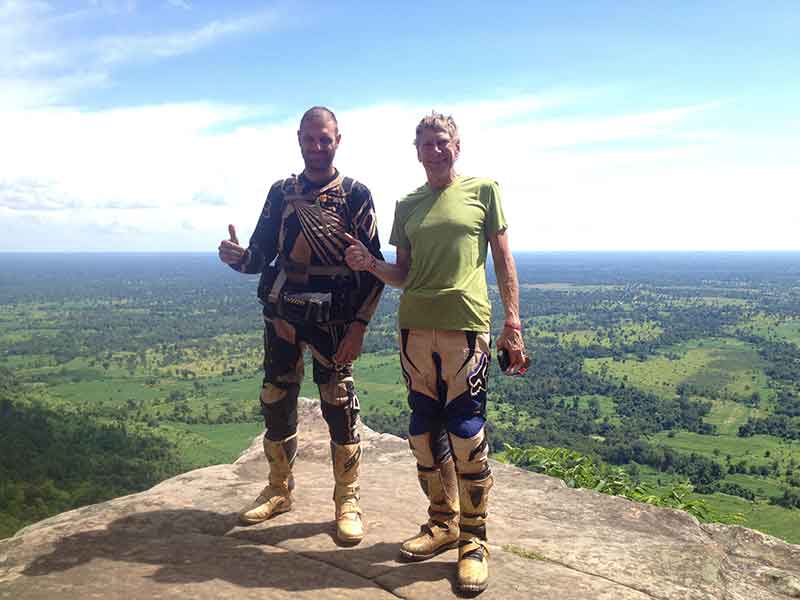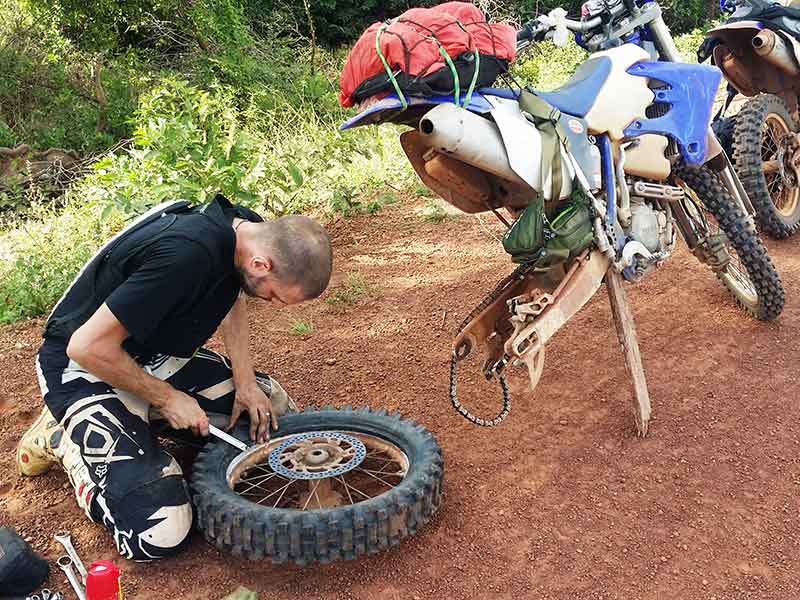 In the morning we explored the mountaintop temple which took a couple of hours. Kurt enjoyed his photography and took his time and got some great shots. We had a lunch of fried chicken and morning glory before setting off on the next leg of our trip. We had 100+ km to go before we got to Koh Ker Temple, south of Preah Vihear. We rode red dirt roads for about an hour and then Kurt got another puncture. This time a nail! This was getting a bit too frequent; luckily it was the last of the trip and soon we were on our way. After taking a shortcut on a trail that cut through the surrounding rice fields, we got to Trapeang Prasat, after which there was a red dirt road that ran through the hills directly south to Koh Ker temple. It was getting late again, and Kurt struggled at dusk as he was in his 60's so his eyesight isn't what it used to be. We winded up driving in the dark for an hour before we rolled into Seyong town. There was another tour company there, and after exchanging stories we all hit the hay.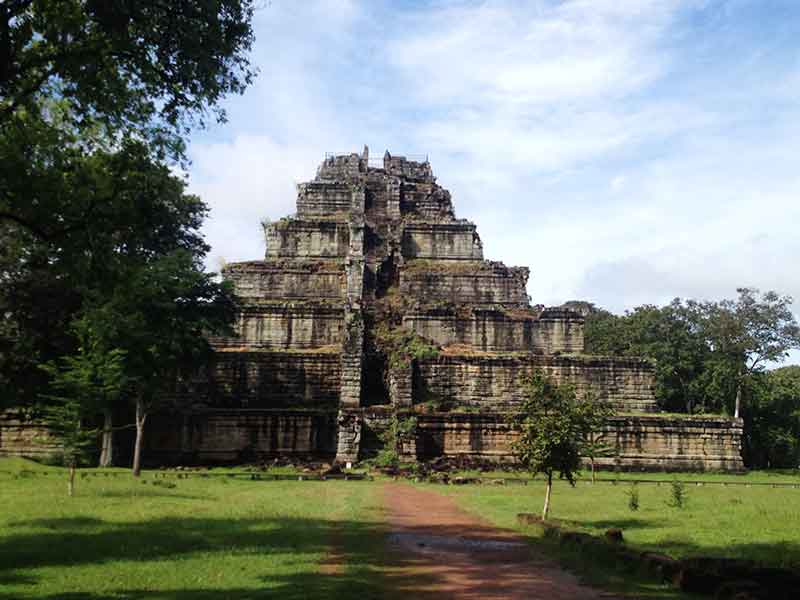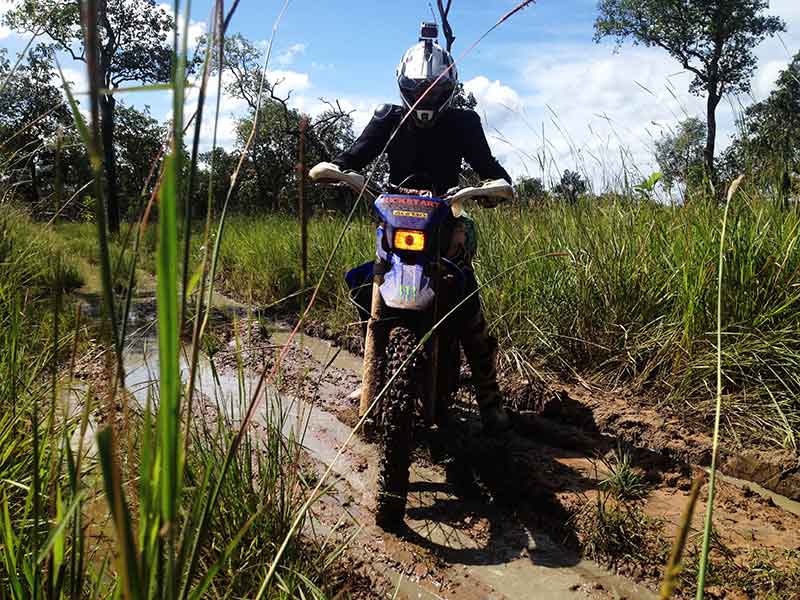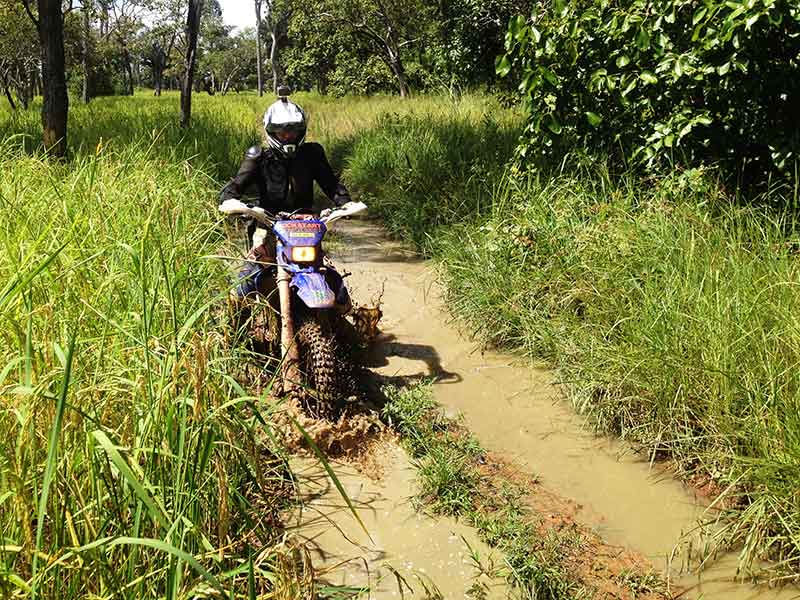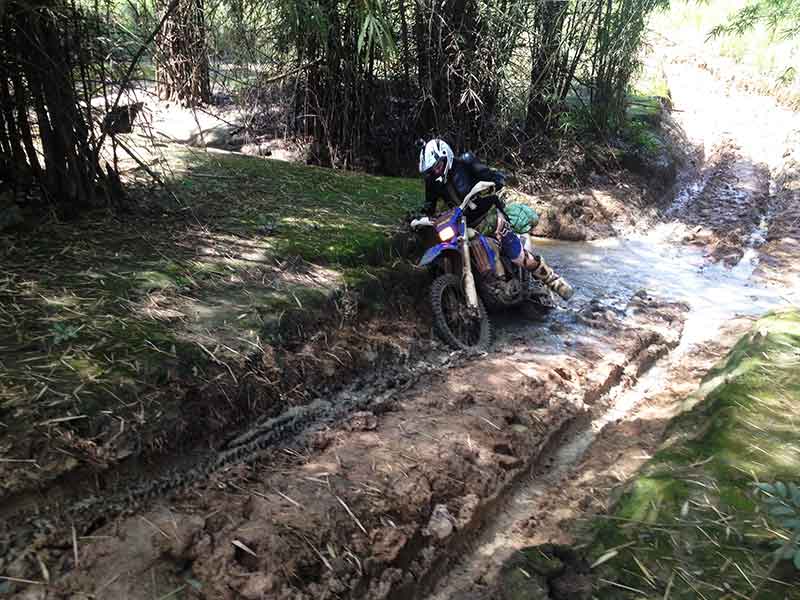 The next day Kurt was eager to try something more challenging, so after we explored the pyramidical temple of Koh Ker, I proposed we try the 30km stretch from Koh Ker temple to Kulen village. I explained that it was going to be tough in places as we still had pretty heavy rain in the area and Kurt was game. He may have been in his 60's, which is always a concern on the tours, but this was a man who had competed in several Ironman's and was fitter than a lot of 20/30 year olds I know. He proved his worth and took it all in his stride. It wasn't a fast pace, but we got through it all: Hats off to Kurt as there were some tough bits indeed; deep, waterlogged ruts, thick mud and some sandy sections. We took it slow and as it was a hot day took several rests so as not to overdo it.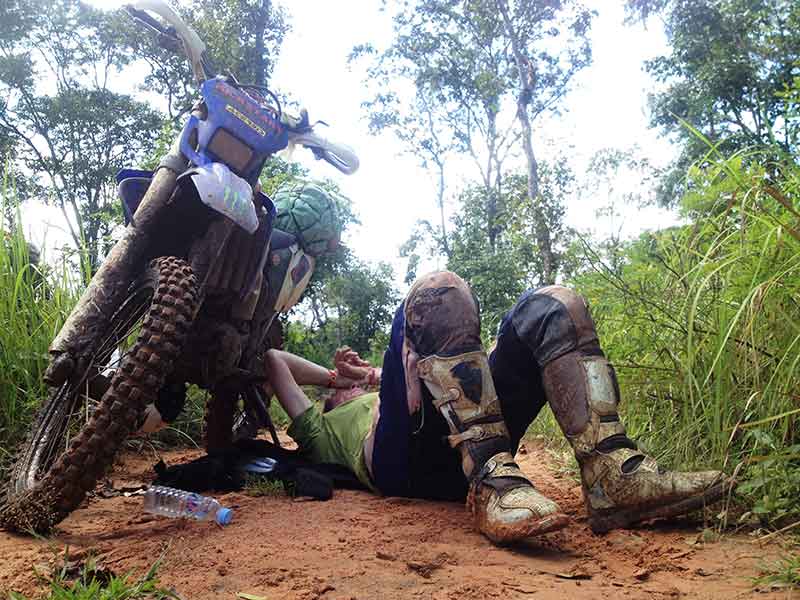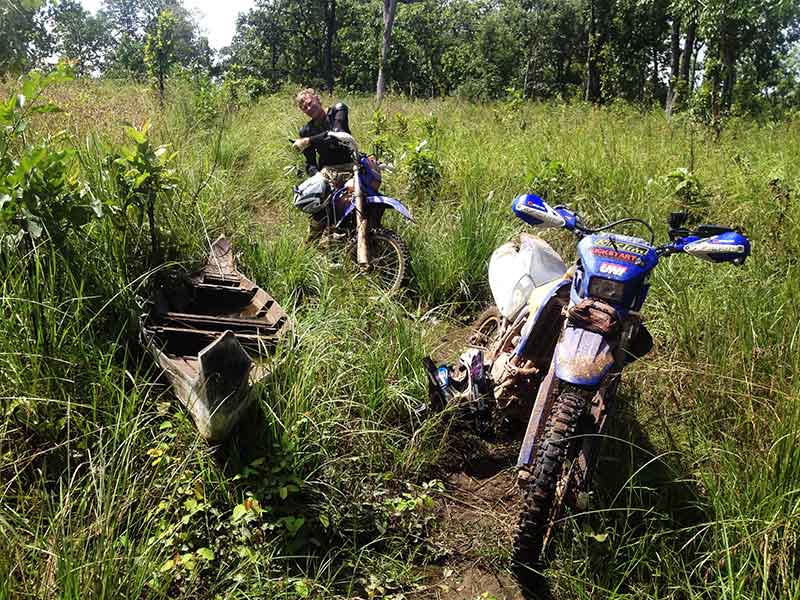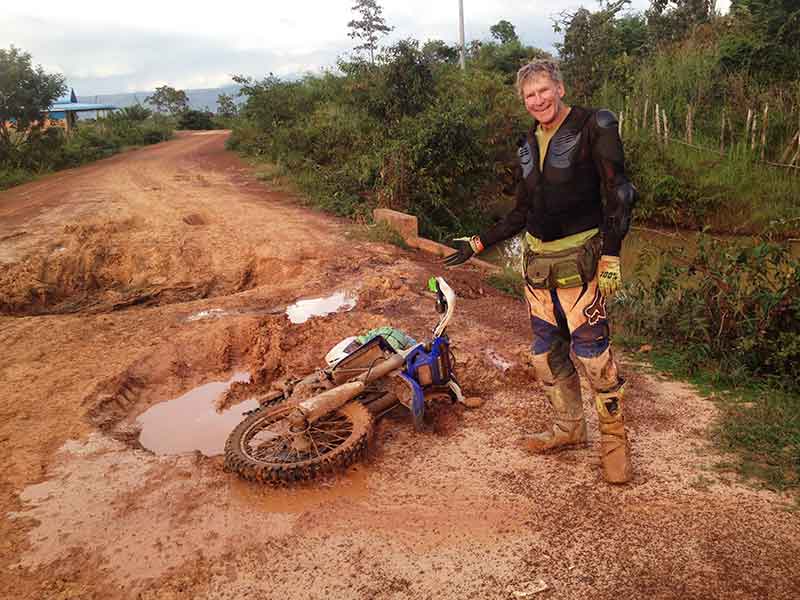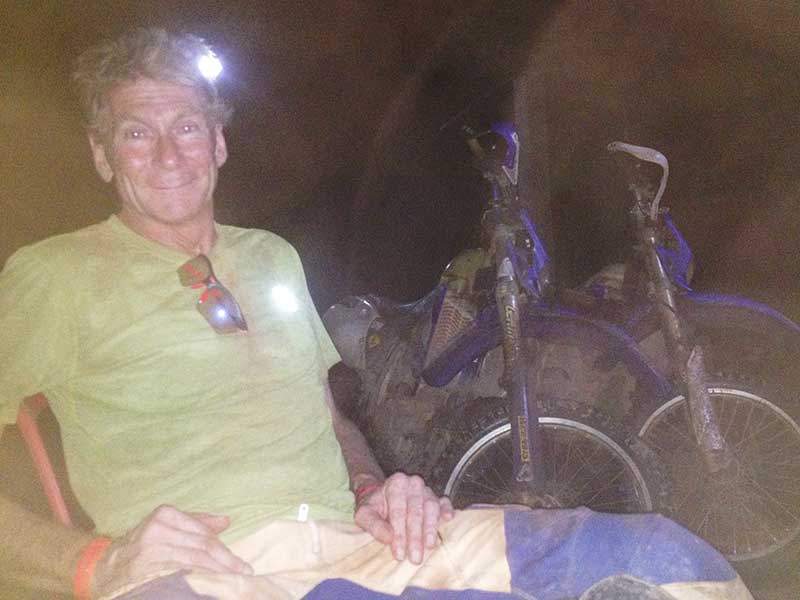 Towards the end Kurt tired a bit and I had to help him through some particularly flooded parts, but for the most part he was good. Kurt was happy as he got his off-road adventure and then some. We arrived in Kulen at around 3pm to restaurants devoid of food. So we pressed on to Ta Seng village, our stop for the night. It also involved a bit of night riding, and we had to be careful in places as the road had washed out and collapsed on either side forming cavernous ruts that could swallow a bike whole. We got there in one piece and after some hearty food we were soon asleep. It was a good days riding.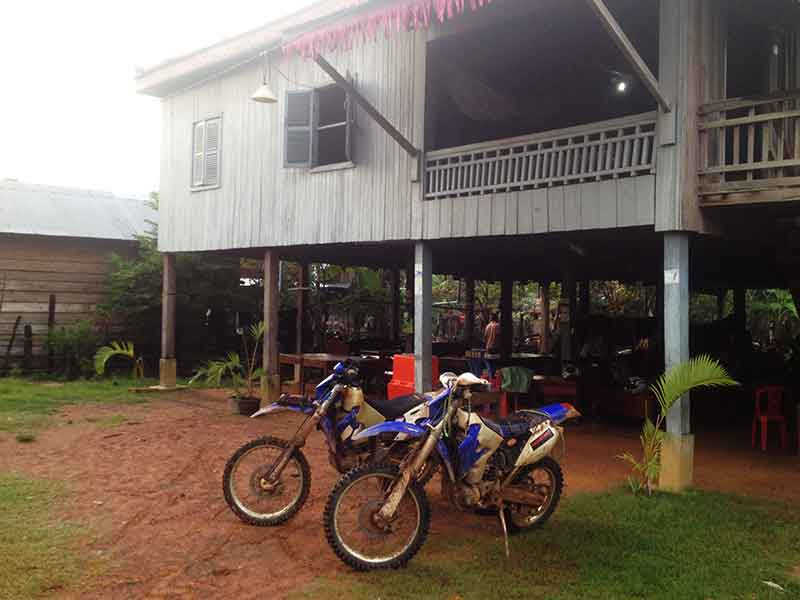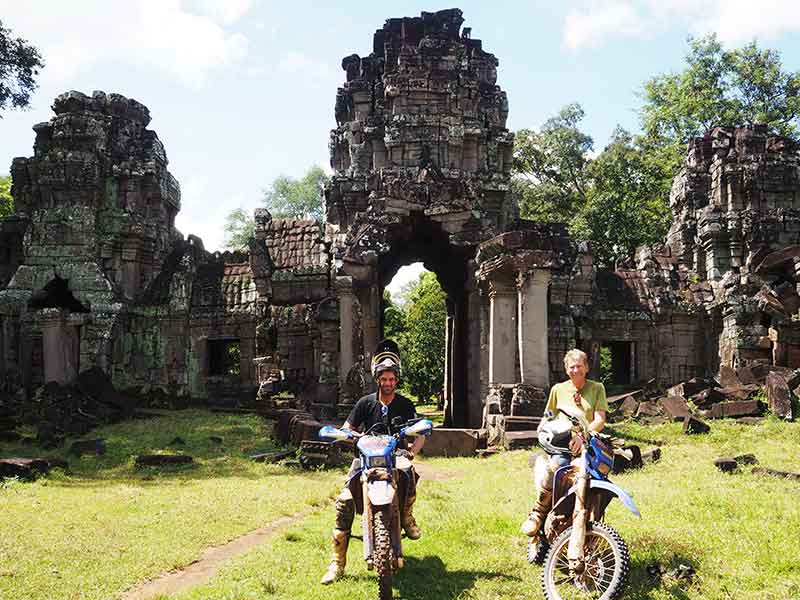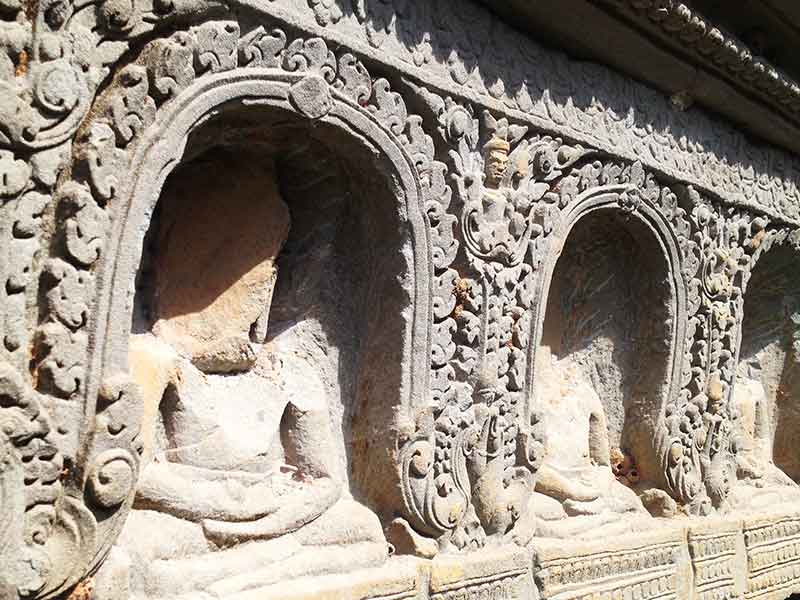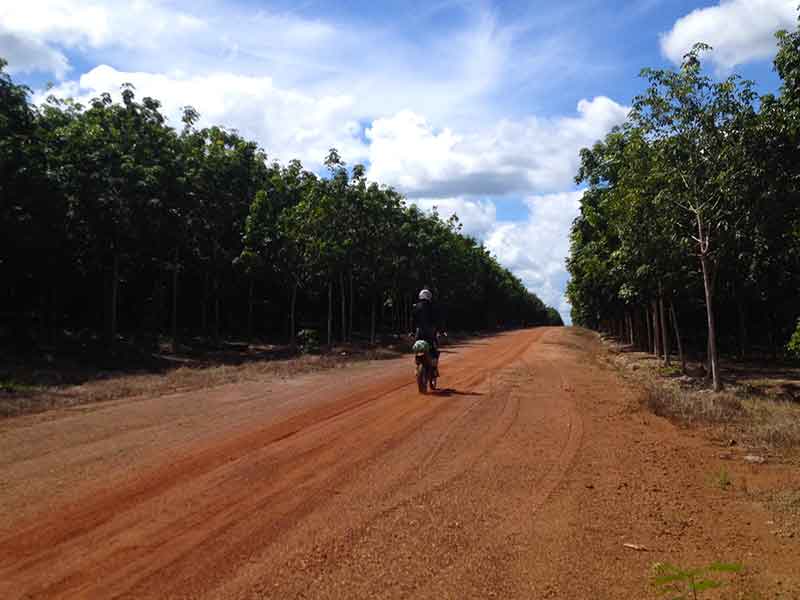 We had a later start the next day, checking out the temple in the morning. The 12th century temple had for years been cut off from the rest of the country with only forest trails connecting it to the outside world. Because of this the massive complex was a prime spot for looting and you could see evidence of this throughout most of the temple; Very Sad. The afternoon consisted of mainly red dirt roads as we made our way back to Siem Reap cutting through Rubber plantations. When we got to Kompong Kdei town, we stopped to look at the ancient Angkorian bridge, which is a remarkable testament to the sheer durability of these ancient structures and the skill in which they were built. It was getting lat, so we jumped back on single trail and sandy village trails as we got closer to town to round of a great 6 days riding.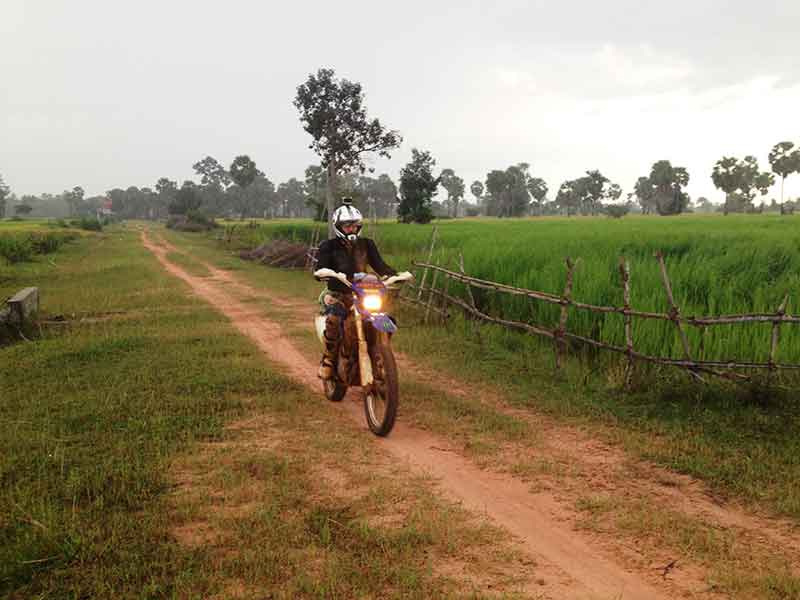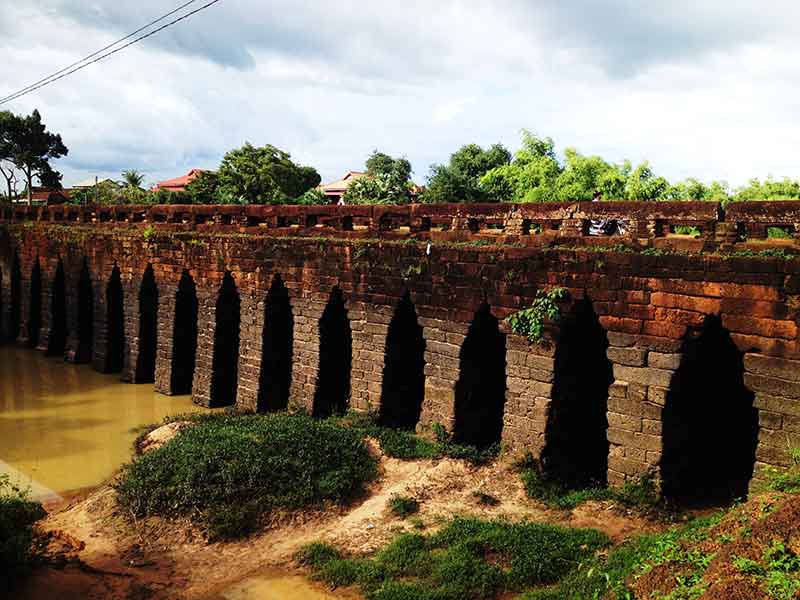 That evening we went to the Ivy Guesthouse where you can find Pol Pot's toilet seat, which my brother in law carried around his neck from Anlong Veng in early 2000. It was quite an apt way to round the tour off. Once again, it had been a very rewarding ride and great getting to know Kurt. I only hope when I'm in my sixties I'll be in as good shape as Kurt is. Dirt biking is for life…. You're never too old to enjoy life [and dirt bikes] it's when you stop that you get old. Ride on!