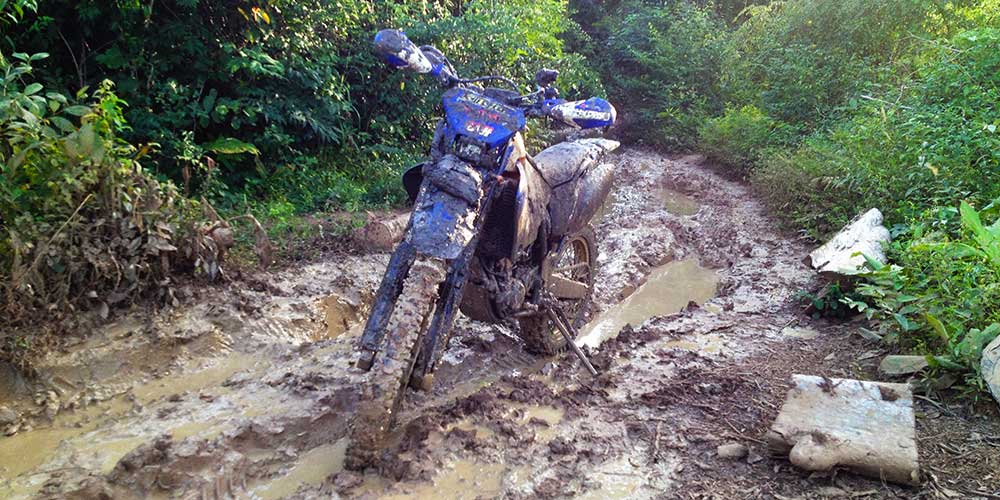 There are times in life when you stop and ask yourself…"Why the f@#k am I doing this?"This is what I said to myself on a recent tour through the jungle to Preah Khan Temple, Kampong Svay district. We ended up riding for 19 hours; 15 of that in the Jungle and 10 hours of that in the dark. The silly thing was that the last 15 hours was only a 30km stretch, but with ruts that could swallow a bike whole, thick gloopy mud up to your knees, completely flooded sections, and river crossings, it made the going tough. Like all adventures, where you push yourself to the limit, when all energy is gone, we wonder why we do the things we do in the name of fun. It's because dirt biking is frikkin awesome! When you get through whatever obstacle or challenge you have to get through and you roll in to your destination, the sense of achievement you get, there really is nothing quite like it. I see this again and again with our customers, of all levels and background. People push themselves to their limits, and come out of it, knowing what they achieved, and are left with memories to last a lifetime; it always brings a smile to my face.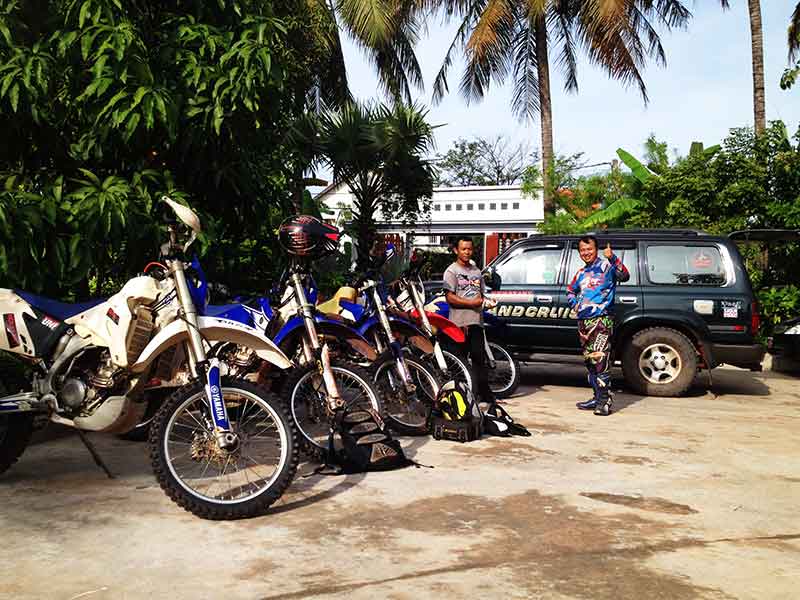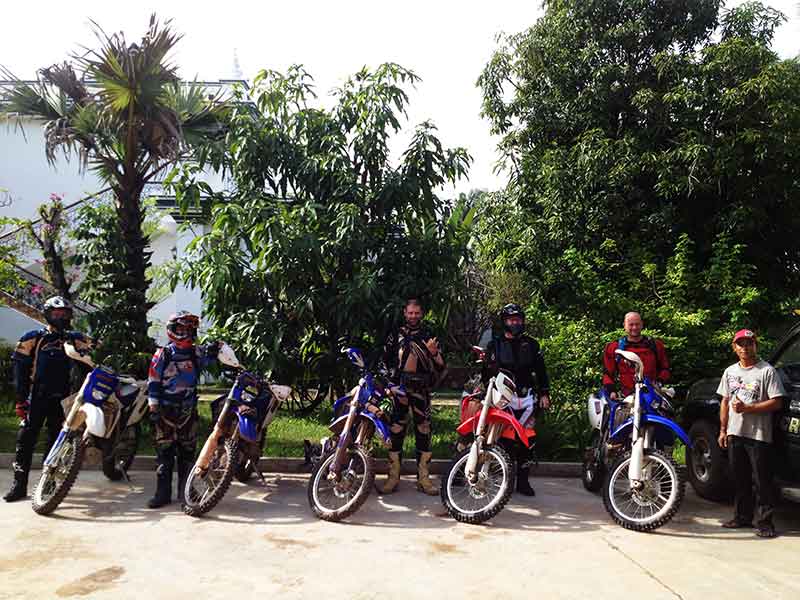 We had done this route last year in October, and it took about 6 hours to do the 30km stretch, which in the dry takes only a couple of hours. Being November, we assumed it would be a bit drier; you should never assume when riding in the wet season in Cambodia! Stefan, Michael & Roland from Germany, wanted to do a four day tour from Siem Reap to Phnom Penh. They had done a few off-road tours before, that was a more dual sport/touring kind of riding, but were relatively new to dirt bikes/enduro.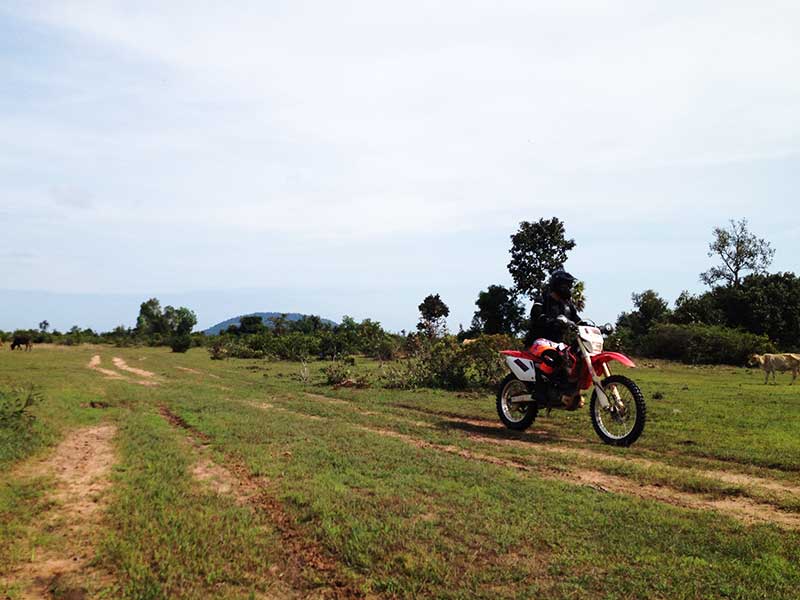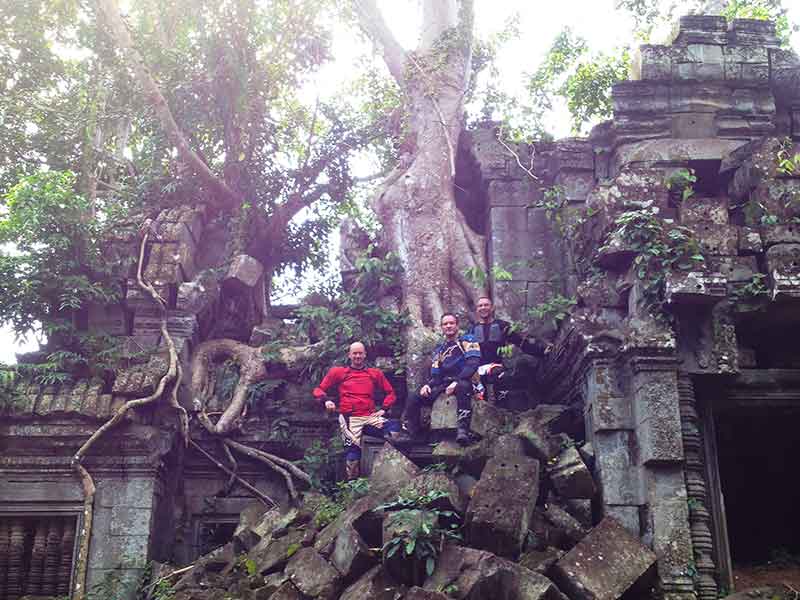 We left Siem Reap early, with yours truly leading, Mr. La sweeping, and trusted Nuon in the support vehicle. We were soon on the great single track that winds through the Cambodian countryside. We stopped off at the ancient Banteay Ampil temple hidden in the forest north of Siem Reap. Once we got to Beng Melea Temple we headed due east, on an ancient Khmer Highway, which would have made up a vast road network in its heyday. There are remnants of old Angkorian bridges that are scattered alongside the red dirt roads . Before arriving at the turn off to the forest trail we crossed an almighty 50 m bridge that was still standing strong, which is truly a testament to the sheer quality of the ancient Khmer's building skills. This would have also led straight to our destination for the night; The remote jungle temple of Preah Khan. After a quick petrol strop, we headed into the surrounding jungle.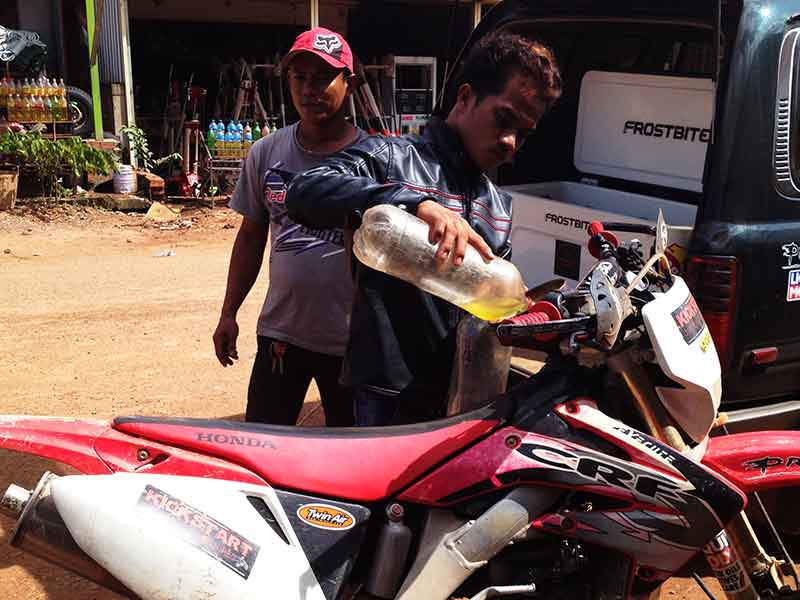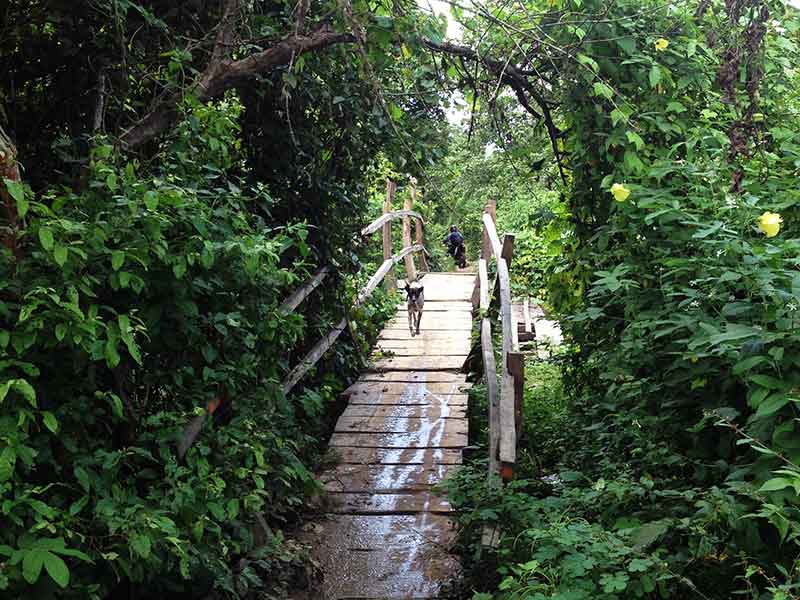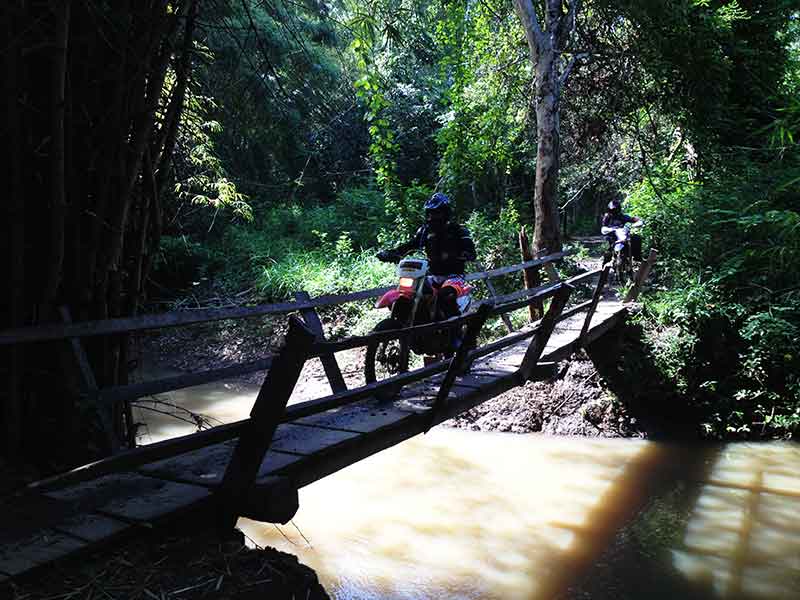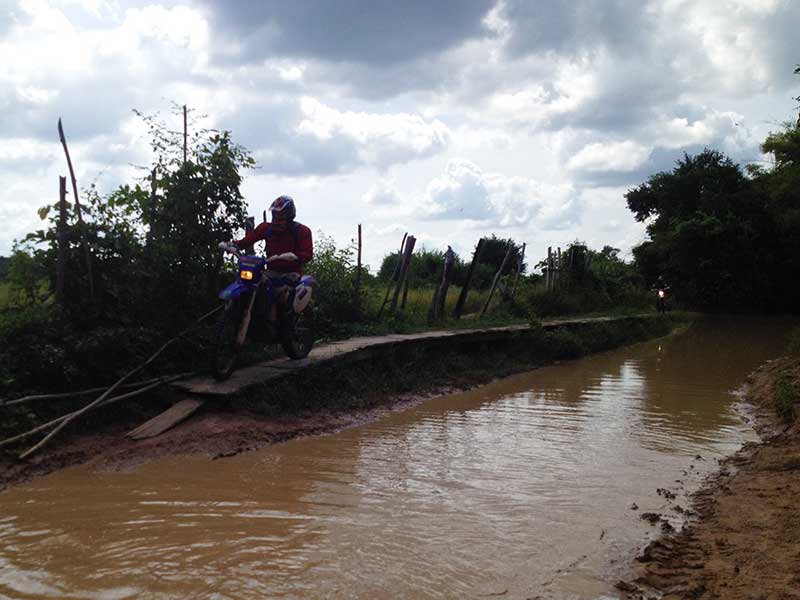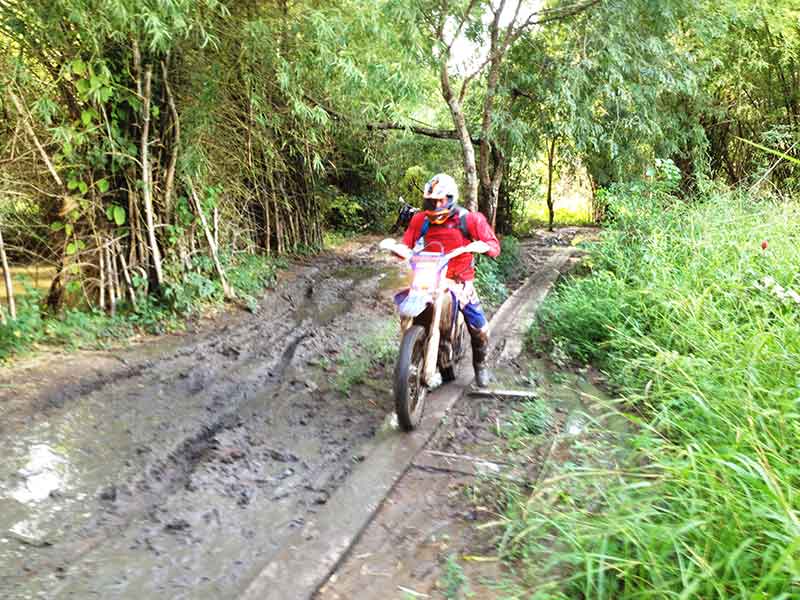 The first section was still fairly flooded as we crossed a series of rickety bridges and gangways which the locals had built to traverse this section during the monsoon months. The trail soon got harder as we encountered deep, profound ruts that left us getting crossed up as we slid onwards. After another bridge, we entered the "Bamboo Stage" which was particularly slippery as it consisted of hard pack clay, riddled with more ruts. Once through, I ended up being the first to get stuck as the trail became a sticky, muddy mess. That's the problem with going first; It's hard to judge how deep some of these bogs are and whether the ground under the water is hard packed, or like quicksand. Generally if you're not sure it's a good idea to take higher ground, which isn't always an option, but in this case, there was a thin, raised trail to the left of the bog. I was making good headway until my handlebars got caught in a branch and the back wheel slipped into the quagmire. Rather than manhandle the bike back up the bank, I just went for it, digging myself deeper. This was to be the first such experience in many hours.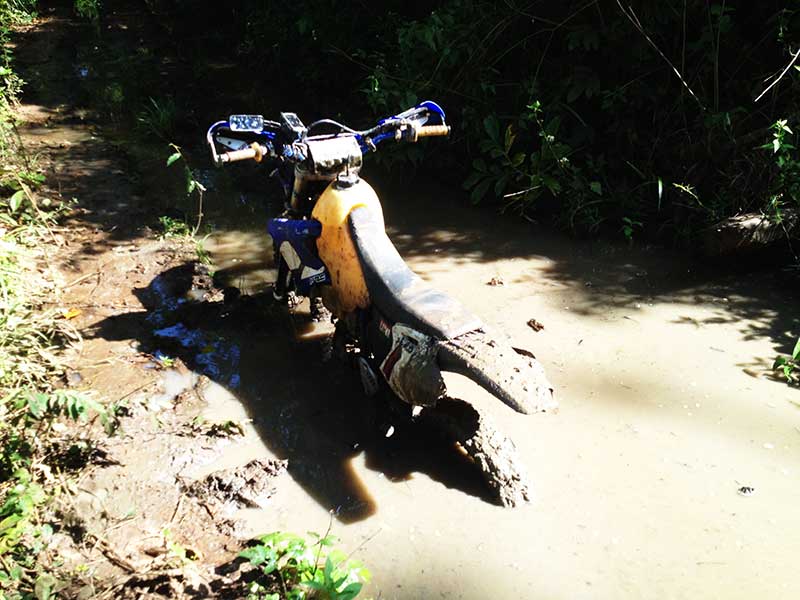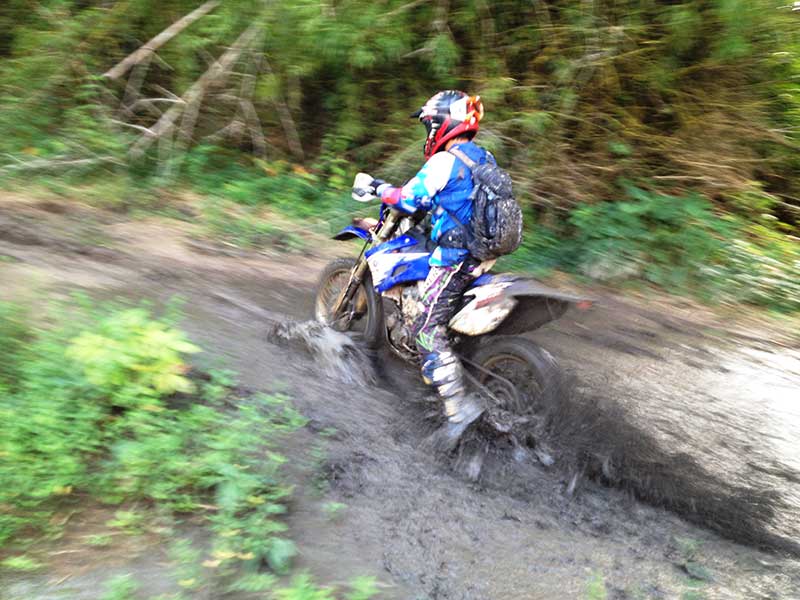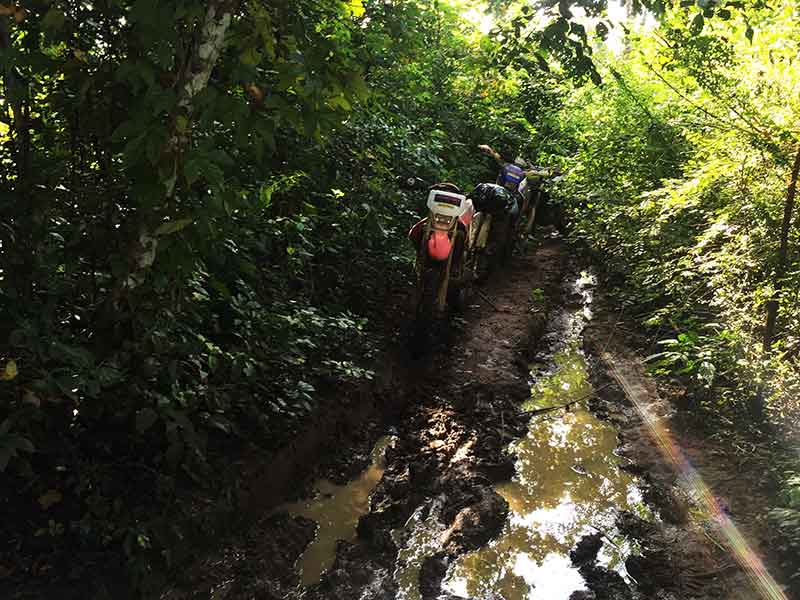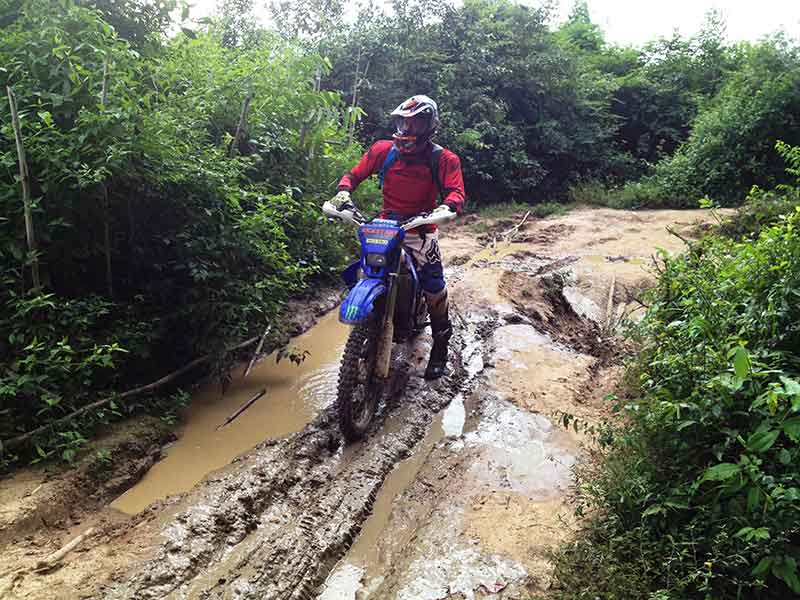 La pulled me through as I bounced on the rear shock to try and find some traction, and soon we were on our way again. We reached a turning point in the trail, where I felt it was going to get tougher based on what we had just ridden, so we stopped for a rest and discussed our options. We had started on this trail at 1pm, and it was now 4pm, and we had only done 10km. Time flies when you're having fun! We were expecting to be riding in the dark a bit when we set out, but we still had 20km to go and conditions were worse than anticipated. So, the options were to carry on and we would probably roll in around 9pm, or if the customers really didn't want to do this in the dark, we could backtrack to the turnoff, and then there would be 150km + of red dirt roads to Ta Seng; our destination, probably arriving at a similar time.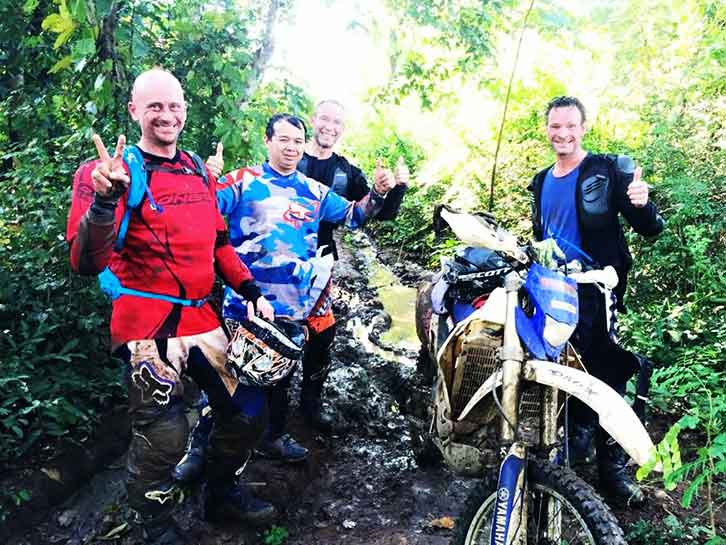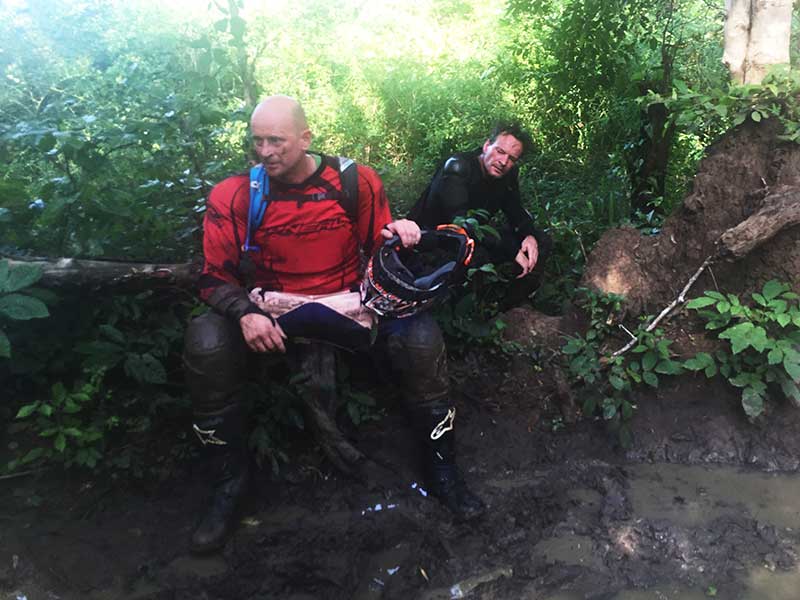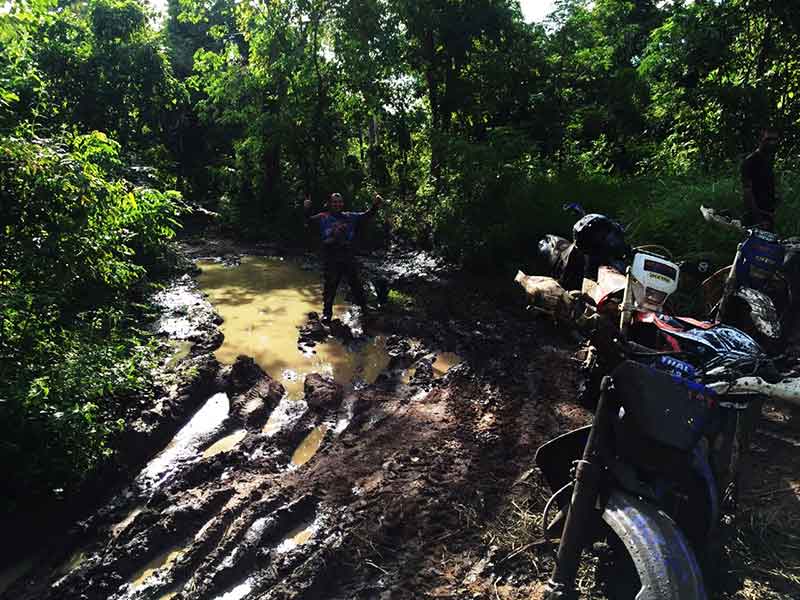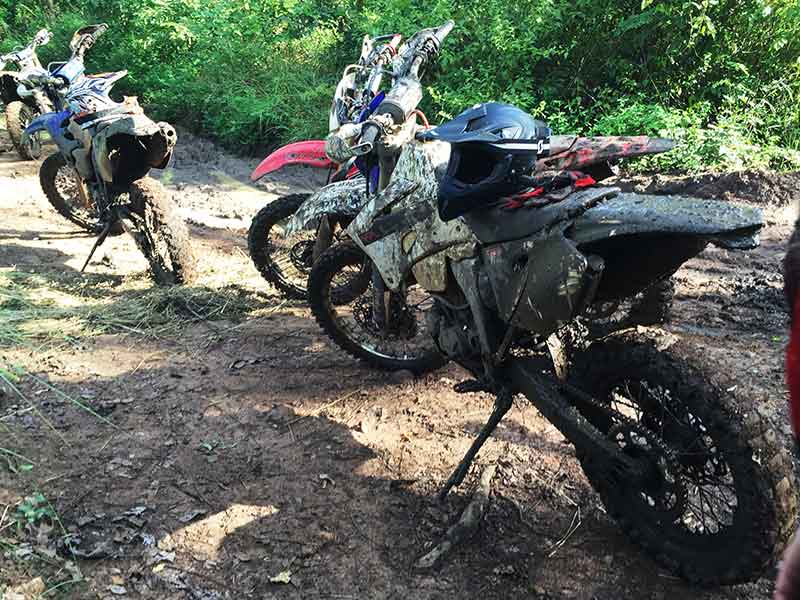 We all decided to press on, as we had come this far. The ruts got deeper and the mud got thicker, as we battled through the jungle but we were making good progress, and Stefan and the boys were giving it their all. It was an amazing effort as these guys hadn't really ridden anything like this in their lives, and they didn't lose their rag once! We soon pulled up at the main river crossing. I say river it was more of a creek, but can get very deep. It was around 5:30 pm. La was up front as I was cramping up a lot in my legs, so I had to lie down several times to combat this. There were about 20 meters of deep ruts down the bank, left from the remorque trailers that had cut deep grooves into the trail. We all slid down these only to find La had drowned his bike. In the urgency to try and get the most of what little daylight we had left, he had skipped walking across to test the depth and gone for it. To be fair it didn't look too deep, but there was a sink hole to the right which he had ventured a little far into. We got the rest of the bikes over with no problems, and rested up on the sandy banks. We had some energy bars and rehydrated with some isotonic tablets, and then set about getting this bike going again.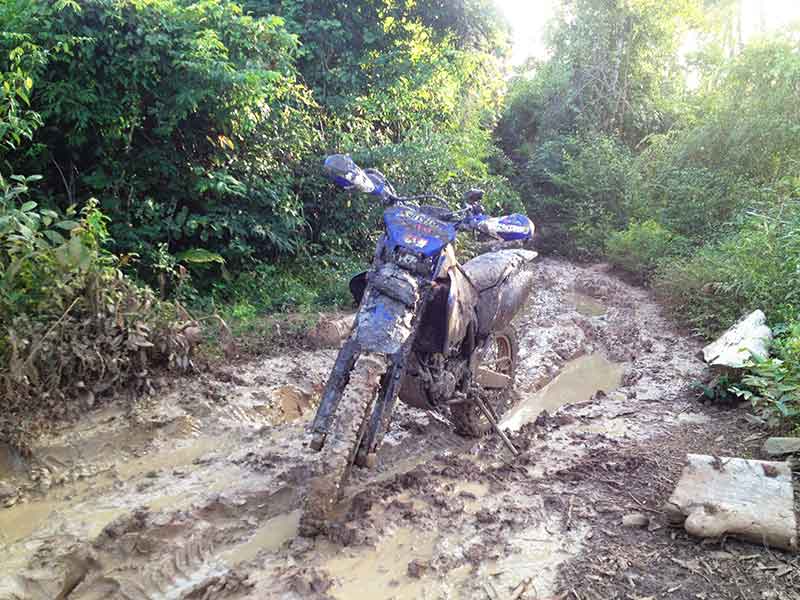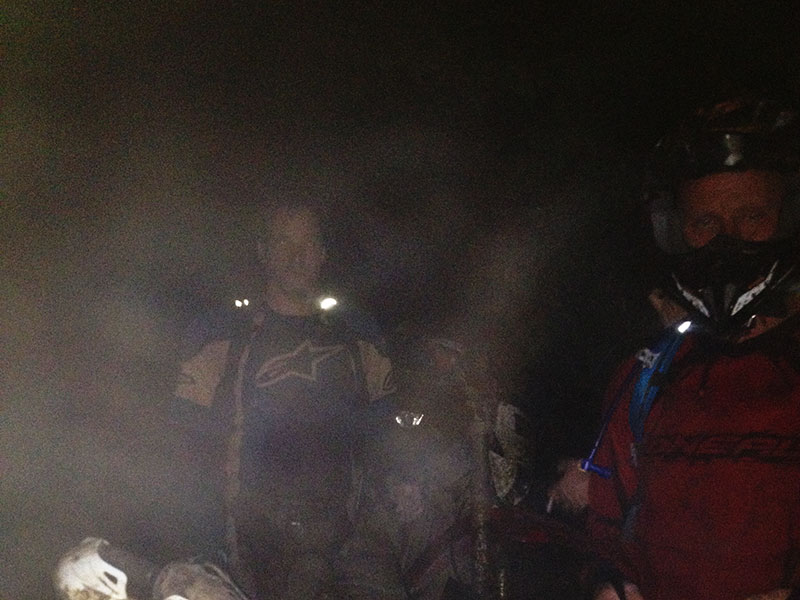 Normally it would take about 20 minutes, to drain the Carby, empty out the airbox, and remove the exhaust and sparkplug to get all the water out before we'd be back on the trail. This was not to be. It took over 2 hours to get the bike going again. Normally if the usual techniques don't work we bump-start the bike, but as we were stuck at the bottom of a sandy creek with ridiculous muddy ruts on all sides, this was not an option. We were all pretty tired of kicking the bike over and took another break. It was now about 8pm. We called the village chief to tell him we were going to be late, and if he could send a couple of remorque trailers [basically a generator on wheels that pulls a trailer along] with food & water to meet us on the trail, and just in case we couldn't get the bike going again. Everyone was exhausted and I suggested if the customers had had enough they could wait for the trailer and they could load the bikes up and have an easy ride to the village. We had a bout 10km still to go, and the remorques being very slow, would probably take them about 4 hours to get here and the same again back. Not wanting to arrive at 10 am we decided to try and to carry on. But we had to get this bike going. After resting for an hour or so, we manhandled the bike up the steep bank, with the intent of maybe trying to bump it, but once we reached the top we were faced with a 100m quagmire of ruts to your knees filled with putrid buffalo shit water and thick quicksand like mud. Not going to happen. With one last attempt we all took turns kicking the bike, and finally it came to life illuminating the shipwreck of a trail we had to tackle next. It was now 11pm.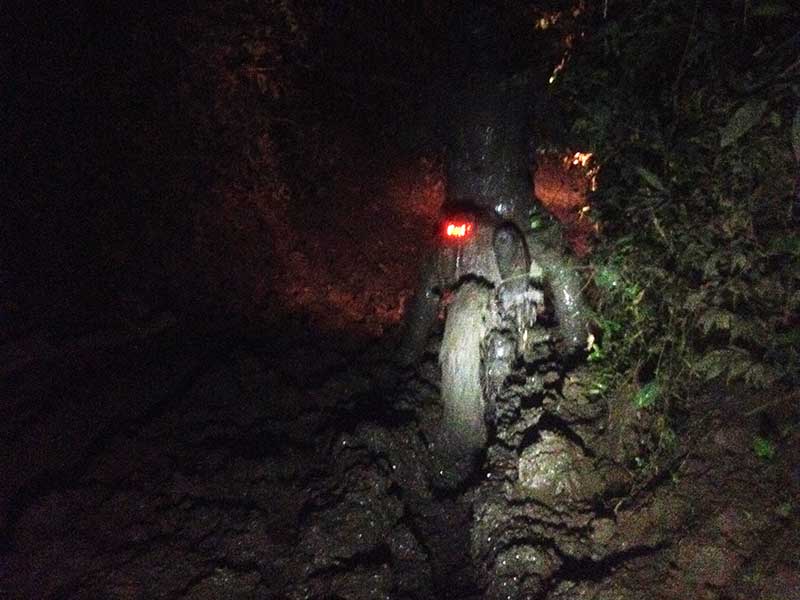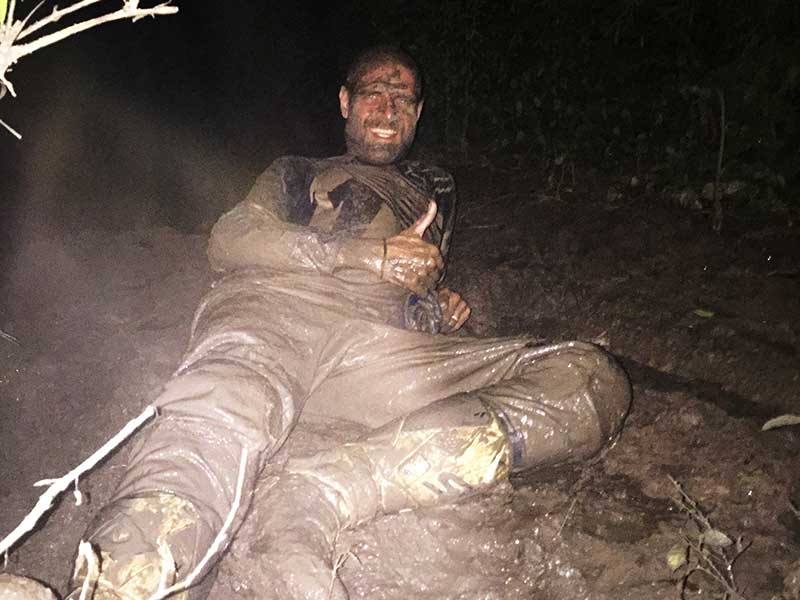 Me and La walked up ahead to find the easiest line, but there wasn't one. Every part of this trail had the potential to get stuck in. I went first and gunned it through the first section, balancing on the edges of ruts before I had to drop down into the left side. Paddling the sides and bouncing my way through a particularly green, smelly bog my back wheel got stuck on one of the many tree roots and logs that the locals had thrown into the muck to get traction for their remorques. With their fat tyres this would have helped but it was a hindrance to us. La grabbed the pull rope on the front and I was almost full throttle, bouncing on the rear seat as he pulled me over each obstacle. I was covered from head to toe in a torrent of mud from my rear wheel as we edged slowly forward. I have no idea how long this all took, but it was a slow stop/start process. Then the thick gloopy mud finally gave way and my rear wheel bit into harder ground and before I know it I was on relatively drier ground. I drove a little further and parked up in a clearing. I walked back down the 100m stretch falling on my arse several times. Luckily it was a full moon, which was a godsend. Exhausted I lay flat on my back, and rested up for about 20 minutes. We didn't want to overdo it as we had to be careful of water supplies. As I lay there looking up at the moon and the stars it was then that I wondered why we do these things for fun! But I smirked to myself and sat up ready for the next bike. At the time we just wanted to get through and be on our way and out of that particular section of mud. In retrospect it was a great story and definitely an awesome adventure.
La had pulled something in his side… a rib maybe? And I think he was exhausted. The customers who were all very fit were in their fifties, but they were also exhausted and I didn't want them to overdo it…. after all they were on holiday! I ended up driving all 5 bikes through this quagmire myself, with the customers pulling me through with the tow rope. Dropping the bikes several times and getting stuck constantly, by the third bike I was beginning to tire. However the Honda CRF gave me a burst of energy, as it didn't seem to get bogged down as I blasted it through the obstacles. I rested up between each bike and eventually we were all through. I have no idea how long all that took, but it was nearly 2am now and we had only gone a further 100m.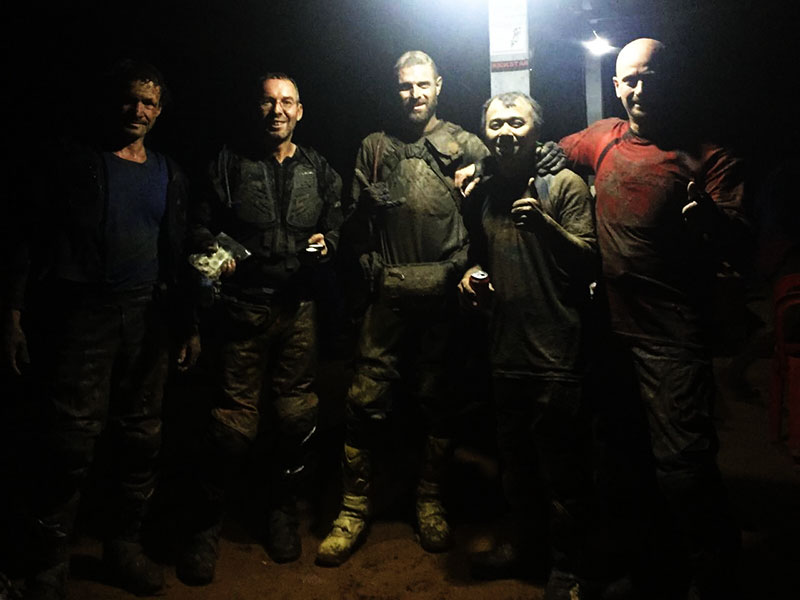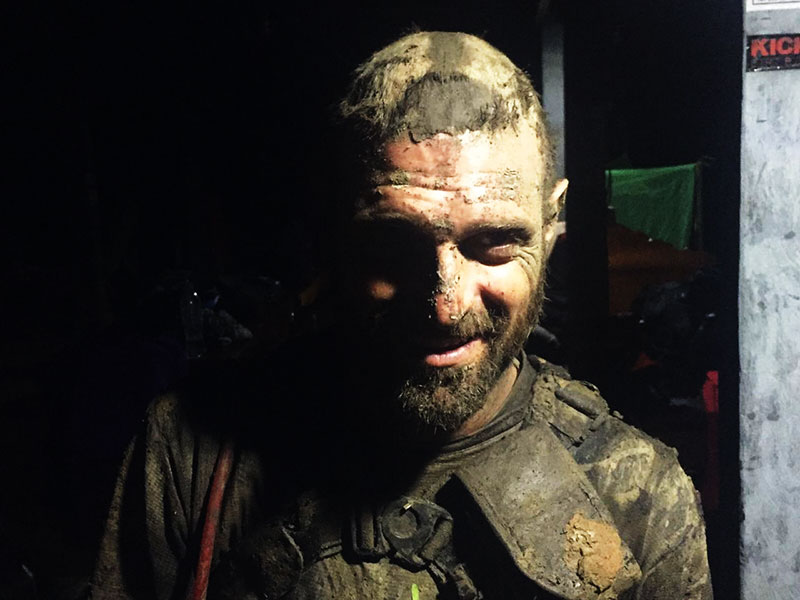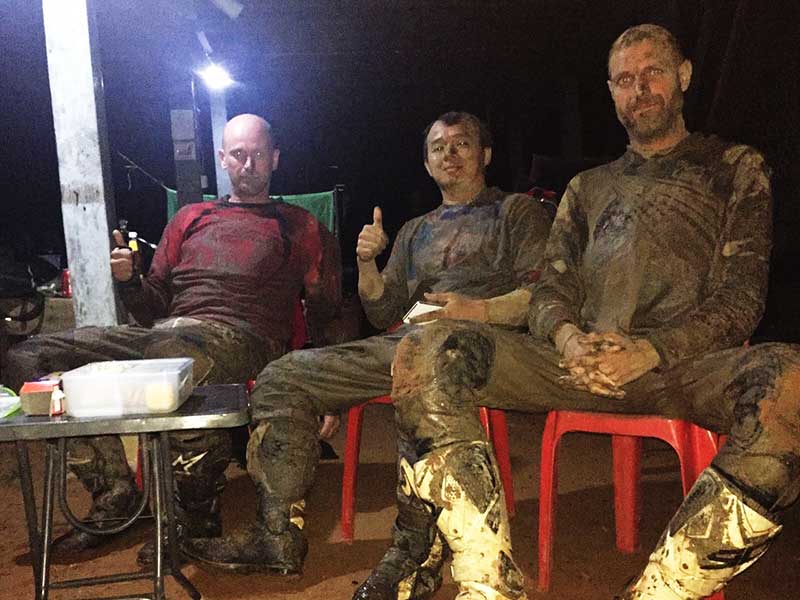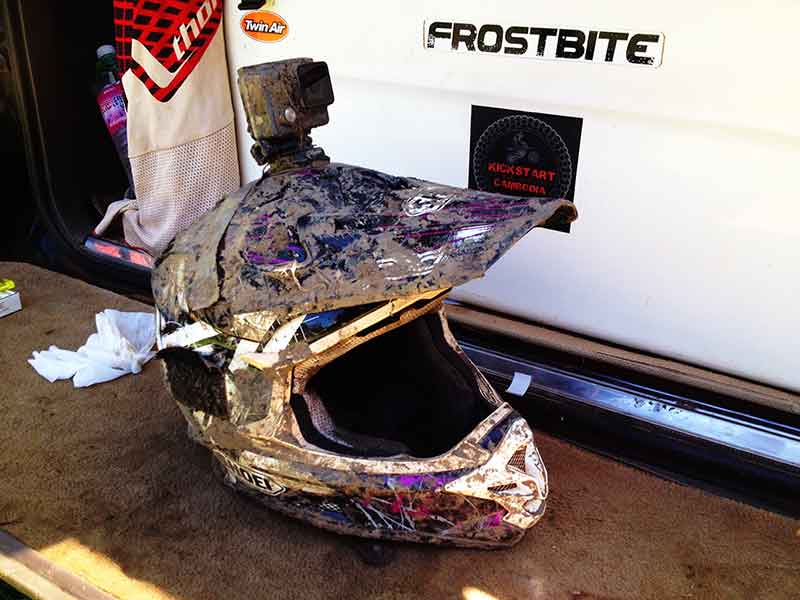 We pressed on, and after another waterhole which we pulled each other through we stopped for a final rest before jumping on the single track approaching Preah Khan Temple. The moon had risen and now all but disappeared so it must have been pretty late. The remorques were not coming it seemed, so we gritted our teeth and with new found vigor, we pressed on. After about an hour we arrived at the turn off to the temple. I had never been so happy to see a graded road [normally I avoid them like the plague hahaha]. We rolled up at the homestay about 4am, after 19 hours on the bikes. Covered in mud from head to toe, and the bikes unrecognizable we were a sight to behold. Nuon was there with cold beer and snacks…. our dinner, it turned out was on its way back after missing us on the myriad of trails in the forest. Oh well we weren't very hungry anyway! We were all pumped, and thrilled we had all got through it. Smiles all around, things like this remind you why you're alive! Absolutely shattered we all collapsed in our allocated beds and were out for the count.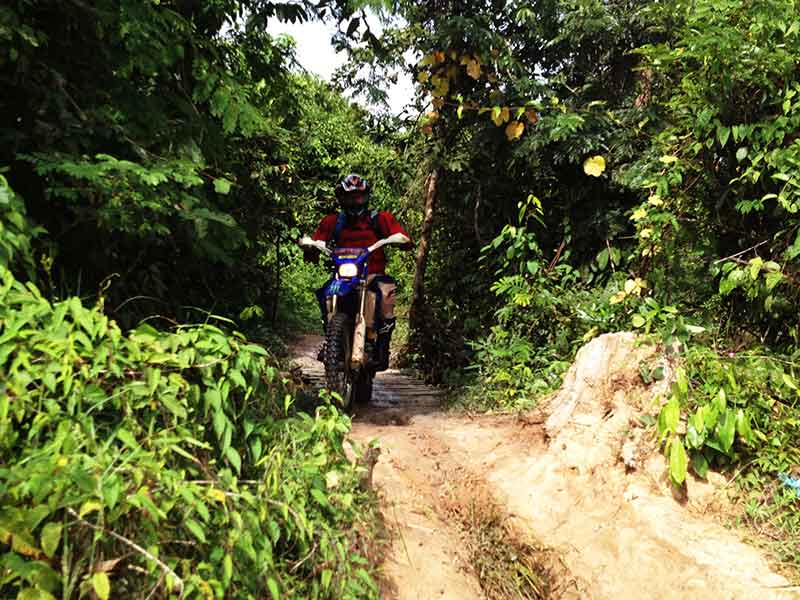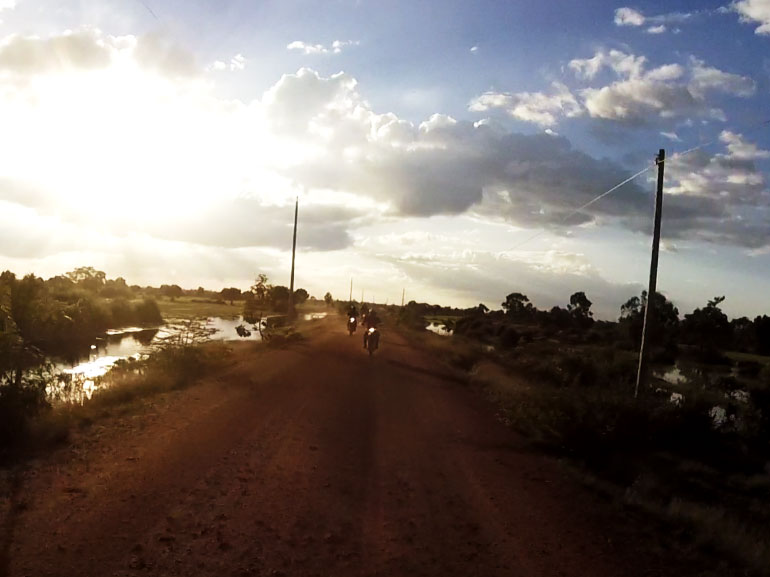 The next day we all got up about 10am and had last night's dinner and a shit load of coffee, then went to check out the ancient temple of Preah Khan. Then we got our gear together and headed down to Kampong Thom for the next leg of our journey. But, that's another story… although a less muddy one! Once we got to Phnom Penh we were even lucky to catch the boat races for Bon Om Tuk.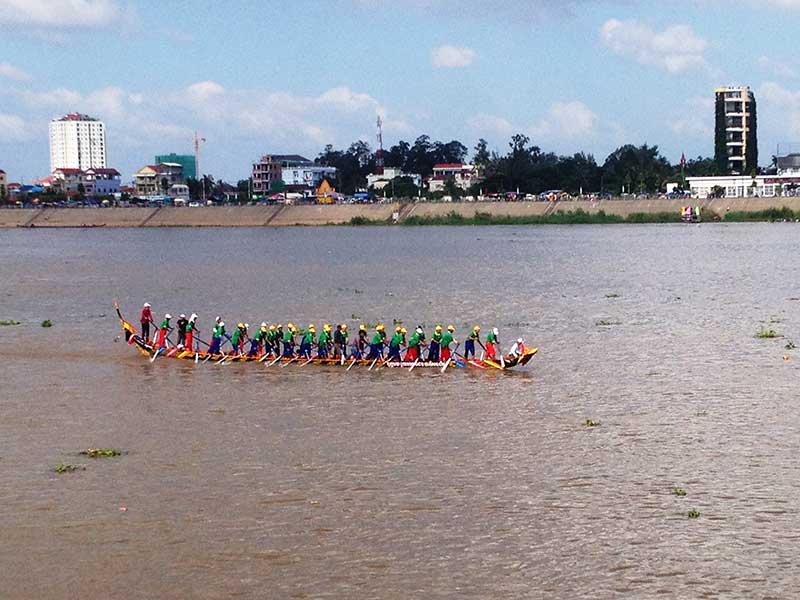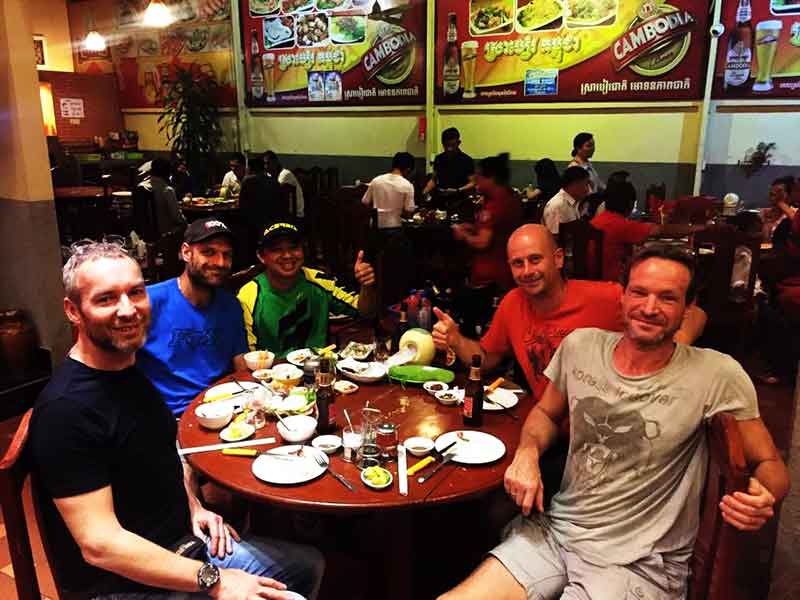 Many thanks to Stefan, Michael & Roland. You guys were outstanding and very patient. It truly was an adventure of a lifetime and one that I'll remember for years to come. Absolutely Awesome! Good Job!