Rob who is a regular on Kickstart's day tours and fun rides had invited his mates over from the UK for the festive period and he was keen to show them the real Cambodia. We decided to start in Phnom Penh and head to Sihanoukville as they wanted to get to the islands for New Year. We decided on a three day adventure that took in Kirriom, Kampot & Kep, which are beautiful provinces with some awesome riding. We drove down from Siem Reap with Rob the day before we were due to meet the lads at the airport. They'd flown to Bangkok and were trying not to have too big a night as they would literally jump on the bikes as soon as they got off the plane.
Day One – Phnom Penh to Kirirom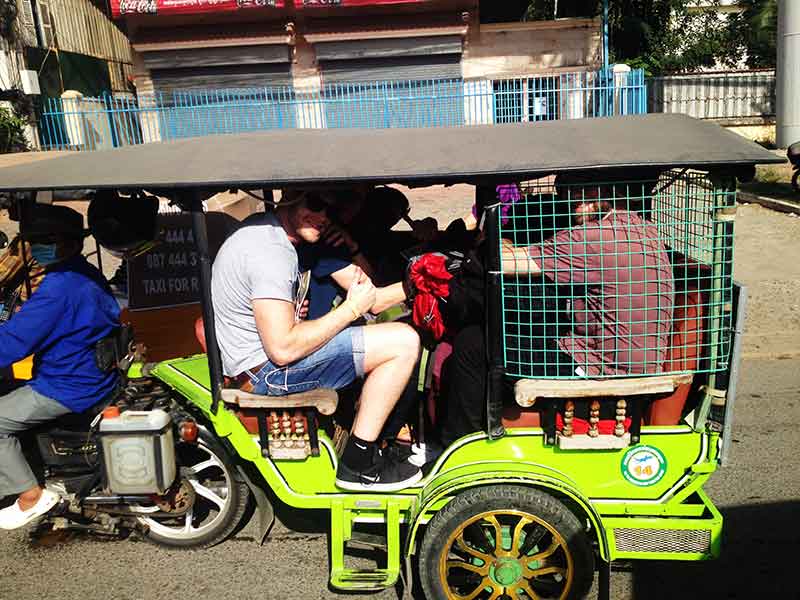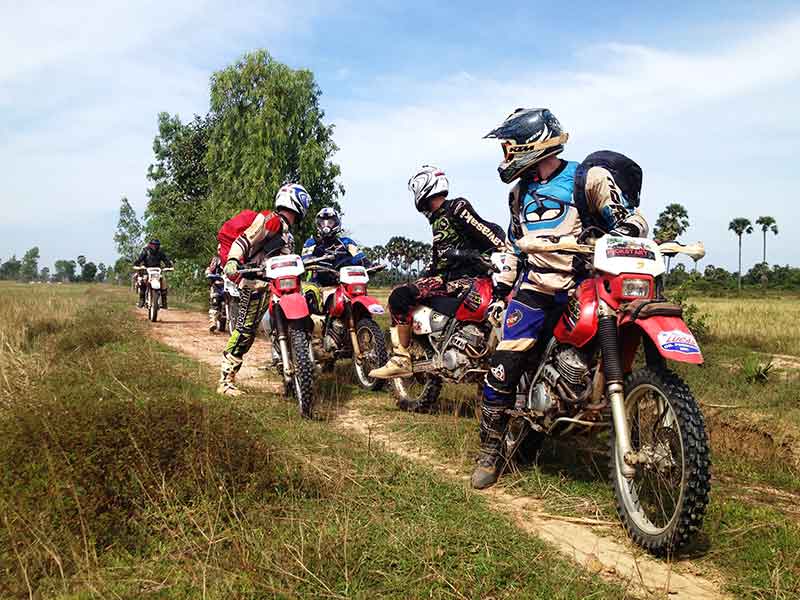 As we are based in Siem Reap we decided to rent bikes from another company in Phnom Penh as logistically this made sense. In retrospect I think we'll stick with our own; more on that later. We put the bikes on the truck and got everything prepped at a petrol station near the airport and went to meet Rob's mates; Scott, Gav, Pete, Tom & Dan. After an eventful Tuk Tuk ride [see above] everyone got suited and booted and after a few runs up and down the side street s we were ready to go. A couple of the guys hadn't had much experience so we were gonna take it easy the first day. We left following the train tracks due west and soon we were on sandy trails leaving the hectic city behind. La was leading while I was sweeping at the back. Within 10 minutes we had our first breakdown. Thinking it better to get it out of the way in the beginning, I didn't think too much; little did I know what we had in store! Soon we were back on track after fixing the problem which was blocked jet in the Carby…. I thought these bikes had been prepped!?!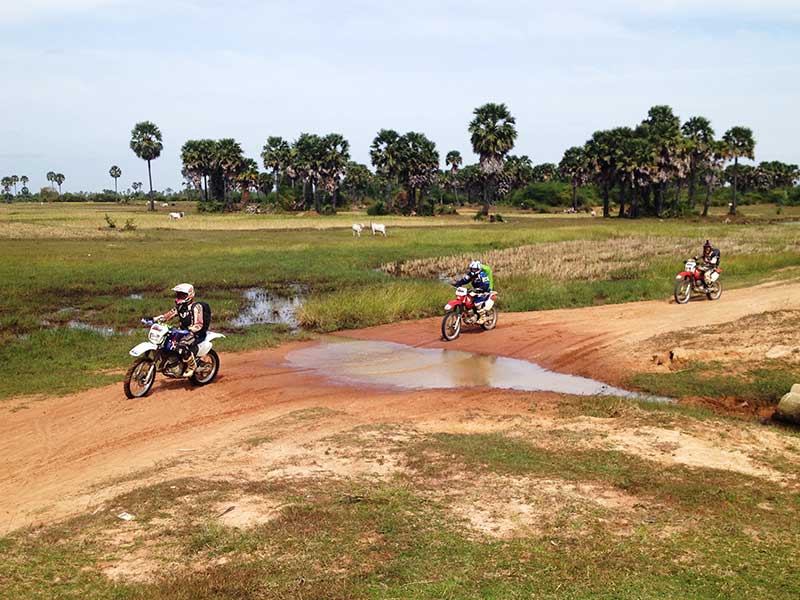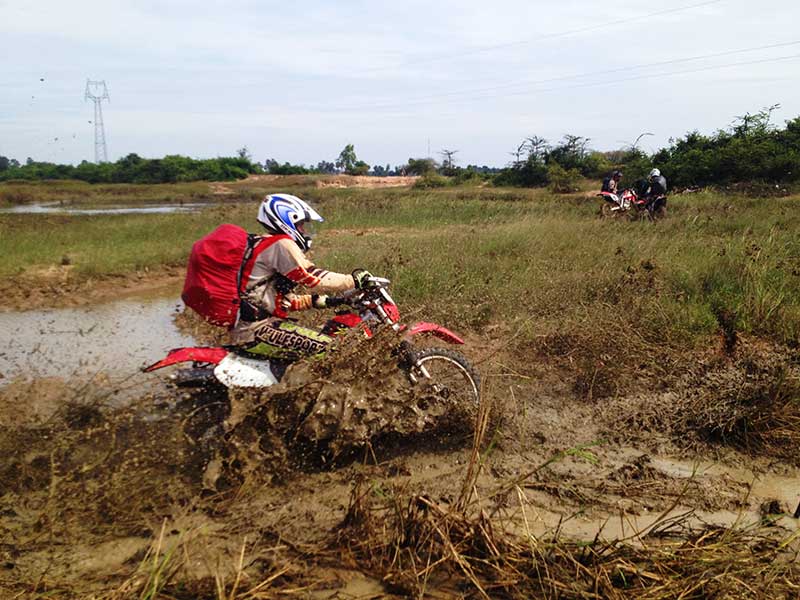 Everyone was getting into the swing of things and started enjoying the trails. The trail out of town follows the power lines all the way to Kampong Speau and is mainly sand with some rutted, rocky sections. A couple of sections of the trail had been washed out and we had to take a muddy detour crossing a small dried up canal. If you look close enough you can always find mud no matter what time of year! As we hadn't left until midday we had to jump on a section of tarmac that headed up toward Aoral and the gateway to Kirriom. We were making good time, when I turned round to check on the group; we were missing La! He was about 1km back and it appeared the piston had seized. Not a good start! We called the rental shop and they said they'd come and replace but it was too long to wait so we pressed on with me leading the group and La stayed behind to wait. He ended up staying in Kompong Speu.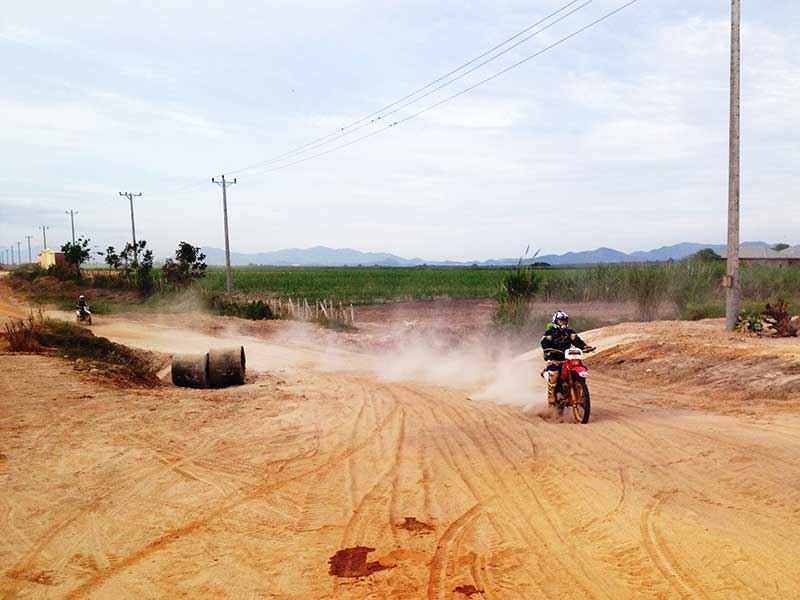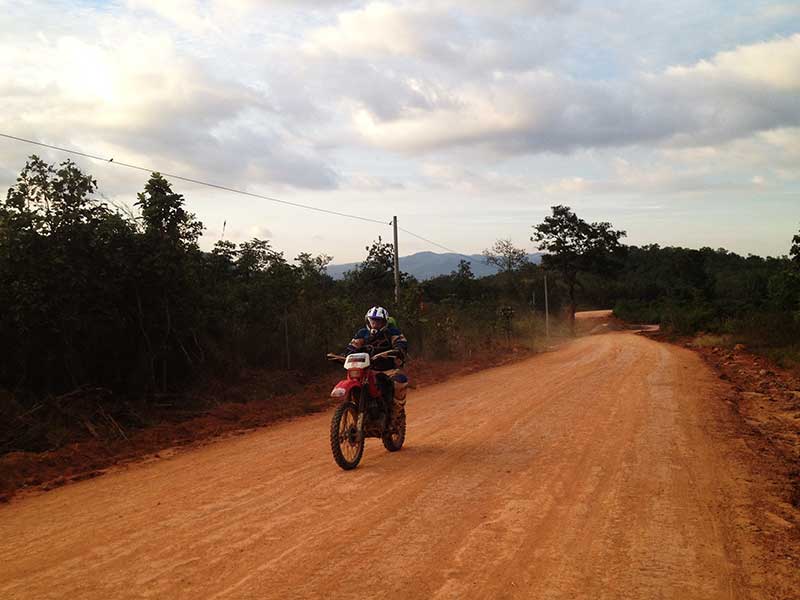 We stopped in Aoral for some noodles and coffee, before heading into Kirriom National Park. We followed windy dirt roads through villages that were covered in a coating of dust from the red dirt roads, that really is the epitome of rural Cambodia. As the sun began to set the in the nearby hills we entered the park and the elevation rose considerably to about 2,200 feet. Kirriom, due to its high elevation is covered in pine forests unlike anywhere else in Cambodia; we could be anywhere! We made our way to the resort, and after ice cold showers we had a tasty dinner and then hit the sack.
Day Two - Kirirom to Kep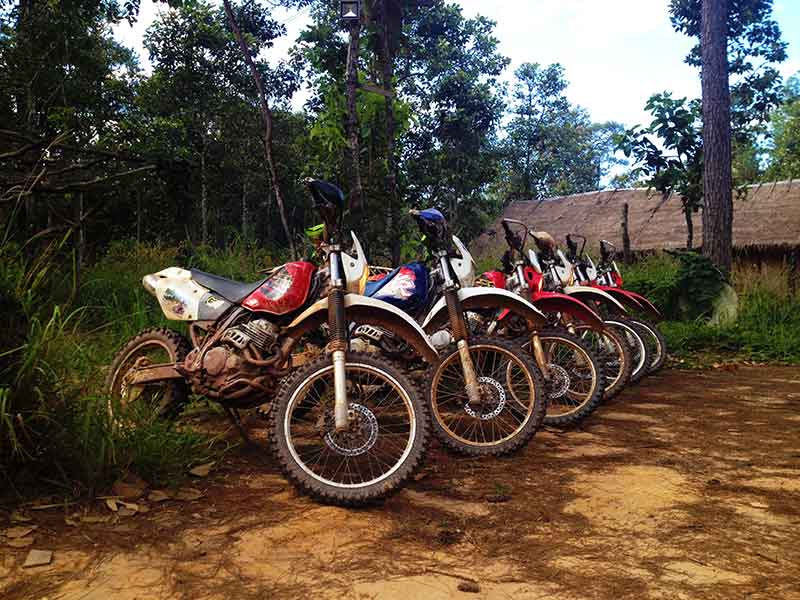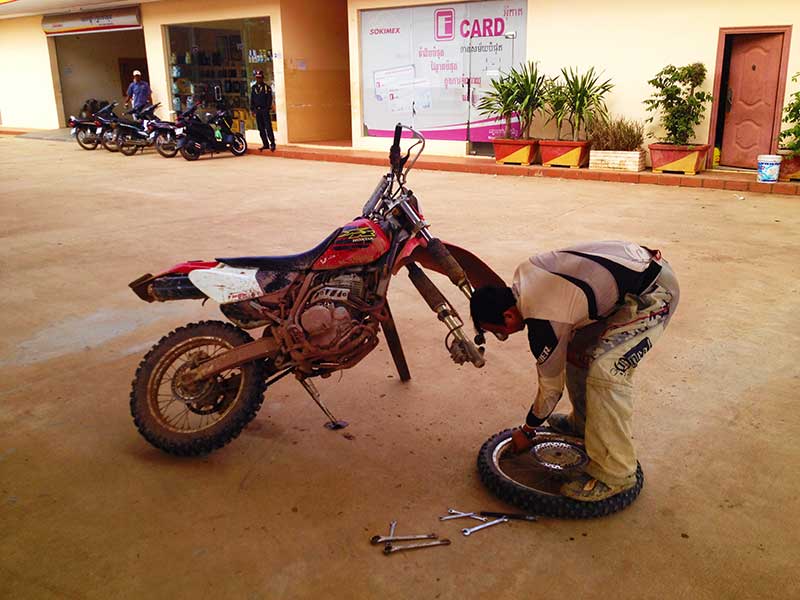 After an early start we were back on the road. After chasing Dan who had overshot the turning, the gearbox on my bike gave up the go and I was stuck in second gear; this was getting ridiculous! I was fuming and really wished we had just bought our own bikes down. But, we made the best of a bad situation and pressed on. Luckily Rob & his mates were pretty chilled out and understood the situation. I think it was the spring that went, but never ended up finding out. I swapped bikes with La and took the lead while La looked after the stragglers. We stopped to fill up with petrol to find our first and actually only puncture of the tour.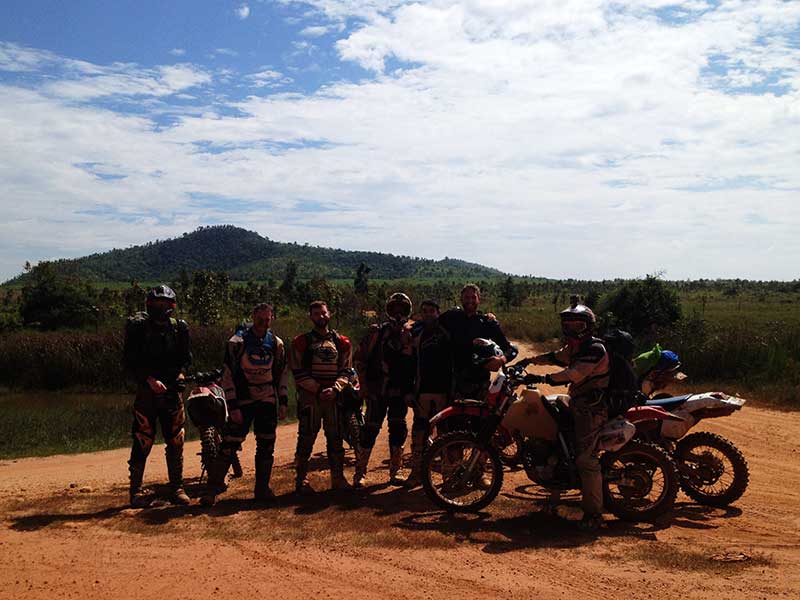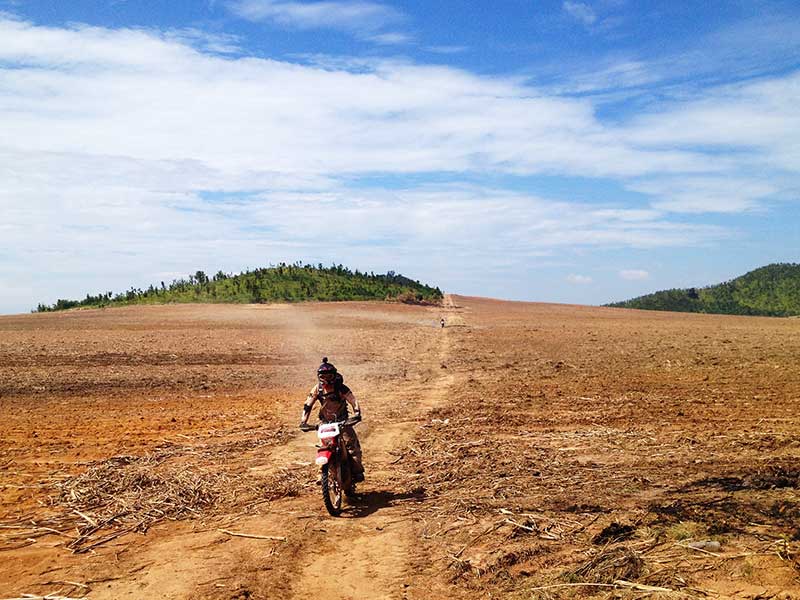 We were soon back on red dirt roads again and headed to the Elephant mountains which we planned to follow south down to Kep. You used to be able to get nearly all the way down to route 3 on awesome single track through the hills, but had heard half of it had been graded. As the mountains loomed on the horizon we all started to get excited at the anticipation of some good trails. We stopped for a quick group photo and headed into the hills. I couldn't believe it! All the old trails were still there although in better condition than before, but there were no trees at all; in 2015 this had been thick forest and I was very sad to see the land razed like this. Deforestation is a continuing problem here with vast acres of land being sold to corporations from China and Vietnam to name a few, for commercial agriculture. Often the land is left and nothing is done with it.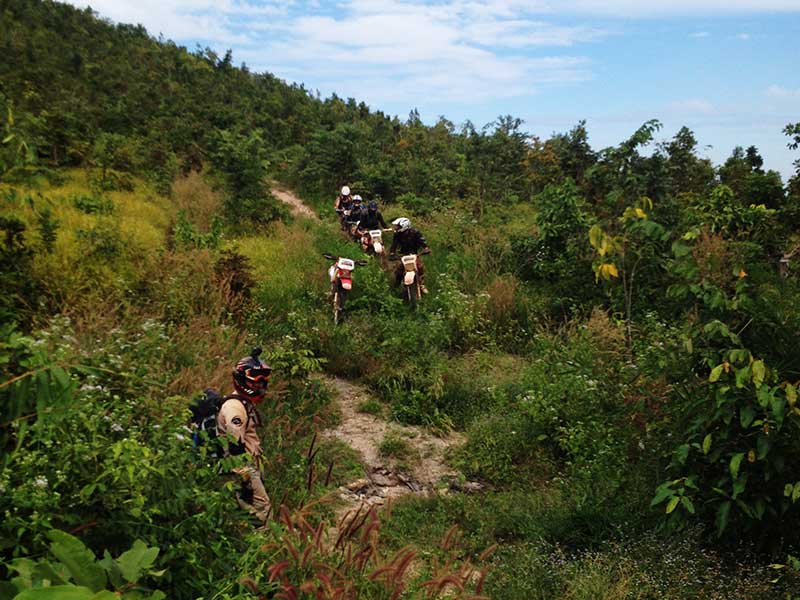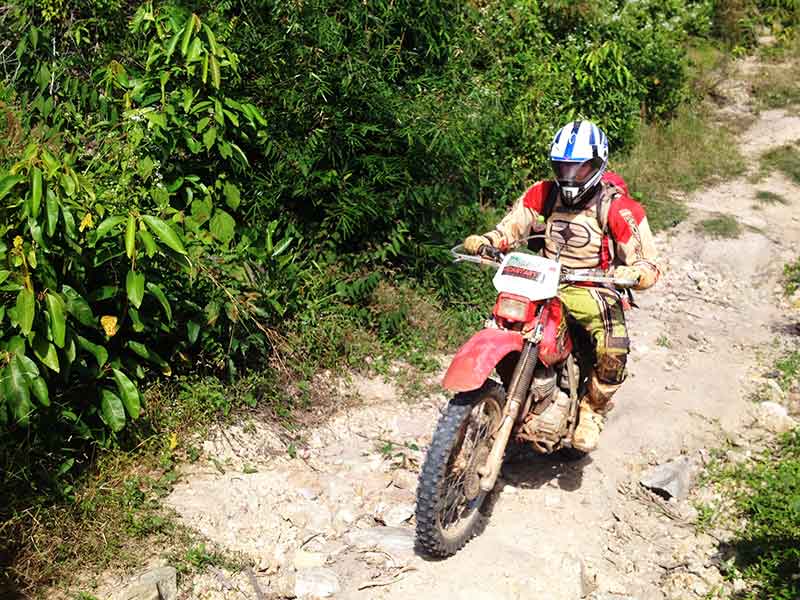 We carried on and worked our way onto the nearby single track. Soon we were up in the hills where in places you could barely see the trail due to the grass growing over the trail. Not many people came this way. After a couple of descents and a couple of rocky climbs, I went ahead on the next crest to get some photos and videos of the group coming through.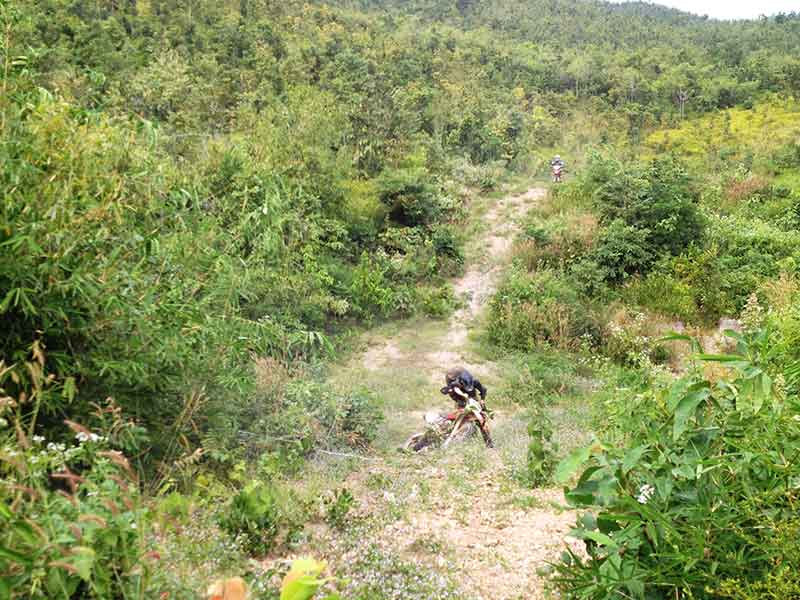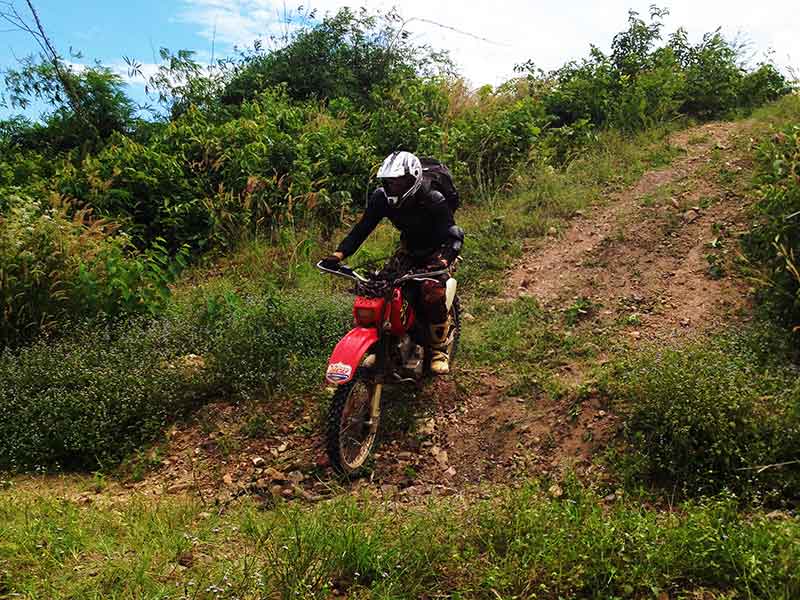 After saying take it slow, as there were some technical bits with a sink hole in the valley below I got set up for the shot. Now the lads were all keen mountain bikers so they had the right mentality for riding, and didn't back off on the throttle when sometimes maybe they should have ;) Anyway, Scott went first and shot down the hill and straight into the sinkhole, he made it through but got thrown into the bushes; a good fail. Then Tom just went for it and it all happened in slow motion. He hit the sink hole and you could hear the forks bottom out from 50 meters away…. metal on metal and he went straight over the bars and thrown to the right. Thinking he's probably broken his wrists I ran down the hill to see if he was ok. Miraculously he was fine, and we picked him up and after a rest got everyone else up the hill. >>>Check out the Tour Highlight on YouTube<<< On the next hill it was Pete's turn. He didn't get enough of a run up and lost momentum on the first rock and the bike did a big donut throwing Pete up the hill. Another classic fail! Now Pete's bike had been having a few issues and the starter was on the way out; you had to bang it with a rock for it to tick over. [FFS!!!] Of course it chose to not start at all now, so I had to run back up the hill with the bike so we could bump start it. We had to do this a couple of times! It's a good work out running tours!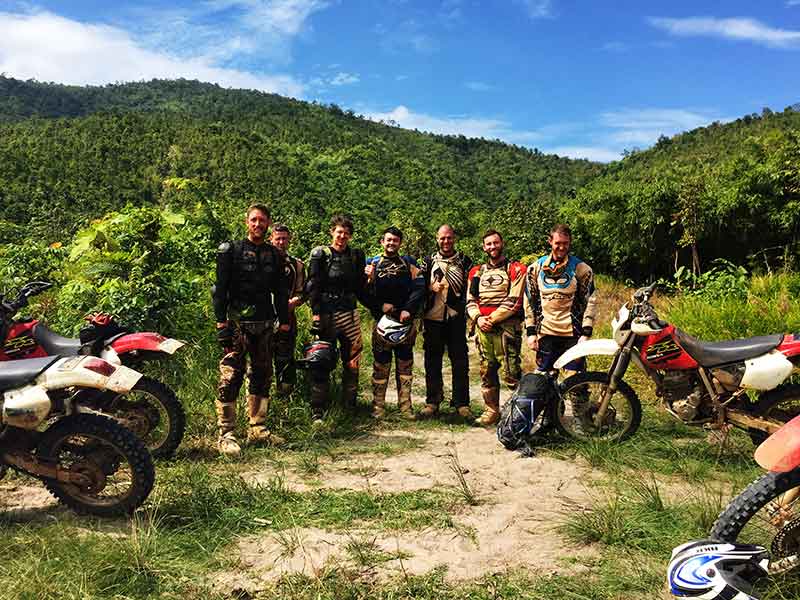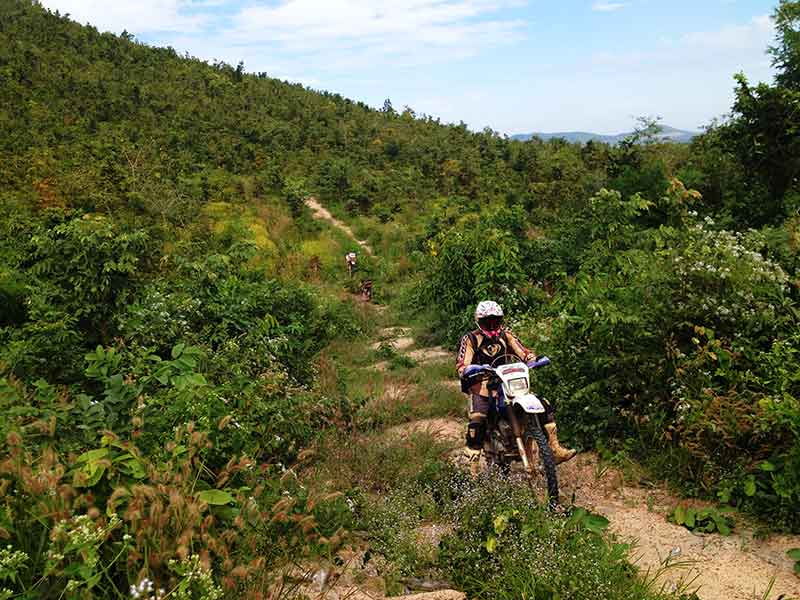 We pressed on enjoying the technical rocky sections and flying through the single track when we came to a barbed wire fence blocking our way. The bush here was very overgrown up to our heads in places. Obviously the land had been bought and was being farmed so we had no choice but to turn back. This happens a lot on tours, especially in the wet season and can be a bit frustrating. Often though, when this happens we end up finding new trails even if it means getting a bit lost, but that's part of the fun. I'd spotted a trail about 1km back that led back down to the dirt road. Dan, who had the least experience in the group, had taken a turn for the worse; a combination of heatstroke, new diet and just general exhaustion. We decided now was a good time for lunch so we headed for the nearest village for noodles & Red Bull. The classic dirt biker's rural lunch!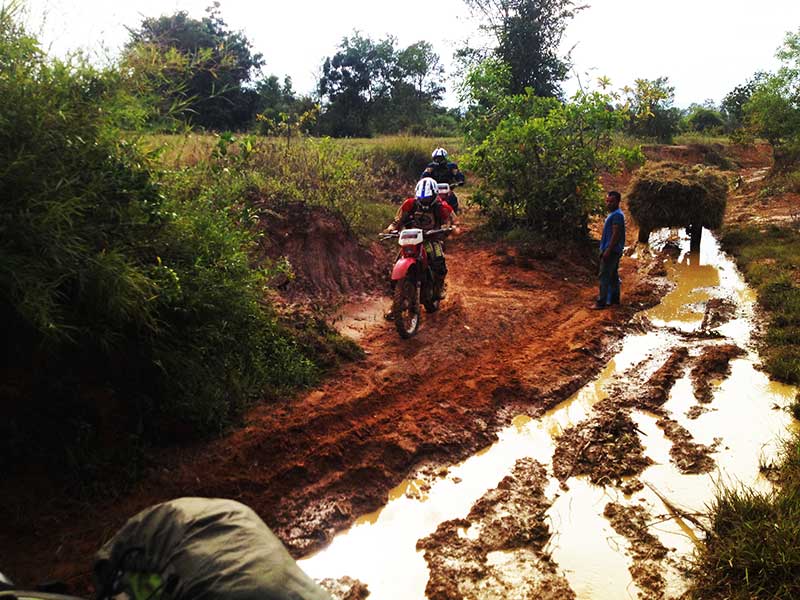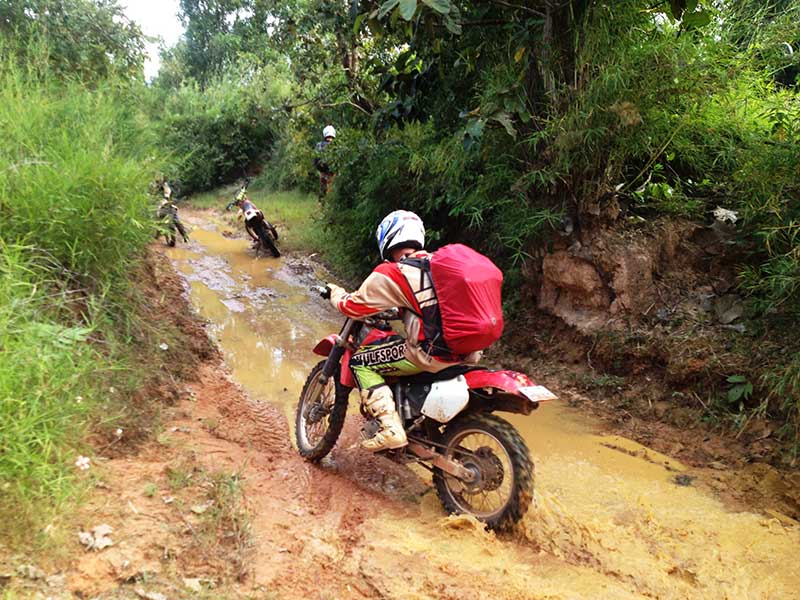 After replenishing ourselves we had no option but to carry on the red dirt road. There were other single trail routes but Dan still wasn't feeling right and was barely managing to stay on the bike. When we got to the nearest town on the highway we found a remorque/trailer and loaded and the bike and they went ahead to Kep. We still had some great riding to go as we headed towards the coast on a combination of flooded trails, through rivers and some nice fast single track through the forest.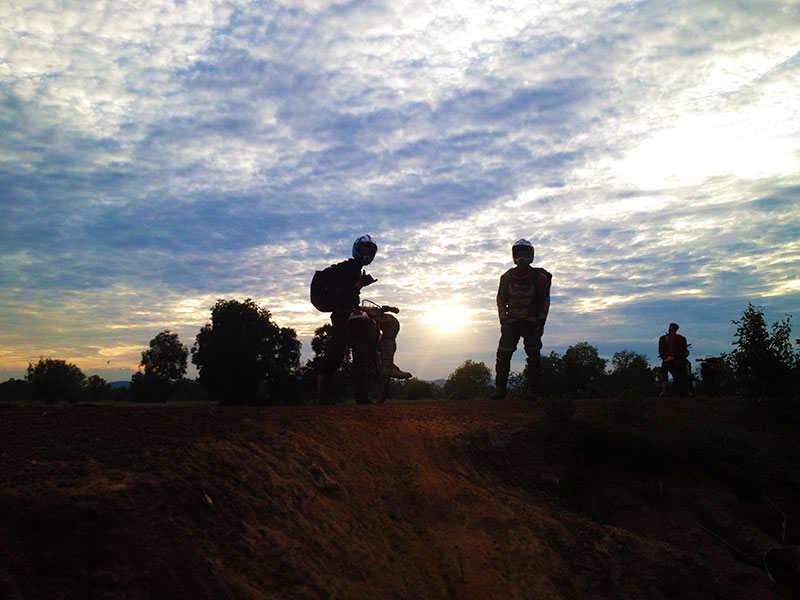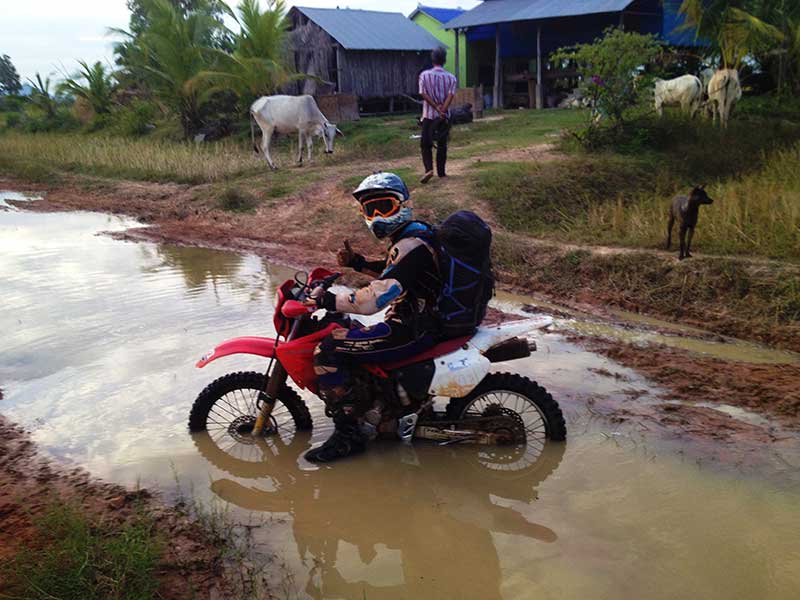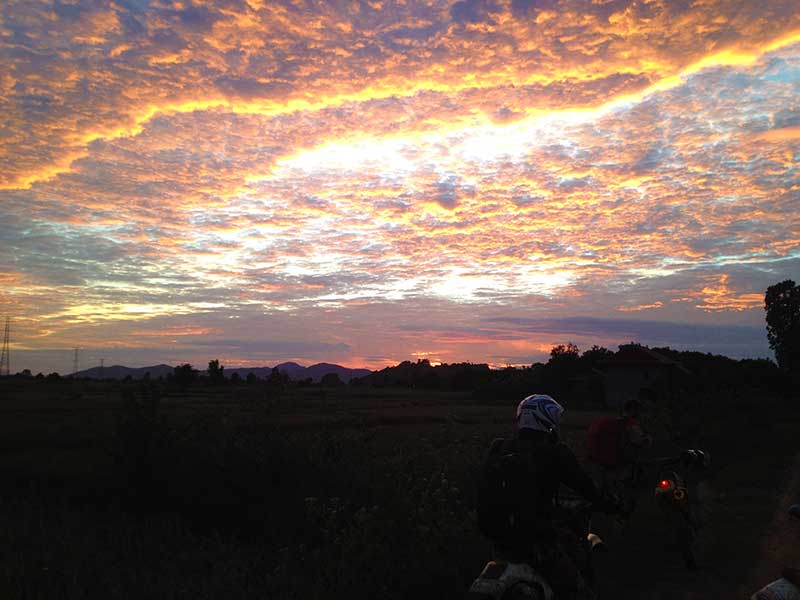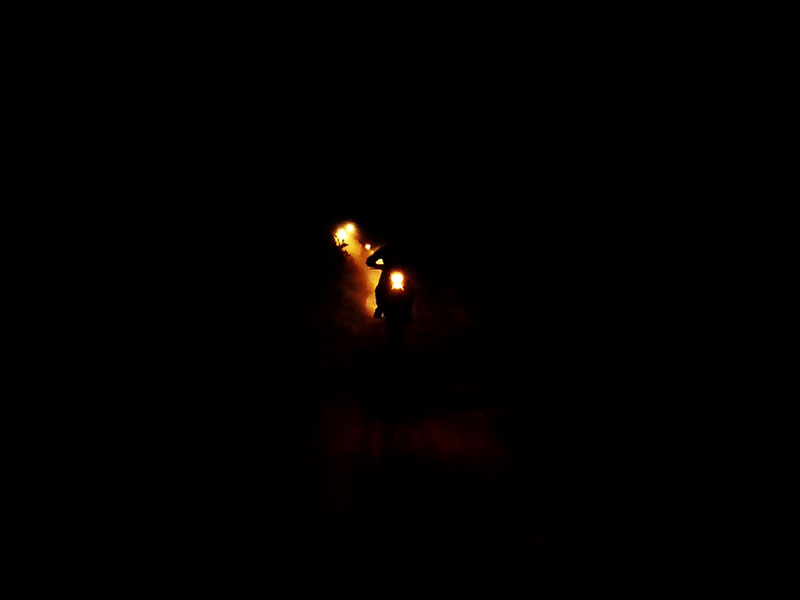 As we neared Kep the Sun was coming down and there was an amazing sunset that turned the whole sky into different shades of orange, pink & red. The perfect end to the day… but it was not to be: We still had about 20km to go through nearby Phnom Voar Mountain and Rob and Gav's bike decided to play up. Visibility was low due to the setting sun, and everyone was exhausted. That mixed with the sandy trails ended up causing a few offs. It was now the bikes decided to not start; Fuel issues and the starters mainly. We probably spent a good half an hour trying to bump Rob's bike which was difficult in the sandy conditions. Then once we got that going Gav had the same issues, so what should have taken no more than an hour took considerably longer. On top of that my headlight went so I was leading the group blind! Perfect! A word would be had with said rental company. Needless to say we won't be using them again!!! What don't break you makes you stronger. (At the end of the tour the guys said they would say what good mechanics we were in their reviews. hahaha) But everyone kept their chins up and soon we had arrived in Kep. After a couple of beers, we all showered and then jumped into a couple of tuk tuks to check out the crab market and take advantage of the fresh seafood which people flock to Kep for.
Day Three - Kep to Sihanoukville
La & I got up early to work on the bikes, then after a tasty breakfast we were on the road again. We ended up having no more issues with the bikes, but always at the back of my mind was the fear of them breaking down...again, especially the closer we got to our destination. Thankfully luck was on our side. Dan, who was still feeling pretty shaky today, decided to jump in a taxi to Sihanoukville and meet us in the evening. After saying goodbye, we followed a dirt road that cut in-between lush rice paddies bursting with bright green. Kampot is such a picture postcard province… a bit like Cornwall in the UK in that regard. Before we left Kep there were some limestone caves called Phnom Chhngok that had an ancient pre-Angkorian temple in it that I wanted to show the group.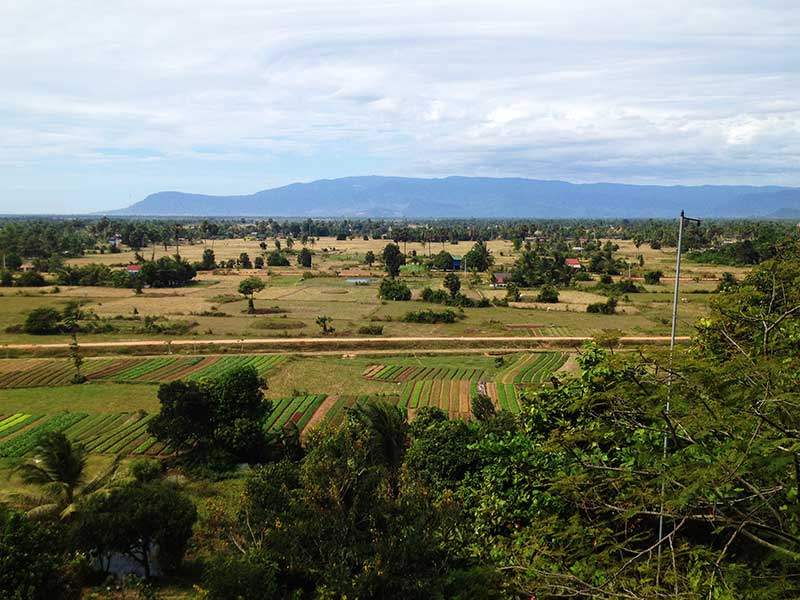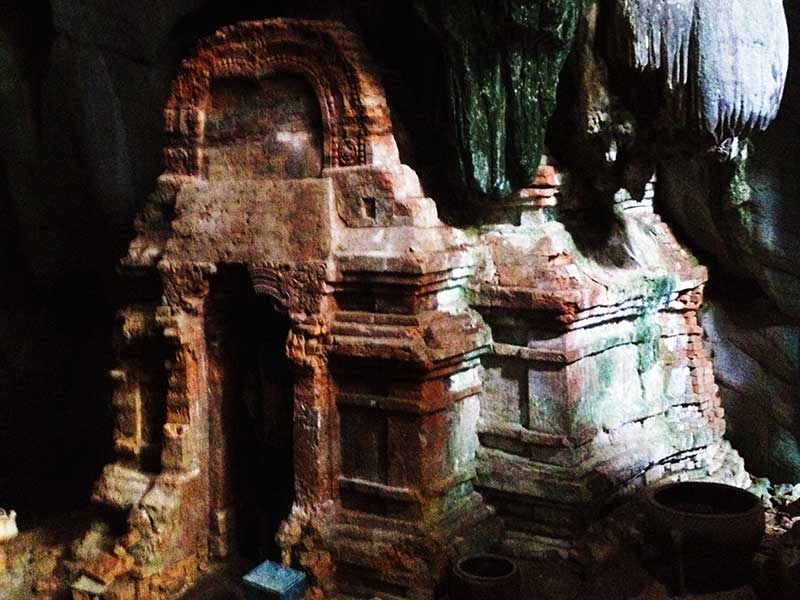 We left the bikes at the base of the "mountains" which were actually called Karst formations; formed from the dissolution of soluble rocks like limestone. They are characterized by underground drainage systems with sink holes and caves, which I intended to explore. We climbed what was probably 100 odd stairs before being rewarded with great views of the surrounding plains. The stairs then descended into the heart of the mountain where there was a little shrine made of brick, which had almost become one with the cave. The shrine was 7th century and was dedicated to Shiva and is similar to other monuments of that period around Kampong Thom Province.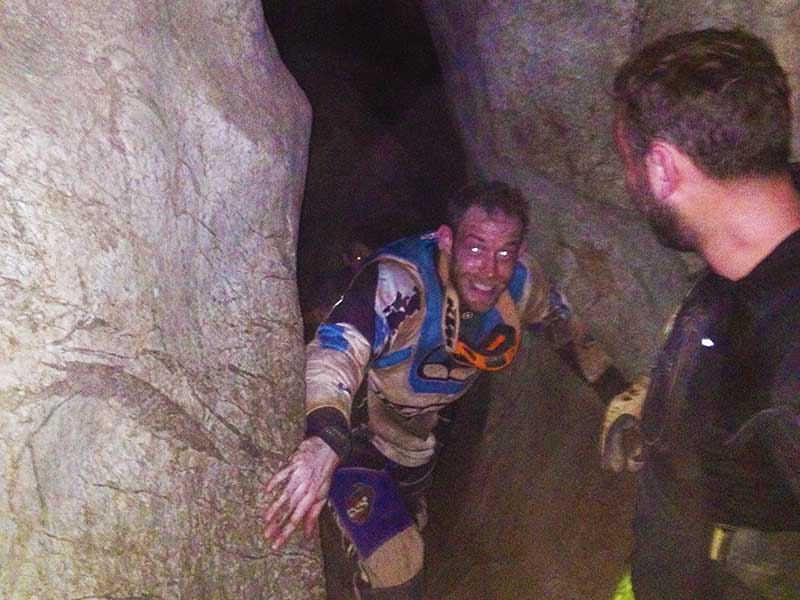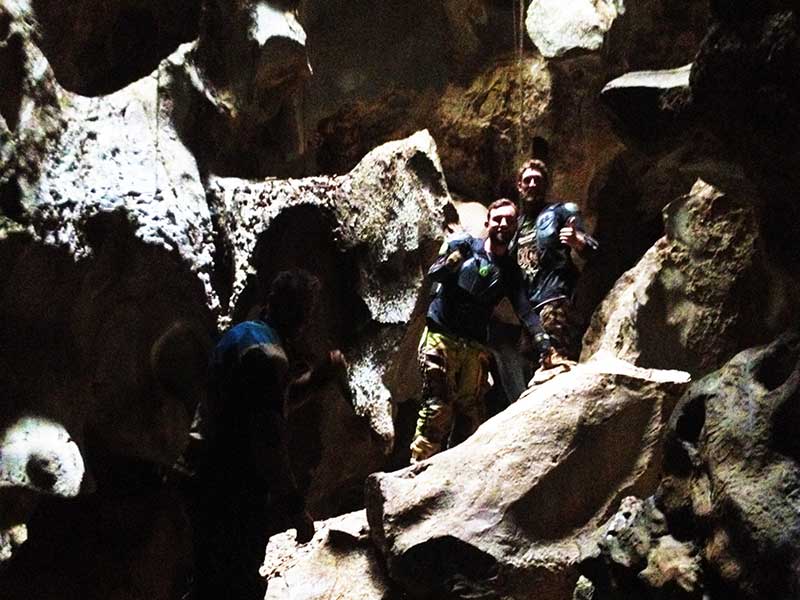 We then descended further into the cave through a series of sink holes and tunnels. We had our motocross boots on, which most certainly weren't designed for climbing so it was a bit sketchy in places. It got darker and darker and I wish I'd bought my head torch, when the tunnel opened up. and we could see the way out. The exit was a fairly vertical climb up a rocky face that went for a good 15 feet. We scrambled up and pulled each other up. A fall from here would be nasty, you'd be lucky not to break anything.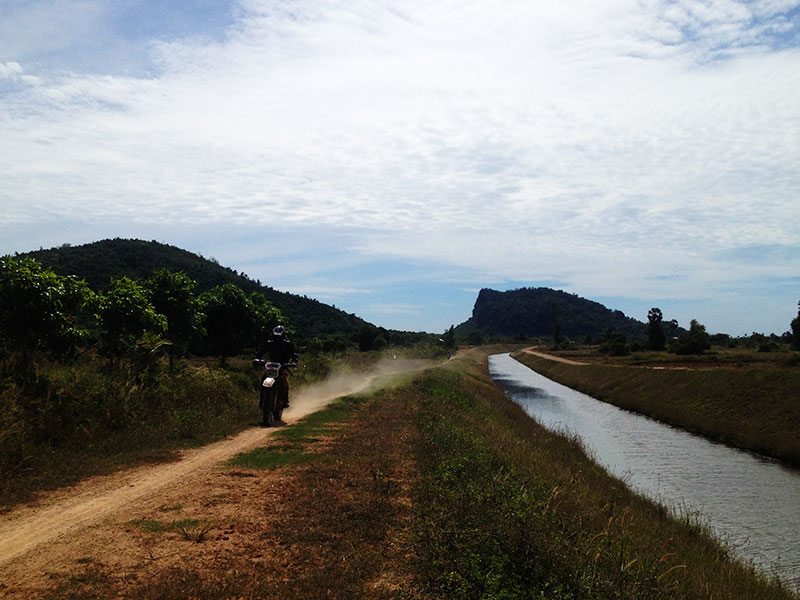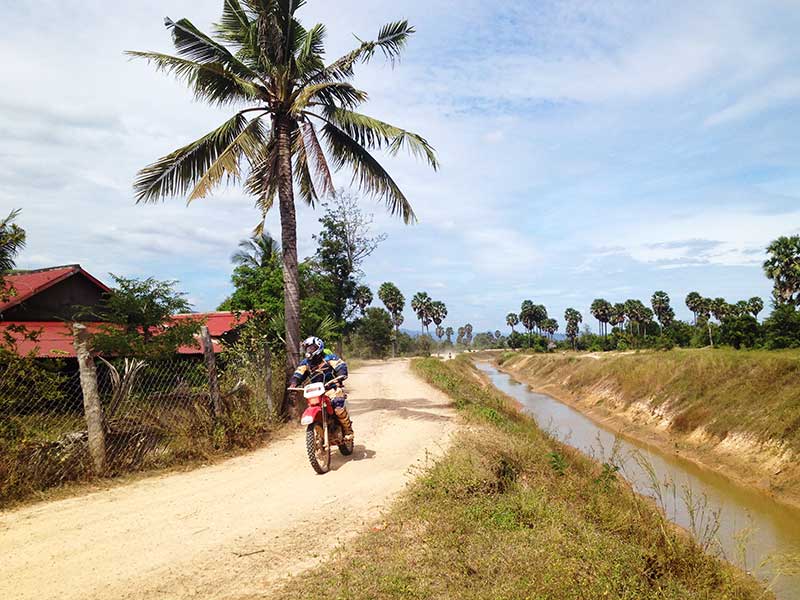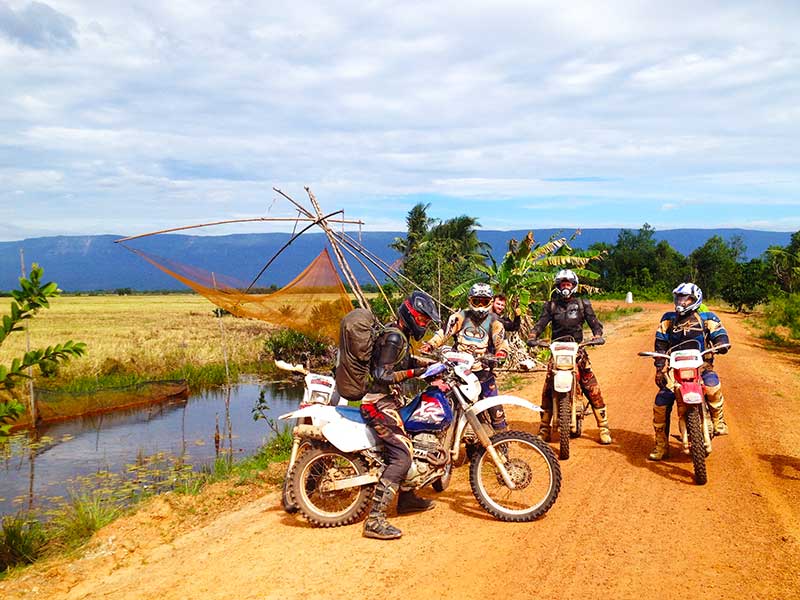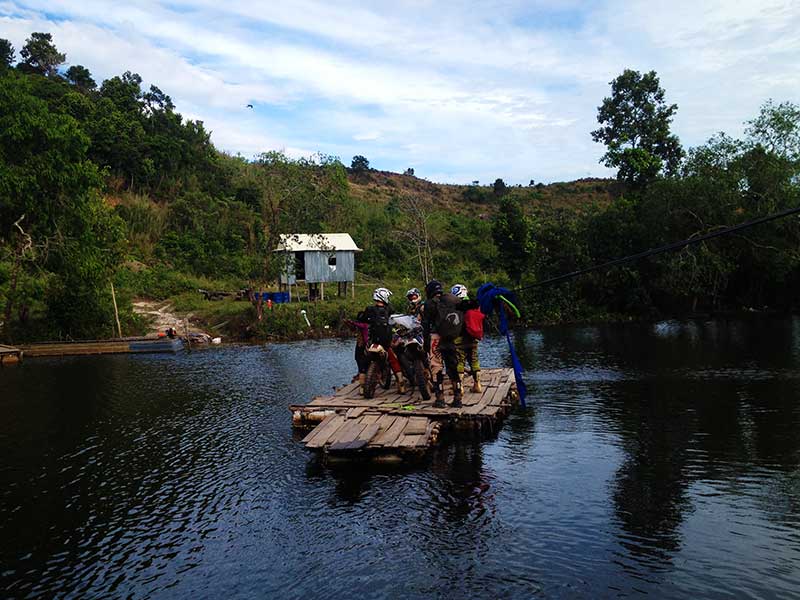 Soon we were back with the group and after a quick drink we followed the canal system into Kampot. Then we had to jump on the highway for about 50km as we'd spent too long in the caves. At the entrance of the Mangrove forest there is a little restaurant that overlooks the Mangroves where we often stop for great chili, prawn fried rice. Feeling rejuvenated we jumped back on the bikes and entered the mangroves. The red dirt road twisted and turned through the forest and picturesque little fishing villages. We passed massive fishing contraptions that were uniquely Cambodian with the mighty Bokor Mountain looming behind us. Soon we hit Route 4, but we still had some good trails to go before we called it a day. A little bit of highway later, and we headed inland just after the turn to the airport. We cut through the industrial estate and piles of festering rubbish, to a little ferry waiting to get us over the river manned by two little kids. I think the parents were playing cards! :/ It was a pulley system so we all helped pull the overloaded ferry over and headed into the hills.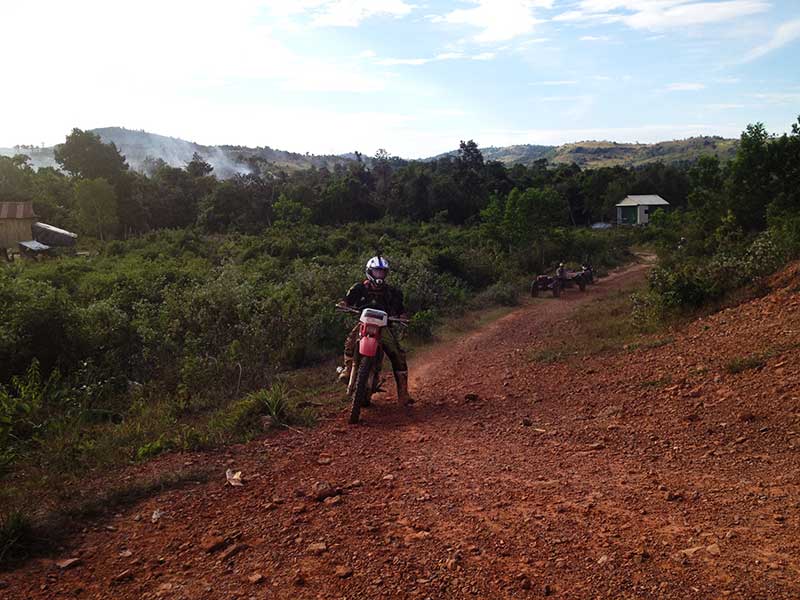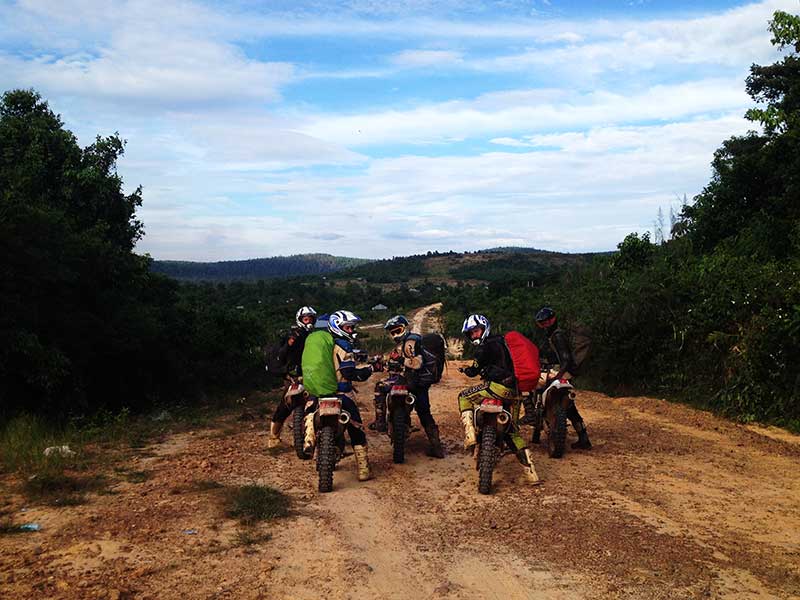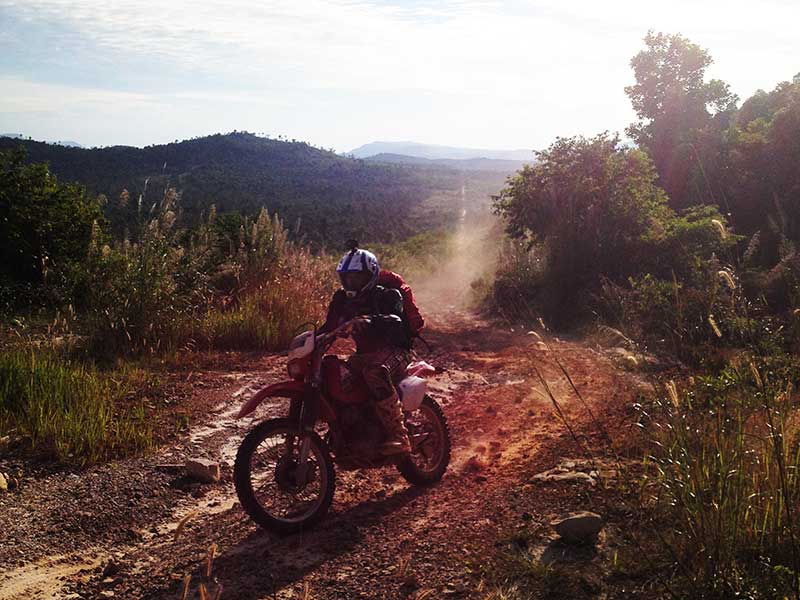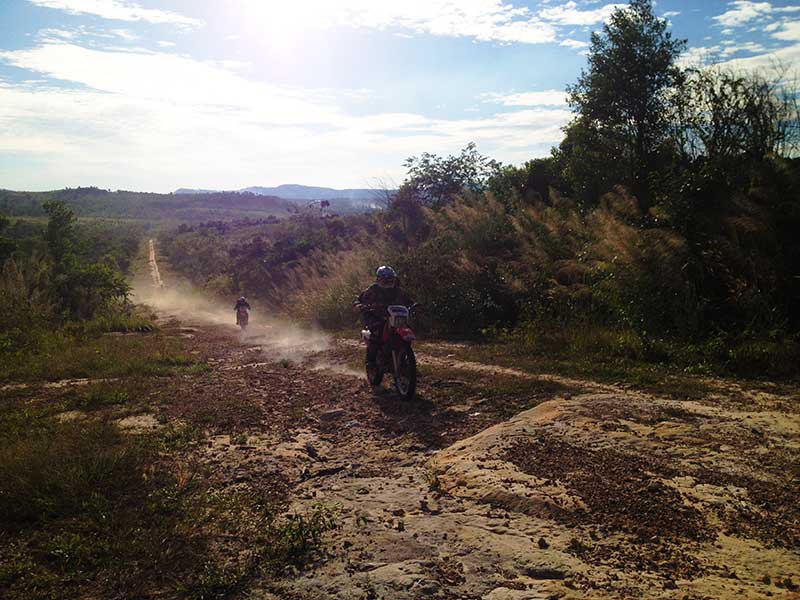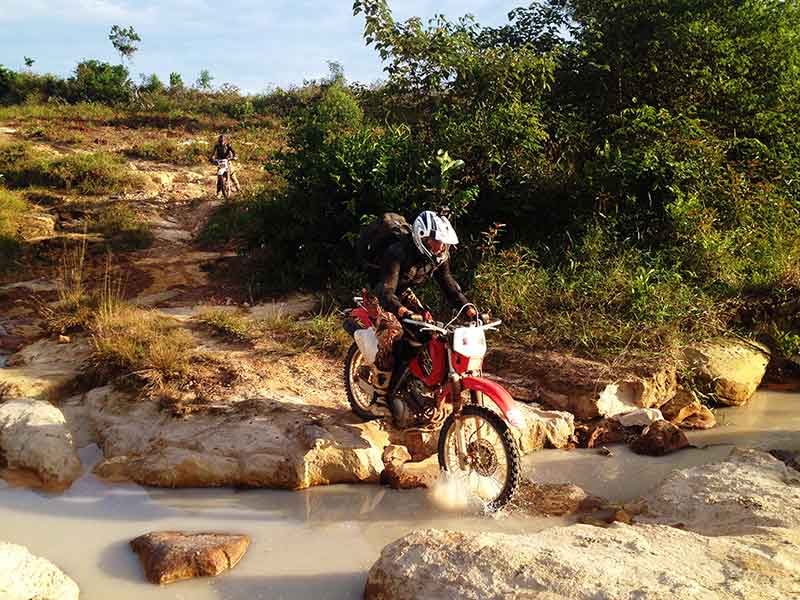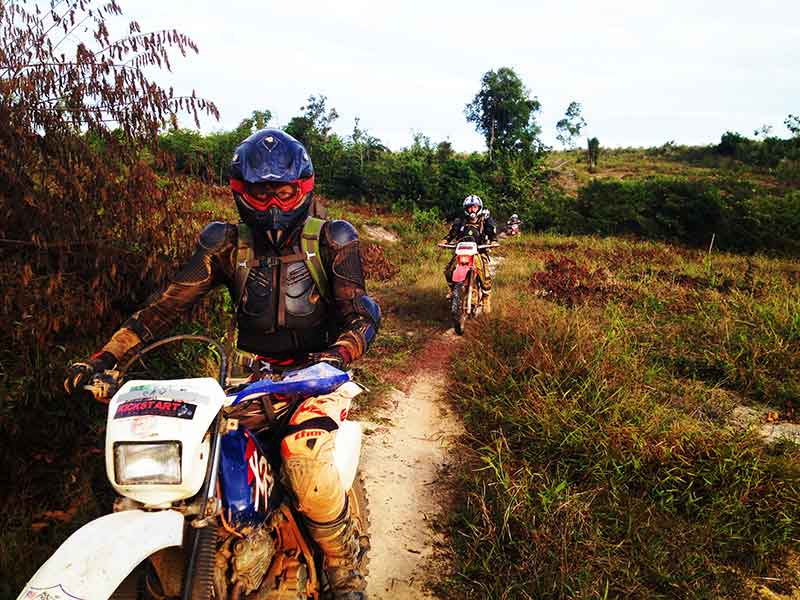 This was a great end to the tour and as the late afternoon sun was coming down, we attacked fast climbs and descents and then a great loose track that wound into Sihanoukville. Powering through the corners with our back ends sliding all over the place, we were all in our element and everyone was pretty pumped and found a last bit of energy… I only wish we were on our WRs! Then after a final bit of tight single-track and a rocky descent, where a couple of us got stuck at the bottom, we rolled into Kbal Chhay waterfall. We had an hour or so before the sunset and we wanted to get to the beach by then. We passed through the picnic stalls, crossed over the bridge and jumped on the final bit of red dirt before coming into town.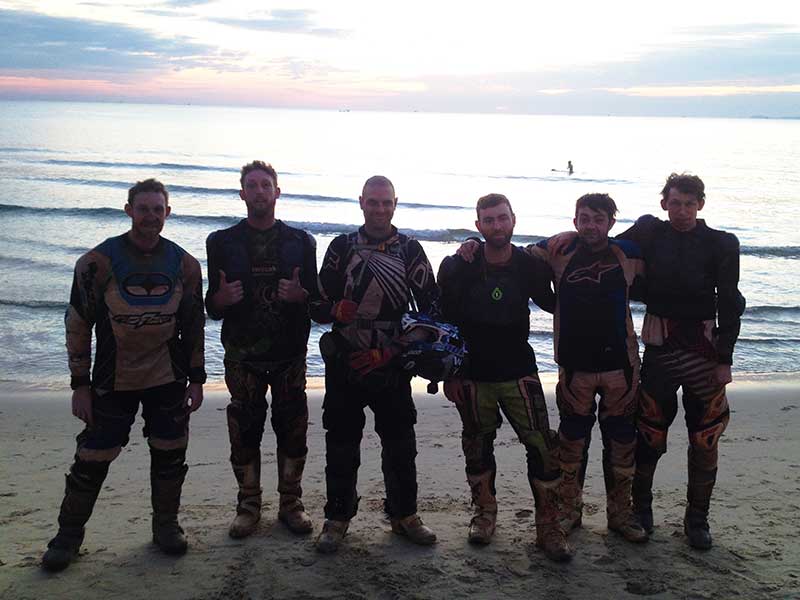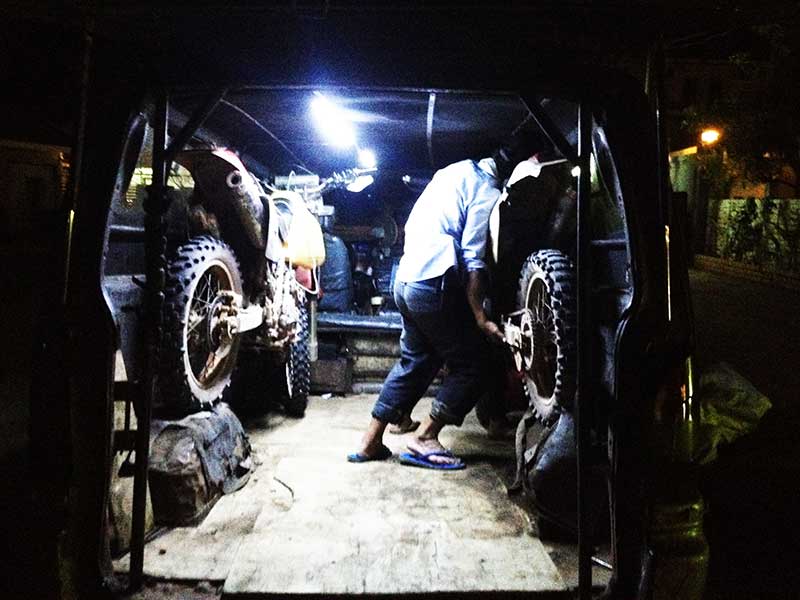 We got through town in one piece and stopped at the beach for a group photo and a quick drink; couldn't have been better timing! We decided it was time for beer, and as the sun disappeared behind the horizon, we swung our legs one last time over the decrepit old XRs we had hired and headed to the hotel. Before loading up the truck we had dinner and drinks with the boys and had a laugh about the last 3 days. It was great riding with you all and thanks for your ninja level patience and understanding over the bikes…
…I did think about not mentioning the bike problems, but that's all part of the ride and the story, and I believe in keeping it real! At the end of the day we made it work and it left us all with some funny, albeit ridiculous stories; the rock for an electric starter has to be an all-time classic hahaha!
Awesome ride guys, hopefully we'll see you in the future… Keep the rubber side down […Scott and Tom ;) ]