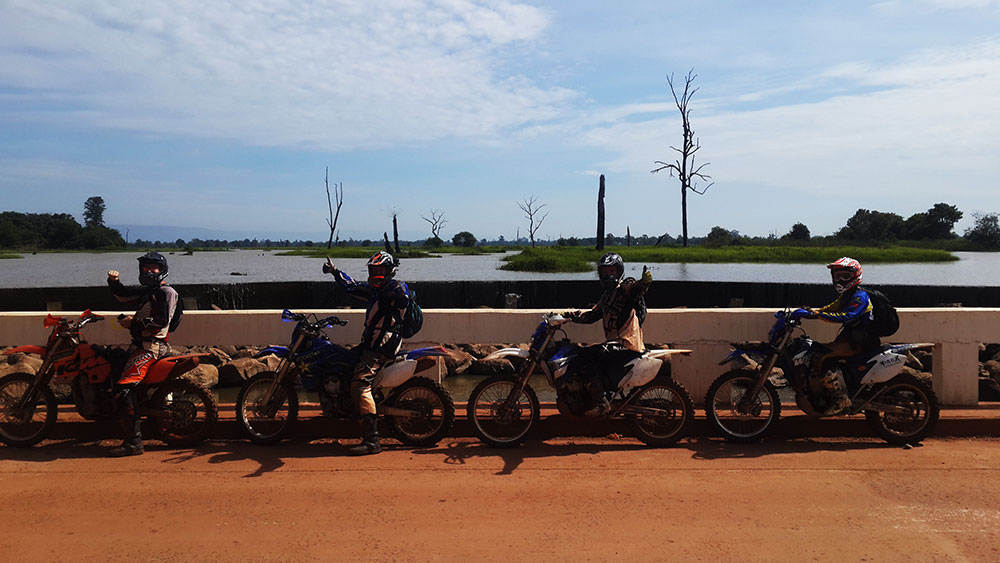 Once you've been bitten by the dirt-biking bug, you never look back. It is an enthralling sport that puts your limits, emotionally and physically to the test. On any given day of riding you are experiencing a wide range of emotions from despair to sheer exhilaration. That topped with the adventure travel side of it and the amazing things you can see and places that you wouldn't otherwise be able to, it is no wonder our customers keep coming back.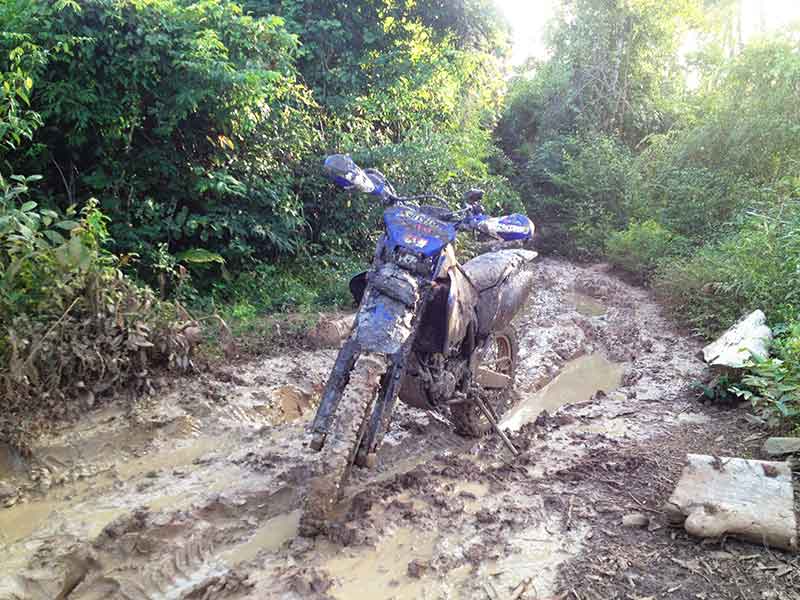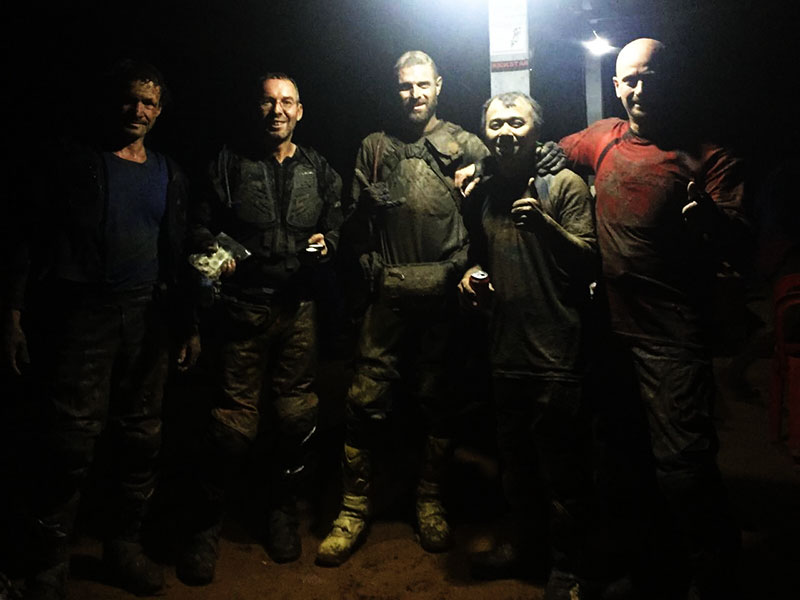 One group of riders who can't get enough of riding Cambodia are Stefan, and friend's Michael & Roland. After an insane 19 hour adventure through the jungle arriving at 4am, they were back again to give it another bash, albeit at a more sensible time of year. The first time they tried this route was in mid October 2016 and the conditions were muddy to say the least. The route was under water from the trail head to our stop at Preah Khan Temple. Many sections were kilometers of thick gloopy mud which sometimes took hours to get through with the aid of tow ropes and sheer brute force; in the dry this would only take 5 mins to ride. The whole trail was only about 30km and it took us 15 hours. Now this would put a lot of people off riding for life, as many times conditions like that can be frustrating and tiring beyond belief, and for the uninitiated damn right scary. However, the sense of achievement you get when you reach your goal, and the teamwork and comradeship you develop there is nothing quite like it that compares. That's the thing about dirtbiking; it's a way of life!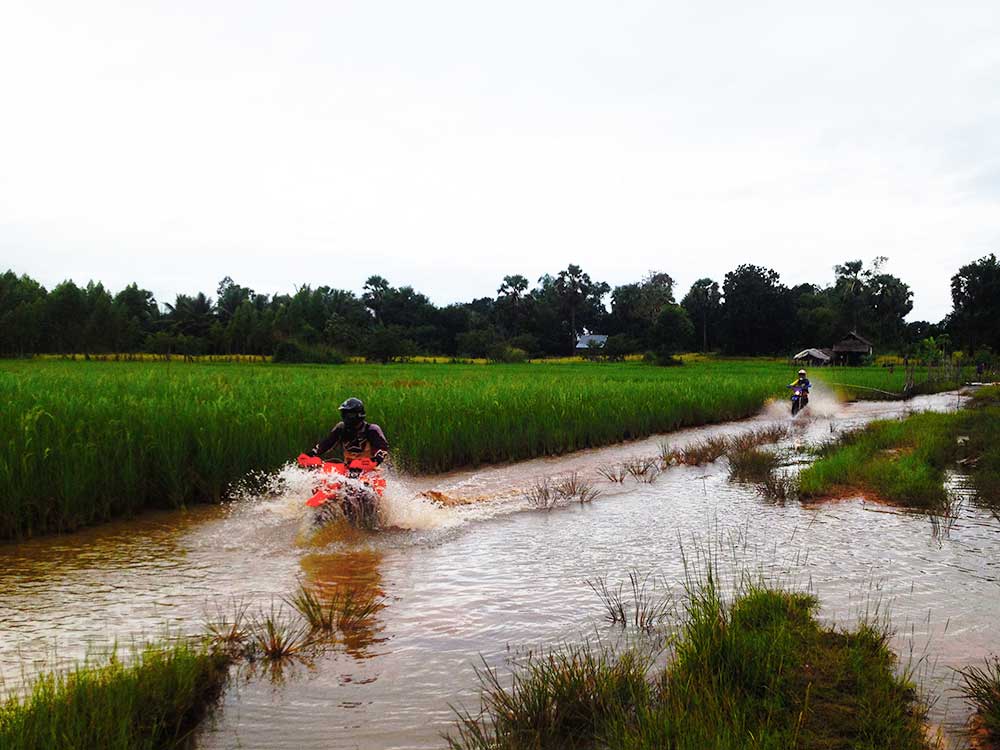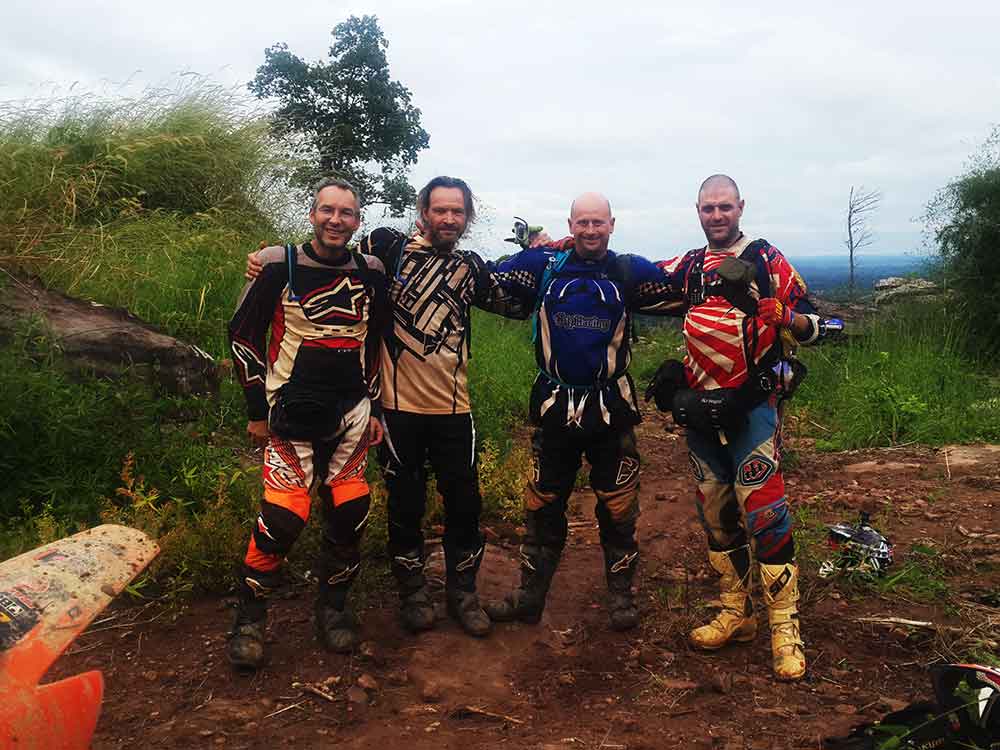 This time the guys came at the end of November 2017, and although still very wet and muddy in places, things were easier going. Stefan wanted to ride a bit longer and get to see more of the surrounding province and attractions, so he opted for our 6 day Tomb Raider Tour.
We left early on the first day and headed out of Siem Reap towards Kulen Mountain. The trail up the mountain from Svay Luur had recently been graded making it a bit more accessible to intermediate riders. Before it was serious territory for the Hard Enduro heads with some very technical sections where you literally had to get off and manhandle the bike over enormous boulders. Stuff that Graham Jarvis could do with his eyes closed, but for us mere mortals took a bit more effort. Needless to say for most of our customers it was a bit much, so it was nice to be able to access this route now, as there are some great trails at this end of Kulen.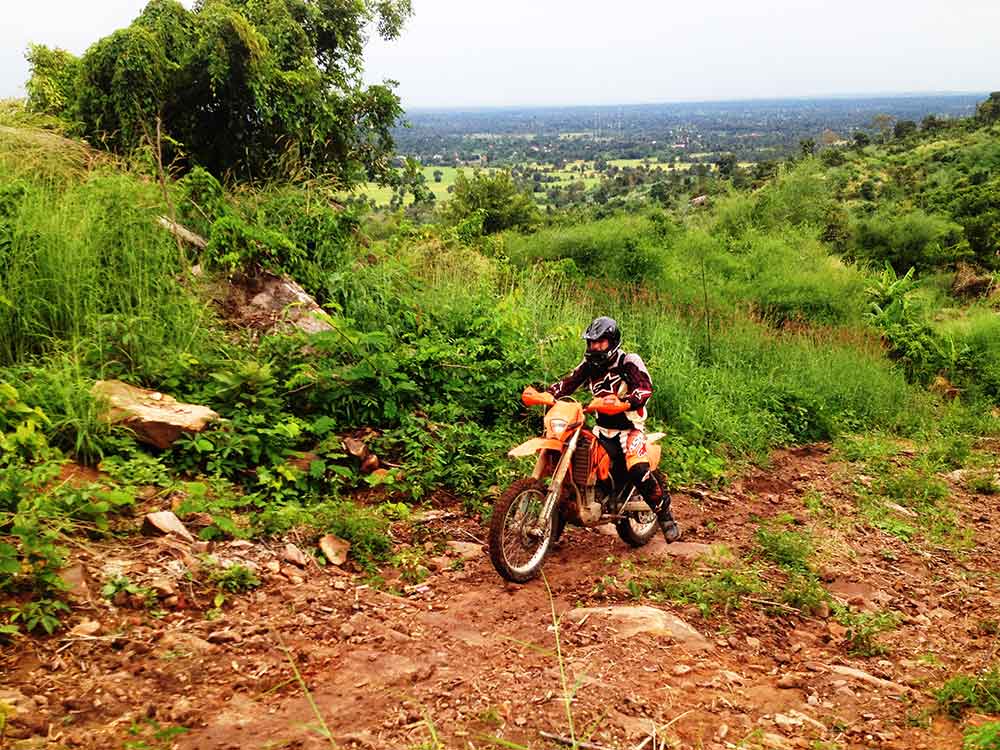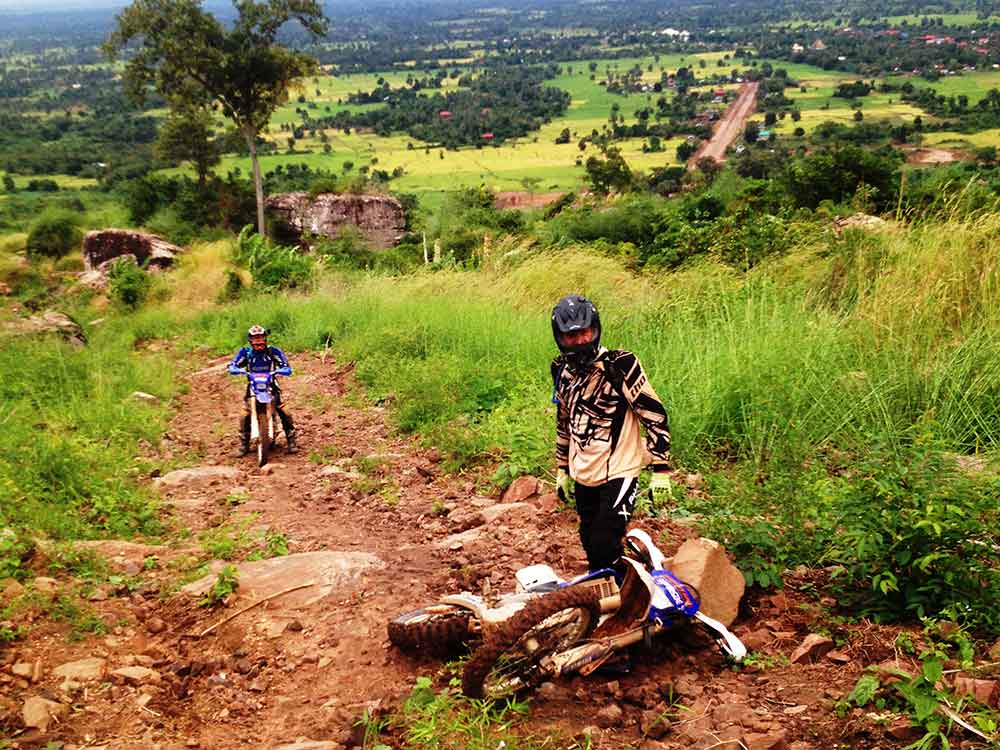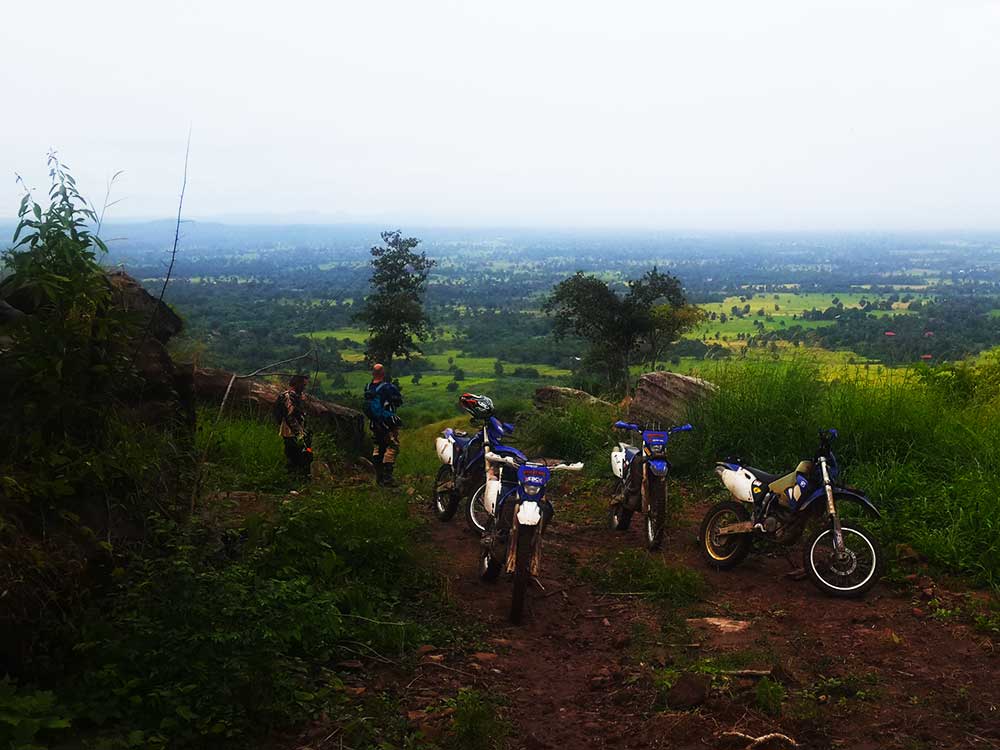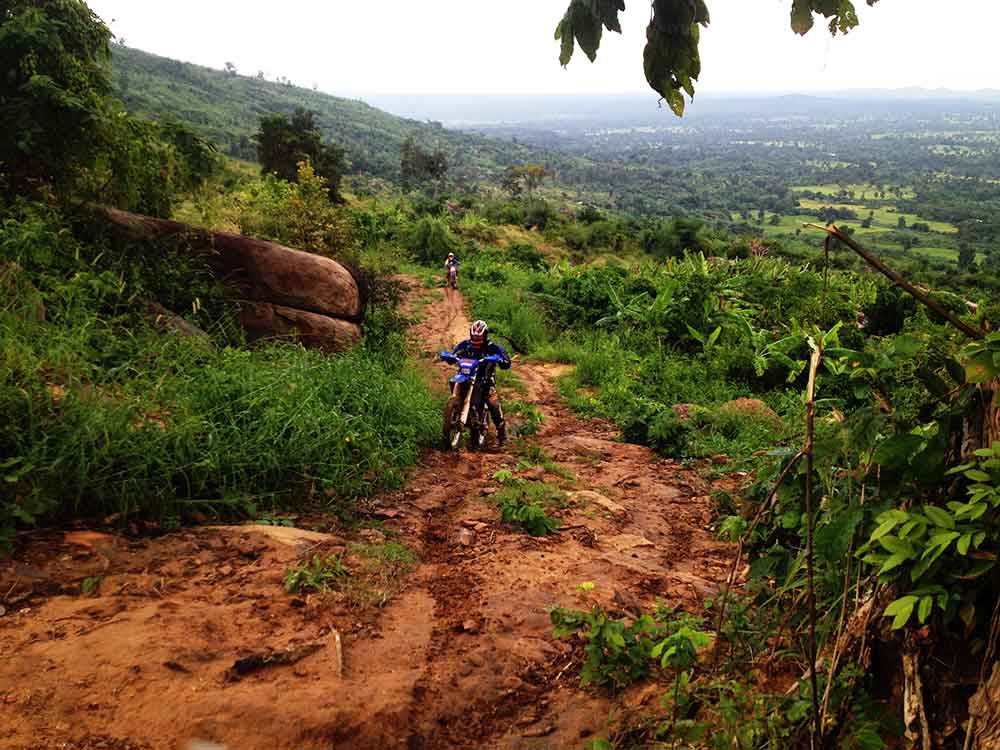 We got to the base of the mountain, and the first kilometer or so was easy going, then as we came round the next hairpin and saw the first proper climb things got a bit more technical. As the rice fields dropped away behind us we blasted the bikes up and over rocky stretches and a few big boulders where the trail had been carved into the mountain side. Once through the first climb which consisted of a couple of hairpin bends and loose rock gardens we stopped for a rest to admire the view. This time of year is beautiful in Cambodia, and the rice fields were a bright almost luminous green, scattered with sugar palm trees and an immense sky soaring above.
It started to rain lightly, making the rest of the climb pretty slippery on the rocks and boulders, but we got up with no mishaps and were soon on the windy single track that carved through the forest to our stop for the night.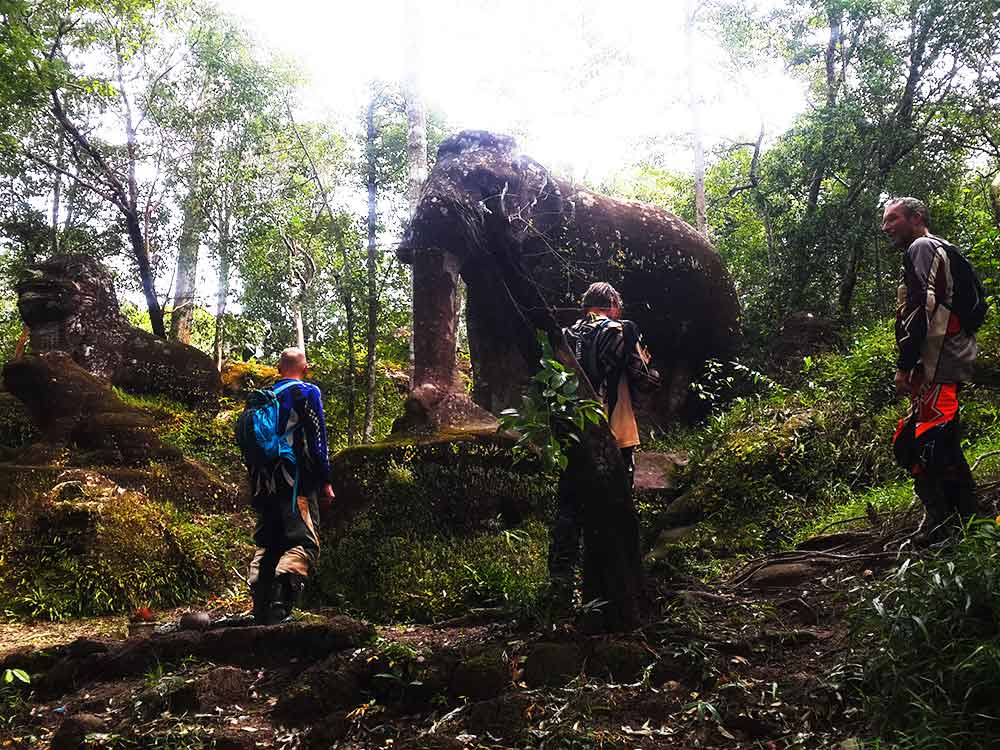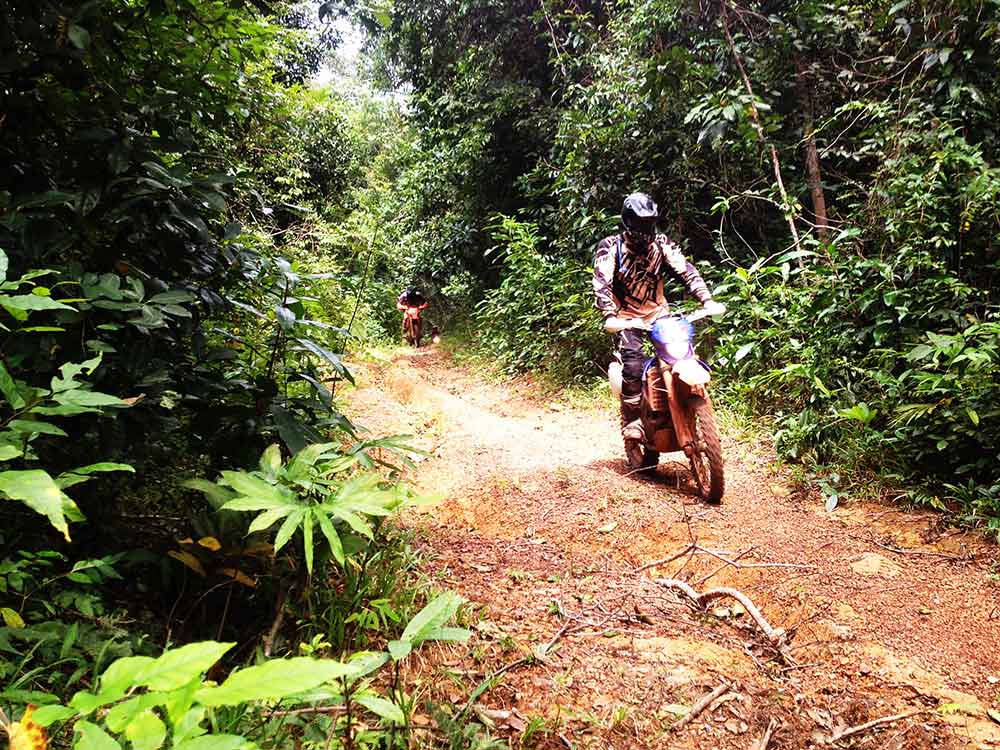 Over the course of the next few days we rode a wide range of terrain, from tight single-track through the jungle to muddy bogs and rocky hillclimbs. Not only was the riding amazing, but this particular tour takes in a lot of Cambodia's history and culture.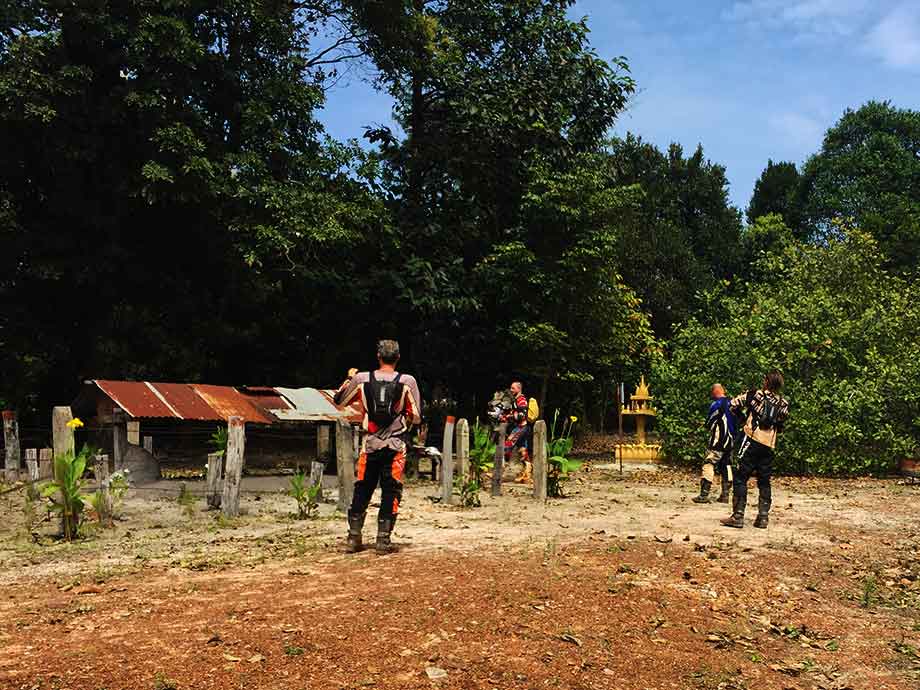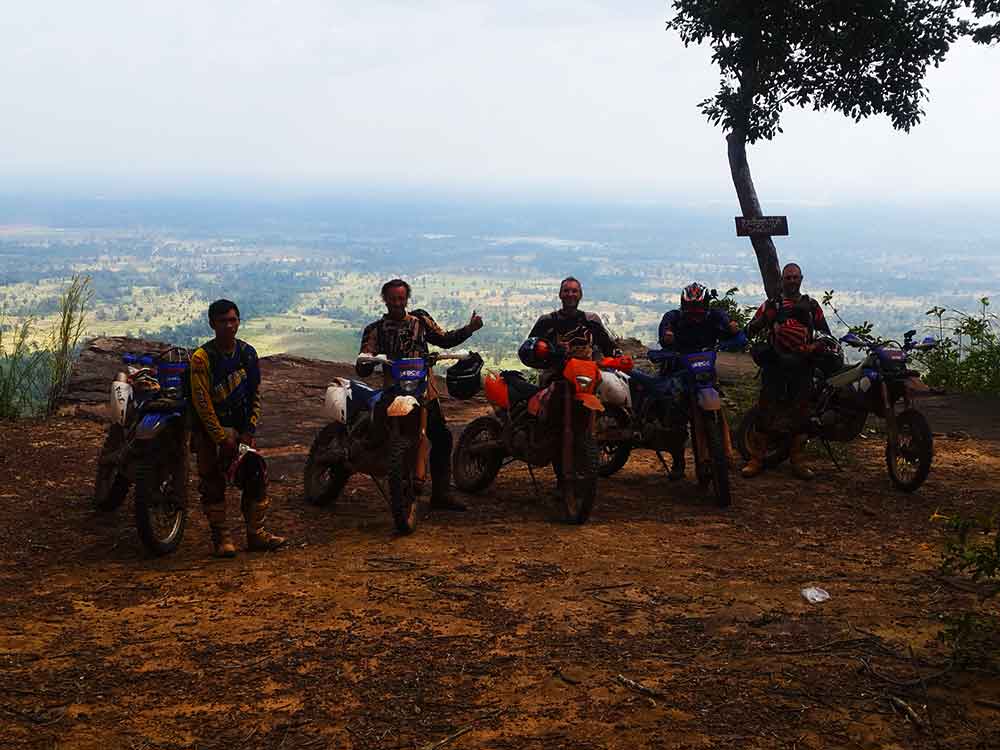 After Kulen we headed due North to the ex-Khmer Rouge stronghold of Anlong Veng which fell in late 1998. A very surreal place even today, remnants of the war still haunt the town, which is mainly inhabited by ex-khmer rouge families. In town we visited "The Butcher of The North"; TaMok's house and shrine, and Pol Pot's Grave and House up in the Dangrek Mountains. Incense is still lit and placed at these sights, which is quite bizarre considering what happened. However, most people who live here were former cadre and part of the regime and considered their leaders to be saints. Whether this is denial as to what happened or brainwashing who knows. [More Info about this area can be found on our Anlong Veng Blog]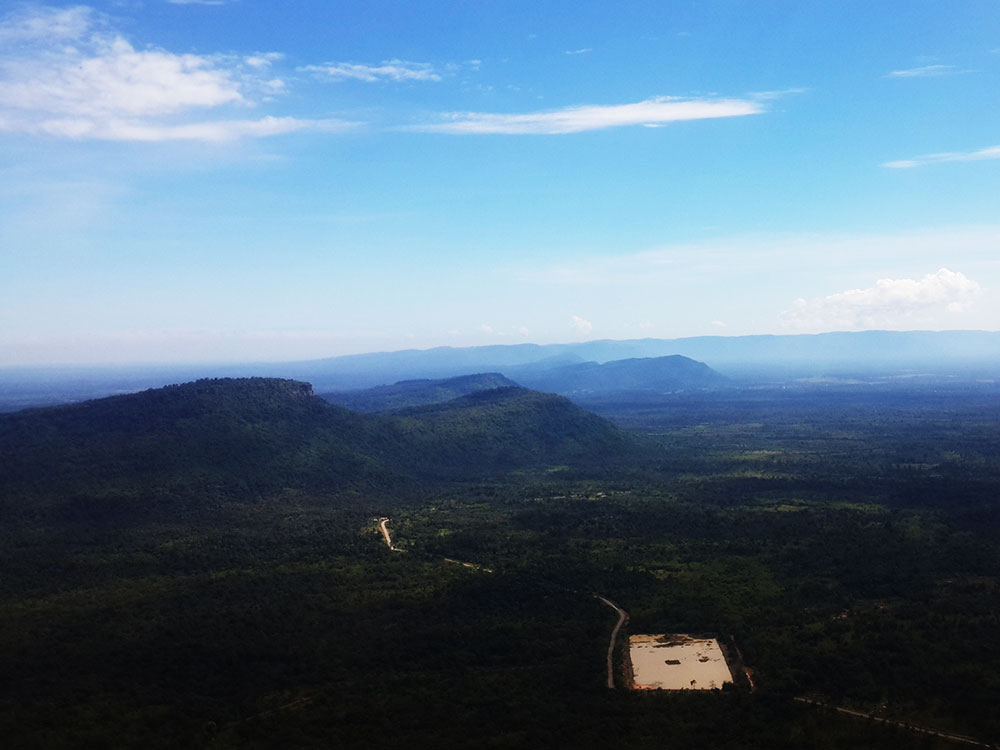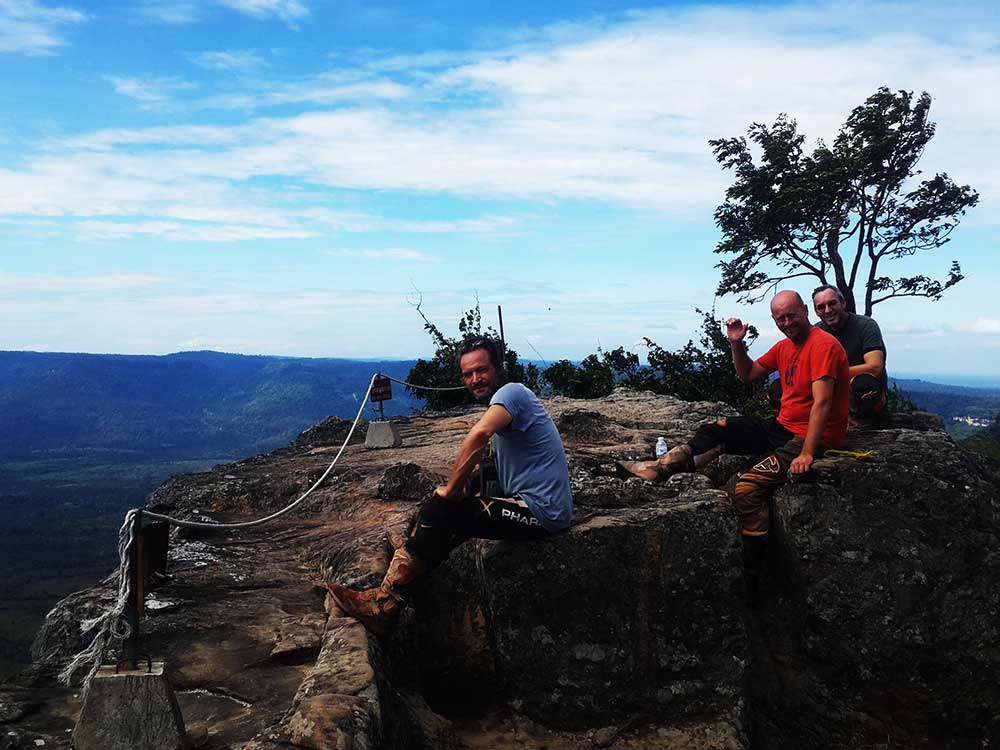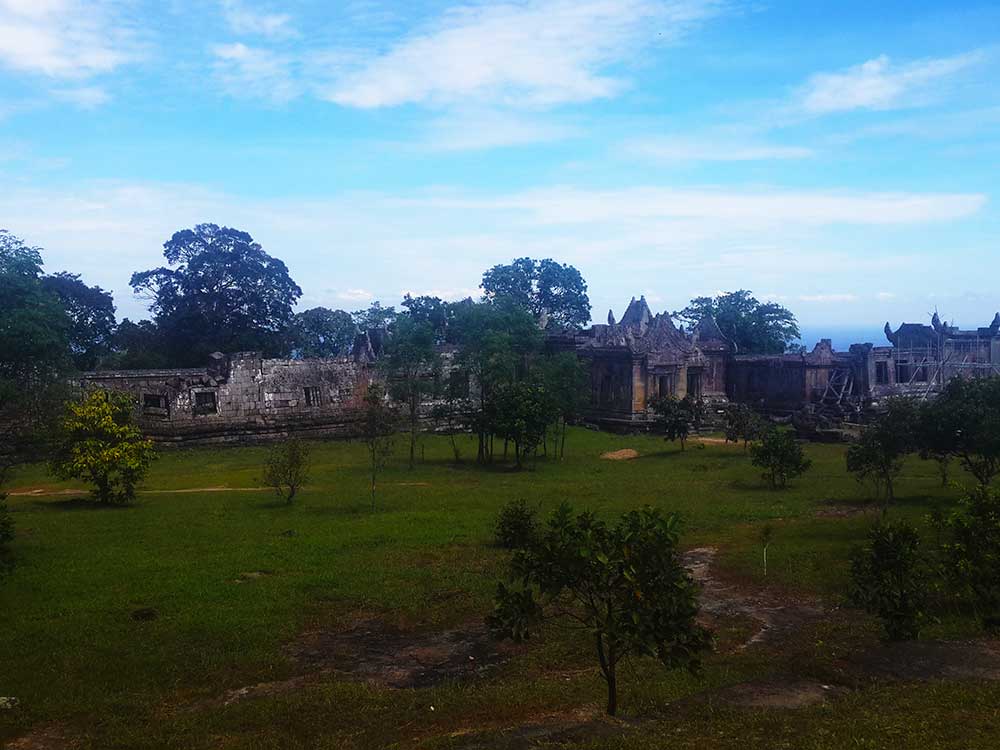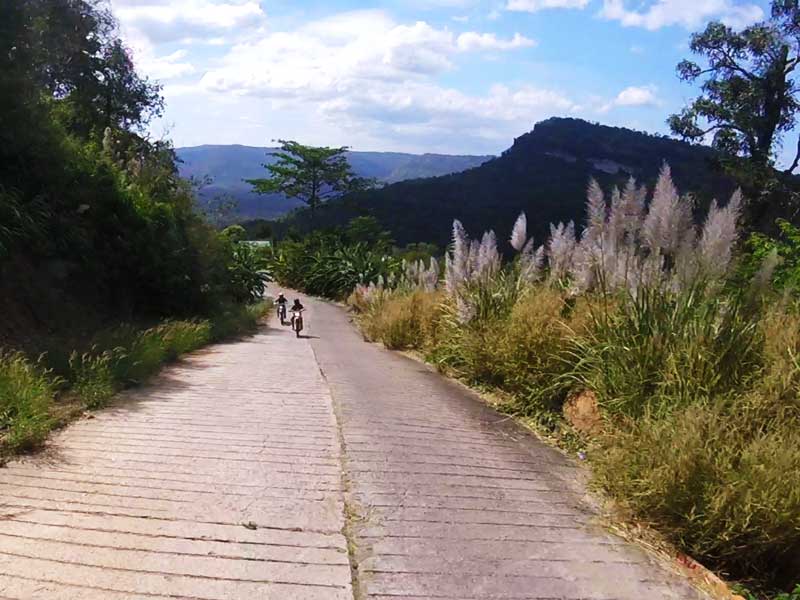 The next leg of the tour we followed the Dangrek Mountain to the 11th – 12th Century Temple of Preah Vihear, high in the Dangrek Mountains. It's hard to get off road here due to the many landmines still scattered around near the border, so we had to stick to the red Dirt roads. The drive up is fun and offers breathtaking views of the surrounding plains.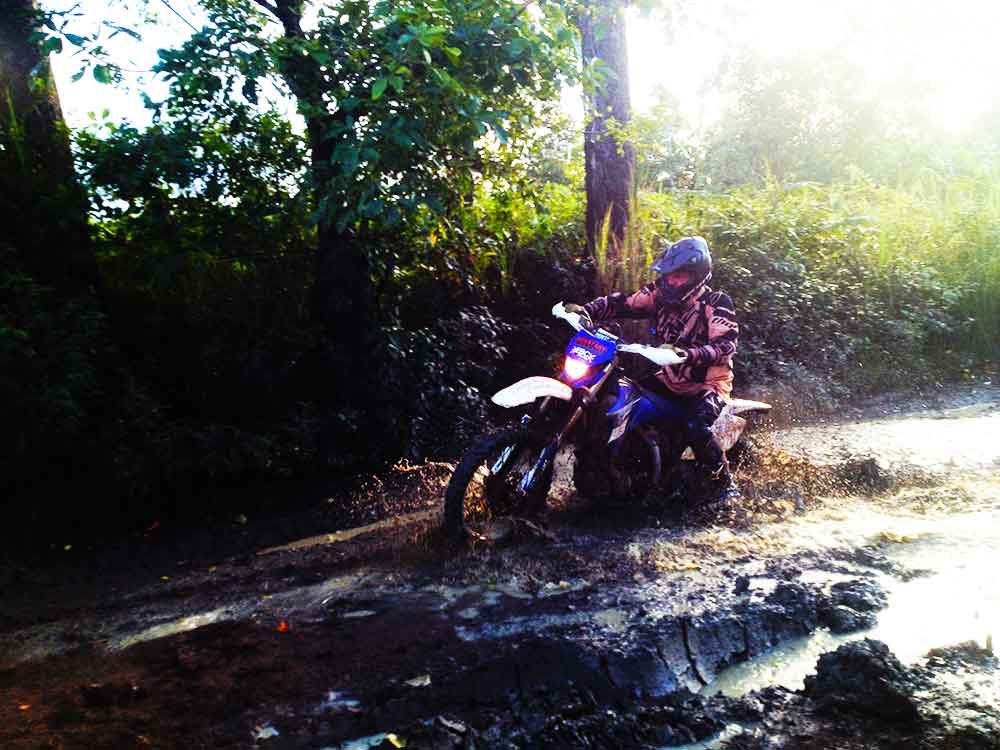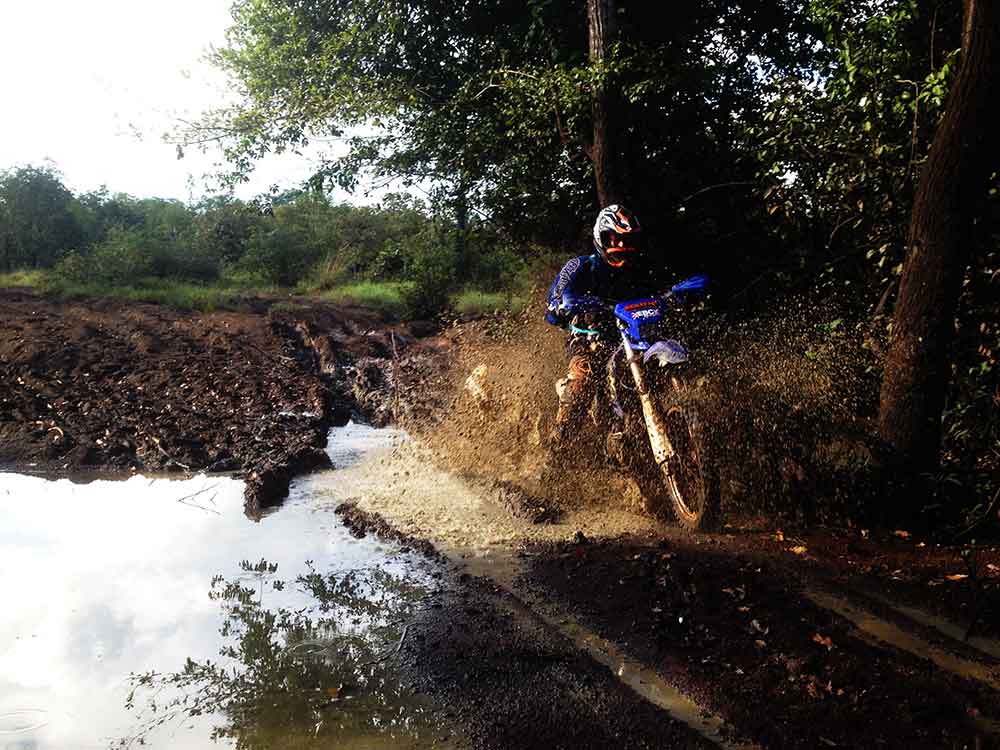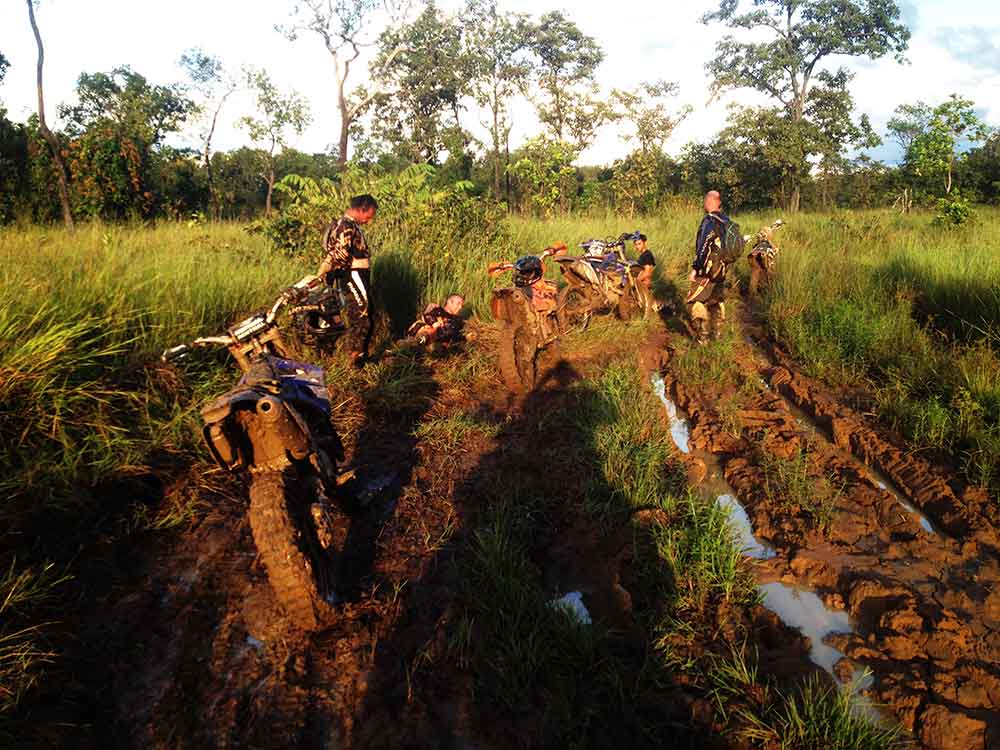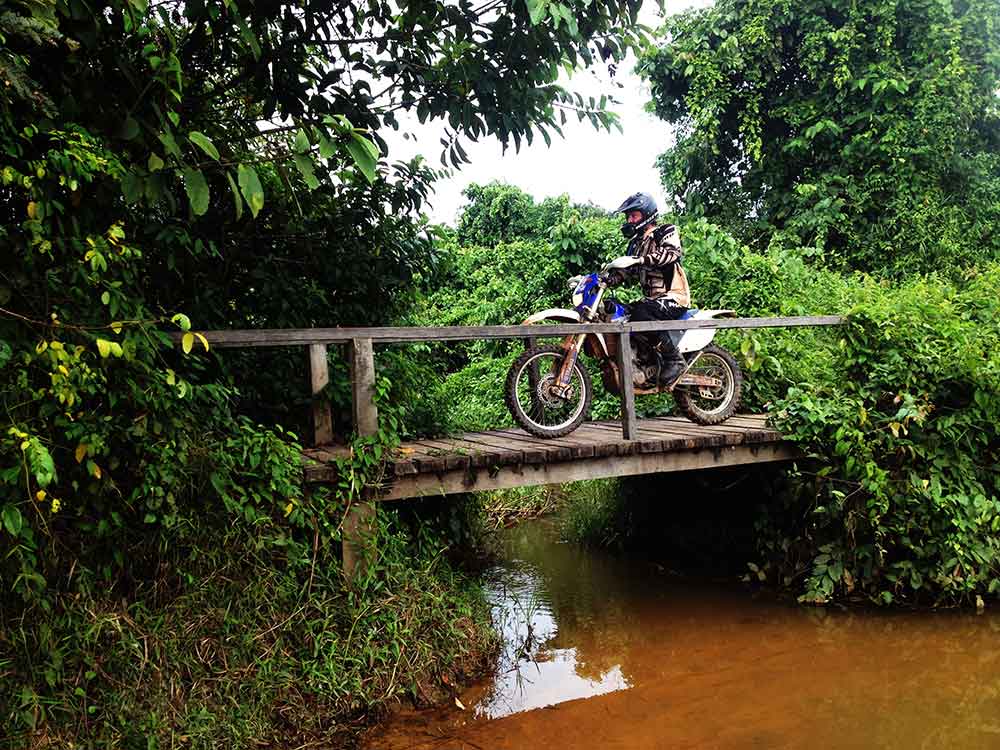 The other main temples we visit on the tour are the 9th century temple of Koh Ker and the remote Jungle Temple of Preah Khan. The trails getting there are fun all year round, with fast, flowy, sandy single track in the dry, which can turn to muddy waterlogged trenches in the wet season. That with dodgy bridges and river crossings in places, you will be on great trails all day from morning until you roll in for the day. Most times when we visit these temples it's like stepping back in time as they are rarely visited.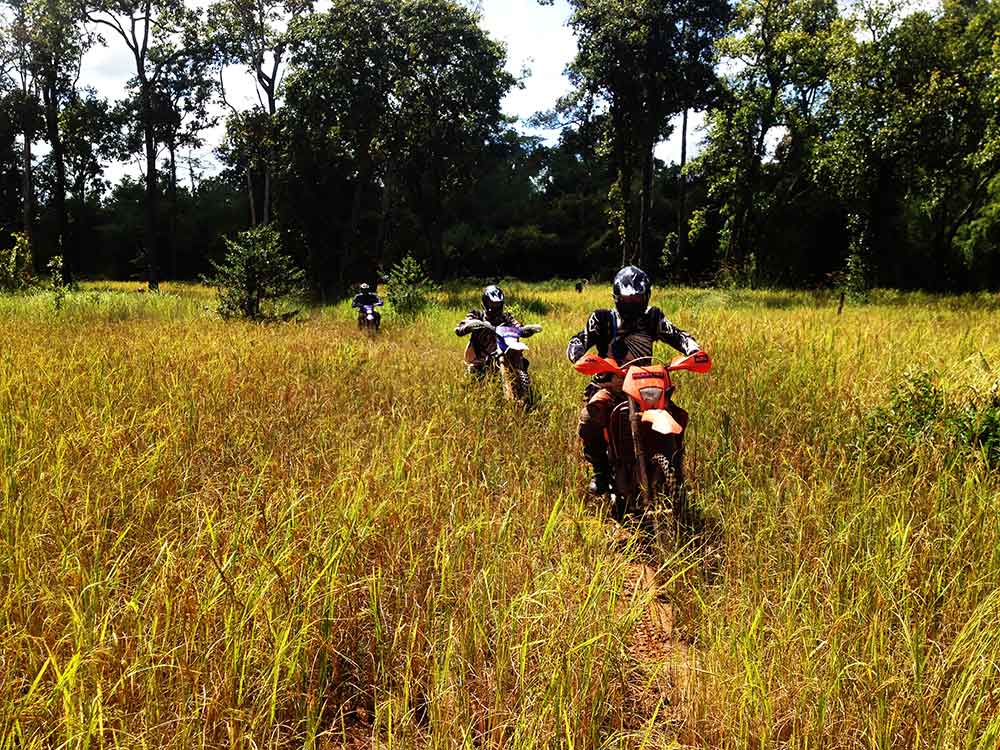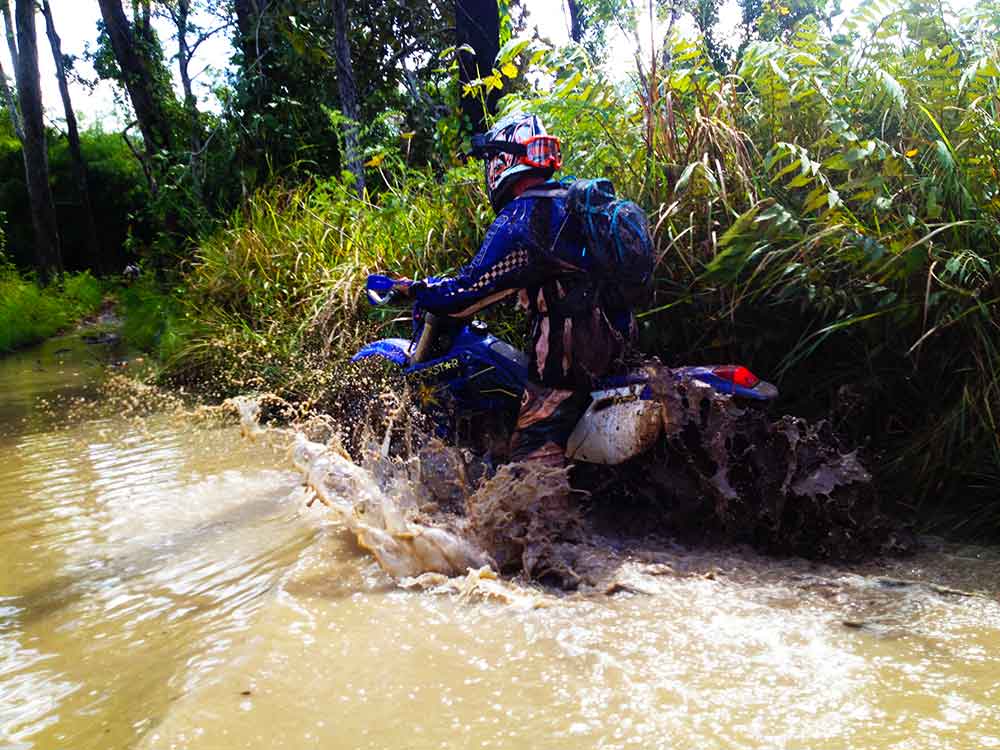 On the second to last day Stefan took a nasty tumble in a deep sandy rut and broke a few ribs. We had no choice but to keep riding the 30km of jungle left, so Stefan gritted his teeth and pressed on like a trooper. We rocked in a bit late, but the cold beers eased the pain and we had a laugh reminiscing about the day's events.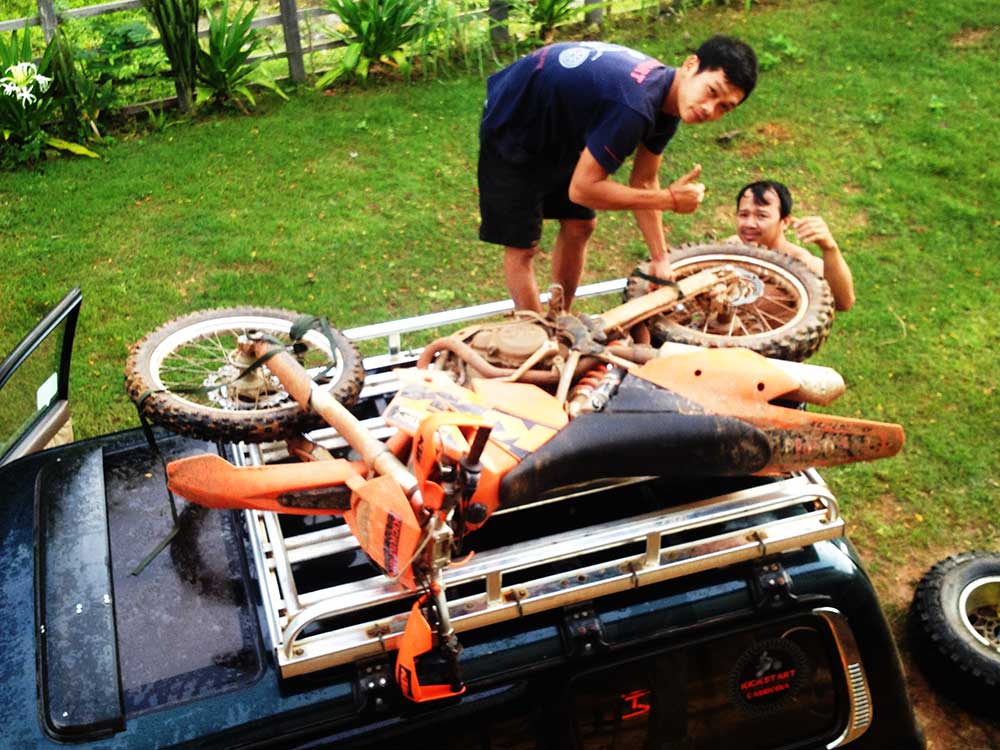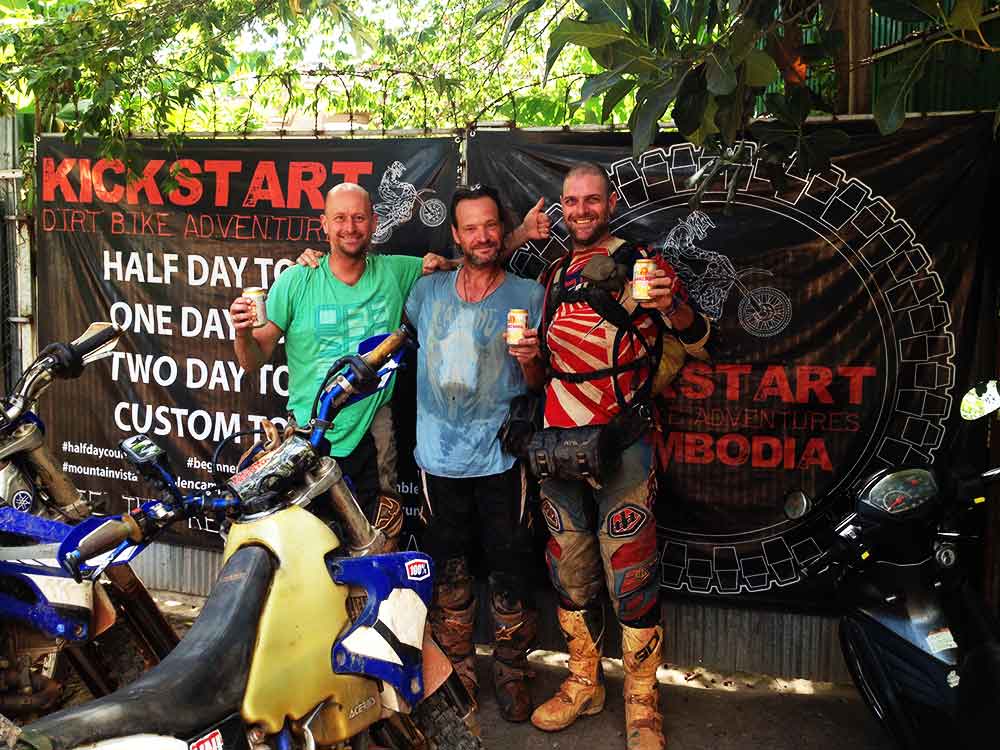 Next day, the guys opted for an easier route and we ended up loading the bike on the roof of the support vehicle. Unfortunately, though they couldn't ride the route they'd struggled on last year; we'd had a good ride though and now the boys had a reason to come back next year!
All in all, we had an amazing week of riding, and being a longer tour had some time to get some basic riding skills down with the guys, which they built on over the course of the tour. It's important for us too as its so easy to just get on a dirt bike and blast it. Now and again it's good to slow things down and get back to basics and work on your weaknesses.
It was great to see Stefan, Michael & Roland's riding improve. The more confident you get on a bike the more you can enjoy what's thrown at you, but sometimes you can get a little over confident! But that's part of the game. On the multi day tours the longer you ride, the more you become one with the bike; in fact after a long tour, it's hard to part with your machine, although one's behind does appreciate it!
It was great to ride with you again guys and thanks for being part of the Kickstart Family!