This time of year it can be fairly restrictive where one can ride off road. A lot of trails become submerged or are covered by rice fields resulting in alternate routes being taken. So when Michael approached us to do a two day tour consisting of technical riding  through the forests to some of the remote jungle temples, I told him not to get his hopes up too much as we would probably end up having to ride on red graded roads in order to get to our destination. The route he wanted to do is generally impassable during the wet season. If there is a larger group then you can help one another over the numerous river crossings and streams, but as it was only Michael and my partner La it was questionable as to how far they would get. I had buggered my hand due to an altercation with a tree branch, so I had to sit this one out, otherwise I would have gone.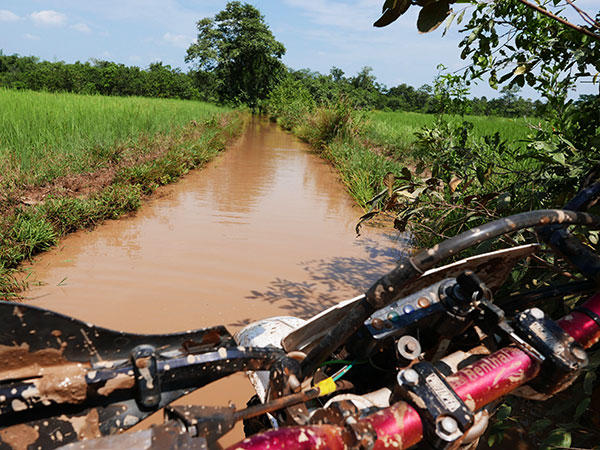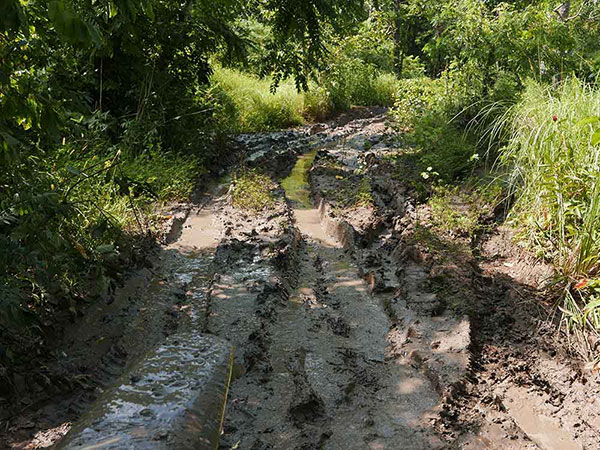 Anyway, after calling the village chief to check on trail conditions and as it was the end of a not very wet monsoon, the boys decided to press ahead on the desired route. As it was, it would have been easier going if there was more water on the trails. Because it was all drying up, it made the mud even stickier and some parts were bordering on ridiculous.  But it was a great enduro adventure!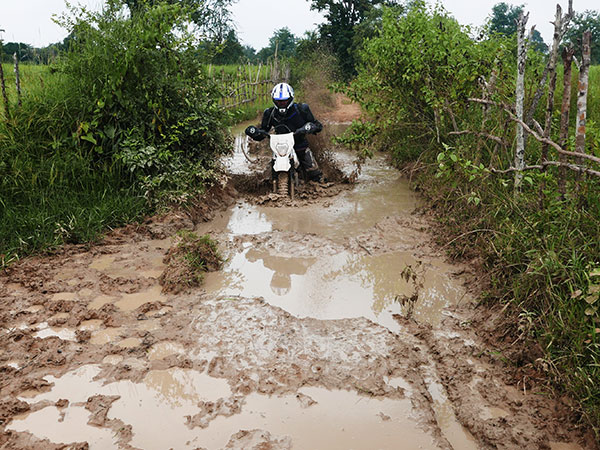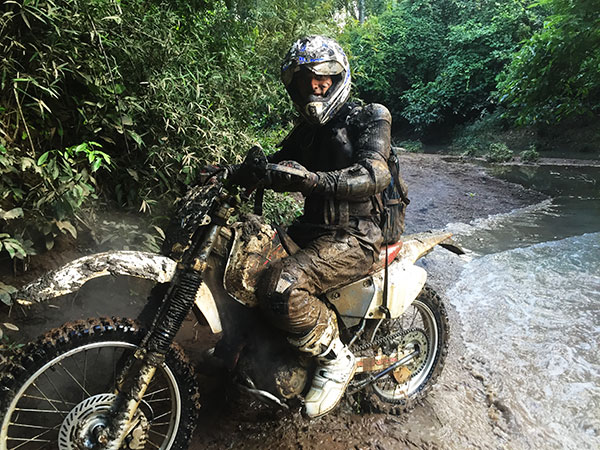 Day One - Siem Reap to Preah Khan
Leaving early in the morning La & Michael made their way through the surrounding forest to Beng Melea for lunch. The morning was fairly easy-going, but once you get to Kvow, this is where the fun begins. In the dry season the trail consists of deep sandy, rutted single track which you can keep a good pace on. From Kvow village, Preah Khan is only 35km away, and only takes a couple of hours in the dry. To give you an idea of the conditions, it took nearly 6 hours. This was due to getting continuously stuck and Michael drowning the bike at one point. The sand just turns to thick gloppy mud, and that compacted with the deep oxcart ruts [the only viable local form of transport this time of year] makes the riding pretty tough. On top of that the ruts are submerged under the muddy water, so you have no idea what is lurking below. After a few hours of riding, Michael came in too hot and hitting a submerged rut or log went sideways... and then under.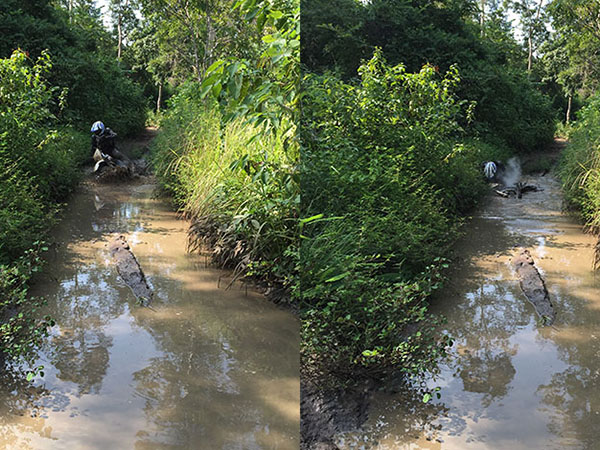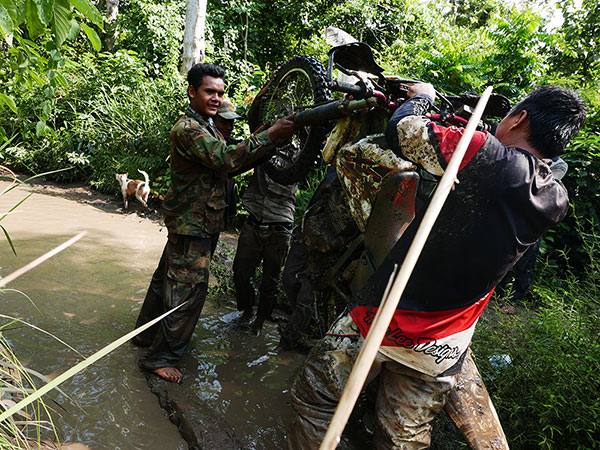 Normally quite a straightforward fix, but unfortunately getting a drowned bike going in these conditions can be a bit of a mission; especially when there are only two of you! La quickly got to work, taking the exhaust off, drying out the air filter, and changing the spark, but to no avail. Kicking it over wasn't doing much either, even with the exhaust off and a new spark plug.  It's nigh on impossible bump starting a bike in these conditions. La had a tow rope as a last resort, and just as they were beginning to give up hope, up rocked six villagers who had been out hunting and heard all the commotion [La swearing under his breath;)] They helped push the bike further up the trail to dryer land, where after several attempts at bumping it they were on their way. This is one of the amazing things about riding in Cambodia. Just when you think all is lost in the middle of nowhere, someone or something just materializes, and all is good. The people here will go out of their way to help you. It is just great.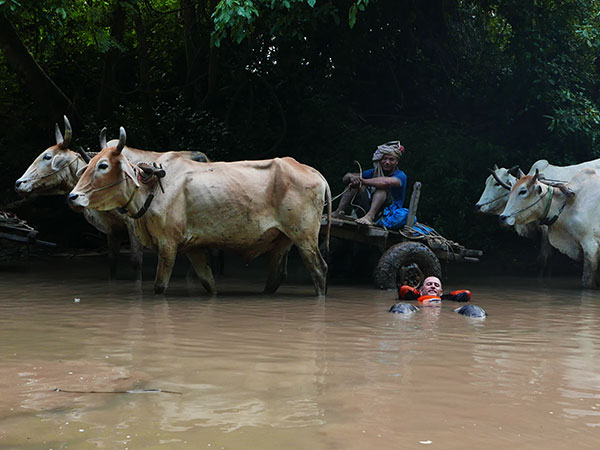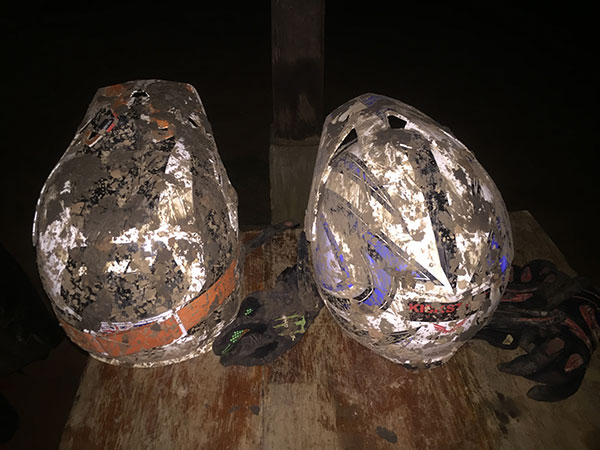 After several more hours of hard riding the boys rocked up to Preah Khan Village, exhausted and in need of liquid sustenance and a hearty meal. I believe they were both asleep by 7:30pm!
Day Two - Preah Khan to Koh Ker to Siem Reap
Before breakfast the lads went to check out the temple. Preah Khan is rarely visited by tourists and only dirt bikers or locals will brave the roads here. If you come in from the west now there is a new road, so this may all change soon, but even then it is quite a long way to come unless you come from Phnom Penh where it is more direct. It is a beautiful temple surrounded by lush jungle, and you can really get a feeling how the explorers at the end of the 19th century  felt when Angkor was rediscovered. It's nice just to sit down and take it all in without throngs of tourists clambering everywhere. This is why we do what we do! Unfortunately, due to its remote location there is untold evidence of looting, which is a real shame.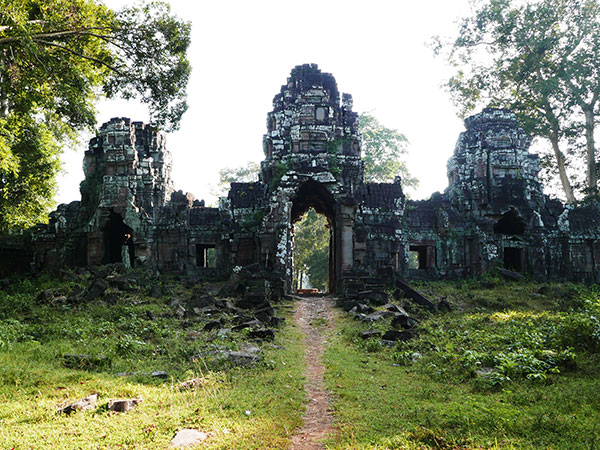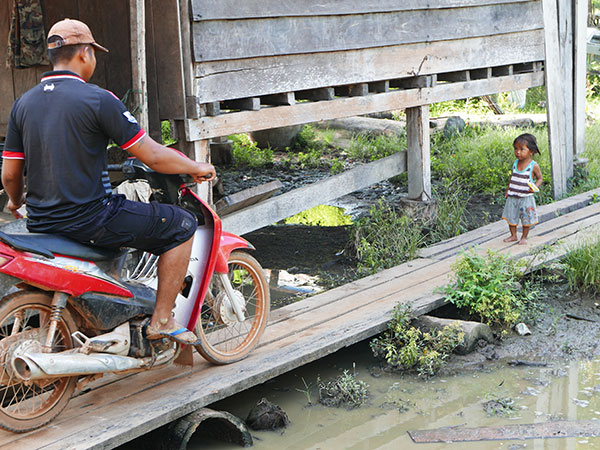 After breakfast La and Michael said good bye to the Khmer family they spent the night with, and headed to Kulen town and then on to Koh Ker temple through the forest. Conditions today weren't as difficult as the day before and they made the it to the pyramidal temple of Koh Ker by Lunchtime. Koh Ker is another beautiful jungle temple that keeps its charm. The top of the temple offers amazing panoramic views of the surrounding jungle canopy. After a rest, La opted for an easier route back to Siem Reap as I think Michael was pretty beat from the day before. A mixture of red roads and easy going single track got the guys safely back to town.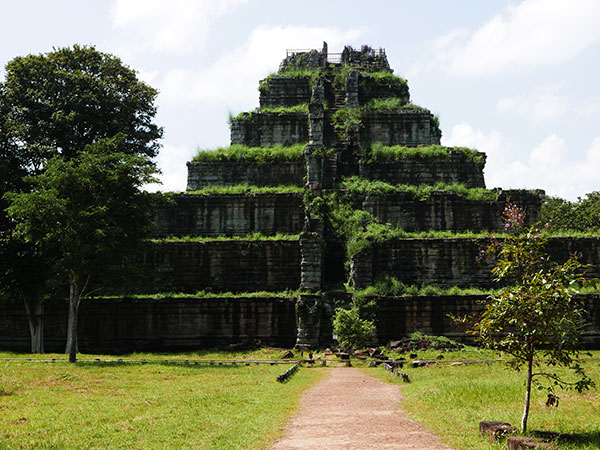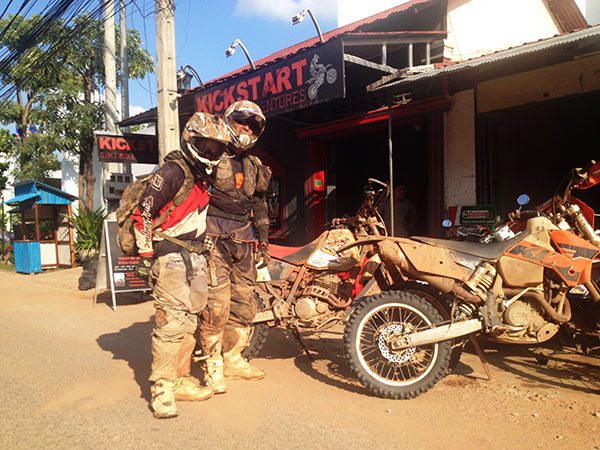 Michael told me he rides lots of technical trails in the mountains of Colorado, but nothing like this.Hats off to Michael though, as most people won't go near that route this time of year. Looking at the pictures, and the state they were in when they got back, (you couldn't tell what bikes they were on from the amount of mud!) I wish i could have joined them for the experience. Next time Mike! Thanks for choosing Kickstart!