This year we had a tour over New Year, and by 8pm I was in bed after a full day riding loamy single track to the remote jungle temple of Preah Khan. Maybe I am getting old, but I would much prefer to spend my New Year's Eve like this, with the knowledge of more great riding in store for the next day instead of a hangover!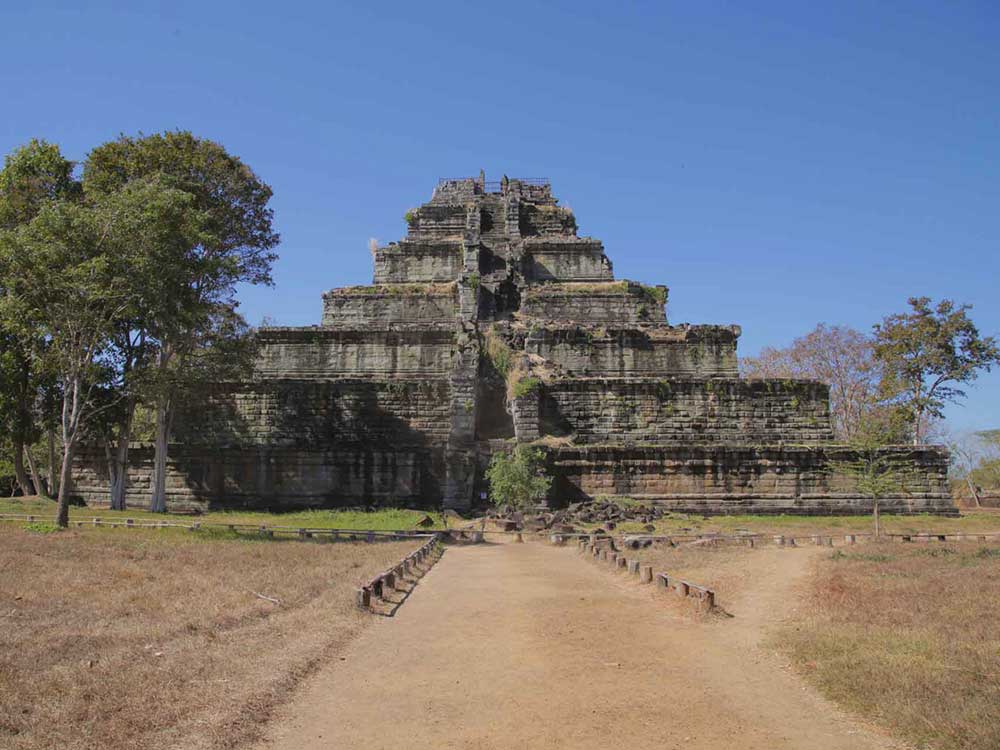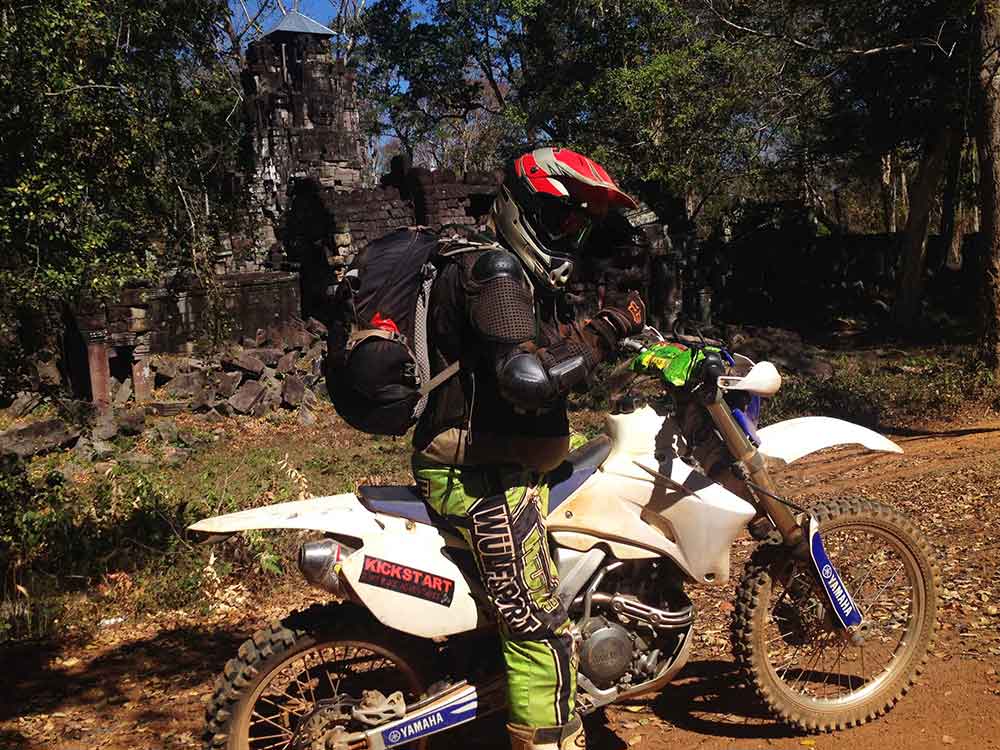 My customer for this trip was Roger from the UK. He had done a half day with us the month before and wanted to really get out there and see what Cambodia is all about. So we set the date and after going through the itinerary arranged to meet at Kickstart HQ on the morning of the 30th Dec.
Day One - Siem Reap to Koh Ker
After a hearty breakfast of pork and rice; a Cambodian favorite, we headed out of town and soon we were on country roads that wound through picturesque villages that surrounded the town. Roger has been an experienced road biker for most of his life, but had only been off road [with us] once before, and was eager to improve his off road skills. Cambodia has lots of sandy single track and ox cart trails that provide good fast riding once you're used to all the hidden ruts and pot holes hidden beneath the sand. I went through the right body positioning for sand riding and various techniques to use. We spent the morning working on Roger's technique on a mixture of single track and hard pack rutted roads let over from the wet season.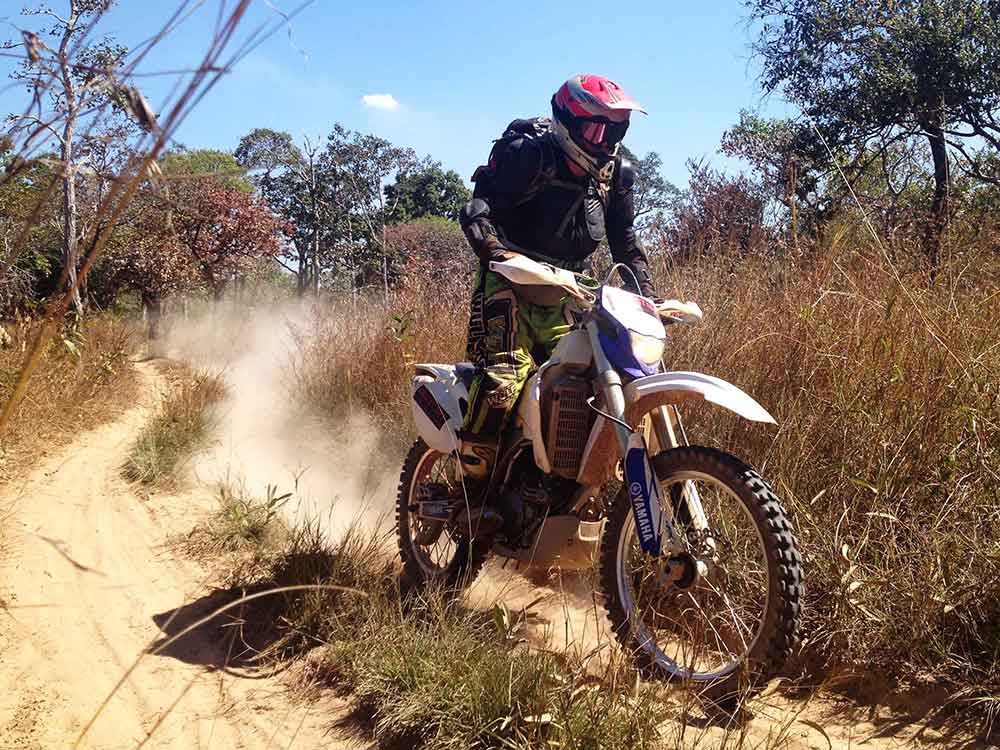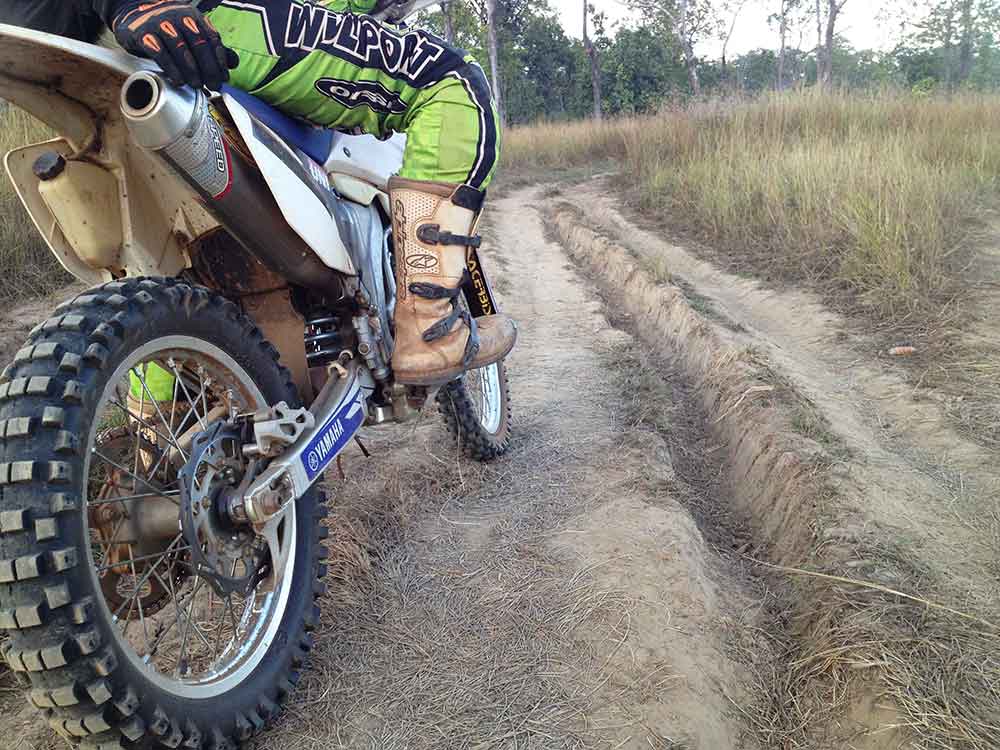 We stopped for a brief lunch near Kabal Spean and as we still had quite a bit of distance to cover, opted to jump on to some red graded dirt roads to get to the most enjoyable section of the day which was the road from Ou A Gok to Koh Ker temple. We stopped for fuel by the road just before the turnoff. There are no petrol stations in the countryside and fuel stops consist of used coke and Jack Hennessey bottles. Quite a sight if you're not used to it! We were soon on single track that wound south west through the jungle. In recent years Cambodia has had an increase of large foreign companies cutting and burning the forest to make way for rubber plantations and other commercial interests. Large sections of forest had been cleared and made the riding quite hot as we didn't have the jungle canopy to keep us cool. In places the forest was still burning as we rode through the smoke filled trails, the sun filtering through the smoke. I believe this was more from the villagers clearing the land to farm more than commercial interests.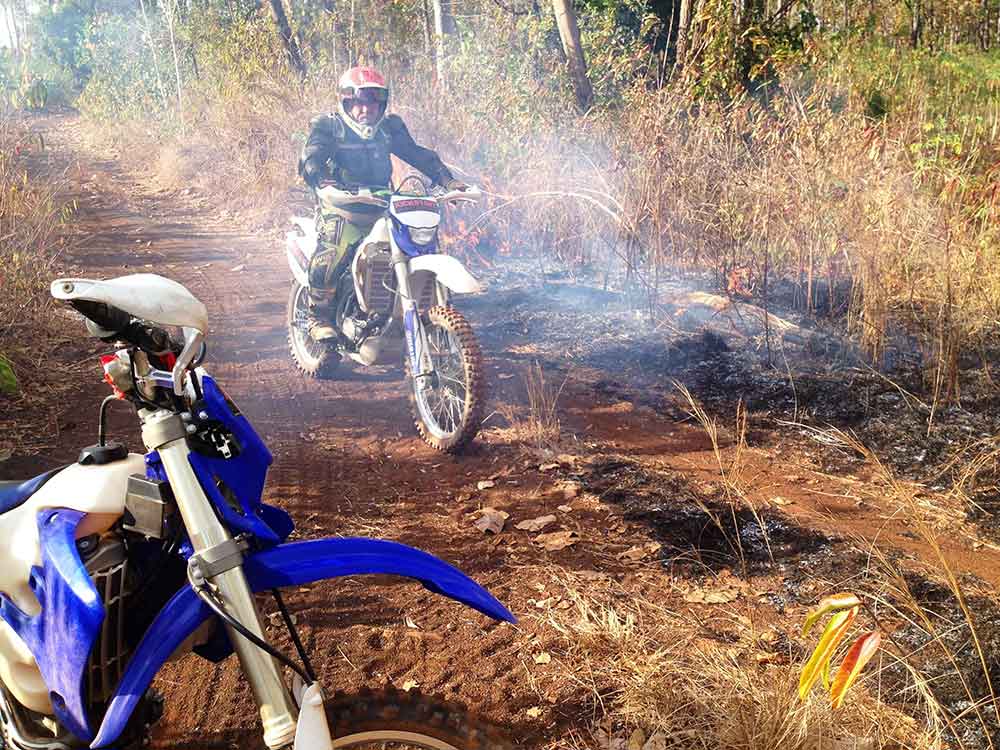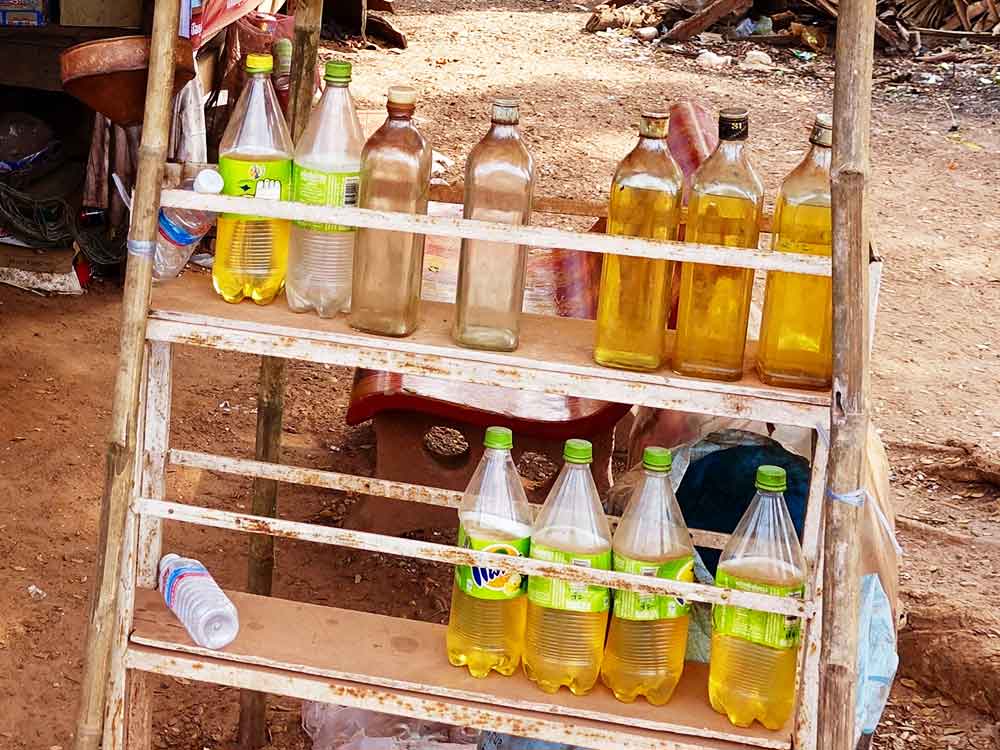 For a first time sand rider Roger was doing very well, but struggled a little in the deeper patches. He was getting a little tired so I slowed the pace down a bit. The light began to fade as we were nearing the dried out river which marked the final leg of today's journey. In the wet season you need to lay the bikes flat on a canoe to get across. By the time we got to the temple complex of Koh Ker the sun had gone down and it was dark by the time we rolled into the guesthouse. After freshening up we had a hearty dinner and a couple of beers. Before hitting the hay we and fixed Roger's boots; the leather was hard and digging in to his ankles. We covered the leather in cooking oil and left it overnight.
Day Two - Koh Ker to Preah Khan
The next morning the boots were soft and supple. A Good call! After checking the bikes over we had fried noodles and coffee for breakfast which soon had us buzzing. The coffee in the rural areas is very strong and we were soon wide awake. We then jumped on the bikes and made our way to Koh Ker temple. Koh Ker has the only pyramid style temple of the Angkor period boasting seven tiers, and is spread over a sparsely populated area. There are in fact around 180 structures, but only around two dozen can be visited due to being hidden in the jungle and a lot of the area hasn't been demined yet. It was the Capital of the whole Angkor Empire from 928–944 AD. Before we got to the main complex Roger checked out a few smaller temples on the way and I showed him an area where they were clearing mines. There are still an estimated one million mines left in the country and even around Siem Reap old mine fields are still uncovered. With the advent of heavy farming machinery, anti-tank mines are proving to be more and more problematic..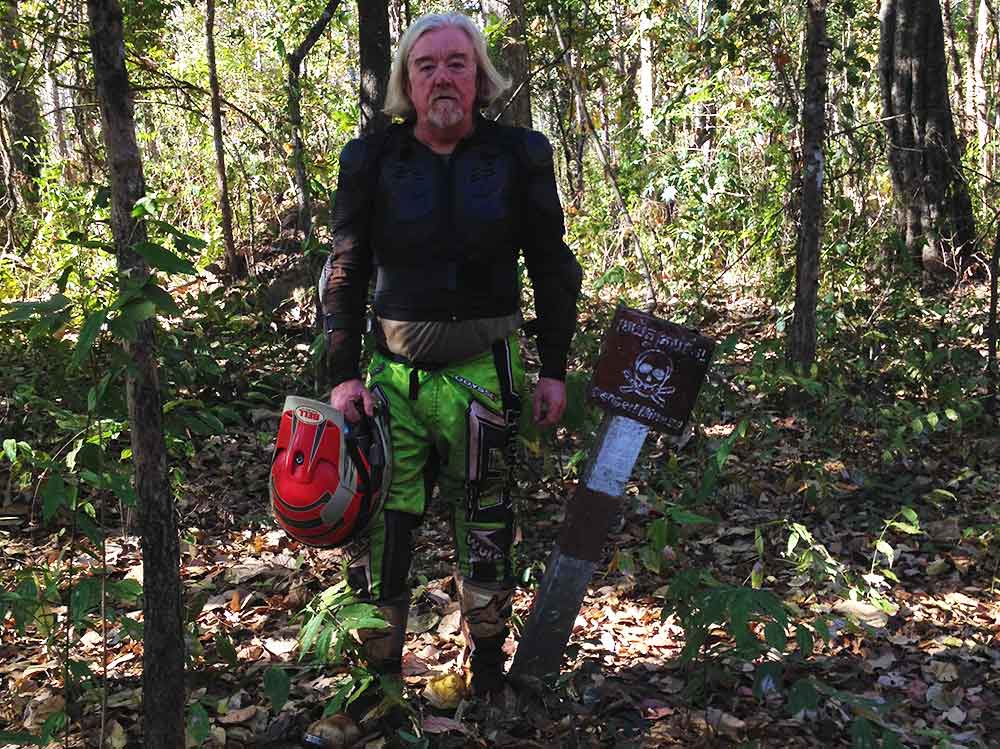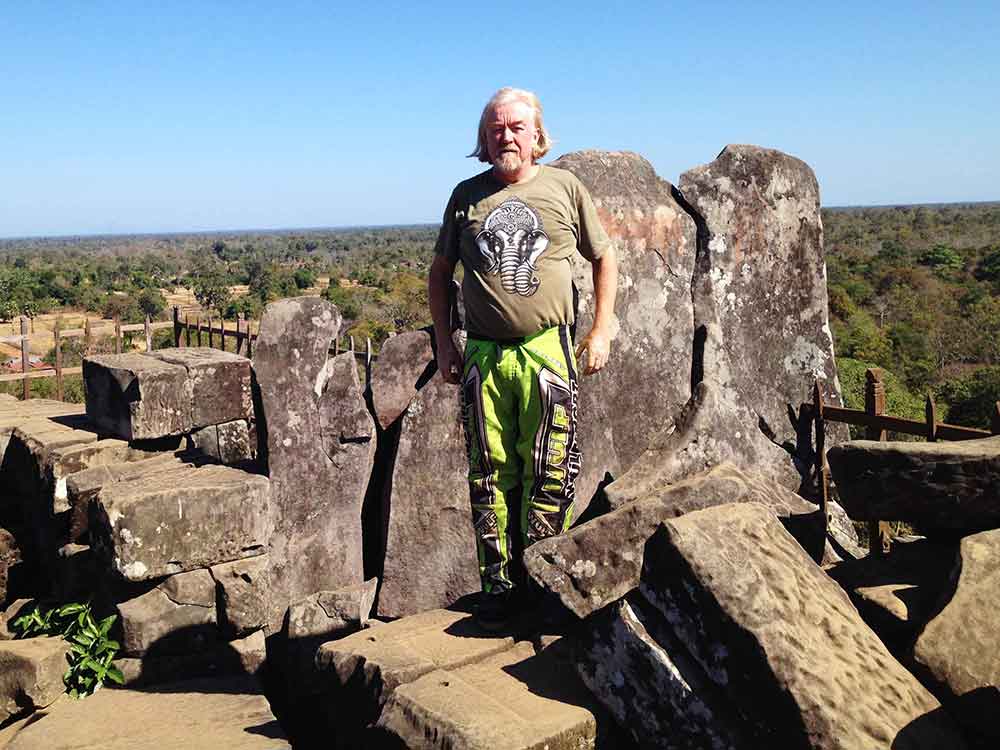 We left the bikes with the restaurant at the front as there was a bit of a walk to the main temple itself. It is a lot quieter here and you can get a real feel for how it must have been when they were rediscovered by the French in the early 19th Century. It was quite a climb to the top but once there we were rewarded with panoramic views of the surrounding forest canopy. Roger took some photos and after a coconut we were on our way to Kulen province. We rode through tight forest trails interspersed with rice fields and dried out river beds, enjoying the early morning sun on our faces. Roger had a few offs as there were a lot more ruts hidden away in the sand from all the oxcarts They really churn the trails up in the monsoon, and make the road quite technical in places. We had a rest while I reattached the radiator which had worked its way loose after losing a couple of bolts. I had forgotten to bring my spare nuts and bolts so I had to rearrange some of the bolts on the bike. That and a combination of coke ring pulls for washers and rip ties we were good to go. We arrived in Kulen town for lunch and a well-earned rest.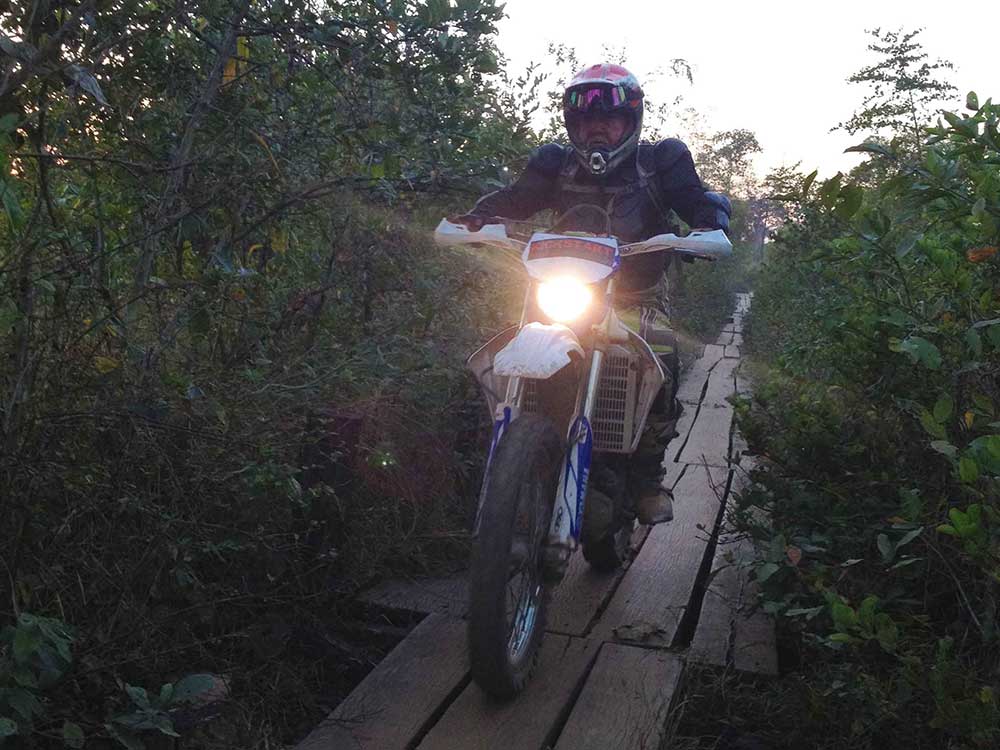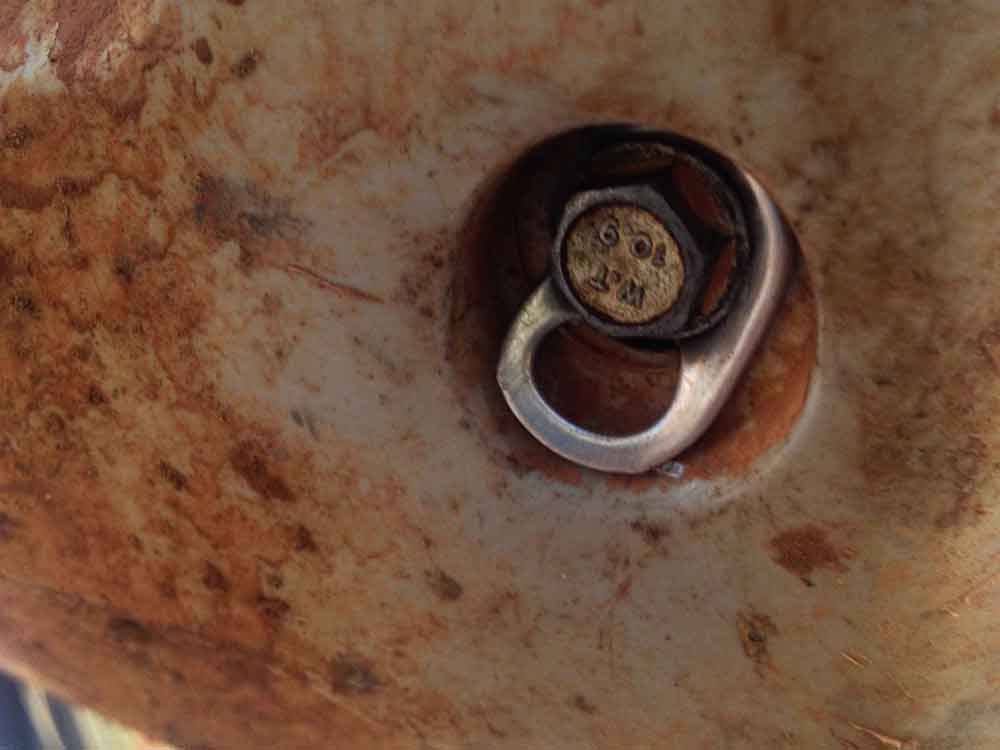 The afternoon consisted of red dirt roads in mixed states of repair. With mountains on our left and rice paddies all around we headed towards Ta Seng village close to Preah Khan where a a local homestay awaited. We were making good time and stopped for drinks and photos along the way arriving around 5 pm. We decide to just relax and see the temples in the morning. The village chief, whose house we were staying at sorted out beers and some great local food; stir fried vegetables and grilled pork. We were soon stuffed, and we kicked back and discussed the days riding over some more beers as we waited for the New Year. At 8pm we decide sleep was a better option and welcomed the New Year in at breakfast.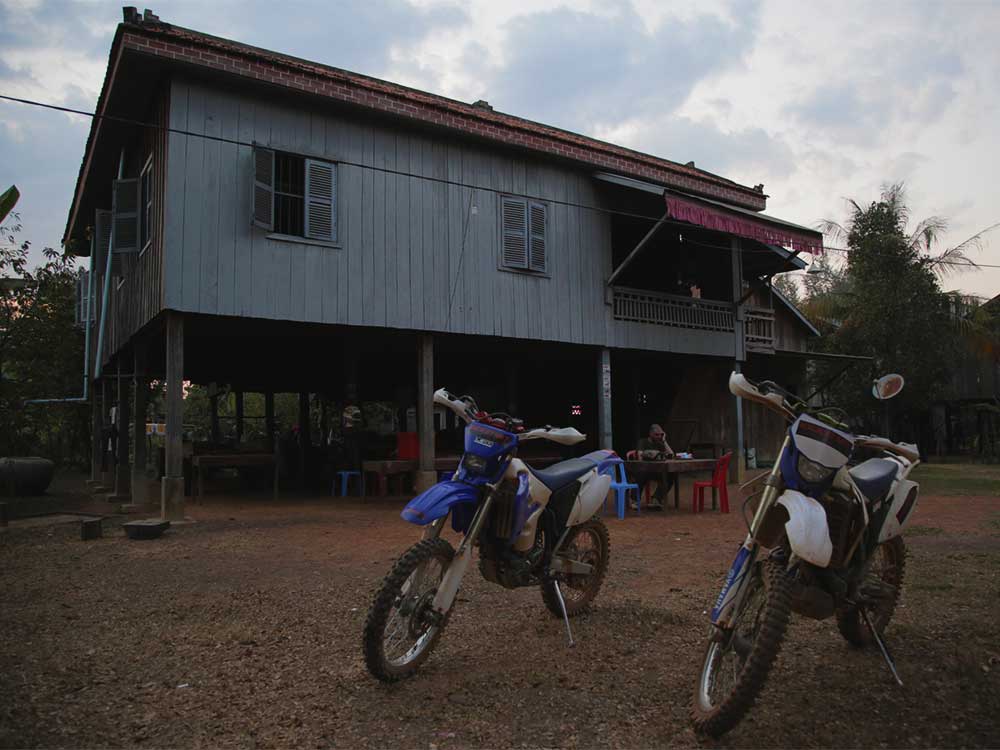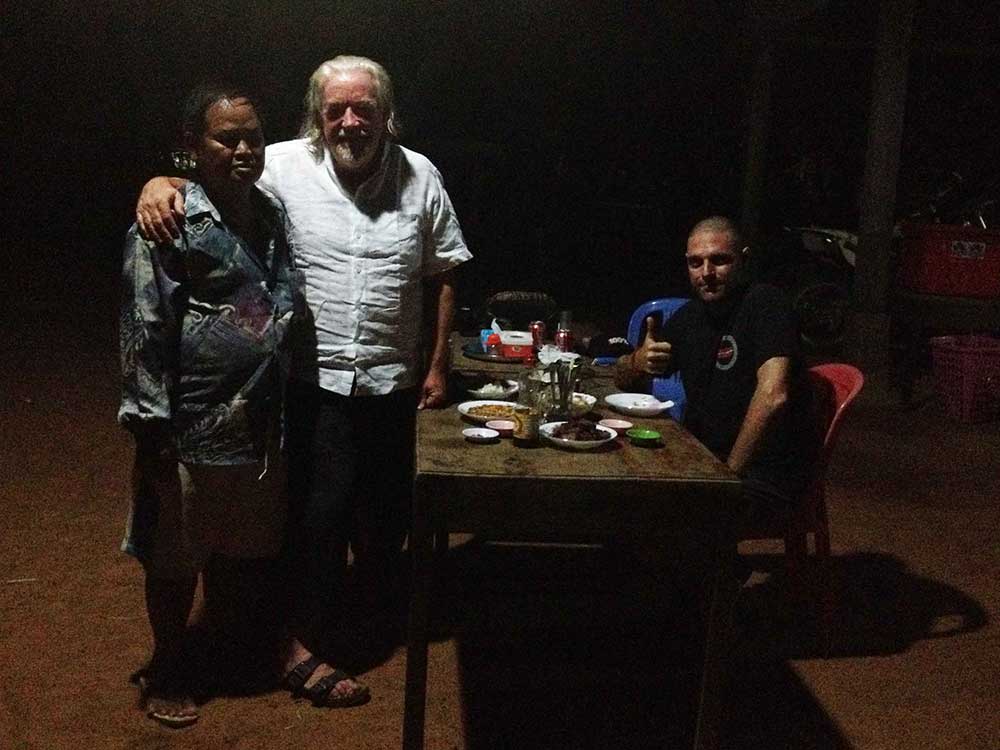 Day Three - Preah Khan to Kampong Thom
Today's ride included one of my favourite trails to ride in Cambodia, the route to Kvow from Ta Seng; a 30 km stretch of single track, dense forest, river crossings, bridges and rutted trails. But first we had to see Preah Khan Temple, which was built in the 11th century. It is one of Cambodia's most remote hidden gems; You can guarantee there will be no other tourists there.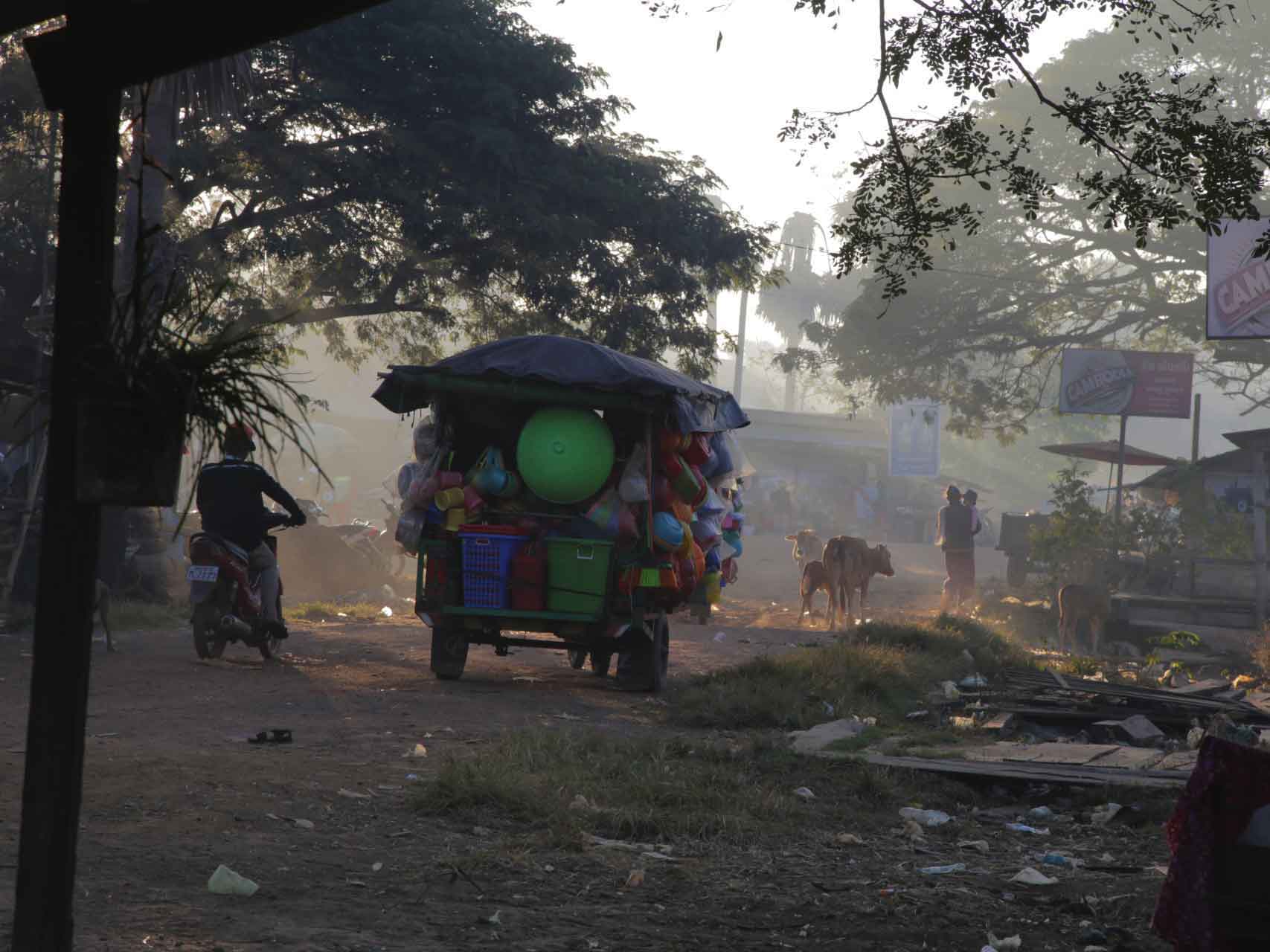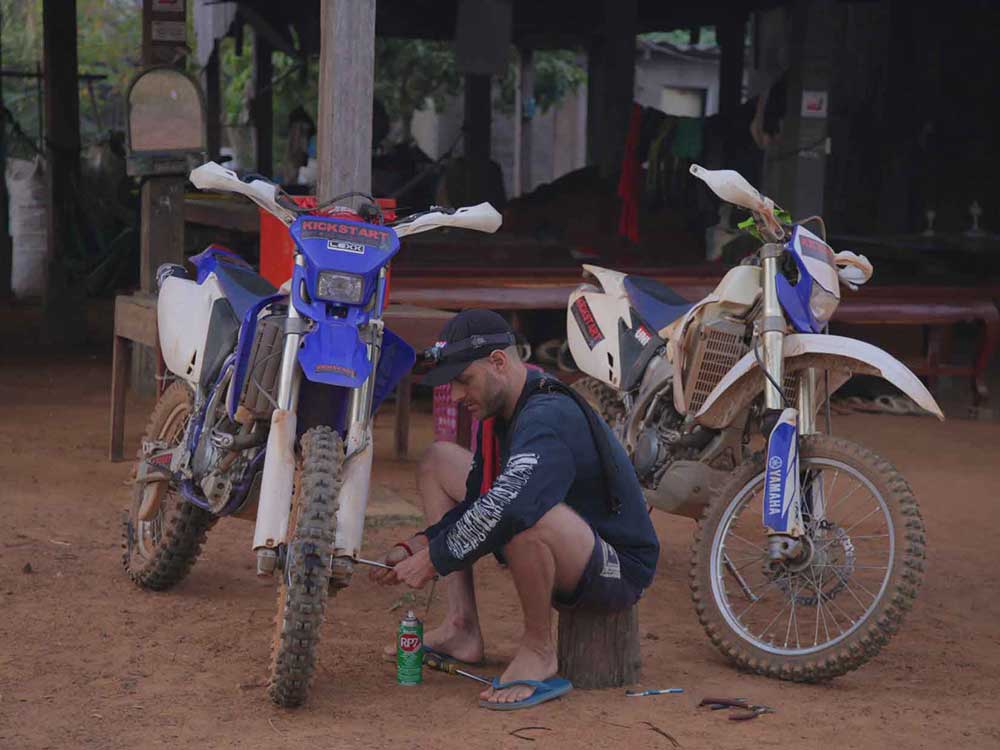 I checked the bikes over, and then we had Breakfast at about 730am in the local noodle shop. They'd run out of noodles, so we had rice and pork again, and by 8am we had arrived at the entrance, passing a few other ruins before the main strip. As you pull up you are greeted by three magnificent towers which form the gateway to the central complex. Preah Khan stands as the largest single religious complex ever built during The Angkorian Era as its exterior enclosure is about 5 km square. We dropped down to the left of the entrance to see the carvings of Garuda and other mythological creatures on the causeway over the dried out moat. Once through the entrance there is a vast expanse of grassland and forest so large that you wouldn't believe you were in the temple itself, and you can really understand the sheer scale of the place. The real charm of this temple is that it has been taken over by nature unlike Angkor Wat where you can easily see the structure of the grounds. After about 500 meters we climbed the steps into the central area which makes up the main temple area. Most of the structures are spaced apart and are pretty run down, with a lot of them lying in ruins. There is evidence of heavy looting, and large blocks of stone have literally been hacked out of various parts of the inner structures. Until recently no one really looked after the temples so there was nothing to stop the looters. A lot of the looting would have been done by the Khmer Rouge.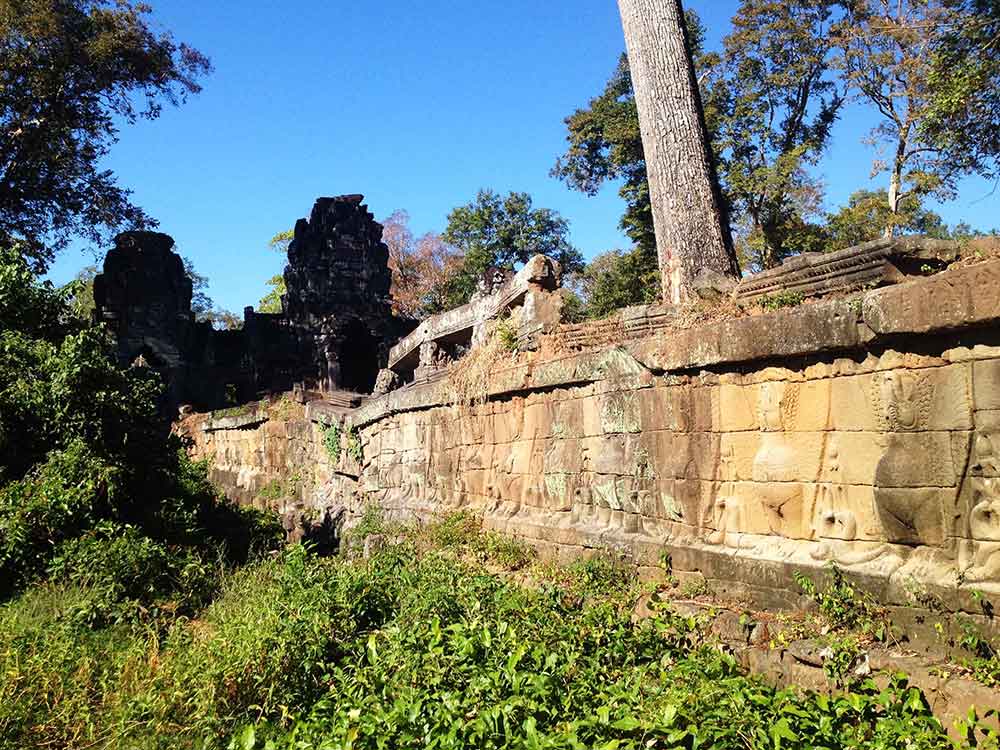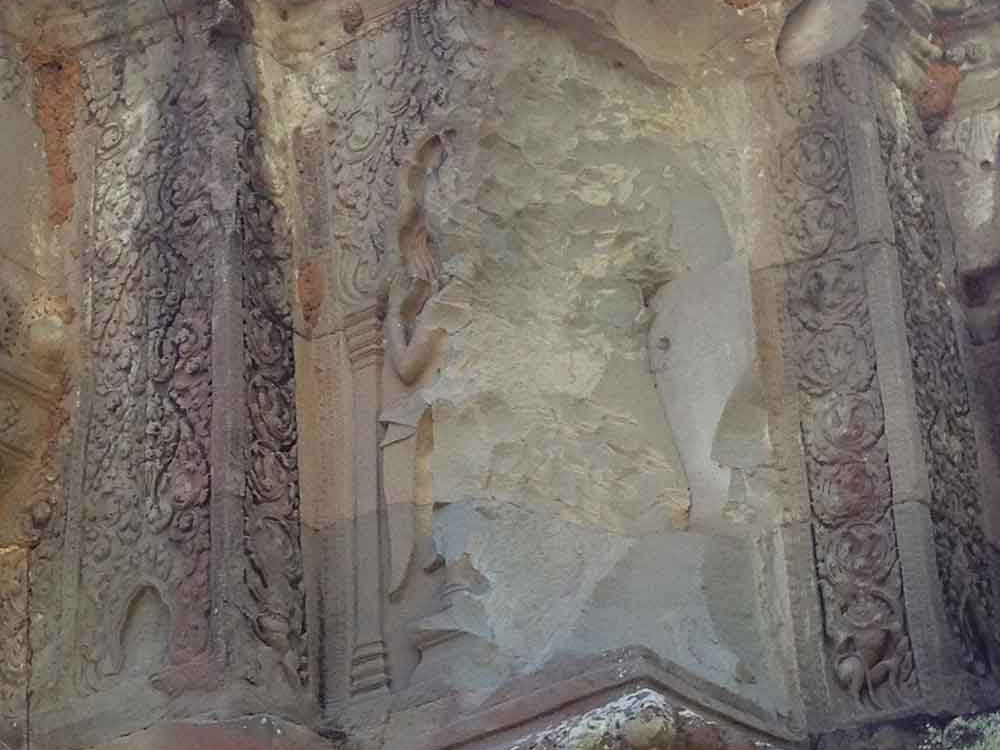 We probably spent an hour or so at the temple. After the obligatory photos at the front of the temple, we mounted our bikes and were soon on our way. The trail started off as rutted single track through the forest. As we made our way through the windy tracks, there was evidence of other Angkorian structures and one other smaller temple close by. All along this route there are small bridges which would have formed part of an ancient Khmer Highway connecting Beng Melea Temple near Siem Reap to Preah Khan. About 10 km out of Kvow town there is an enormous bridge that has withstood the test of time, which is really a testament to The Khmers remarkable building prowess back in ancient times. The riding was never dull, with deep ruts left over from the wet season from ox carts and other vehicles who attempted to make the arduous journey. It took us just over 3 hours, going at a fairly steady pace. In the wet this 30km can take up to eight hours depending on the size of the group. Roger had a couple more offs as although he was used to the sand, a combination of this and the ruts got a bit much. But all was good and we pressed on. The landscape was changing constantly; one minute we were on sandy trails traversing rice paddies the next minute we were on gravelly single track blasting through the forest having great fun power sliding through the corners .Then we were on technical rutted hard pack, which dropped down into dried out river beds and then after a couple of rutted climbs, we were soon on the last stretch. This all led to great riding with never a dull minute as you never knew what would be around the next corner.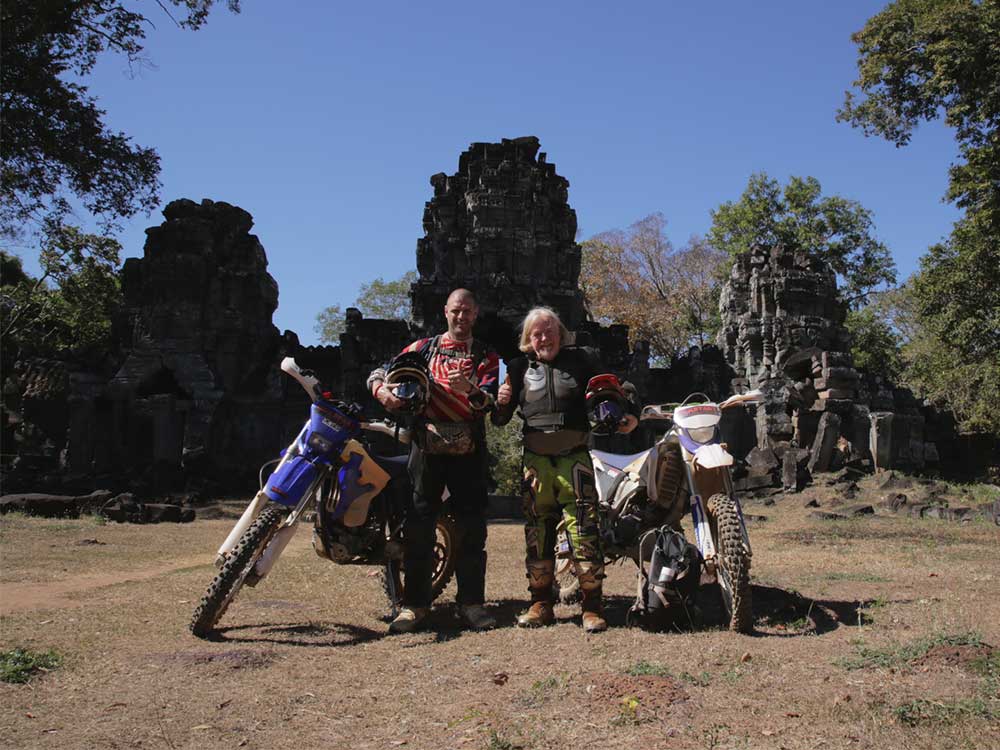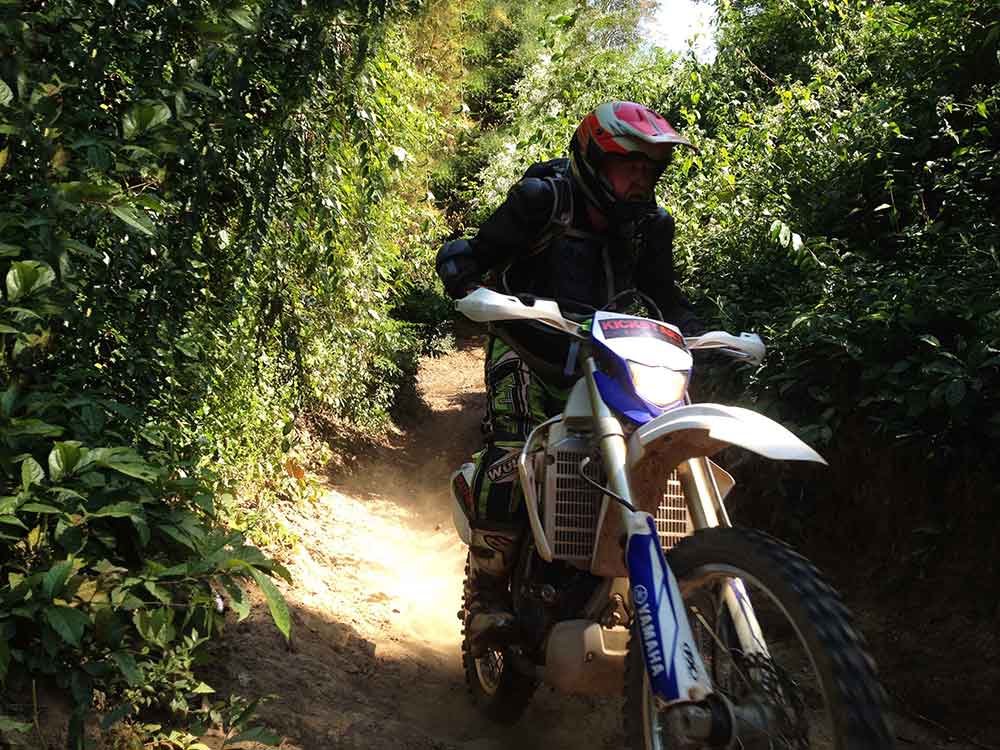 We had a little rest in one of the bigger riverbeds, now dried out, and some Royal D hydration salts. It was proving to be a hot day. A shame there wasn't a little water left for a swim! It was too hot to stand around so we carried on, soon arriving at the last bit of forest before coming in to Kvow. It was great fun riding through dense bamboo forest, crossing rickety bridges and snaking through the trees that were interspersed with makeshift gangways to help get through during the wet season. The last section was a nice wide open stretch of sand, which we opened up on full throttle carving our way rolled into Kvow for refreshments and petrol.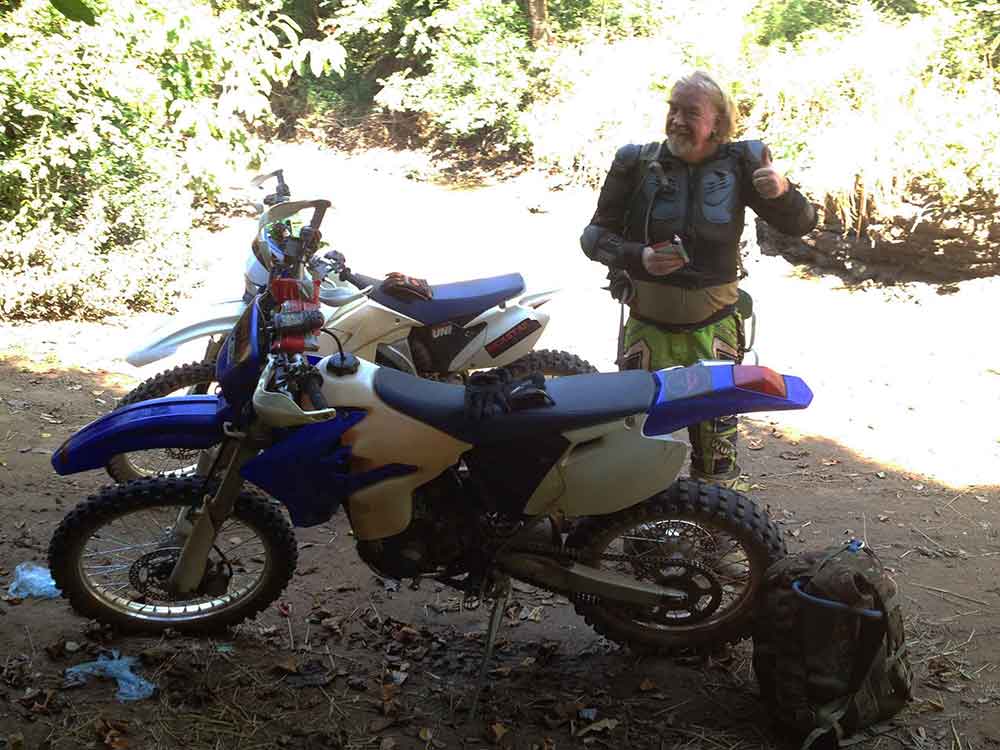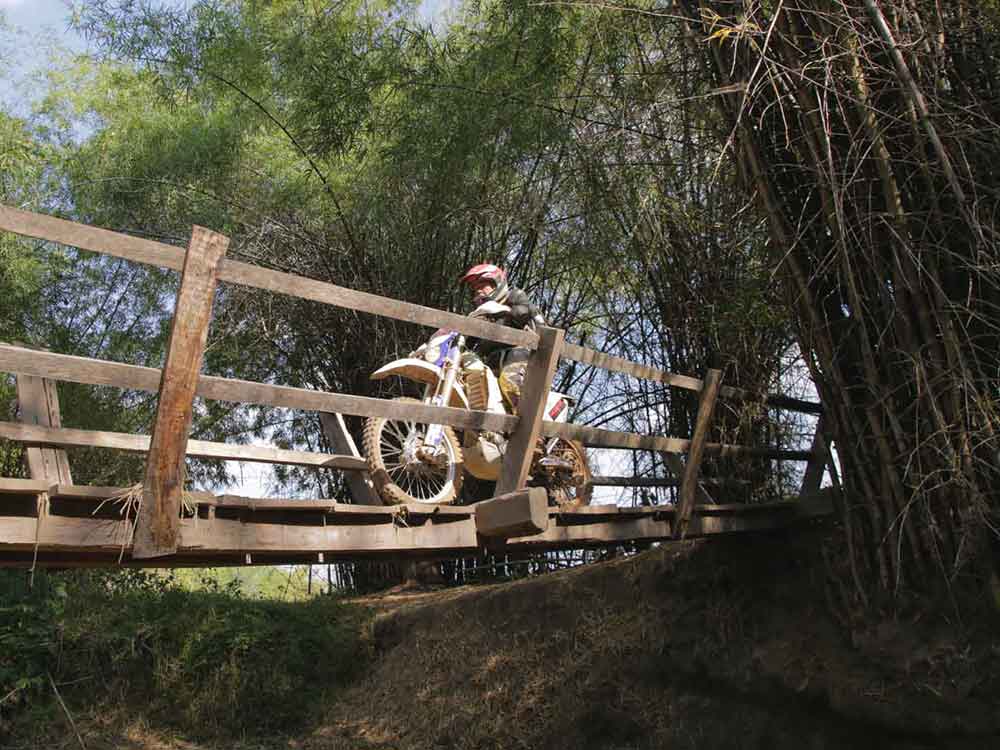 It was getting late and we still had a fair way to go. We were headed to Kampong Thom, where the ancient capitol Sambor Prei Kuk that predated Angkor lies. The rest of today was graded dirt roads which were incredibly dusty this time of year. Headlights on, we set off and after a couple of hours we hit the highway after which we had no choice but to hop on into town. We arrived at the hotel just before sundown. The hotel had a pool and nice free standing bungalow type rooms which were very comfortable after a hard days riding. At dinner we discussed the days riding, not believing that there was only one day left to go.
Day Four - Kampong Thom to Siem Reap
I was up at 5 to change the oil on the bikes and get ready for the final leg of the tour. After breakfast we headed to Sambor around 8 O'clock. Roger enjoyed the temples a lot and we spent a couple of hours exploring the main complex. Sambor predates Angkor built during the 7th century and is different as most of the temples are made from brick unlike Angkor which is mainly sandstone. Amazingly a lot of the carvings remain intact after all these years although the brick doesn't weather as well as sandstone. Sambor is spread across a massive forested area so we only has time to see the main temple structures.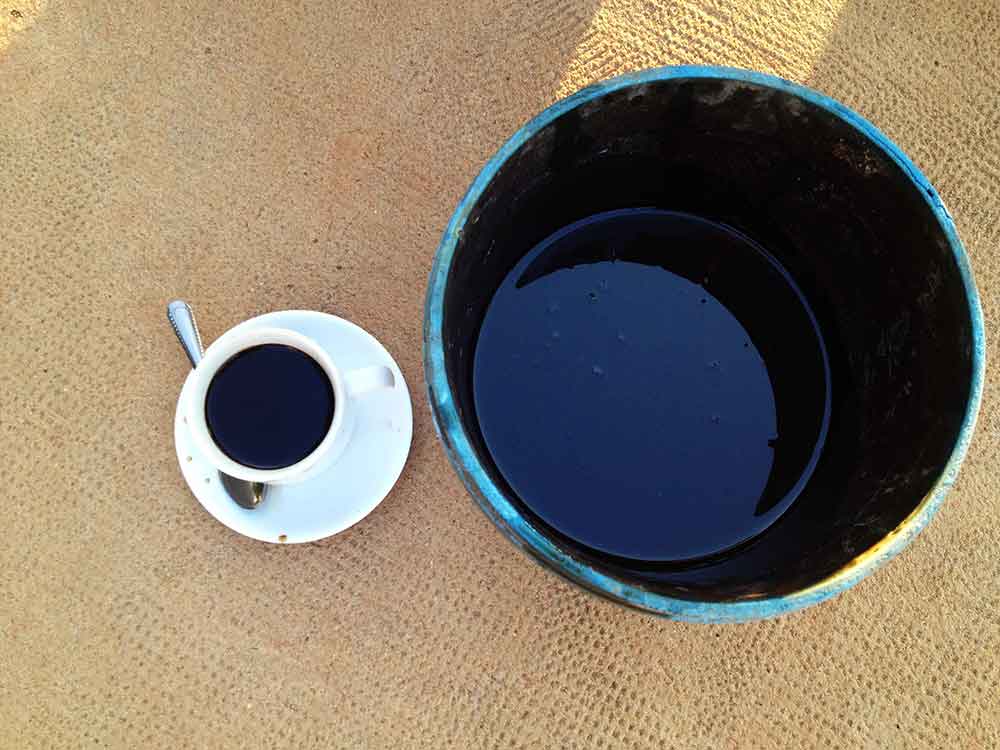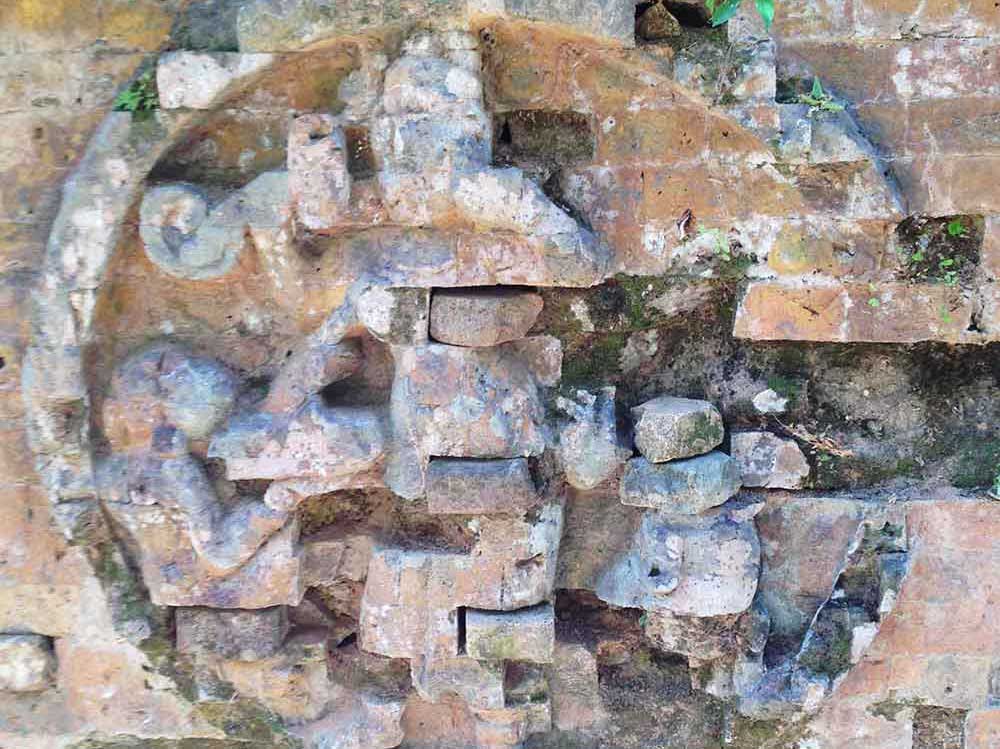 Soon we were on the road back to Siem Reap. We cut across land on dirt roads that cut through rice paddies stopping for lunch at a very local restaurant. There were about twelve pots of pre-prepared food of which you could choose as many as you liked. We had four dishes, washed down with a coconut. Saying goodbye to the restaurant owne, we jumped back on the bikes and made our way along bumpy bust up dirt roads that connected with the rubber plantations we had to drive through to get to Siem Reap province. There were a lot of heavy trucks kicking up dust clouds so thick you couldn't see two feet in front of you. One stretch of rubber plantation was probably about 50km that stretched for miles in either direction. Not long ago this was all rainforest. Every time we ride there seems to be new pieces of land cleared. It is a real shame.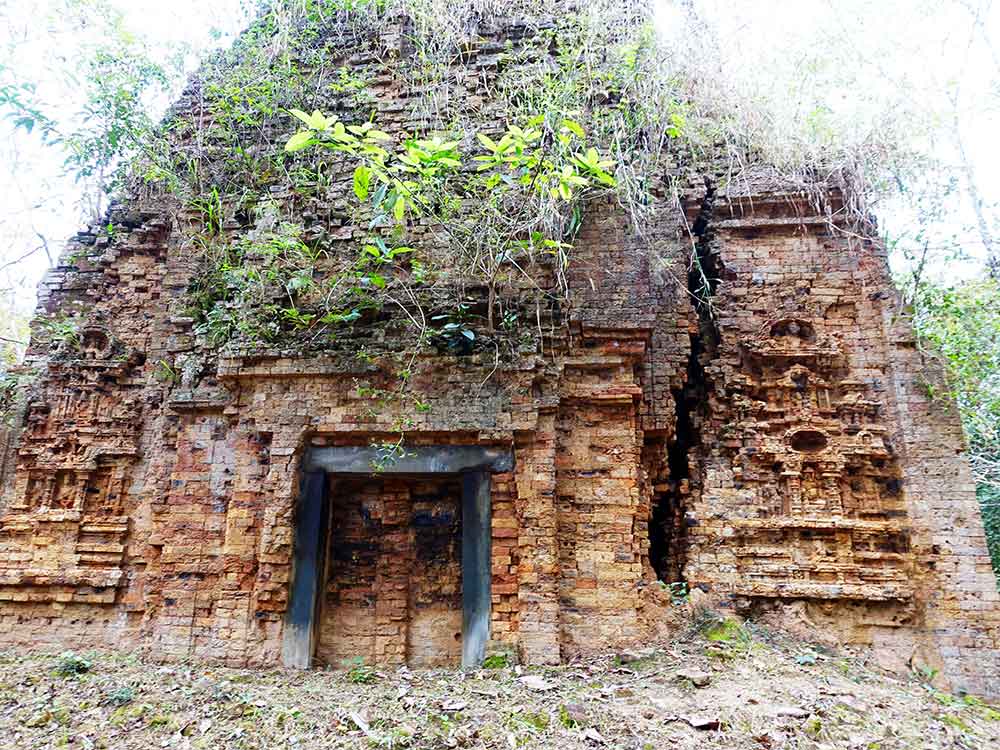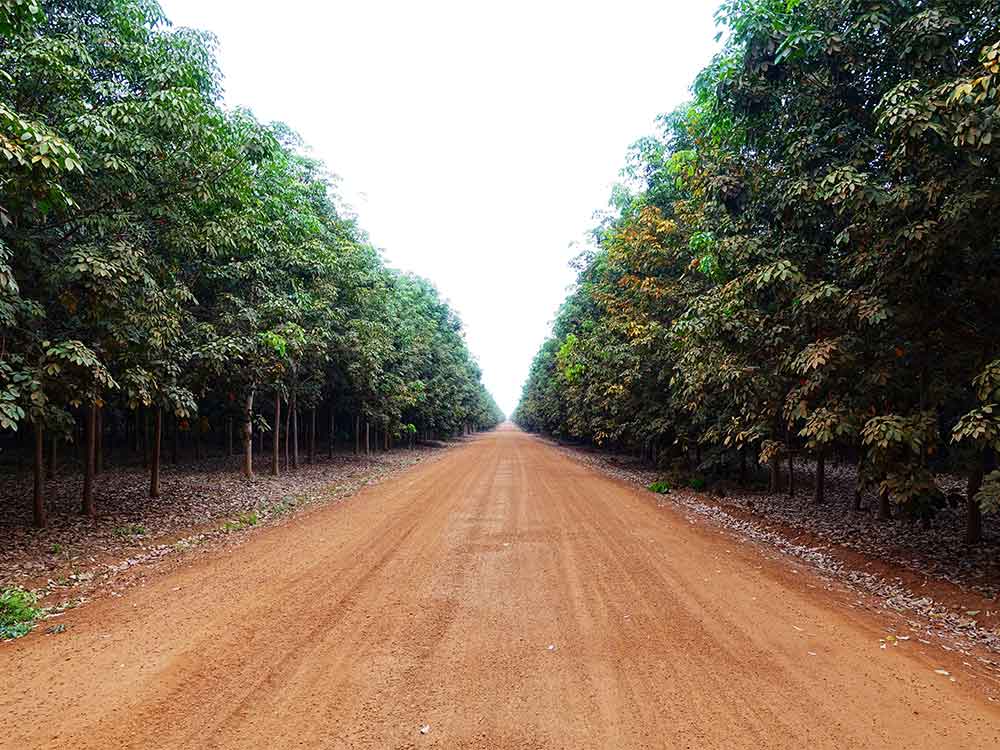 I was hoping to take some single trail back that followed the Tonle Sap lake into town once we had done the highway section, but by the time we got there it was getting late so we just jumped on the highway for a while, before cutting back onto dirt roads as we neared town to avoid the mayhem of rush-hour. As we got back into town, my bike started to splutter and then cut out. Water had got into the tank from a previous tour when the bike got dumped in a river. I had been keeping the tanks full for the whole tour, but as it was the last stretch I hadn't bothered d so the water must have worked its way down into the carb as the level went down. I couldn't be bothered to sort it there and then as we were only 5 minutes from HQ, and Roger was tired, so we switched bikes and I pushed roger back to the office. Could have been worse aye? La was waiting for us at the shop with his customers from a day tour ,and we rounded the tour off with some beers while exchanging stories. We then all went for Khmer BBQ as a farewell dinner. Another tour was over and another friend had been made. Cheers Roger!