Earlier in January I had the pleasure of showing Craig around Cambodia. He had booked a ten day touring and sightseeing tour with us. As an experienced road biker he was also eager to get off road and check out the great trails Cambodia had to offer. Starting in Siem Reap we worked our way around the great Tonle Sap lake to finish back here and then get a couple of day tours to ride the amazing trails scattered around Siem Reap province. Each day we would be riding between 150 - 200km.
Day One - Angkor Wat
We arranged a guide and tuk tuk to take Craig around the temples. He saw Angkor Wat, The Bayon, Ta Phrom, and Preah Khan. There are hundreds of different temples, but these are the main ones to see. We had many more temples planned for the rest of Craig's adventure that were off the beaten track so I advised him not to overdo it.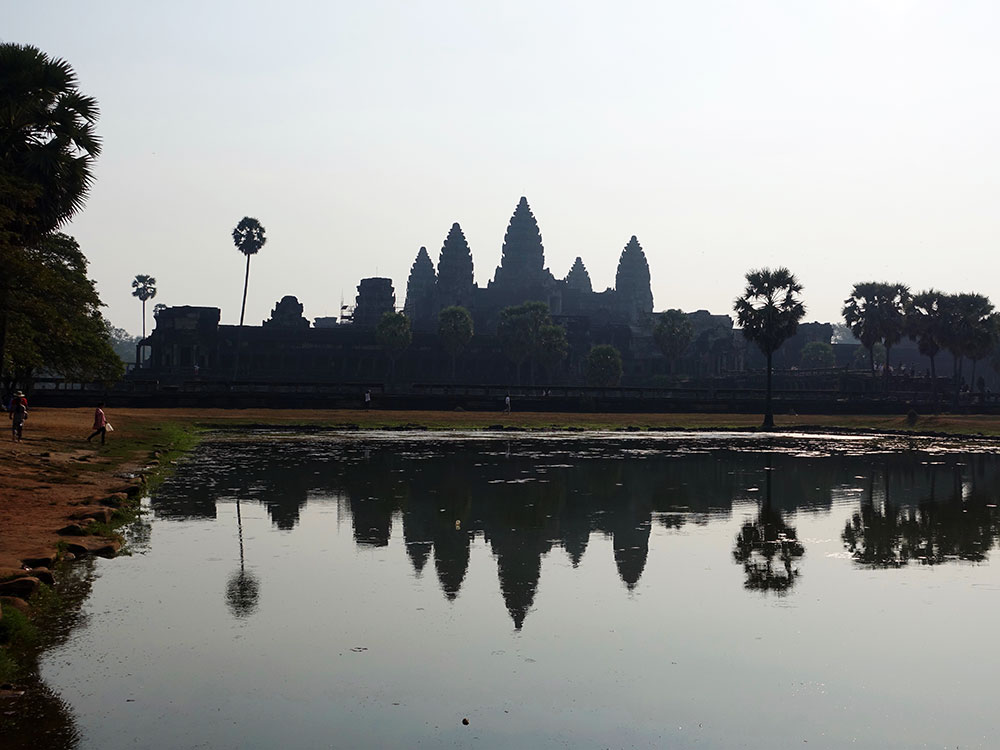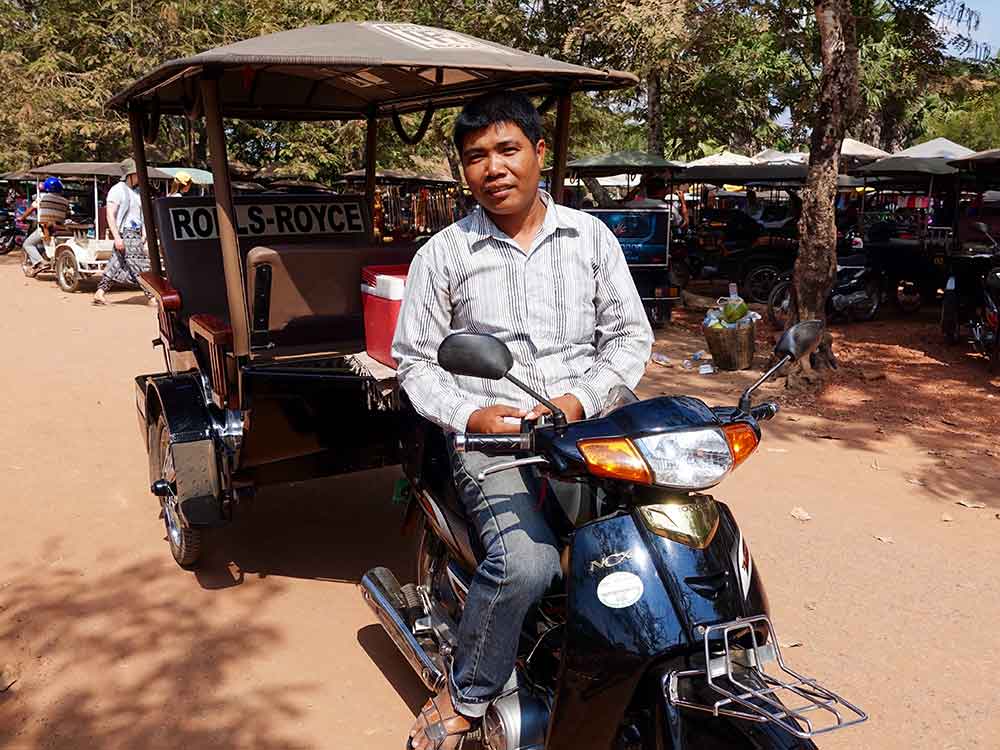 We met that evening for a welcome dinner Khmer BBQ. We had a selection of grilled beef, cow's tongue, with fresh vegetables, and Siem Reaps famous Khmer sausage and fried rice. We rounded the evening off with a little surprise for Craig; honeycomb steamed in a banana leaf. The surprise was the bee larvae still in the honeycomb! It is a local delicacy and actually very palatable. You wouldn't know you were eating grubs! Back to the hotel and an early[ish] night as tomorrow was the first day of riding.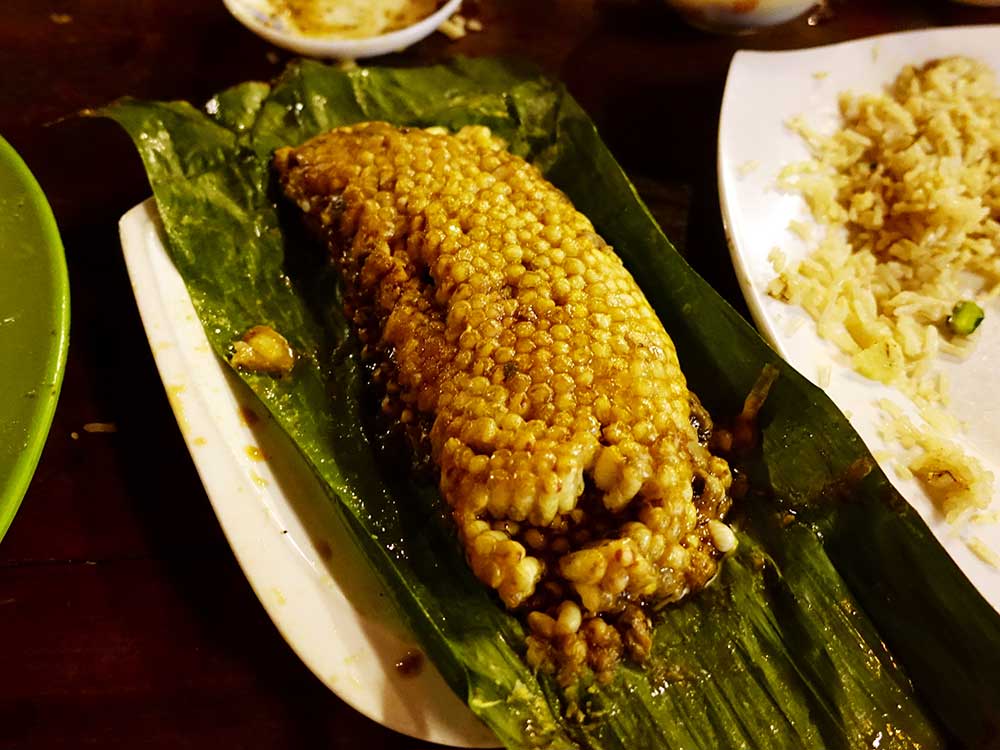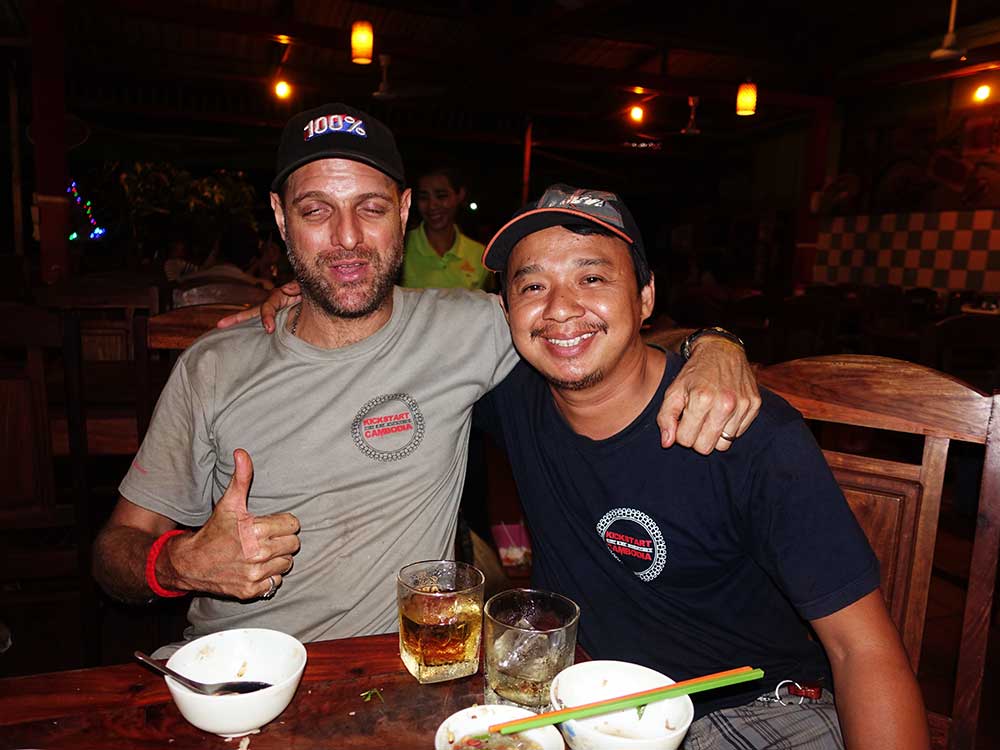 Day Two - Around Siem Reap: Kabal Spean
Craig had opted to ride the Suzuki DR400Z for his journey. Although not the best bike for off-road riding, it suited the touring style of riding we had planned; mainly red graded dirt roads, and a bit of highway. However depending how Craig fared today there would be plenty of opportunity to sample the great trails on offer. We were on the road around 8 O'clock; our destination Kabal Spean - The River of 1000 Lingas. I wanted to see how Craig fared in different riding conditions so I could have more options for the rest of the tour. One of the roads we normally take leaving the town was being graded, so was in a temporary state of disrepair; mainly deep, silty sand. Perfect! This would really test Craig's ability. I briefed him on sand riding technique, but pointed out he could just jump on the single track beside the road if it got too much. He was up for the challenge and for his first sand riding experience, took it in his stride. Apparently that's not what his brain was saying!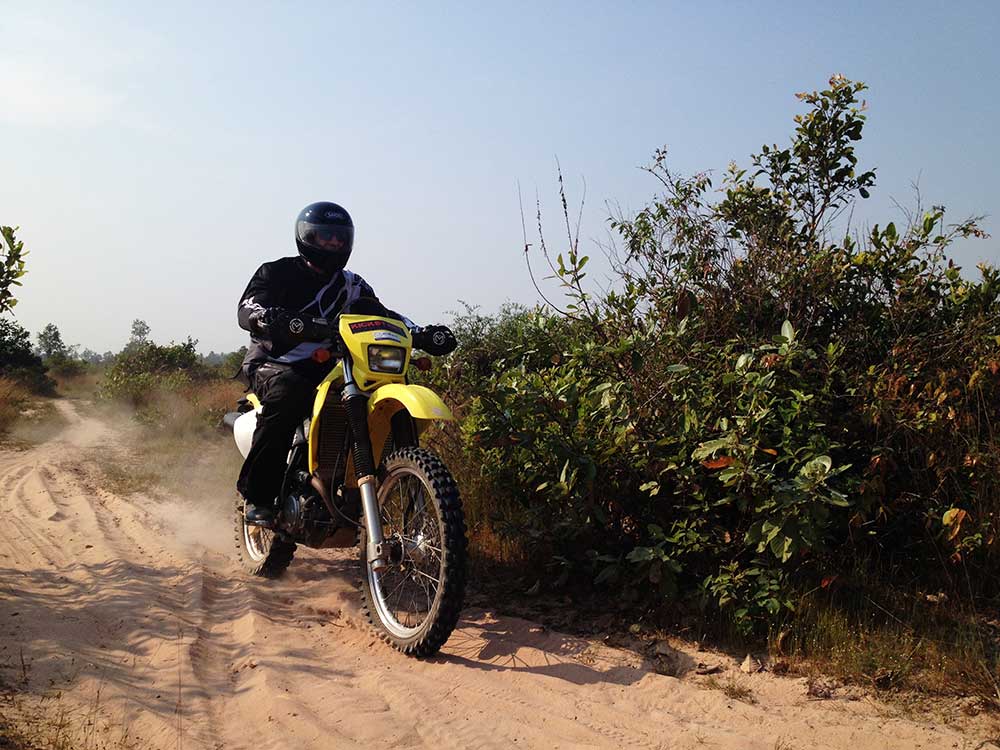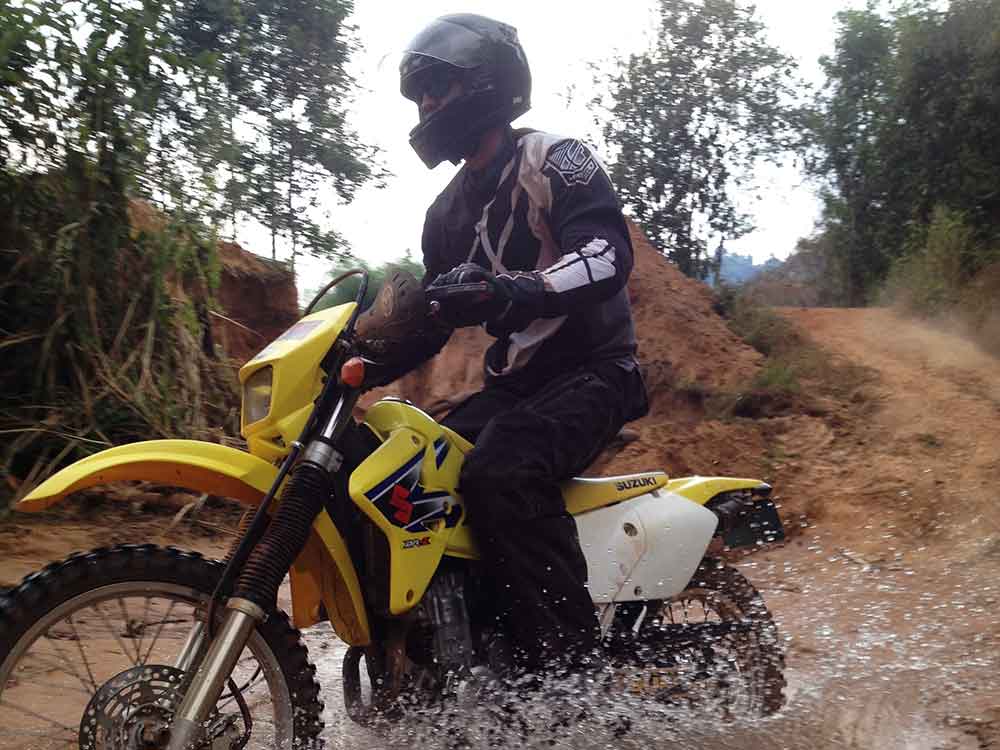 We pressed on and after a combination of sandy single track, dirt roads, a river crossing and a bit of tarmac, we were at Kabal Spean in time for lunch. Craig went to check out the famous carvings on the river bed, where there are a thousand Lingas carved. They represent the Hindu Deity Shiva and symbolize fertility and people come here to bathe in the holy waters and increase ones chances of fertility. There are also carvings depicting other Hindu Deities and scenes. It is believed that the Siem Reap River flowing into Angkor is blessed by the sacred Lingas over which it flows, and eventually ends up at the Tonle Sap Lake, which provides sustenance to the Kingdom. Everything about Angkor is highly symbolic and is part of the fabric of everyday life.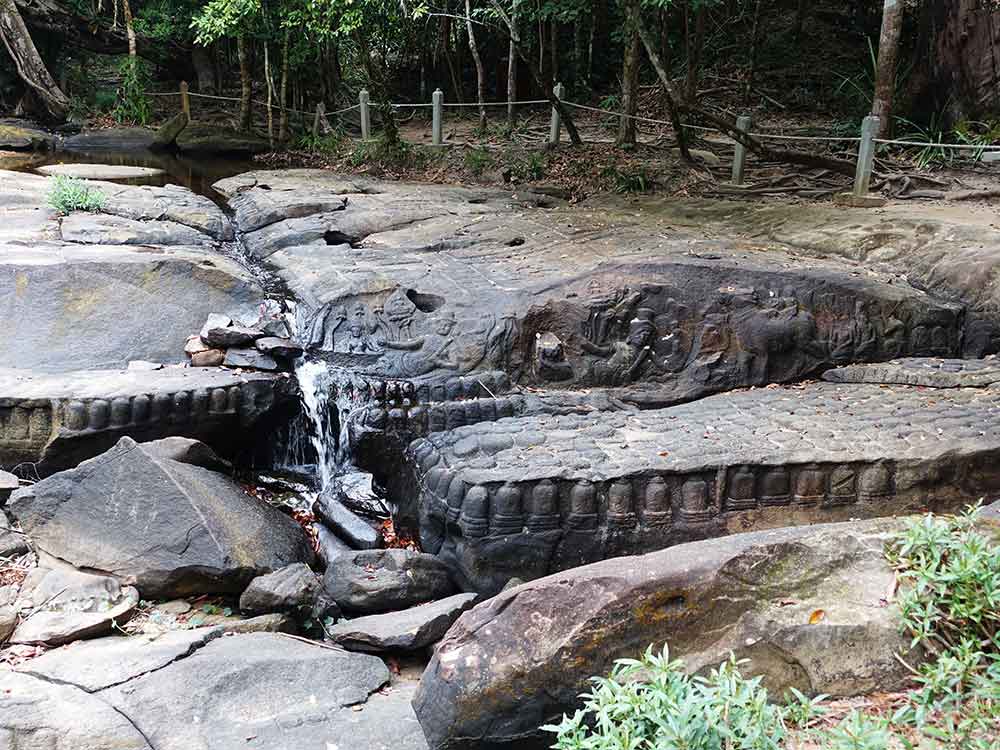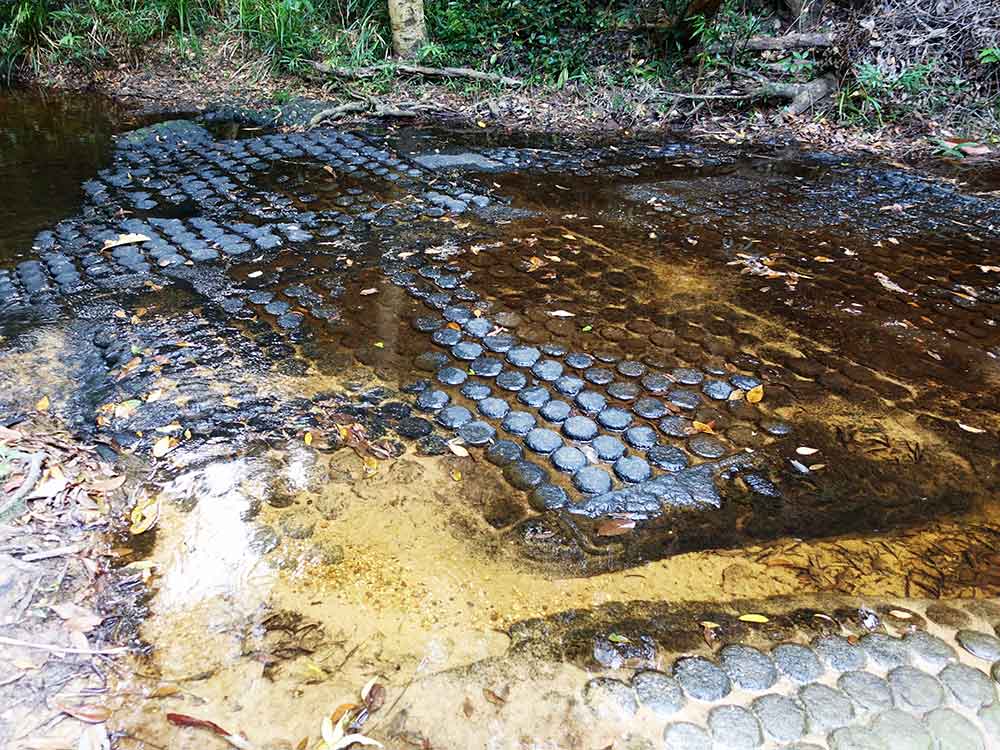 We had a nice lunch and then made our way back to town, via Banteay Srey Temple, renowned for its intricate carvings. On the way back we drove around the West Barey; an enormous reservoir made during the Angkor period, and I took Craig to meet some of my wife's family who lived on route, to see how the locals live. My wife's uncle soon shimmied up a coconut tree and got us a couple of coconuts to drink. Can't get fresher than that!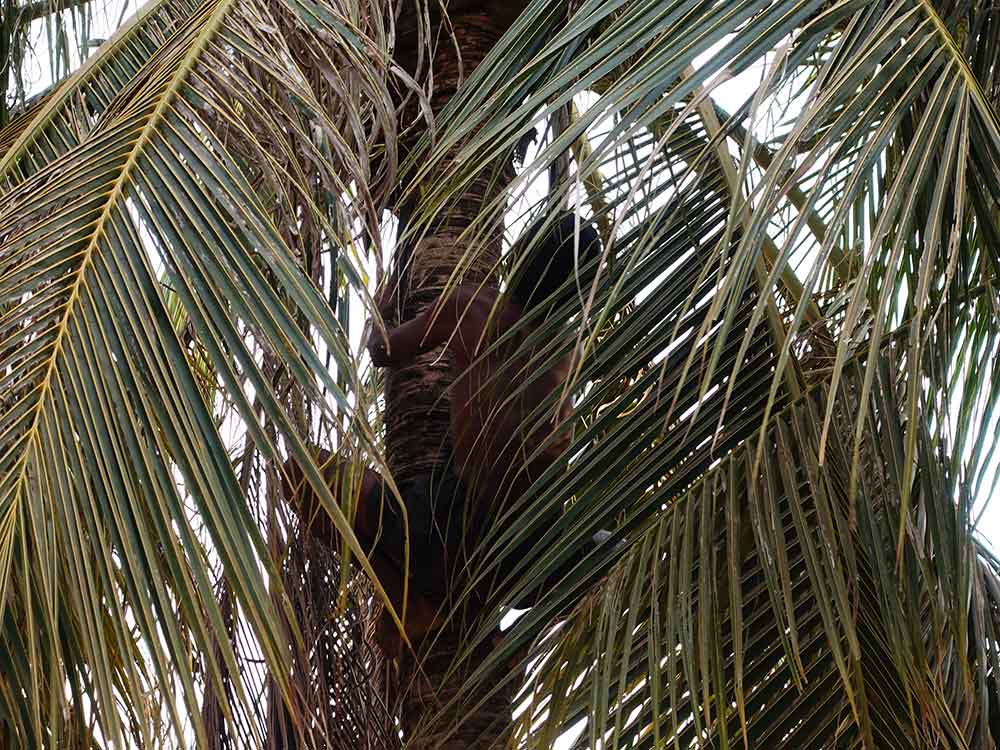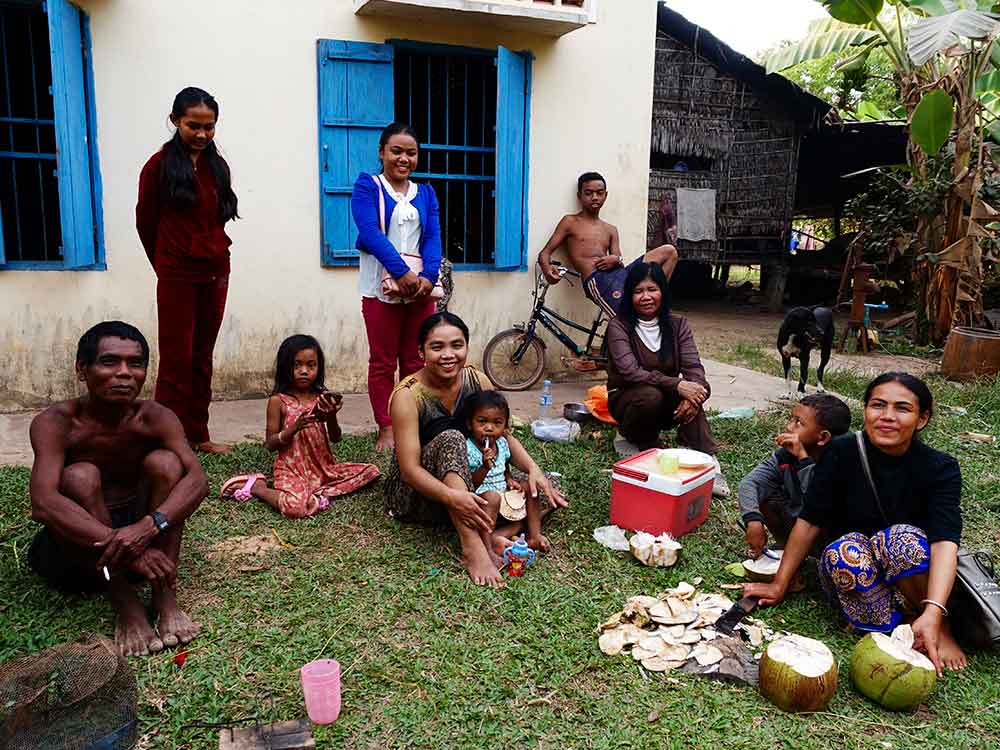 We got back around 6pm. Craig wanted to catch up on his blog and get an early night as we had a long riding day tomorrow, so we arranged to meet in the morning
Day Three - Siem Reap to Kampong Thom
Today's ride consisted of mainly red dirt roads, and we had a fair way to go, just over 200km today. We were soon on dirt roads heading out of Siem Reap. It was pretty overcast for the whole day which was nice to ride in, not too hot. Along the way, there is an Angkorian bridge which formed part of an ancient Khmer highway that would have linked the further away temples together. If you look carefully there are the remains of loads of smaller bridges scattered throughout the whole North Eastern and Mekong area.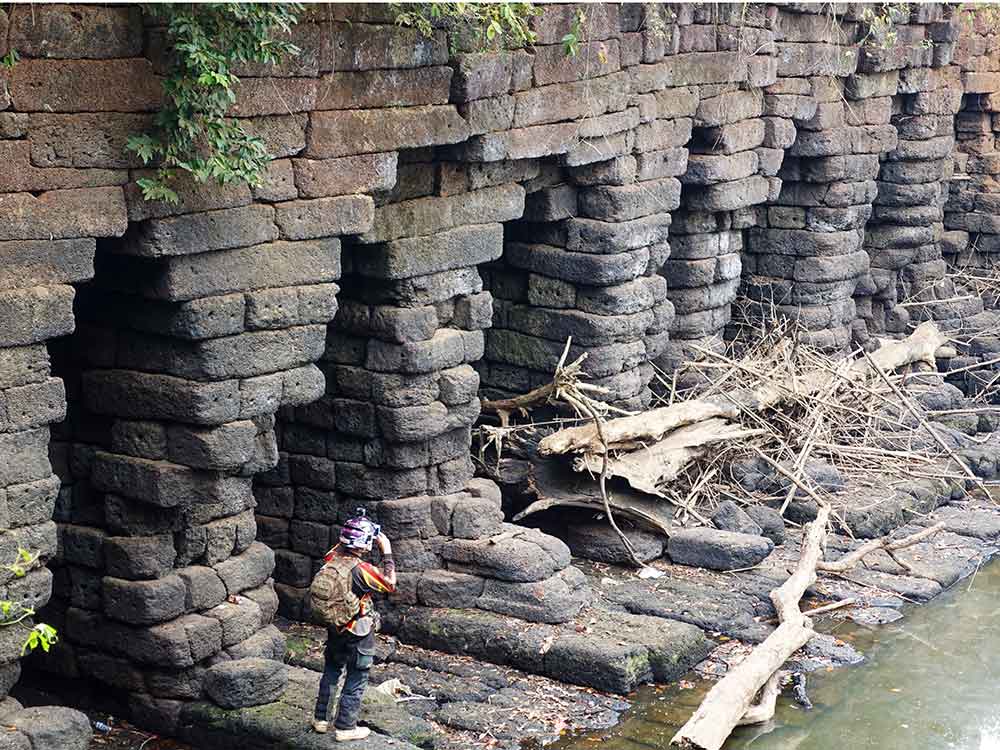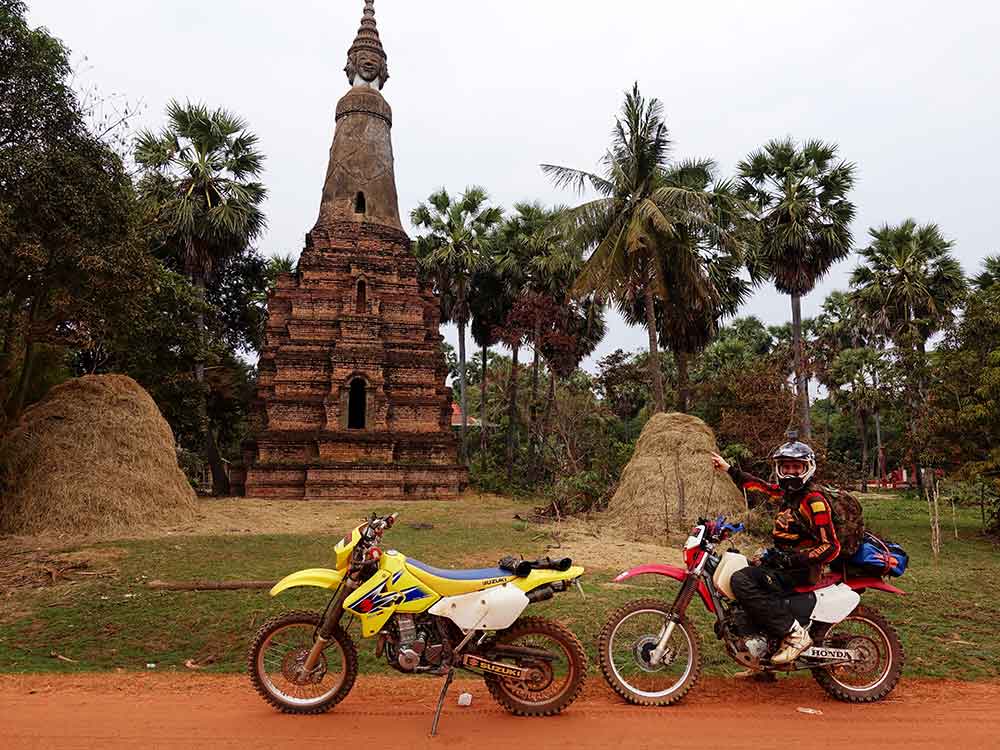 This bridge was a lot large, probably around 35 meters long and is a real feat of engineering that has taken years of abuse from fairly heavy trucks. It is a testament to the sheer skill of the ancient Khmer. The amazing thing is that none of the temples used any mortar and are still standing strong today. Amazing! After having a look, we rolled into Kvow for a quick drink. Today was very dusty with loads of heavy trucks using this route. Craig was getting the raw deal at the back, not so bad at the front…perks of the job I suppose ;) We cut overland through the rubber plantations that spread for kilometers in every direction, and arrived at Sambor Prei Kuk in the afternoon. Sambor was the capitol before Angkor, and the temples are very different as they are all made from brick. We had a quick look around and made for the hotel and the pool. We had a large dinner and went over our route for the day.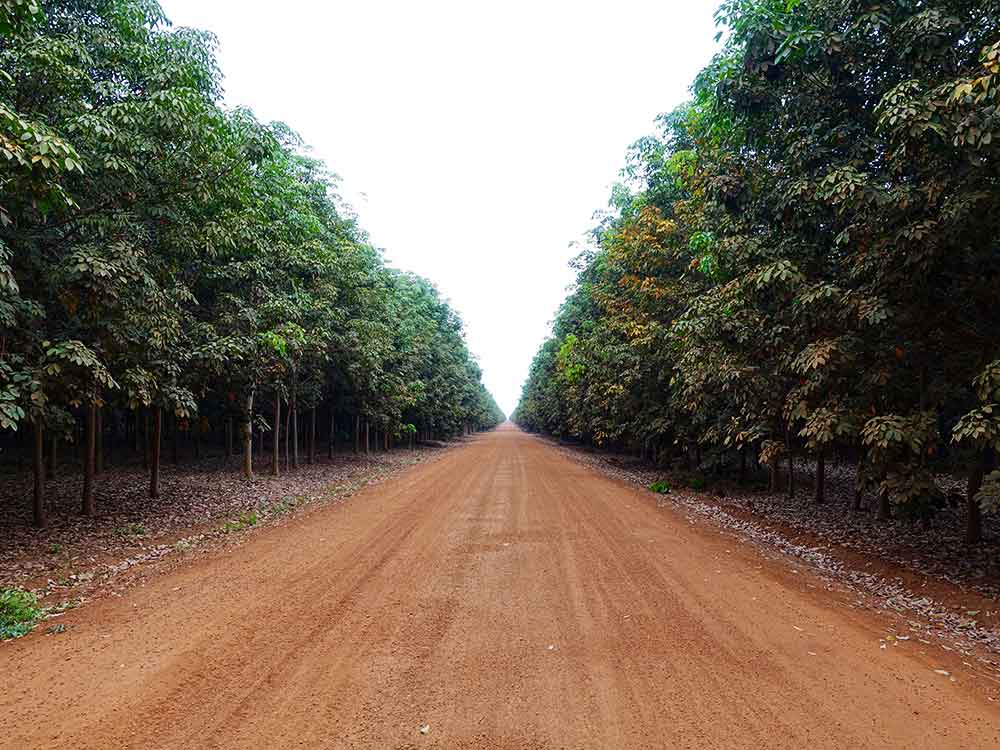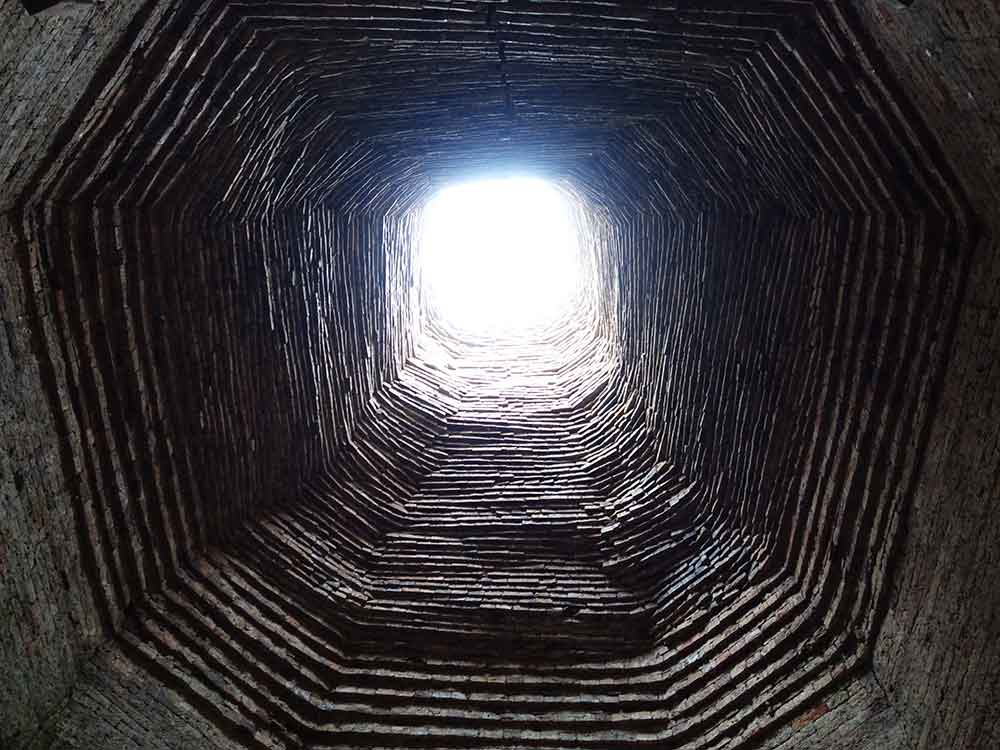 The rubber plantation we drove through, and the inner structure of one of the temples at Samnor Prei Kuk
Day Four - Kampong Thom to Kampong Cham
Believe it or not we woke to rain, which is pretty much unheard of in January. Still, makes for cooler riding. We waited until around 9 then decide to go for it. In the morning we were heading to an area close by, where there is a dam that was built under the Khmer Rouge. It is one of many sites across the country where there were mass forced labor camps under the regime. Thousands of people would have died here. We followed a scenic route through rice paddies and muddy single track. The road was very slippery in places and Craig almost had his first off, but we made it to lunch with no mishaps.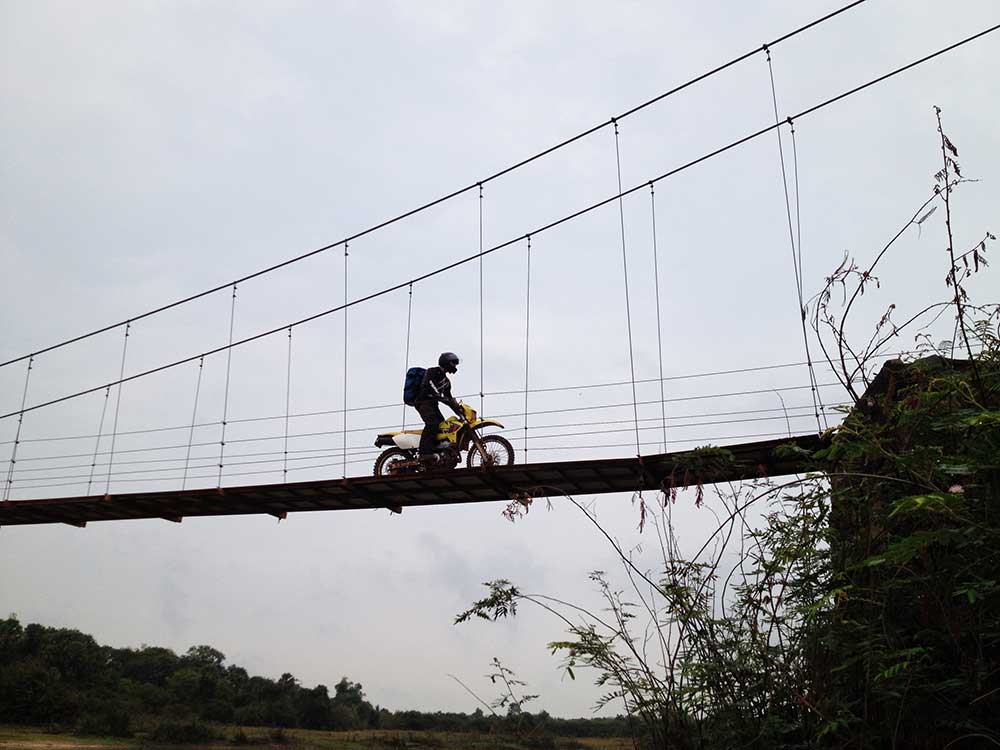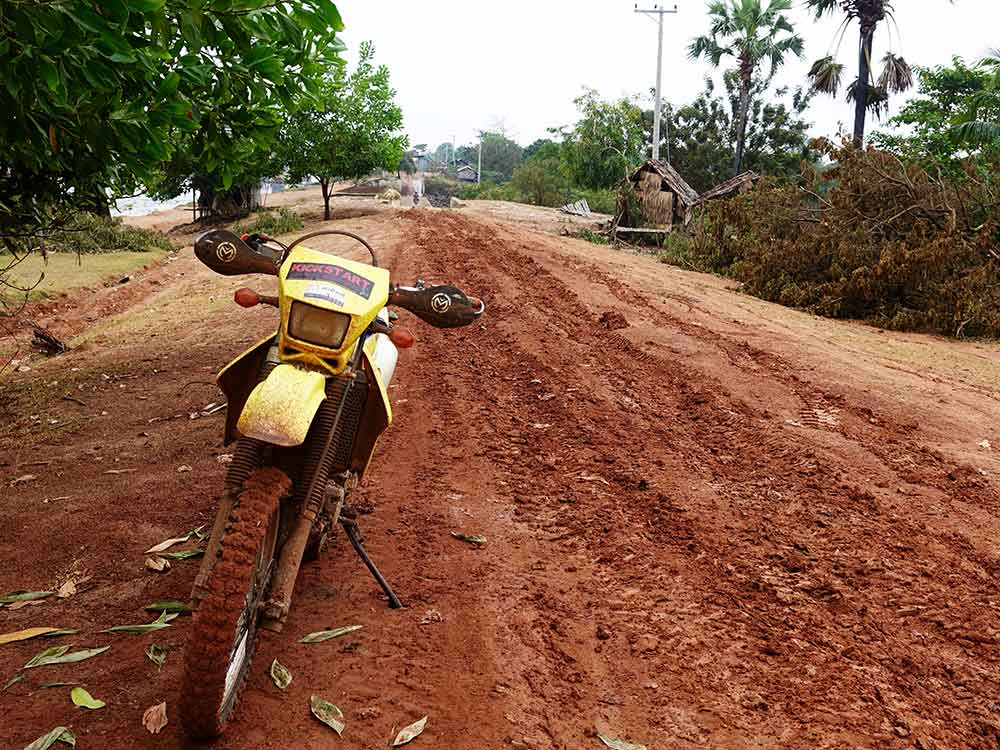 After a lunch of fried sweet and sour fish and ginger and a relaxing break in the hammock restaurant, our afternoon ride took us through hilly terrain as we dropped down towards the Mekong River and Kampong Cham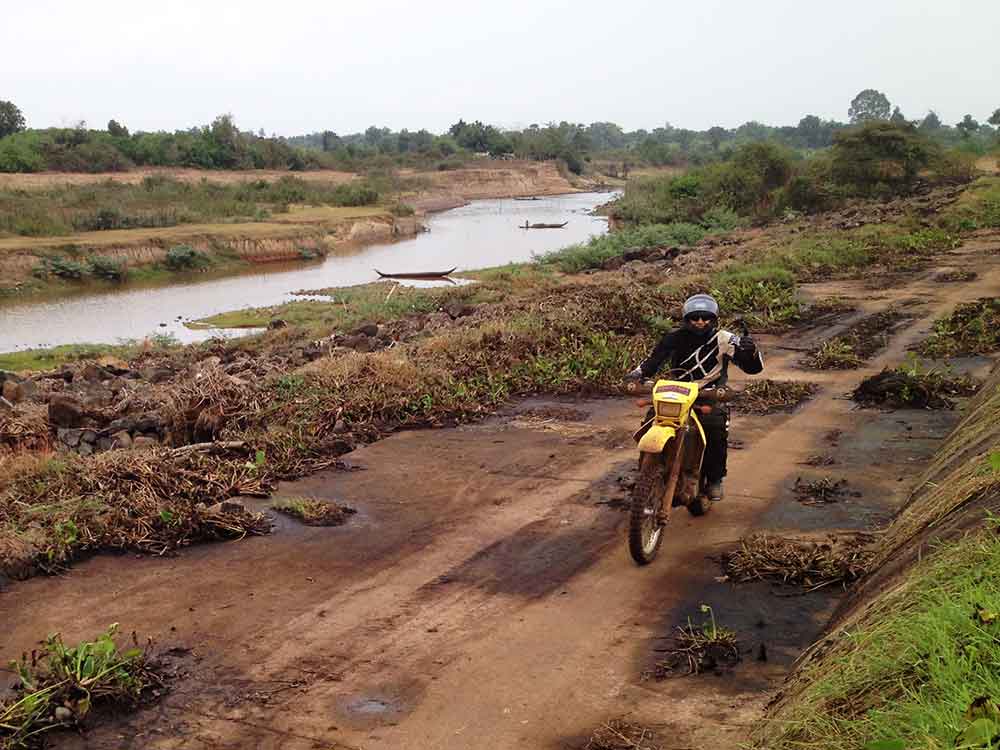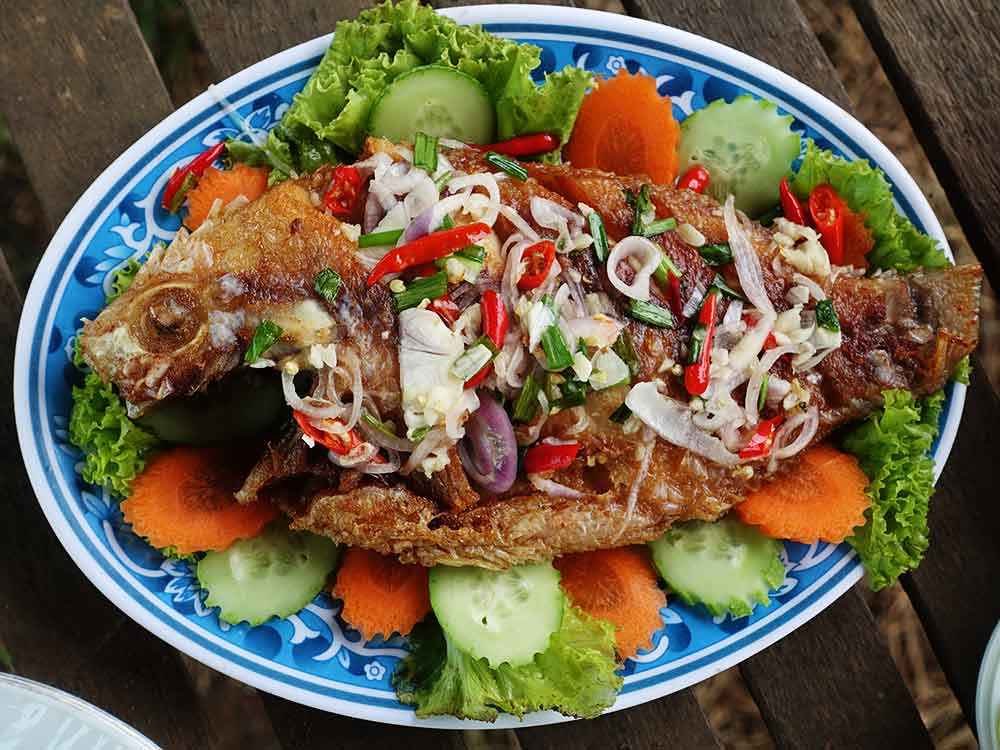 Once at the river we jumped on the ferry and followed the river through charming little fishing villages on the river banks. We arrived just in time to catch sunset at the famous Bamboo Bridge that stretches from the town to the nearby island. As it is too shallow for ferries in this section the locals build this bridge every year, so the villagers can get back and forth. Remarkable; quite a sight.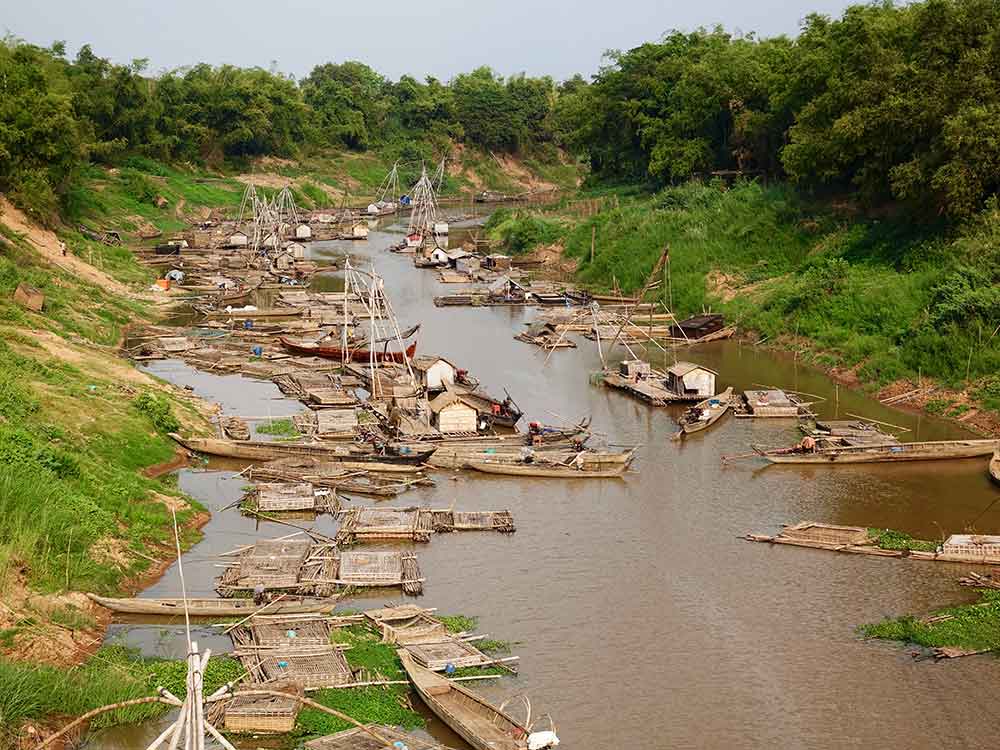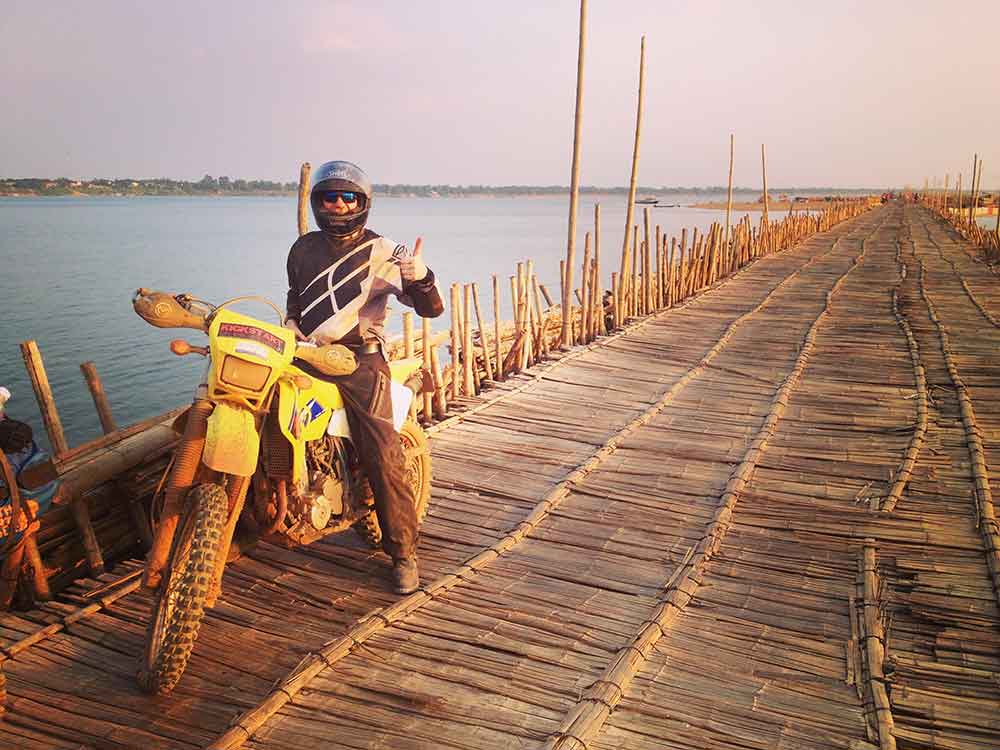 We checked into the hotel and after freshening up went for more local food at a local beer garden. We had some nice dishes which included large shrimps and squid, and various parts of cow, whilst enjoying [or enduring] the evening's entertainment, which consisted of a couple of resident karaoke singers and drunk punters trying their best to sing along. Fairly entertaining, but there is only so much you can take. We said goodnight and headed back to the hotel for some well-earned rest.
Day Five - Kampong Cham to Phnom Penh
A great ride awaited us today. We followed the Mekong down into Phnom Penh through villages and forested areas on a variety of terrain. Craig handled the sand much better today as we rode on windy single track that wound through the woods and along the banks of the Mekong. The villagers were very friendly along this route with cries of hello and the kids all asking for wheelies.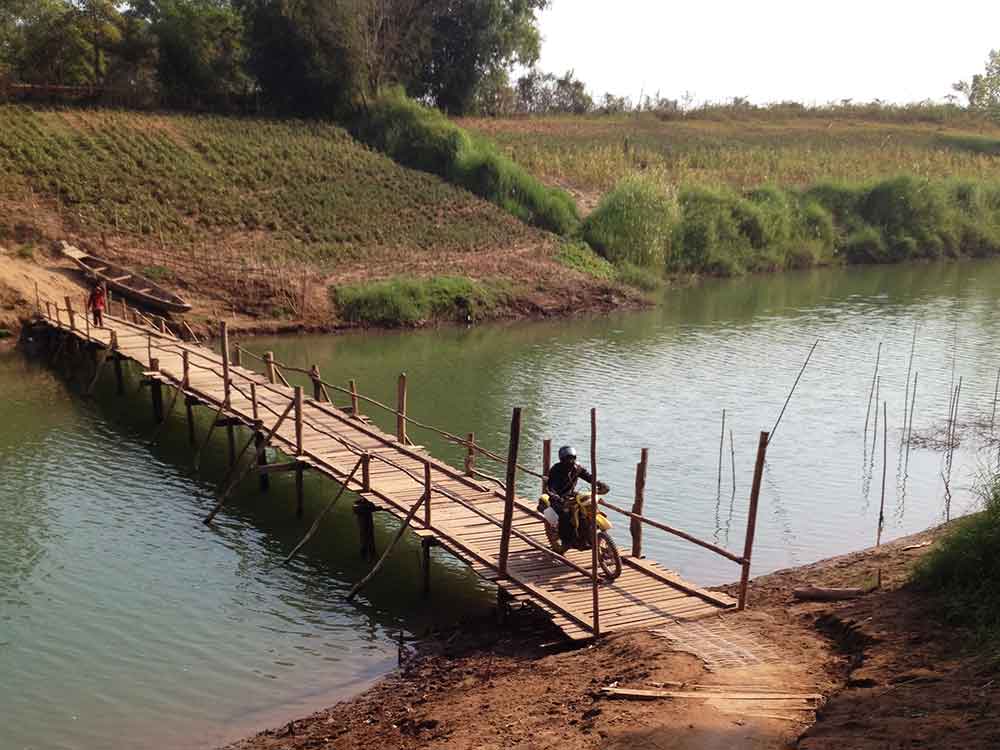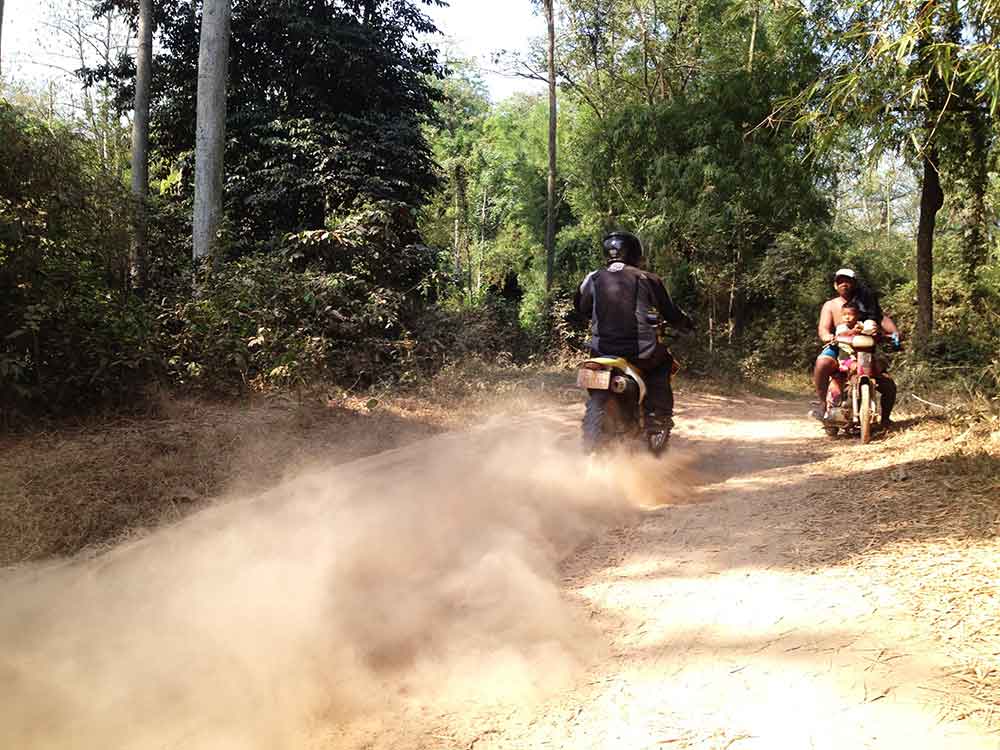 We could have followed these trails all the way into Phnom Penh, but Craig wanted to get into Phnom Penh early. We crossed the Mekong, and jumped on the highway for the last stretch arriving in Phnom Penh around 2pm. I got the bikes washed, cleaned the air filters and changed the oil on my bike, while Craig relaxed at the hotel and treated himself to some Spa time.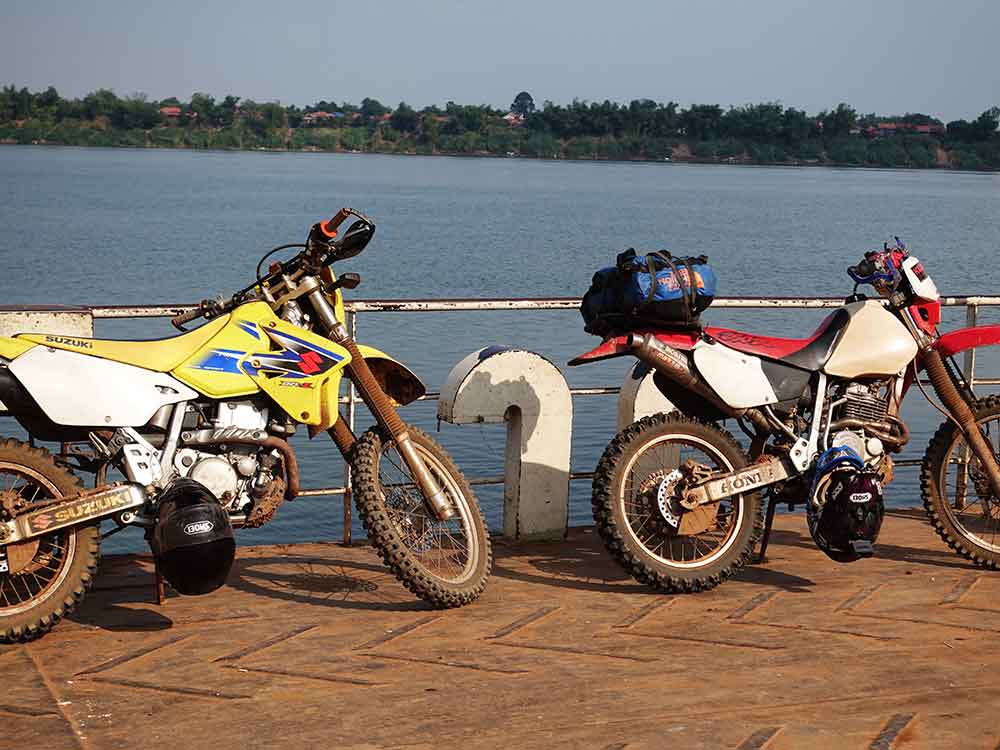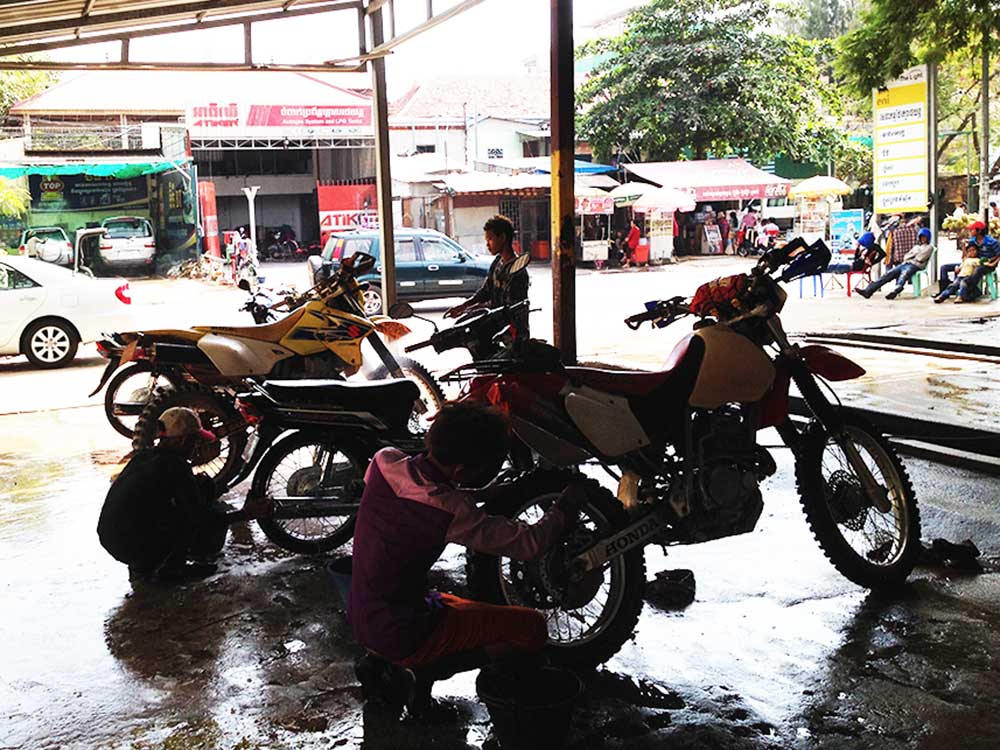 Day Six - Around Phnom Penh
Today was a rest day so I took Craig around to see the sights. A somber day as we went to the S21 Genocide Museum and the killing fields of Choeung Ek. If you visit Cambodia you should come here as it helps get more perspective on what happened. Craig took his time around S21 and met one of the survivors who survived by painting pictures for his captors. Tuol Sleng (S-21) was a detention centre, where ordinary Cambodians were detained and tortured until they confessed their supposed transgressions against the Khmer Rouge [Angkar]. They were then taken to The Killing Fields where they were murdered. There were very few survivors from S21 as the premise was that Angkar was never wrong so, if you were detained, you were guilty.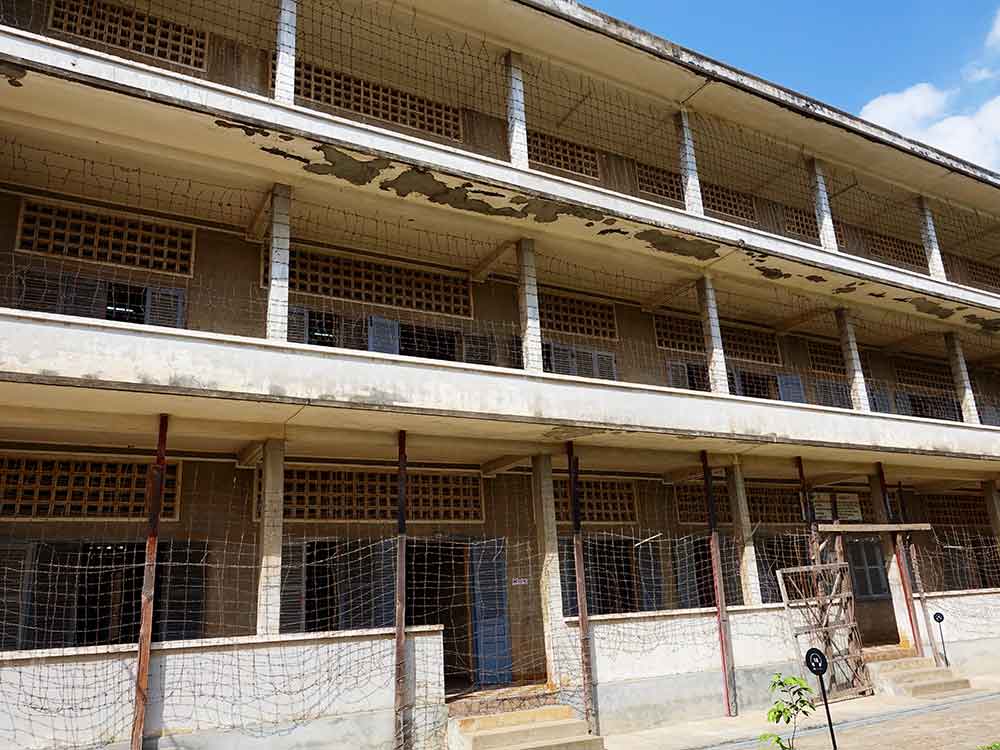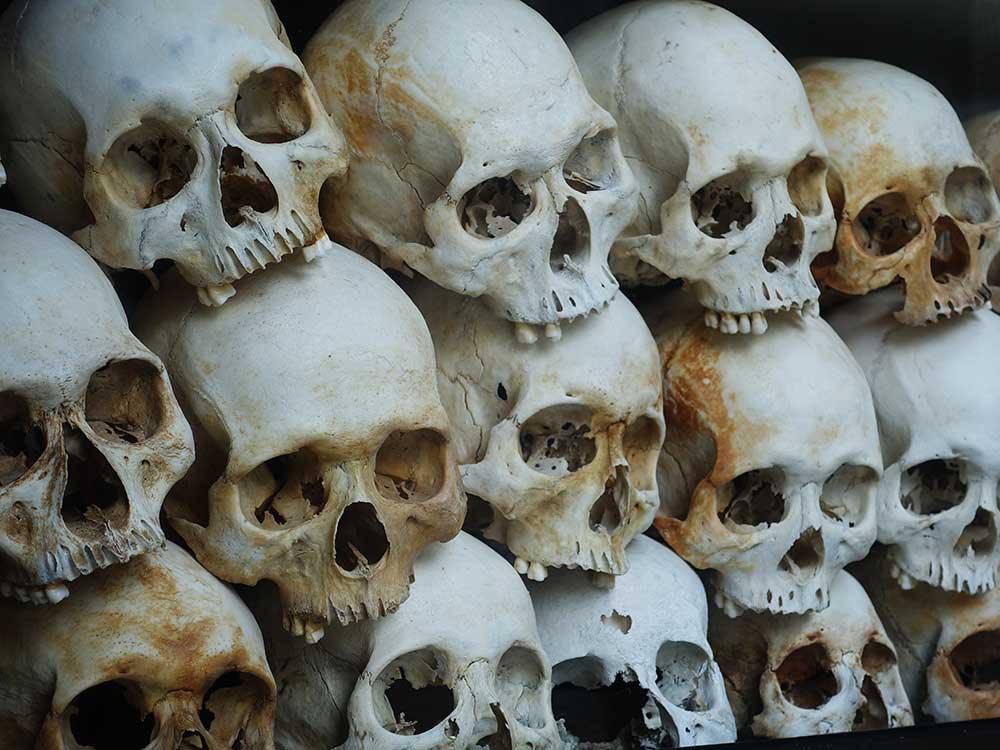 For a more detailed account of craigs visit you can read his Blog here: https://bermudarover.wordpress.com/2016/01/11/a-sombre-morning/
It is incredibly sad that this happened and even more incredible that it still happens around the world today. We will never learn. We rode our tuk tuk back into town whilst reflecting on the mornings visit.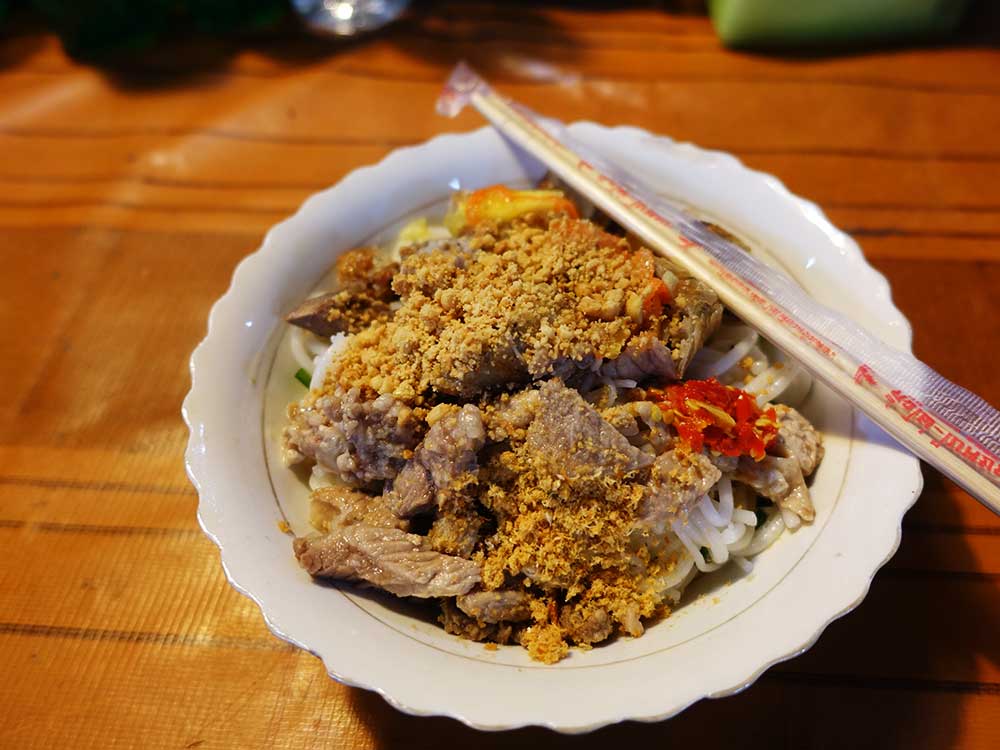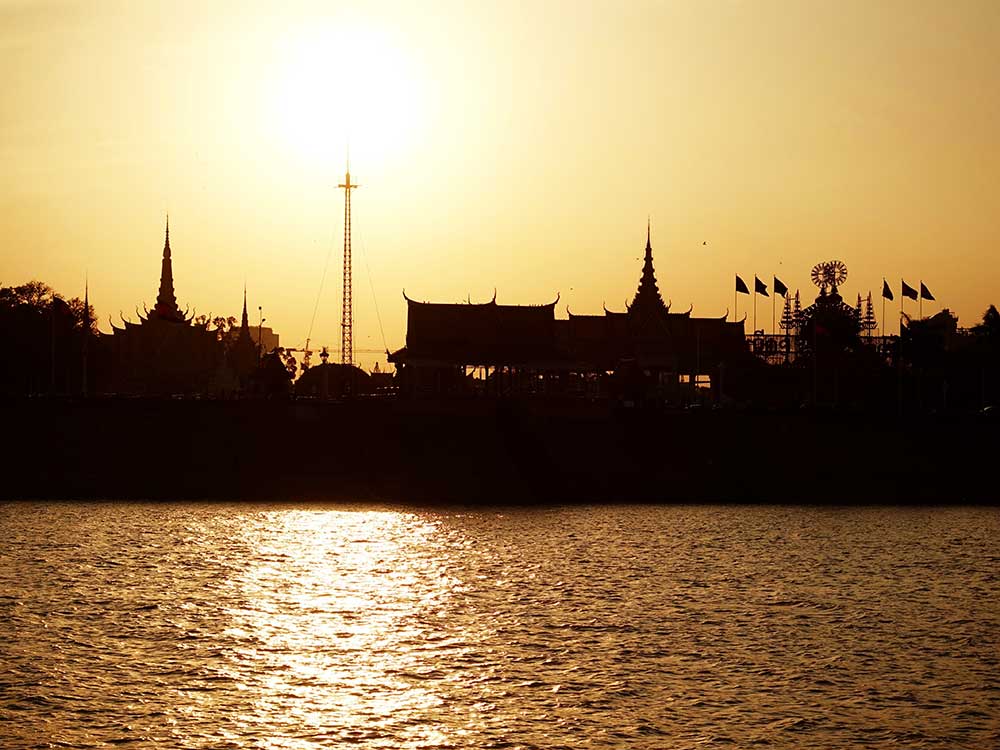 I took Craig to the Russian Market where we had a local dish called Bang Sung. Rice noodles with Khmer basil and other veg with pork. Nice and spicy. I had arranged a sunset cruise on the Mekong to round off the day. The Phnom Penh skyline has really changed since I lived here. We got to see some of the floating villages further downstream and a glimpse of fishing life. The cruise included dinner and we had some nice BBQ skewers. To finish the night I took Craig to one of the Spas we use in Phnom Penh for a massage to work out all those aches and pains.
Day Seven - Phnom Penh to Battambang
We had quite a bit of distance to travel today; around 300km in total, which would mean riding on the highway. I gave Craig some options to jump on some dirt roads that follow the train track up, with opportunities to ride the bamboo train, but as this would add another 60km we decided against it. Leaving Phnom Penh we followed the train lines as far as Phnom Baseth, and then jumped on the back roads to Oudong, and then onto Route 5 up to Battambang All in all it was a fairly uneventful day, apart from being forced off the road about 50 times by inconsiderate driving. But hey ho, this is what it's like riding on the highway in Cambodia.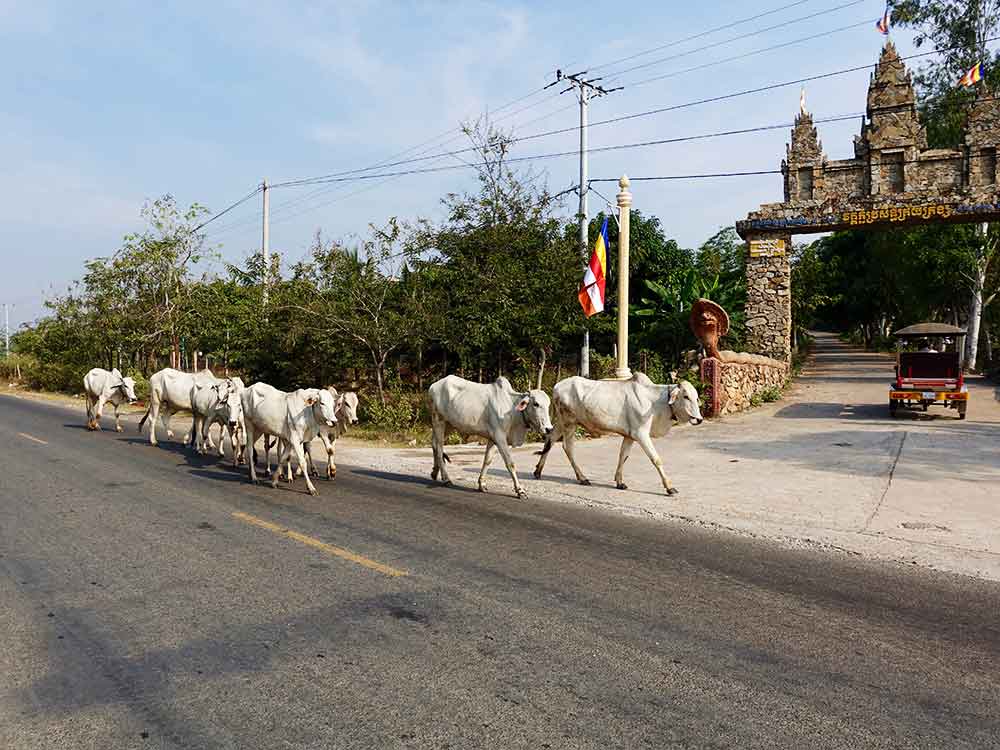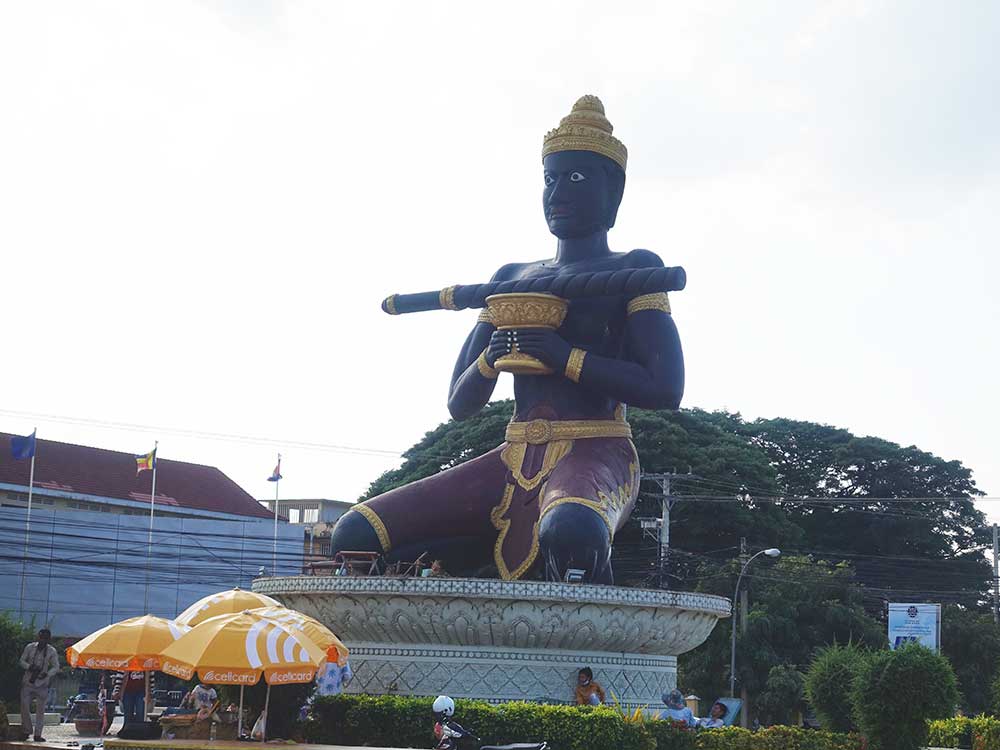 We were glad to be in Battambang, where we freshened up, and went out for Beef Soup, one of the many 'cook your own' eateries that can be found in Cambodia. Plates of meat and cow offal including cow brains arrived with vegetables, noodles and a pre made broth with loads of succulent beef that had been stewed for hours previous. We left feeling stuffed and ready for bed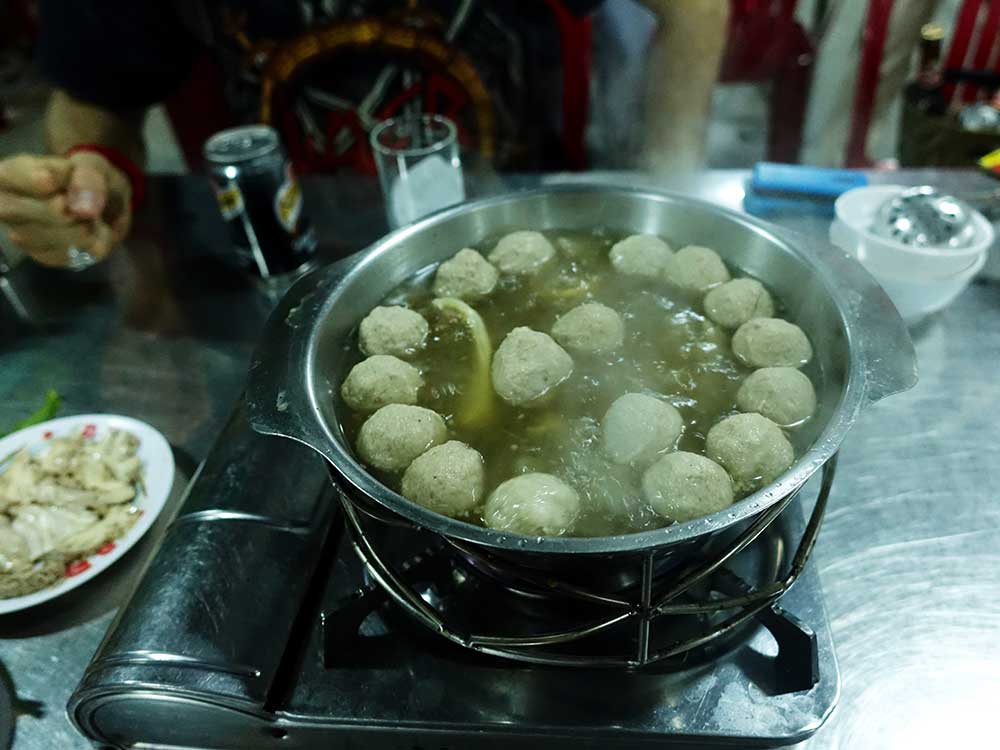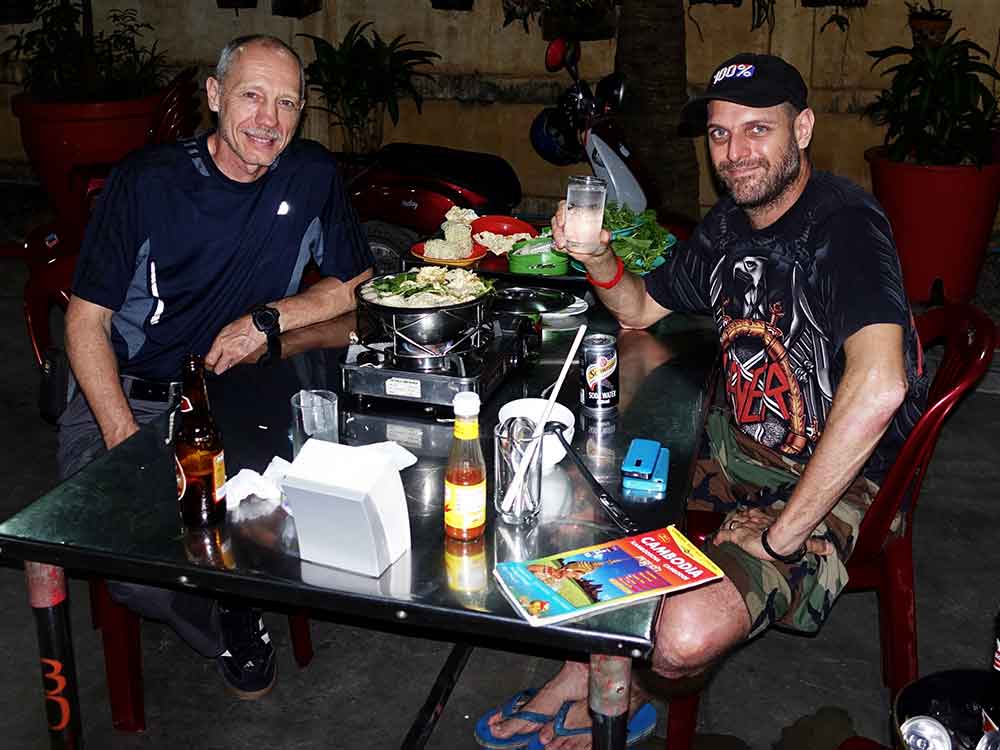 Day Eight - Battambang to Siem Reap
There are quite a lot of things to see around Battambang. After a buffet breakfast we followed the river through picturesque villages to Wat Banan, where there was an 11th century Angkorian temple at the top of a 400-metre mountain. We climbed to the top on over 350 steps to reach the temple, wisely leaving all our gear with the bikes.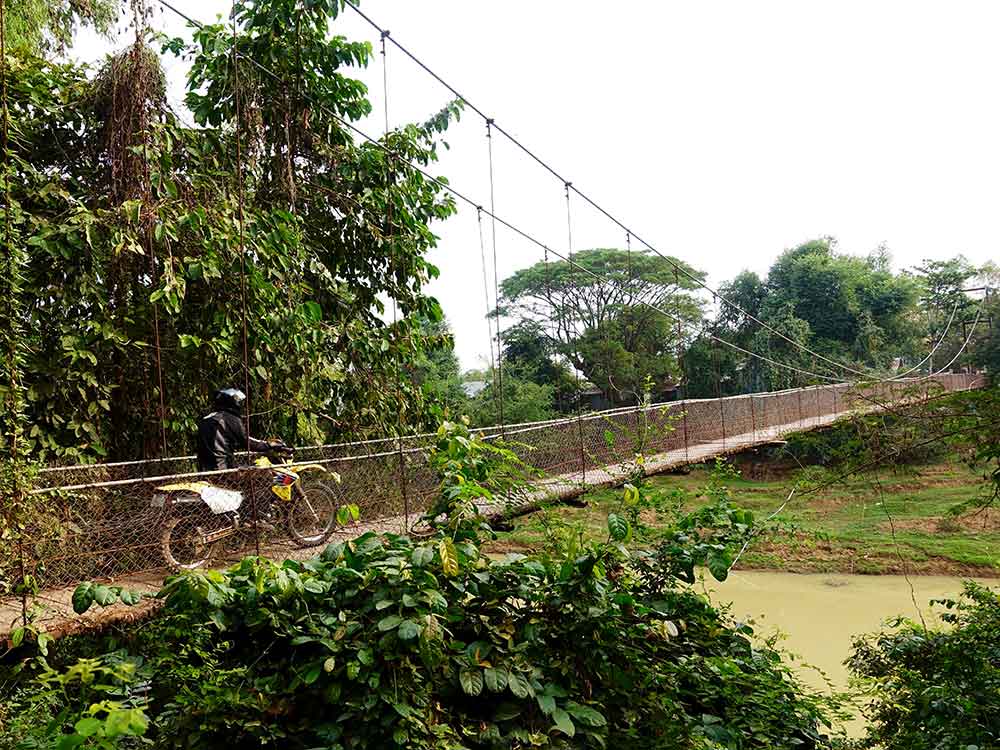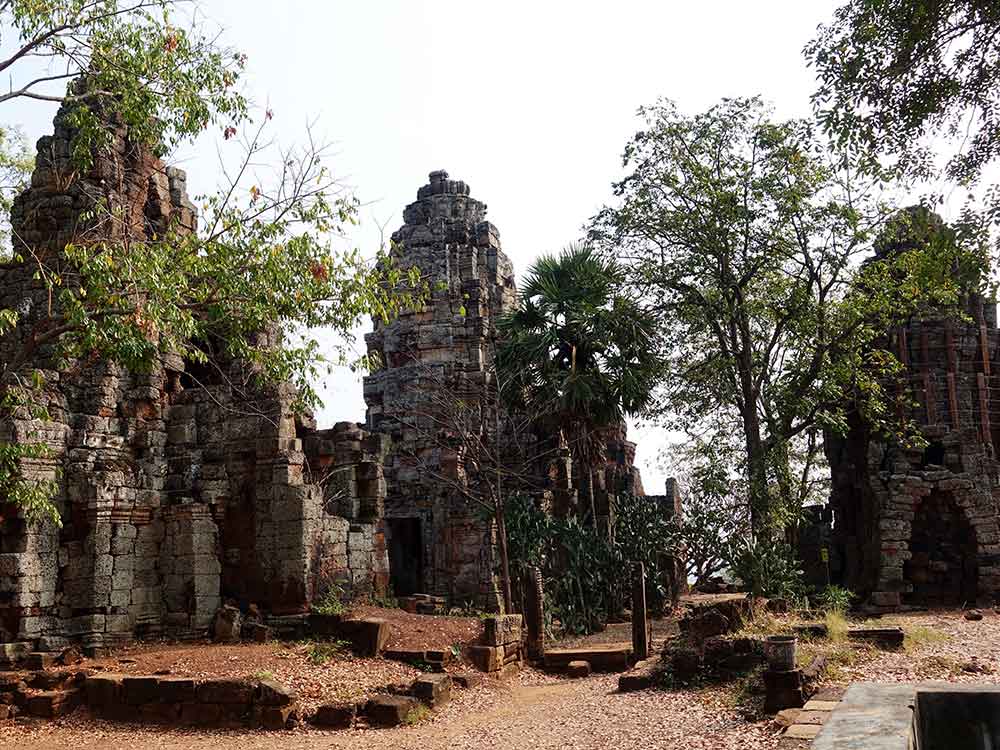 After this we cut through the rice paddies on a potholed dirt road to Phnom Sampeau. There were pagodas at the top of the mountain and a cave that was used by the Khmer Rouge as one of their Killing Fields sites. Victims were killed and dumped into the caves. There is a shrine in the cave to commemorate the victims.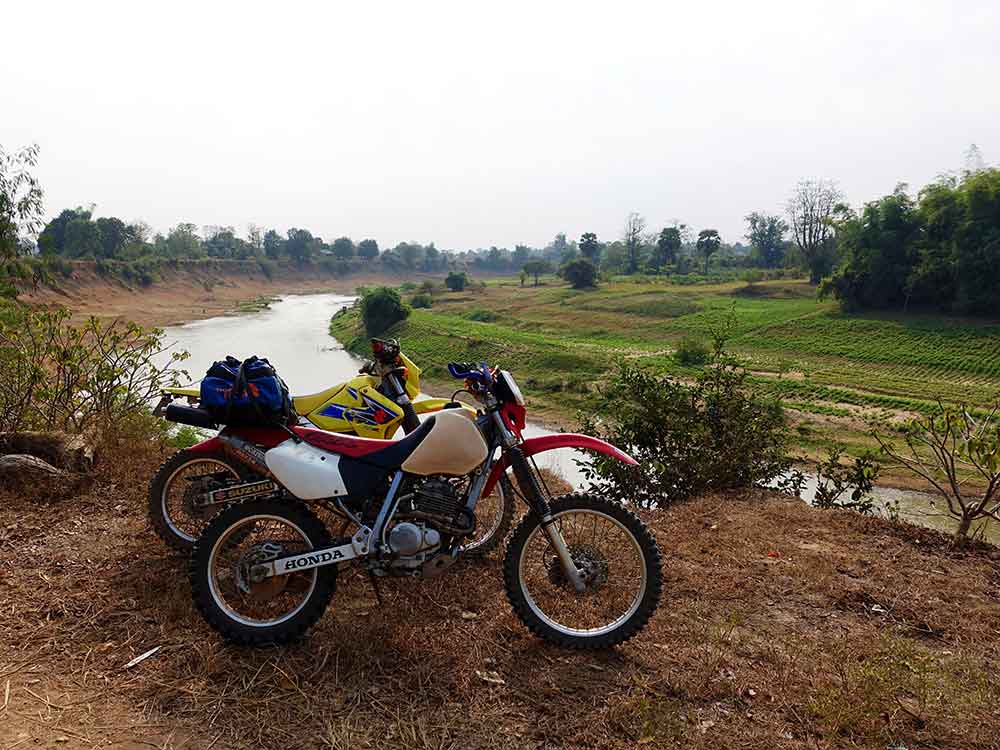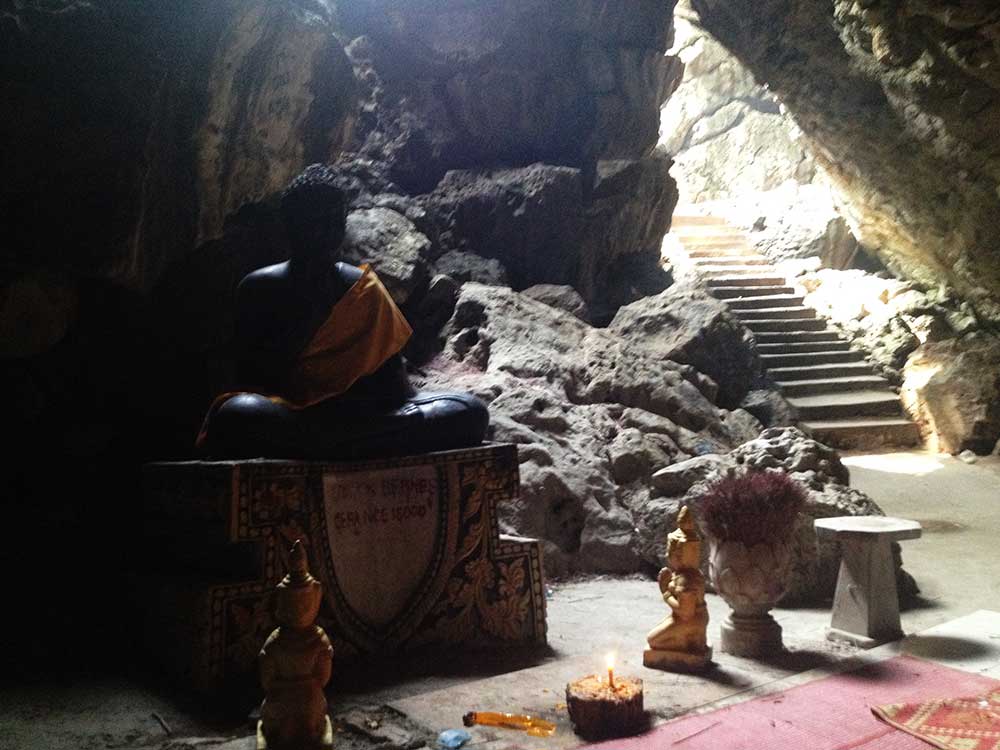 Next stop was another Khmer Rouge era dam that was constructed at the cost of many lives. There is a picnic area here were you can also take a boat out on the lake. We had a fried chicken for lunch in another hammock restaurant, whilst taking in the views of the surrounding lake.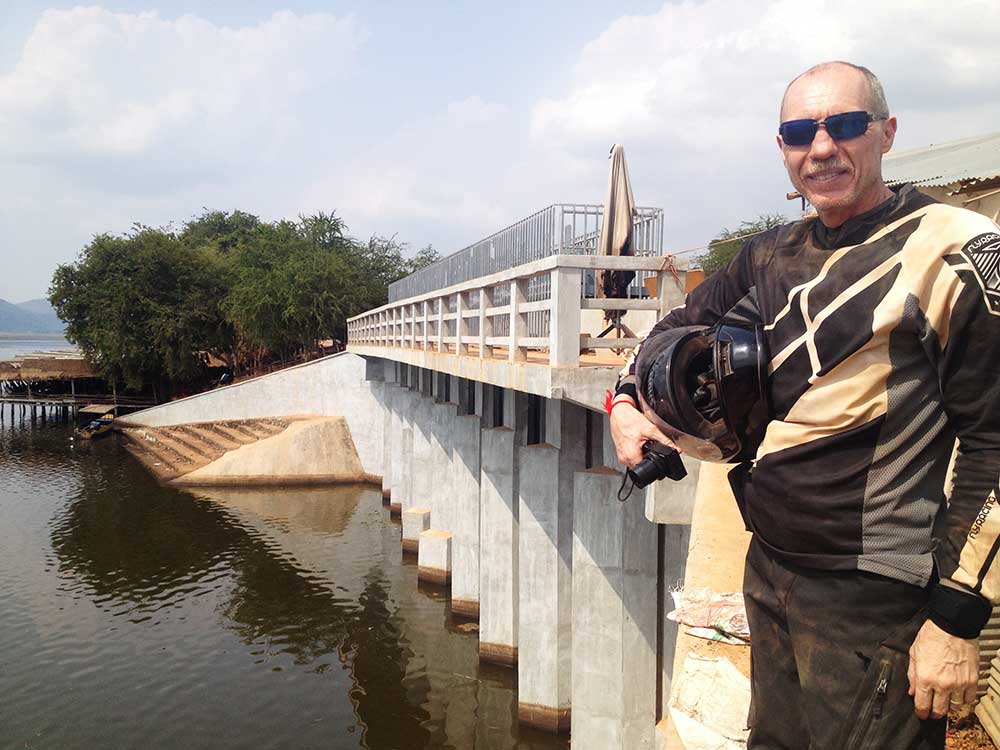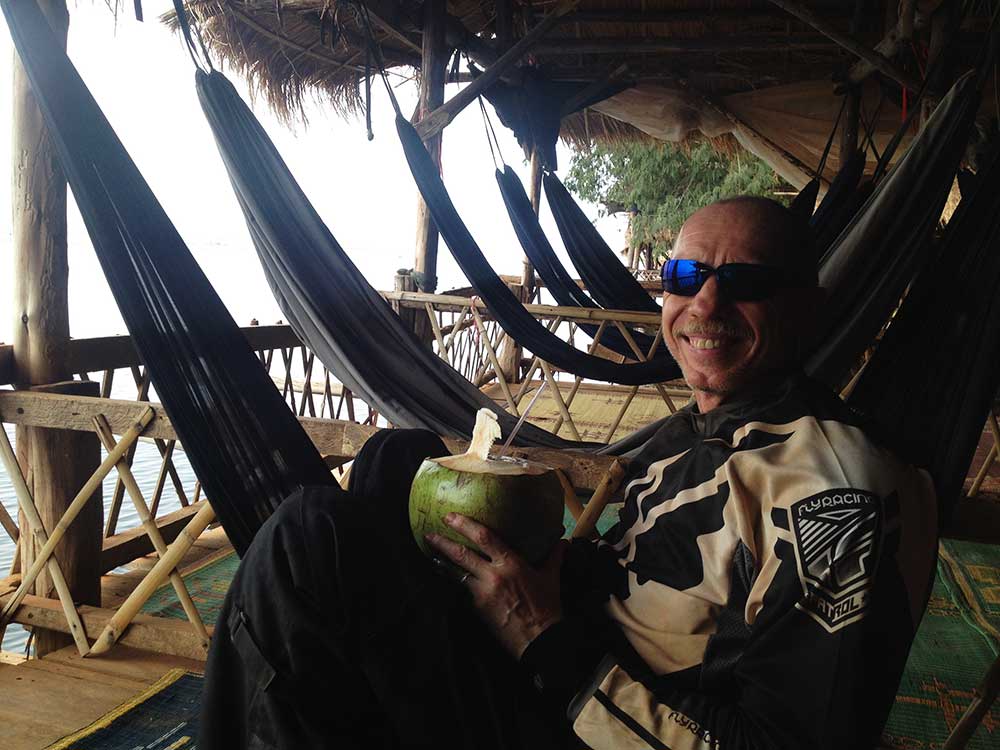 We still had a fair way to go so I decide to cut due east that took us on raised paths that intertwined the vast rice paddies at the north of the Tonle Sap Lake. After speaking with the locals to see if it had dried out enough we pressed on. In the late afternoon under an enormous sky with rice fields stretching as far as the eye could see we made our way towards Siem Reap. Sections of the trail were still under water and we had to be careful not to slip off the raised path that traversed the muddy bogs. Craig did very well and soon we had got through the worst and were riding through vast plains before we got back to civilization.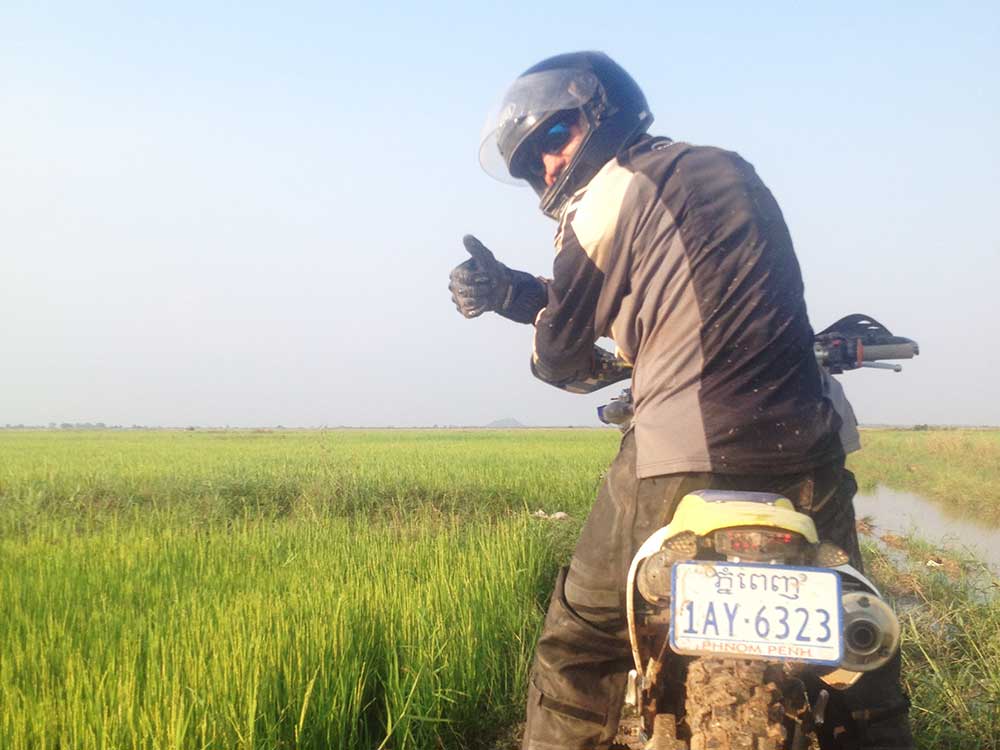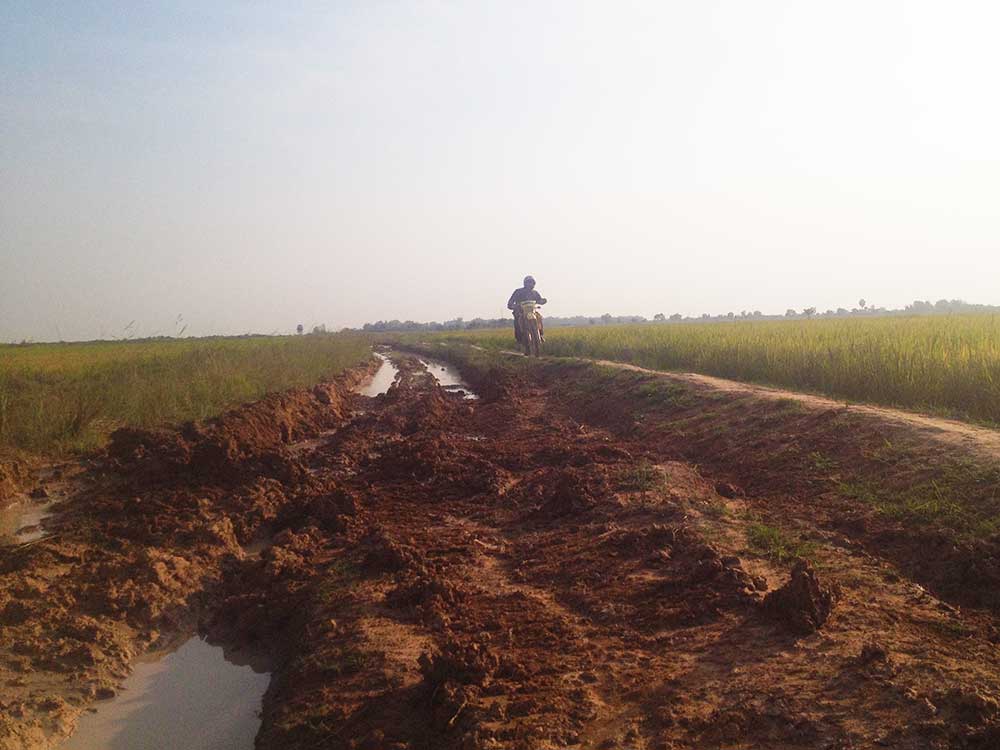 We came out near Kralanh town by which time it was 5 pm so we rolled into town on the highway. Craig was knackered, so after a few beers at Kickstart HQ we arranged to meet in the morning.
Day Nine - Around Siem Reap
Craig wanted to see more of the surrounding countryside around Siem Reap. Today's ride took us to Kulen about 60km away from town. Kulen was the birthplace for the Angkorian Empire and most of the sandstone that was used to construct the temple was sourced here. Craig was suffering from a bout of diarrhoea so we had a late start and took easy red dirt roads to the base of the mountain. The climb to the top was enjoyable. We had gone in the week so wasn't too busy. At the top we had some lunch, and then I took him to see the famous stone elephant Srah Damrei, and the Bat Cave.The road to the bat cave was fairly technical with patches of deep sand and rocky terrain which we hadn't encountered yet on the tour. I had suggested Craig take the Yamaha WR250F today as it is a lighter bike with more power and better suited to today's terrain. After entering the jungle we got onto some single trail that took us to the Bat Cave that goes deep into the mountain, where there are various shrines scattered throughout. Normally it is pretty cool here but today there was no breeze and we worked up quite a sweat.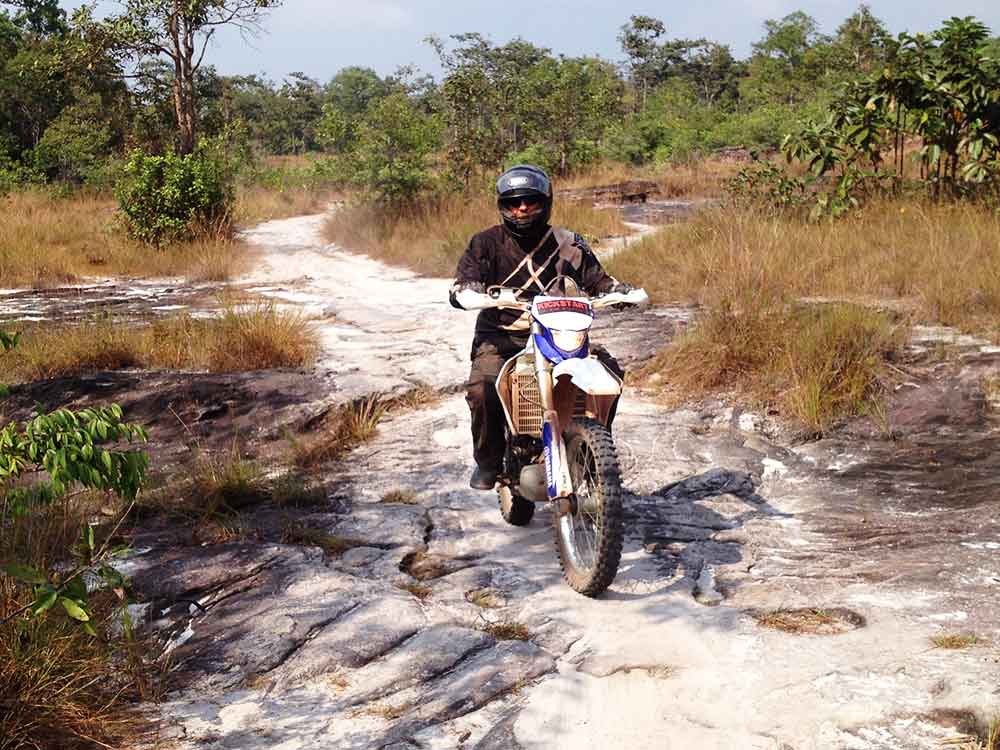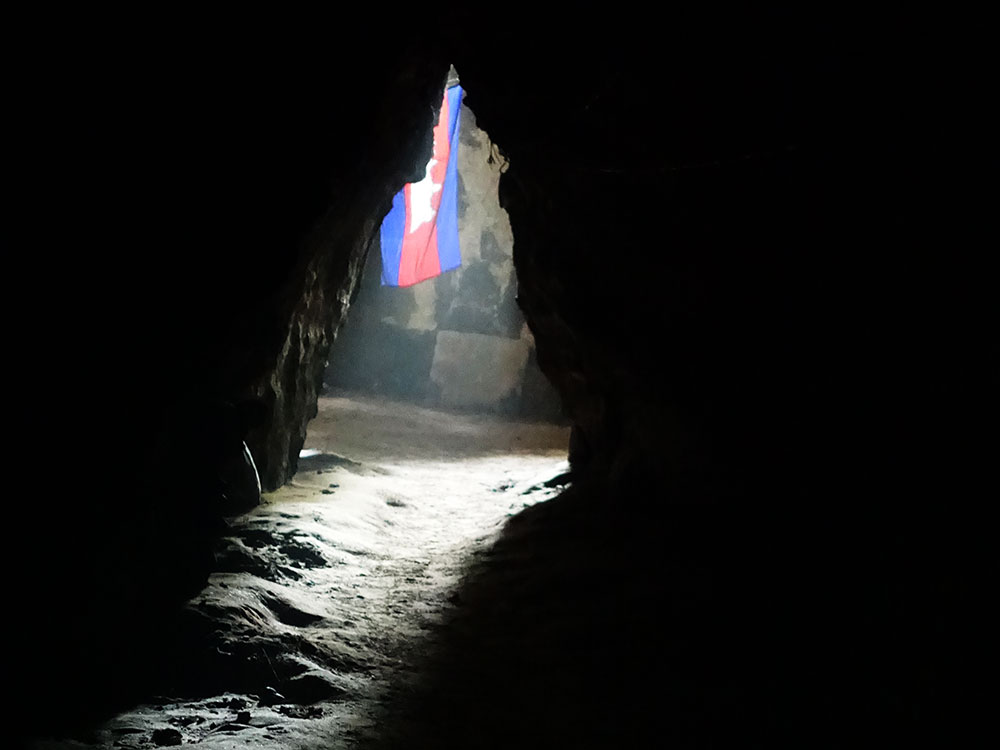 Next stop was the stone elephants. These carvings are very impressive as they have been carved out of the mountain itself. There were also life sized carvings of some lions alongside the elephant.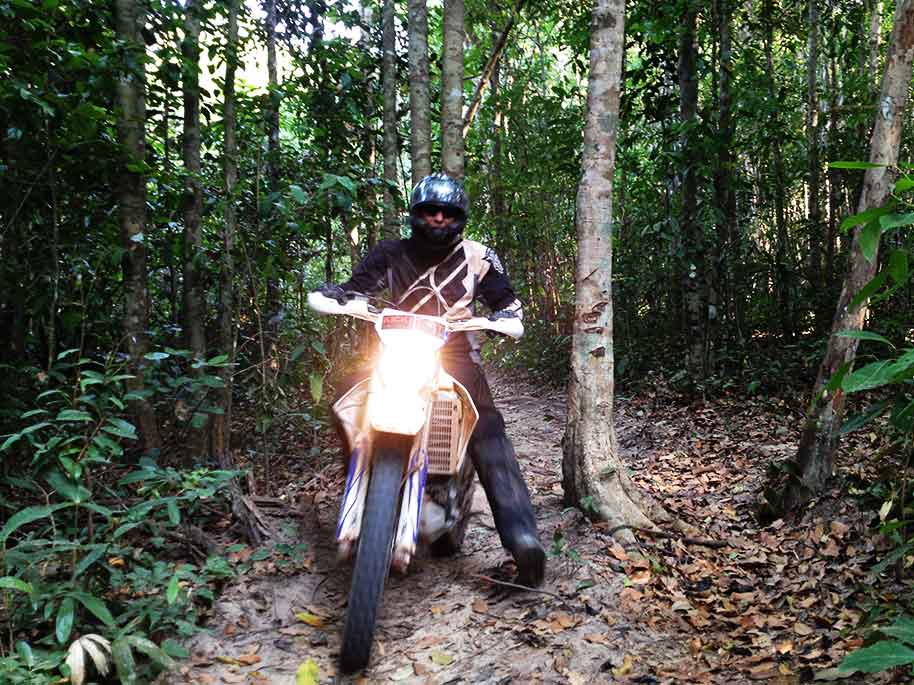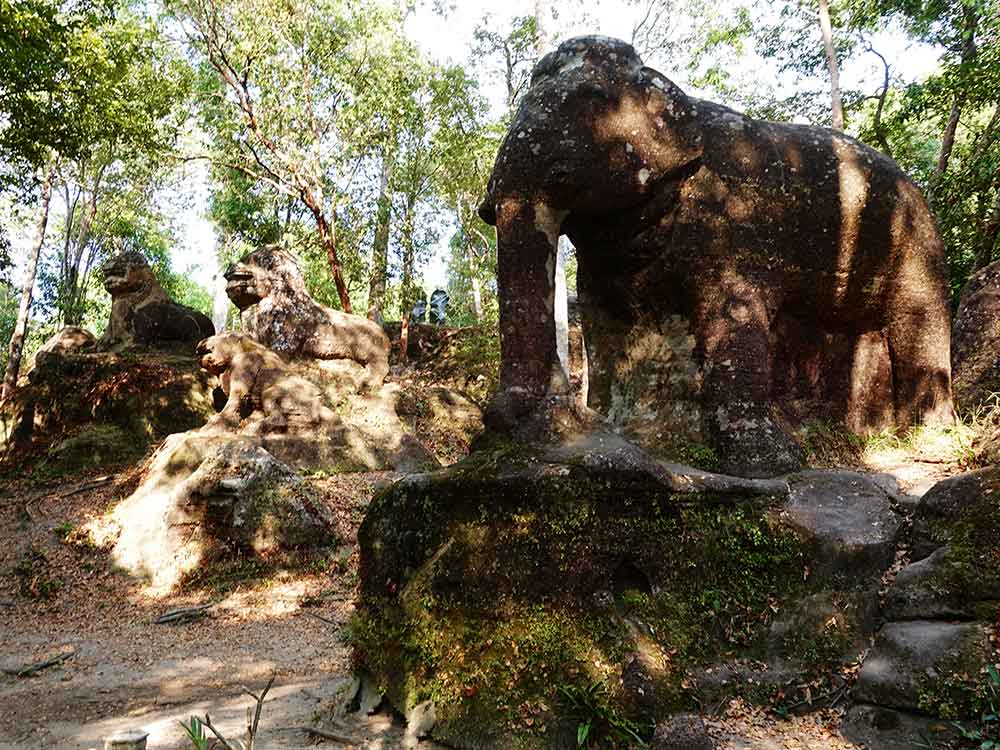 We made our way back through the windy trails and went for lunch near the waterfall after which we had a look.The water was a bit low for a swim and was fairly crowded, so we skipped it this time.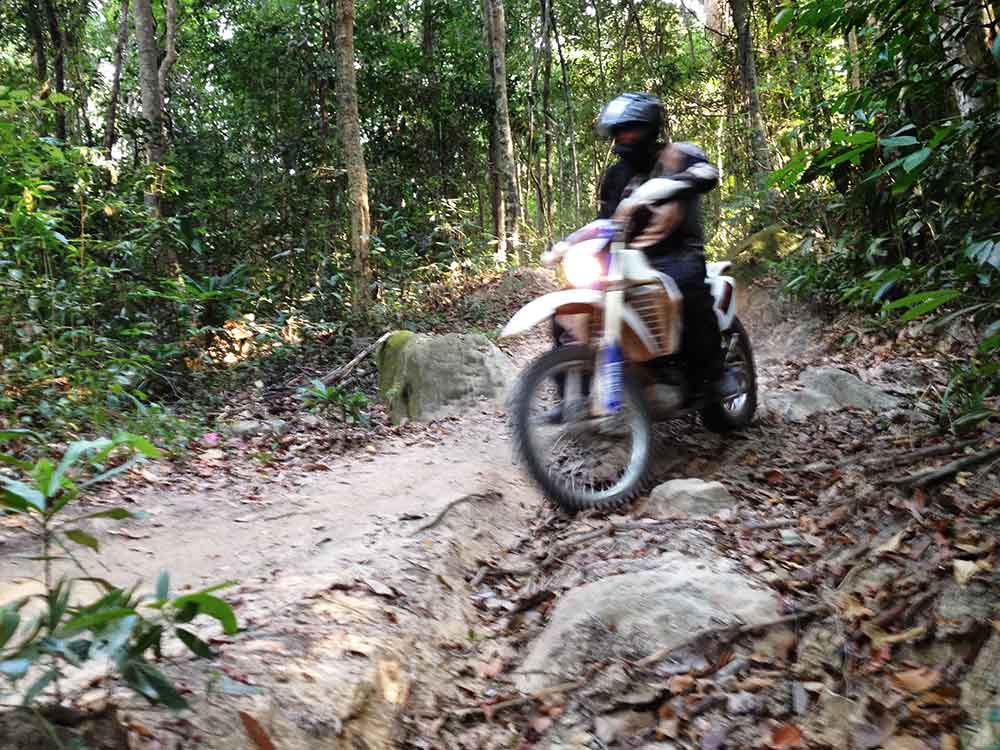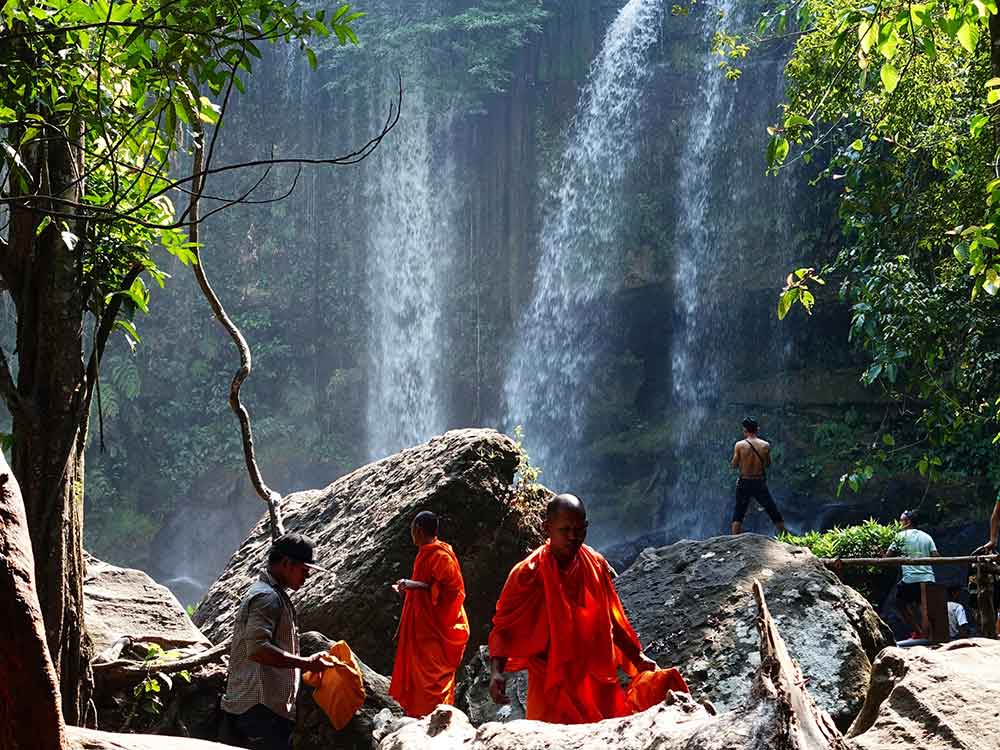 We headed back to town late afternoon. Craig's stomach bug was still playing up, so he opted for an early night.
Day Ten - Siem Reap
We decided to postponed day 10 for one day until Craig felt better. We jumped in the Kickstart Jeep in the morning and headed down to the floating villages at Chong Khneas. It is a bit of a tourist trap now, but Craig enjoyed seeing a different aspect to life here. Most of the floating villages are inhabited by Vietnamese who have lived here for generations since the fall of Saigon.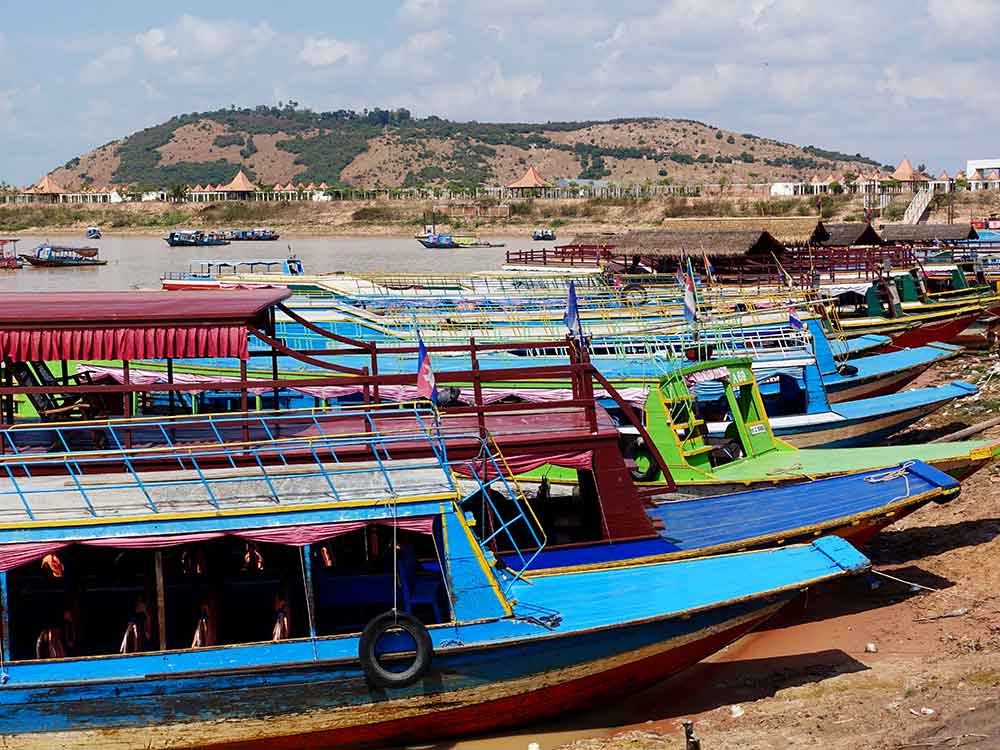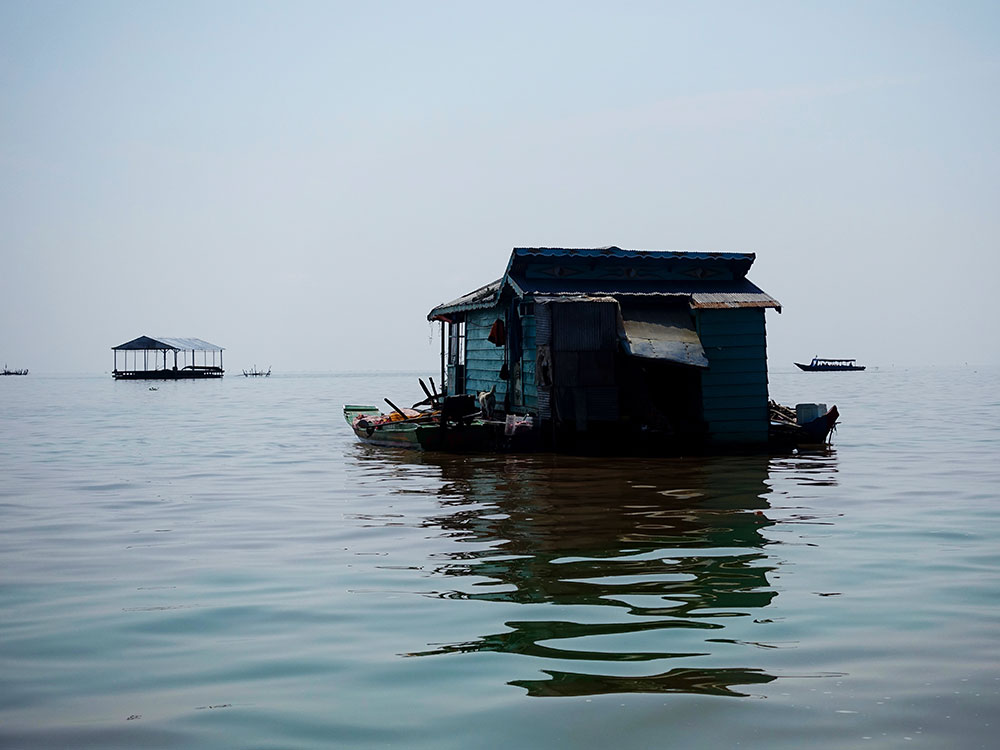 Back in town we had a light lunch and then Craig had to get packed and ready for the next leg of his journey; A ten day bike tour in Northern Thailand!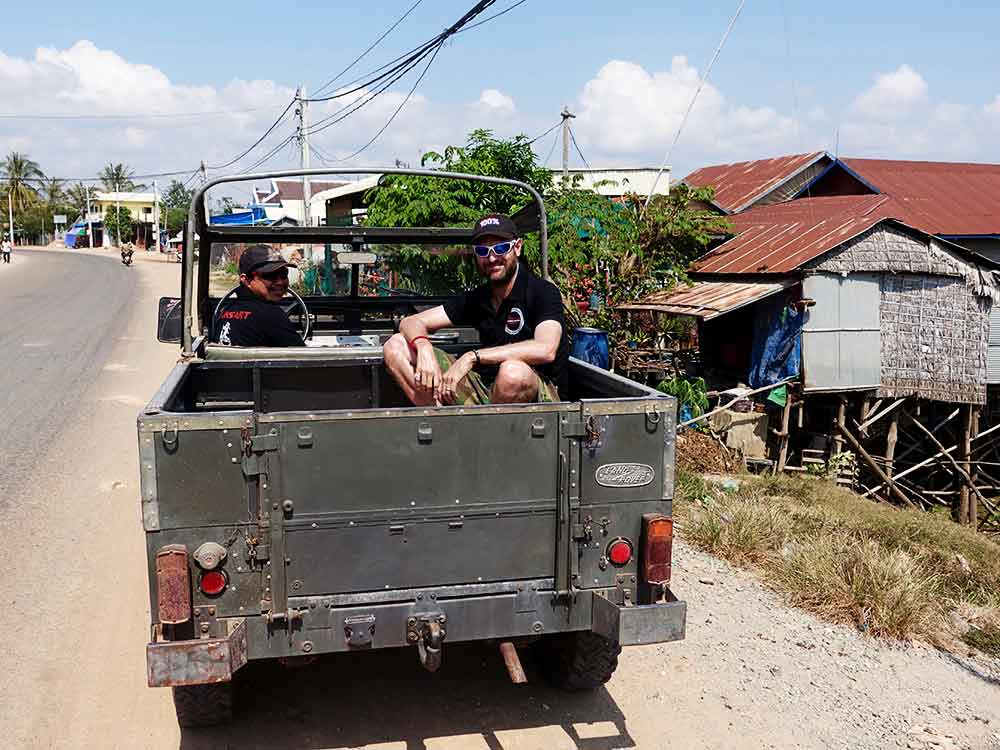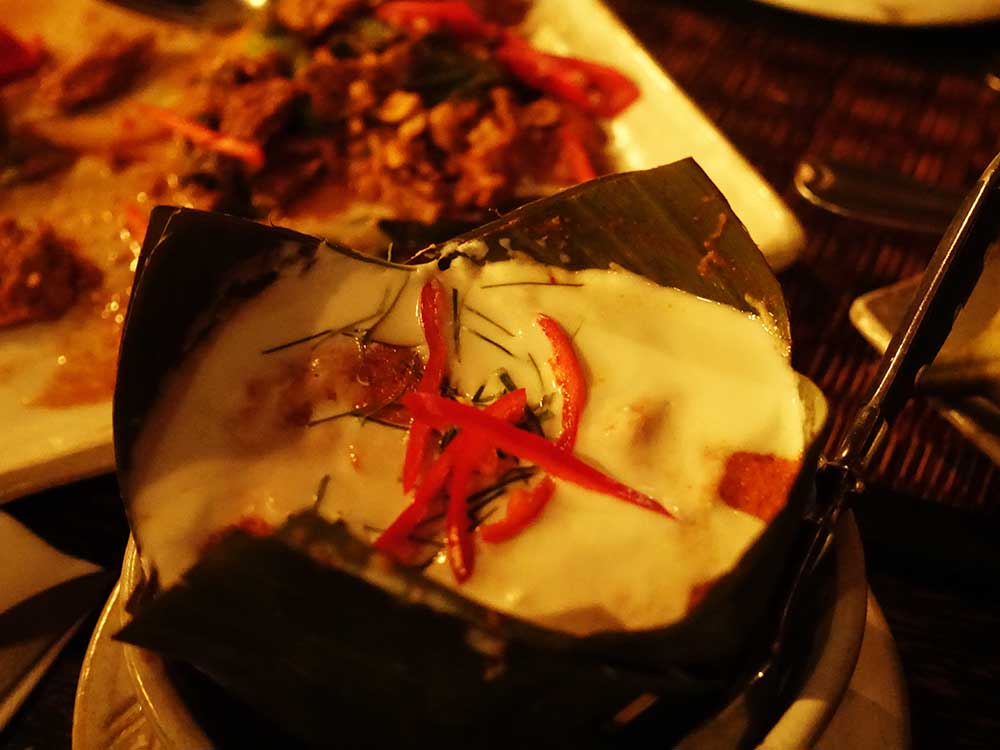 The thing I love about this job is when you get back from a tour you have made a connection with the customer[s] as you get through a lot of fairly gruelling stuff together. You end up riding with mates instead of just another customer, and I hope it will always be like this. Craig did a great job off-road and made great progress with his off road technique and skills. All in all we had seven biking days and covered over 1300km. After ten days on the bike it is like having another limb!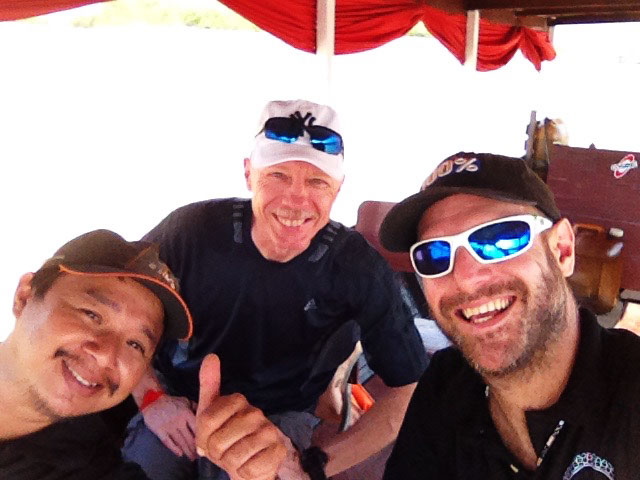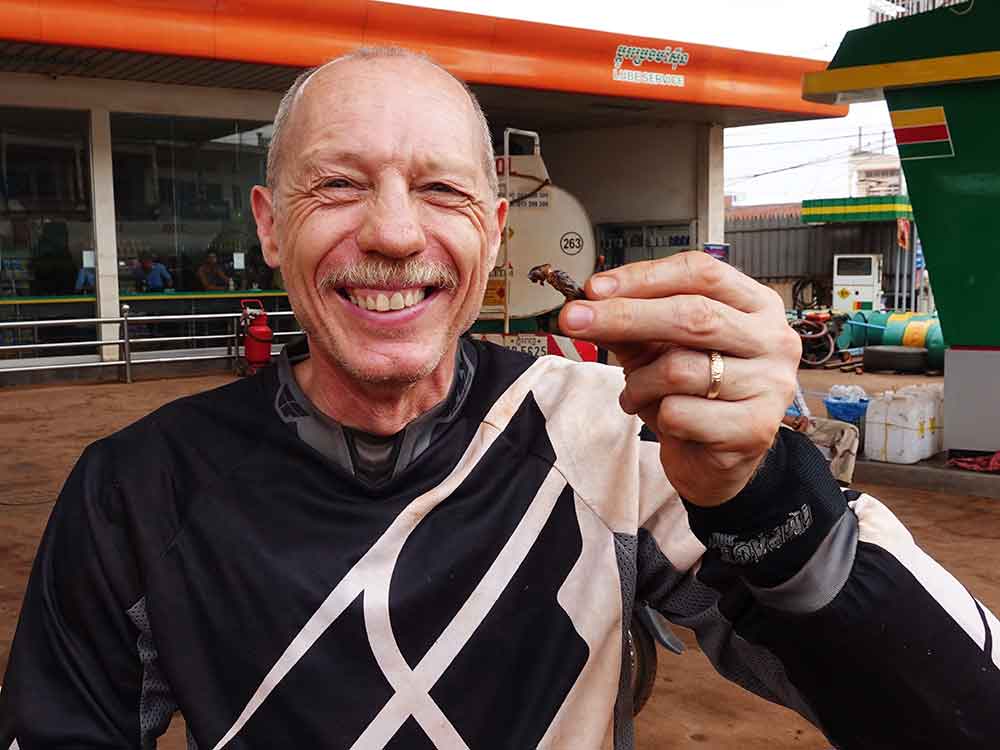 The next day we dropped Craig off at the airport and made our farewells. Stay safe on those trails Craig. It was great riding with you and getting to know you. Until next time!