I was just about to jump back on the bike and head up to Preah Vihear temple when I got a call. It was a Singapore number so I was immediately intrigued. A guy called David wanted to come to Cambodia and do a tour with his two kids. After a few emails we decided on a route and a date. Normally our clients are adults with a fair amount of experience so having to look after a couple of kids as well meant a lot more responsibility and to be honest I was a little nervous. As it turned out I had nothing to worry about.
Day One – Phnom Penh to Kirirom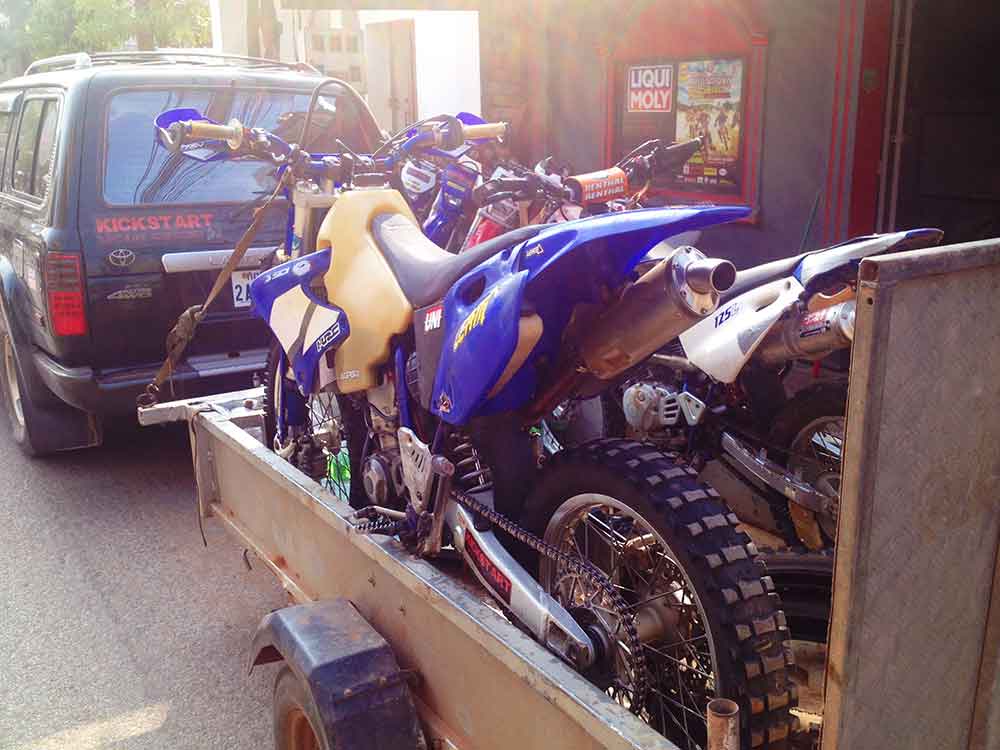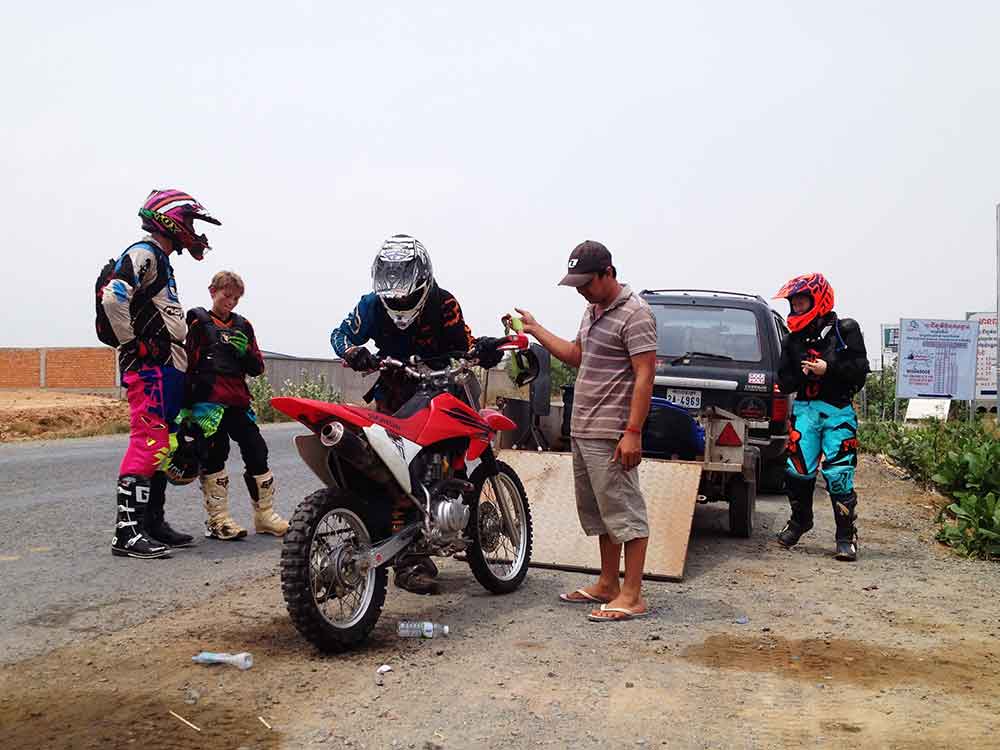 La, Theara & I met the Katzinskis at Phnom Penh airport on the morning of the tour. We had the bikes on the trailer and all the gear in the support vehicle so after going through the route and safety talks, everyone geared up and before we knew it we were on dirt roads winding out of Phnom Penh city. David had opted for a WR, whilst his son Oscar was on the TTR 125cc and daughter Amelia on the CRF230cc. Living in Singapore there isn't any chance for dirt biking, but being as central as it is they regularly have family riding holidays in the region.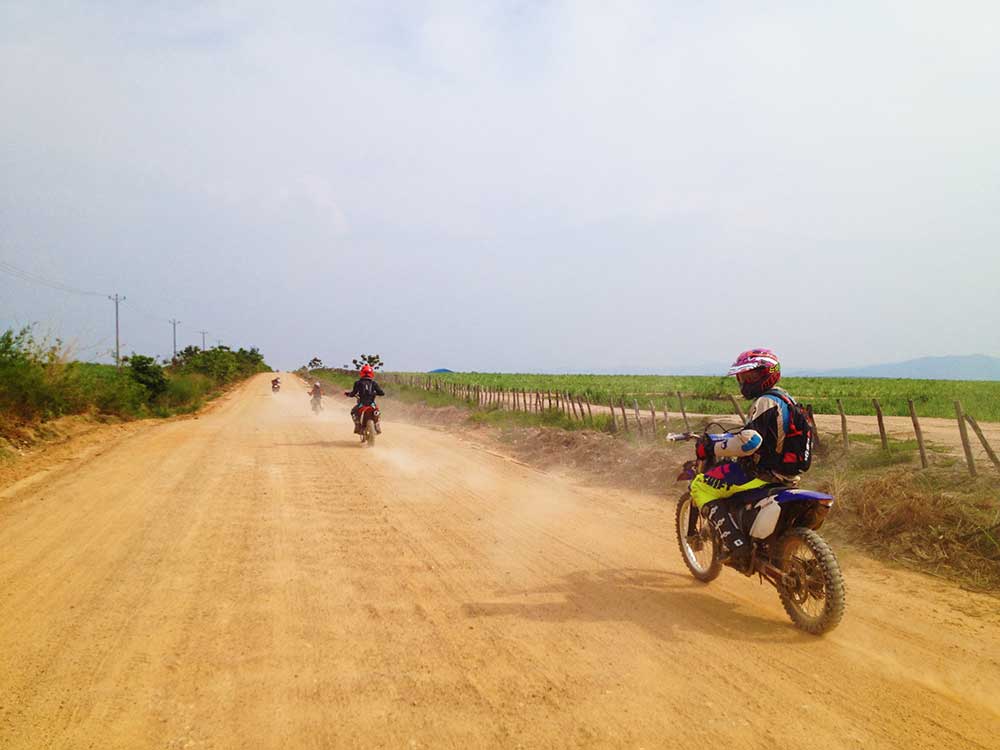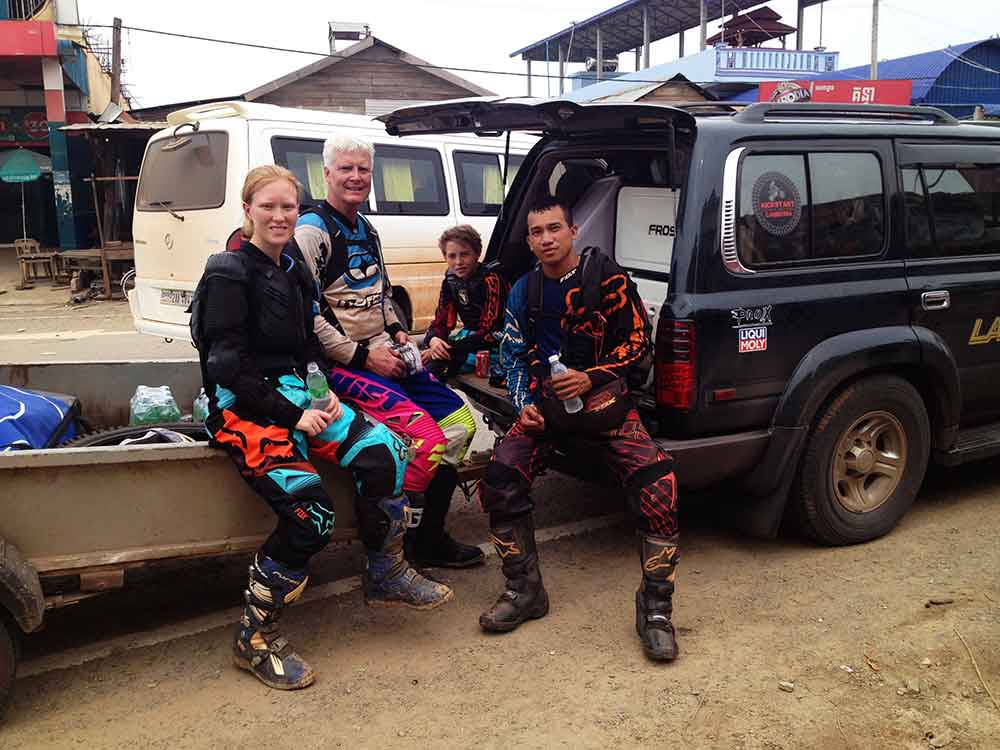 Originally from the US and UK, the kids were introduced to riding at an early age, and you could see it. Oscar gelled with the TTR almost immediately and although Amelia was a little rusty you could tell she knew what she was doing. David had great fun letting off a little steam and spent most of the four days power sliding his way from A to B [show-off ;) ]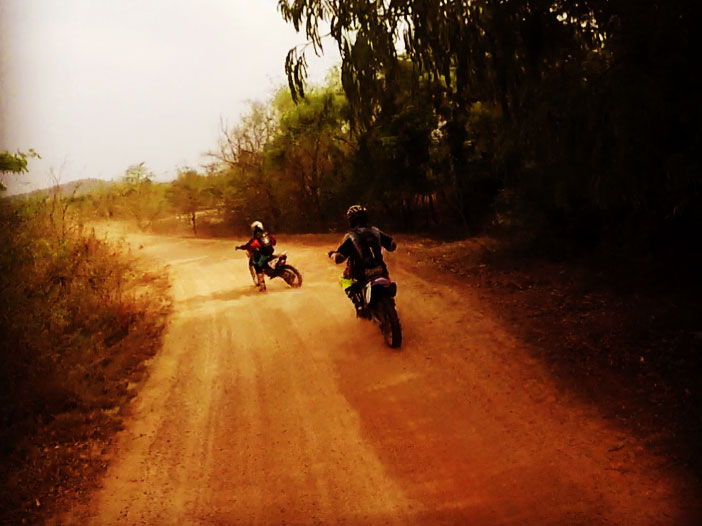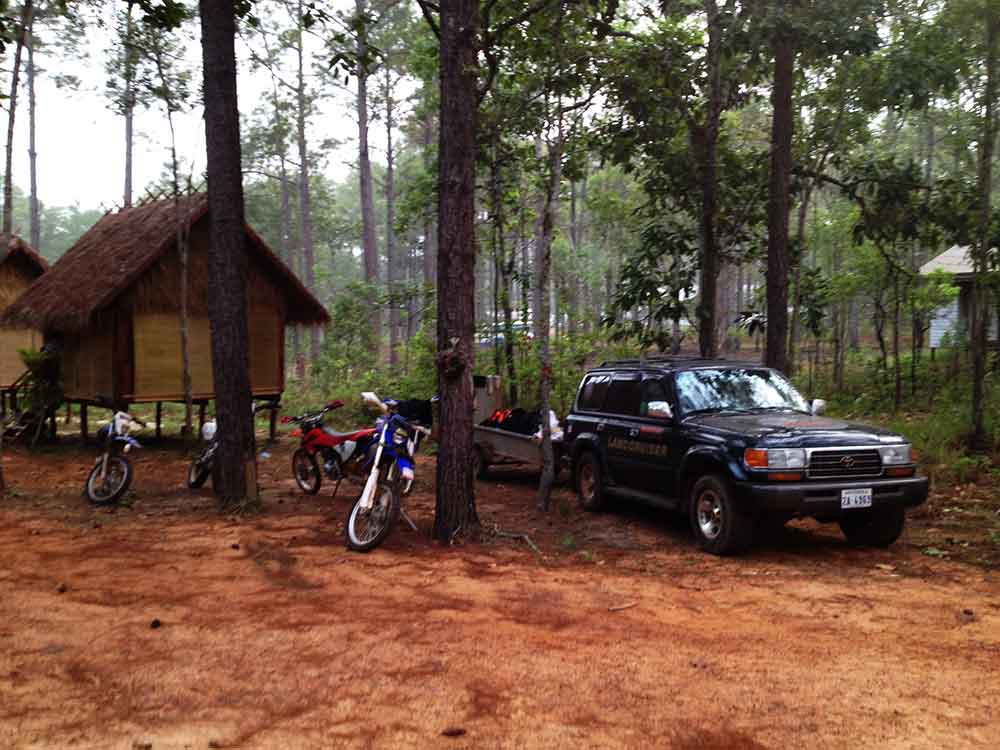 We were heading to Kiriom National Park on a mixture of graded roads and dirt. It was quiet dusty so we kept a good distance apart, even then Amelia had a couple of hairy tank-slapper moments, with unforeseen ruts and potholes, but she held on and got through it all. It took most of the day and we rolled up around 4 in the afternoon. The climate there is different to the rest of Cambodia, and what with the pine trees and light showers most of the year you could be mistaken to think you were in parts of the UK. It's also a lot hillier than the rest of the country which also makes for great mountain biking and camping. I did suggest we do some camping, but David opted for some nice luxury bungalows nestled further in the park. After an early dinner everyone hit the hay.
Day Two - Kirirom to Kep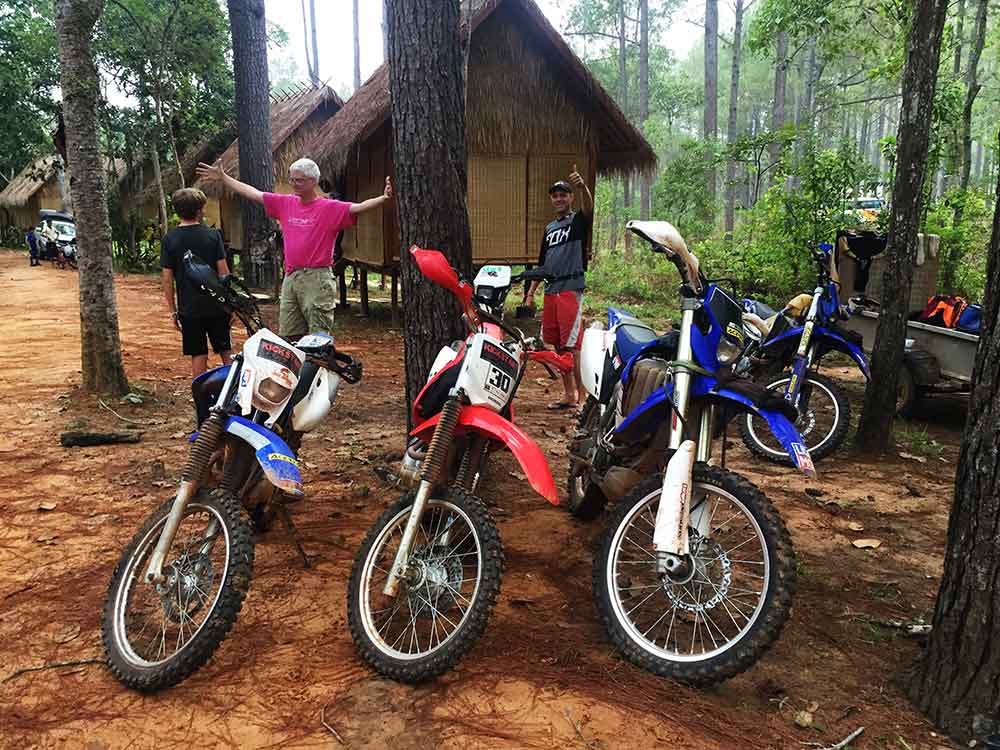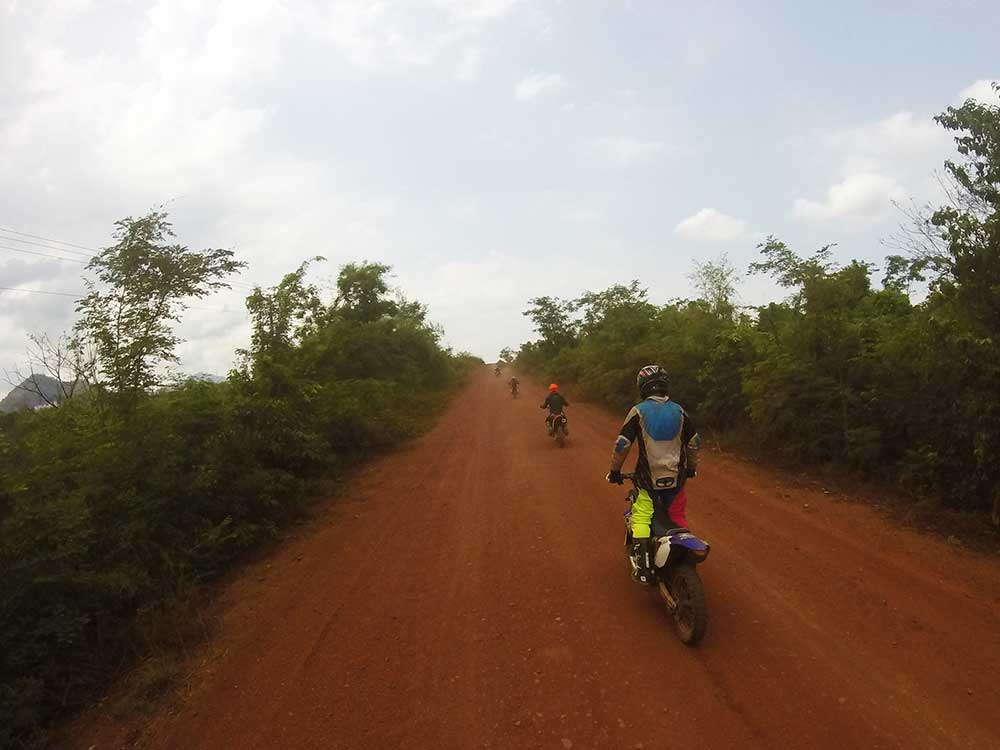 The next day we headed to the coast following the Elephant Mountains due south. Everyone was rested and after getting used to the bikes on the first day we picked up the pace a bit today. Today I was sweeping with Theara leading up front, and you could see Oscar was having great fun following his Dad, sliding through every corner and leaving me & Amelia sucking dust all day. We got to the coast in good time, so we took things up a notch and drove through the nearby hills on some great single track, which varied between sand and loose rocks.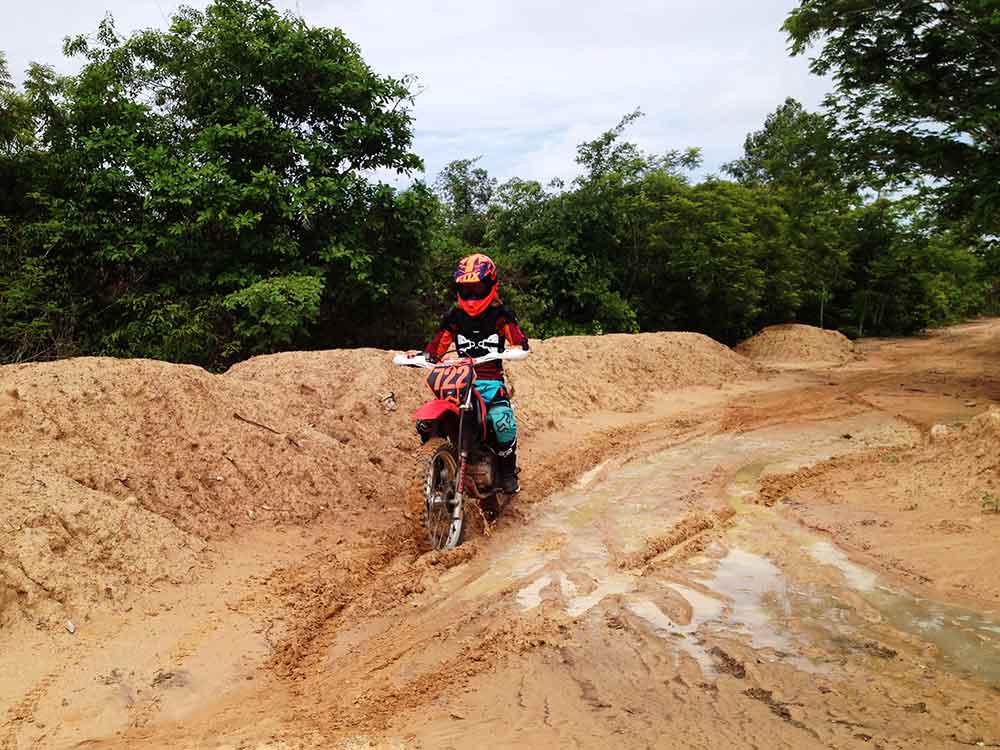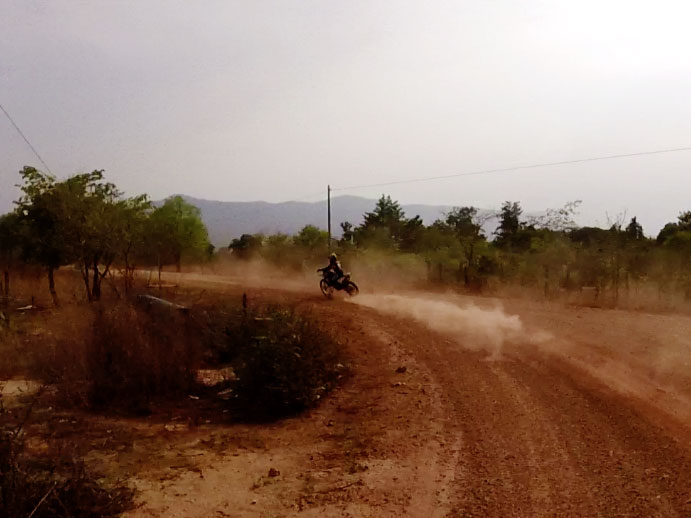 The boys shot off while I hung back with Amelia; she did really well and was handling the sand paying attention to all the tips we gave her for sand riding. Amelia had a little off, but brushed herself off and was soon back on the pace. It's really great seeing people progress and hone their skills as the tour goes on. That's the good thing about longer tours as you become one with your ride. Again we arrived early and chilled in the hotel pool that overlooked the Gulf of Thailand. Bliss! After a delicious meal of crab with world famous Kampot Pepper and various other seafood dishes we headed back to the hotel for another early night.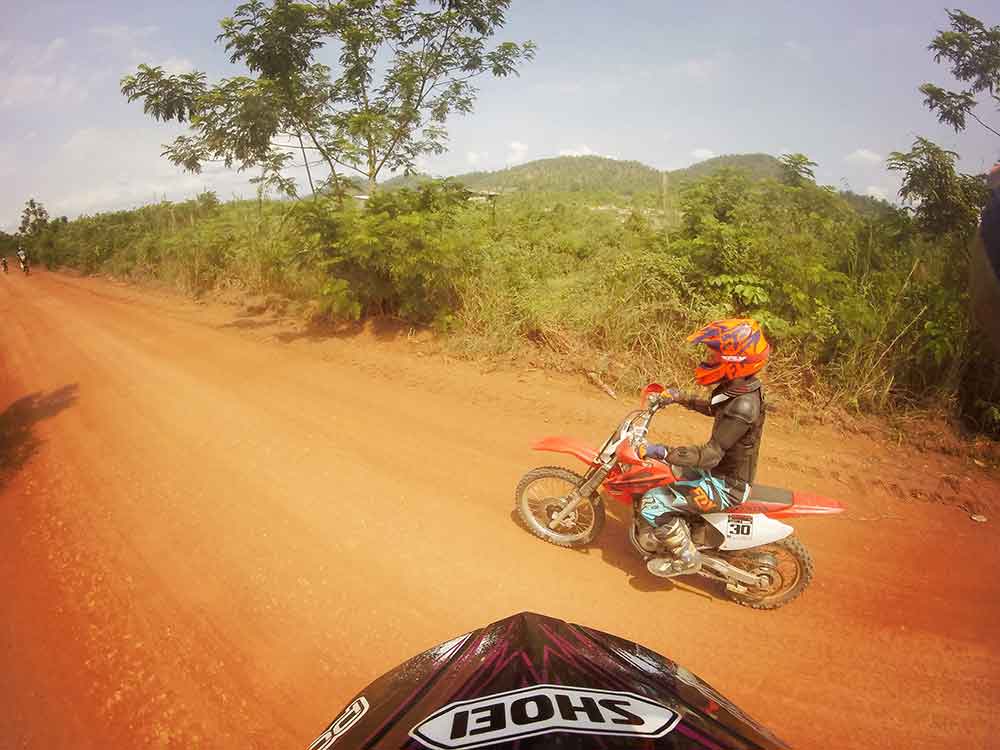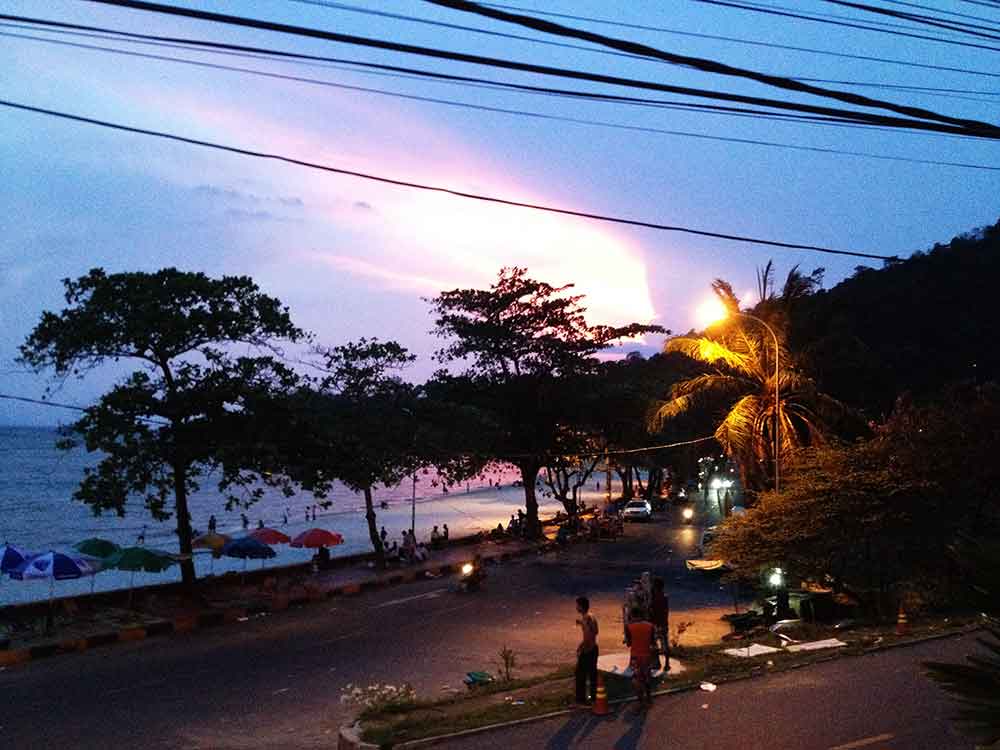 Day Three - Kep to Phnom Penh [via Takeo]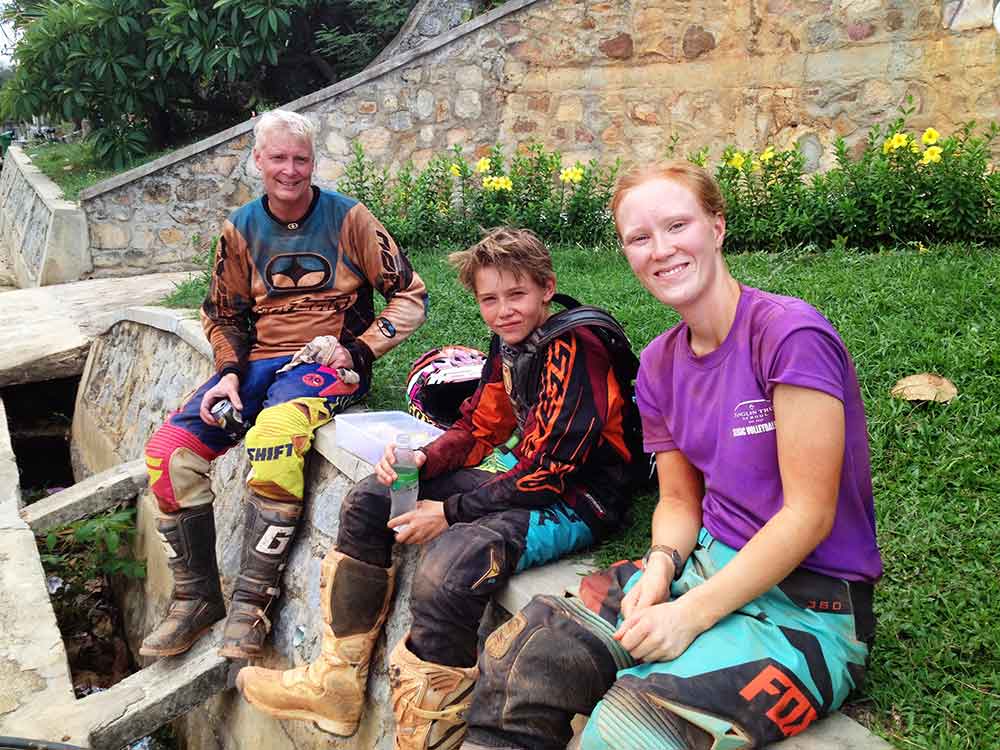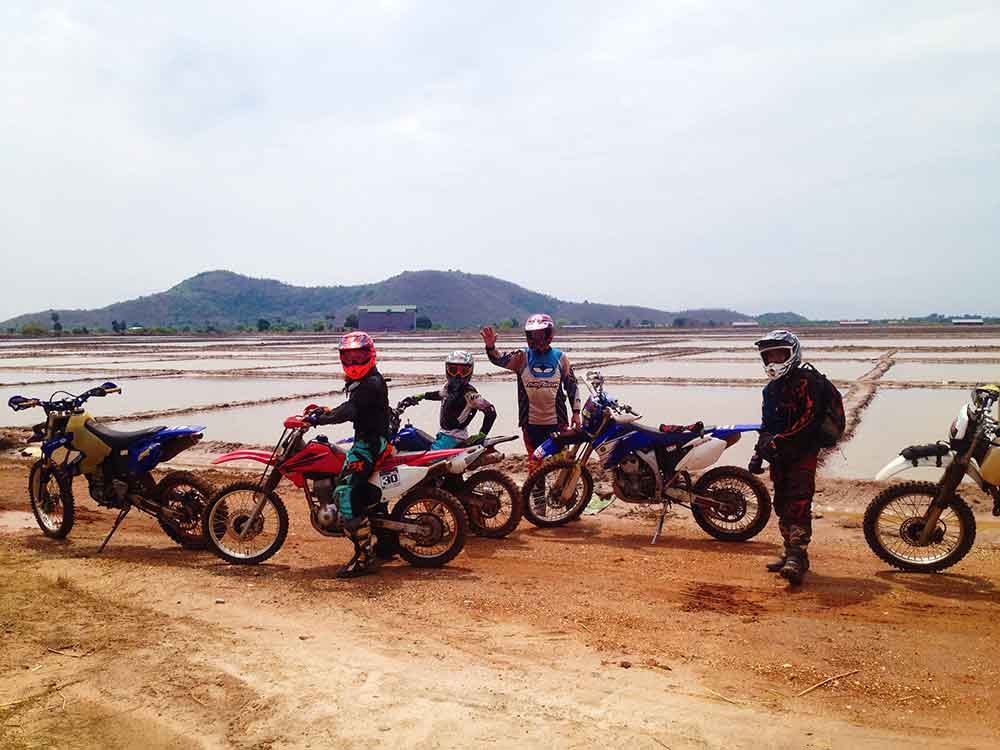 I got up early the next morning for a swim in the sea. and after a hearty breakfast we were soon on windy tracks following the coast, stopping to check out the salt plains. We headed back inland through Phnom Voar Mountain, where the Kampot pepper is grown. All of the farms there are organic and they stretch over the hills as far as you can see. We were soon through the mountains, which offered great views of Kep and the surrounding coast and countryside, heading to Takeo where we would say goodbye to Amelia. One of the reasons for David coming on this trip was to see his daughter delivered safely to the NGO she would be volunteering at for the coming months.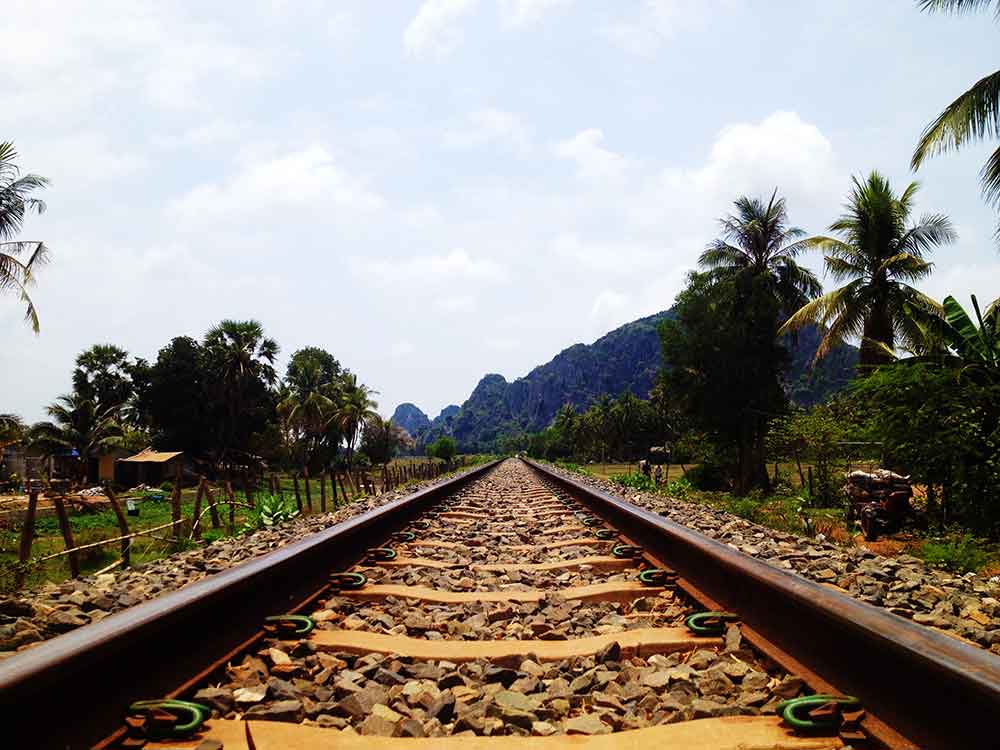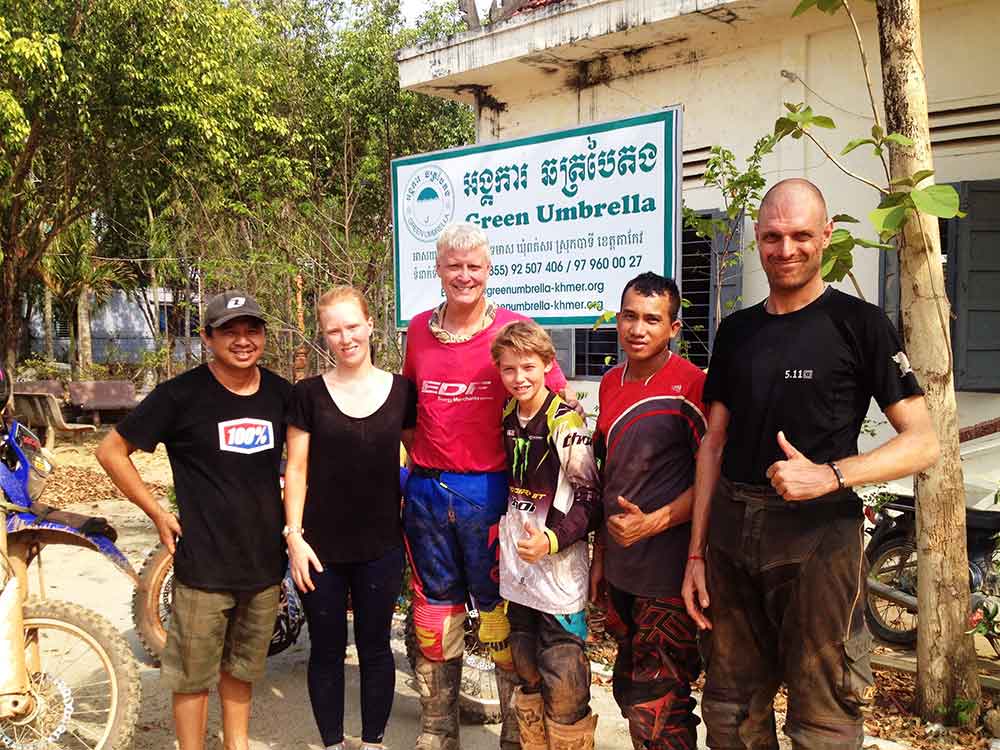 After saying our goodbyes we headed to Phnom Penh just in time to hit Phnom Penh rush hour! Once we got safely to the hotel, Oscar admitted he actually enjoyed the mayhem of the Phnom Penh traffic. Although I wouldn't say it is enjoyable, it is certainly an experience!
Day Four - Phnom Penh [and around]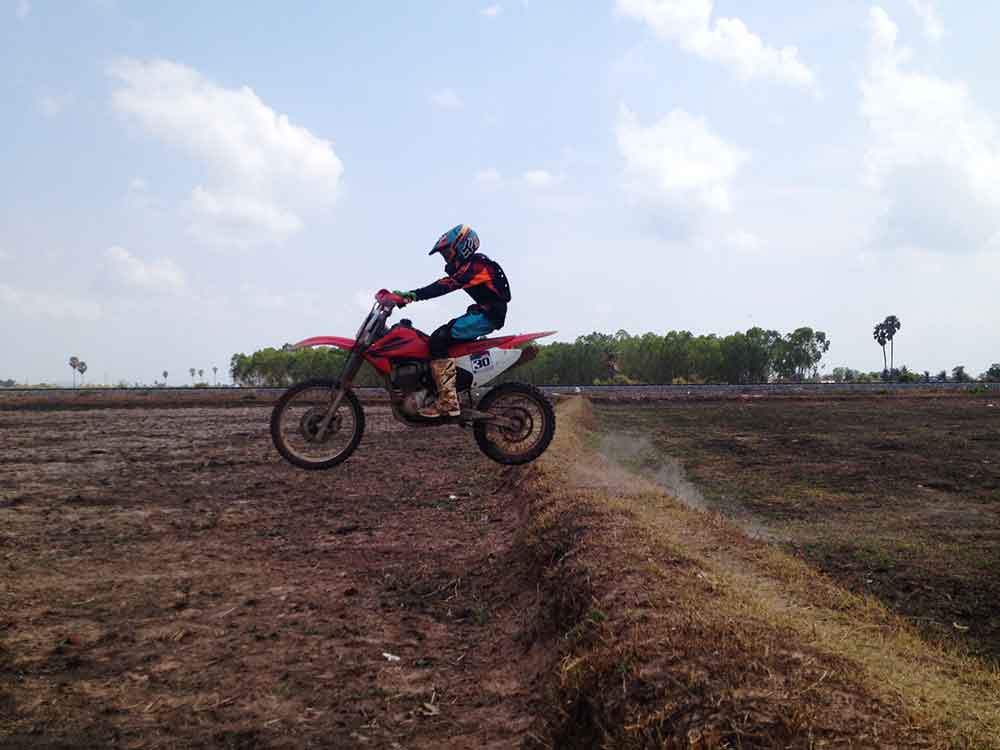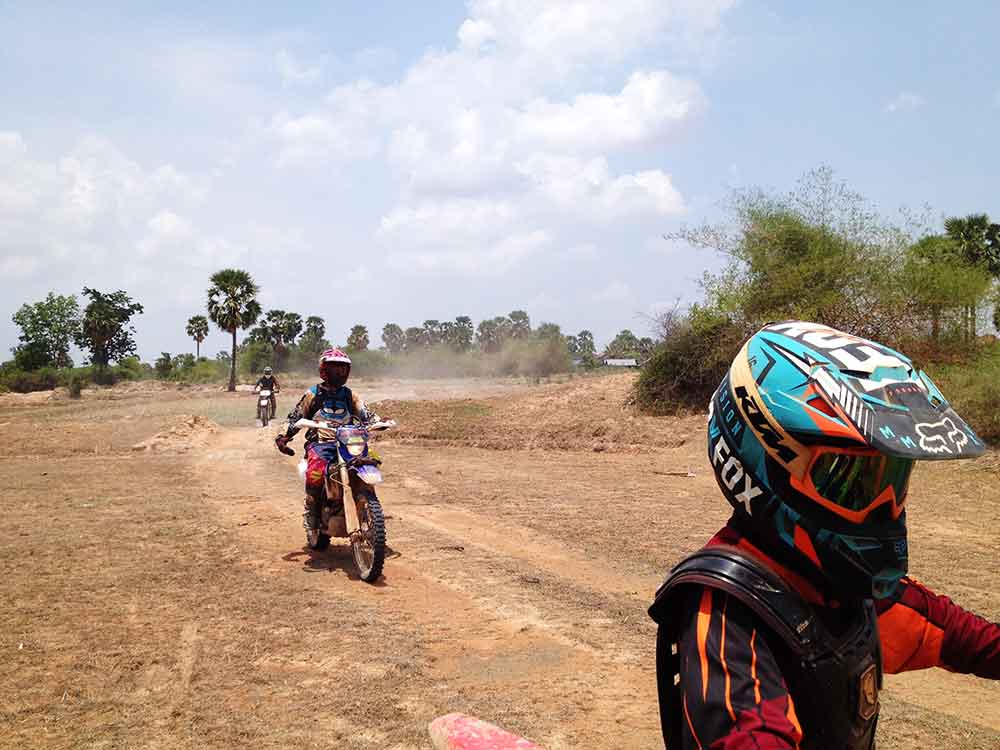 Next day we did a day trip on the trails around Phnom Penh, with a stop off at Baseth Mountain for lunch. The pace was faster today and we got on some great sandy single track that carved through the surrounding country. We stopped at a remote field on the way with some jumps so Oscar could hone his skills. There was a divide between the rice fields which was a small step up, but it had a bit of a kick to it, which Oscar found out as he went over the handle bars. But it didn't faze him in the slightest. Oh to be 14 years old again! I would have still been feeling that two weeks later! After some coaching from yours truly and a few more attempts he had it nailed. It was a real pleasure to watch his riding; he listens to the advice given and put it into practice, finishing the trip a better rider. We had a nice lunch of roasted chicken and then flew round the local Endurocross track which was being repaired for next month's race. It was around 2 in the afternoon and the heat was too much, so we opted to head back to town.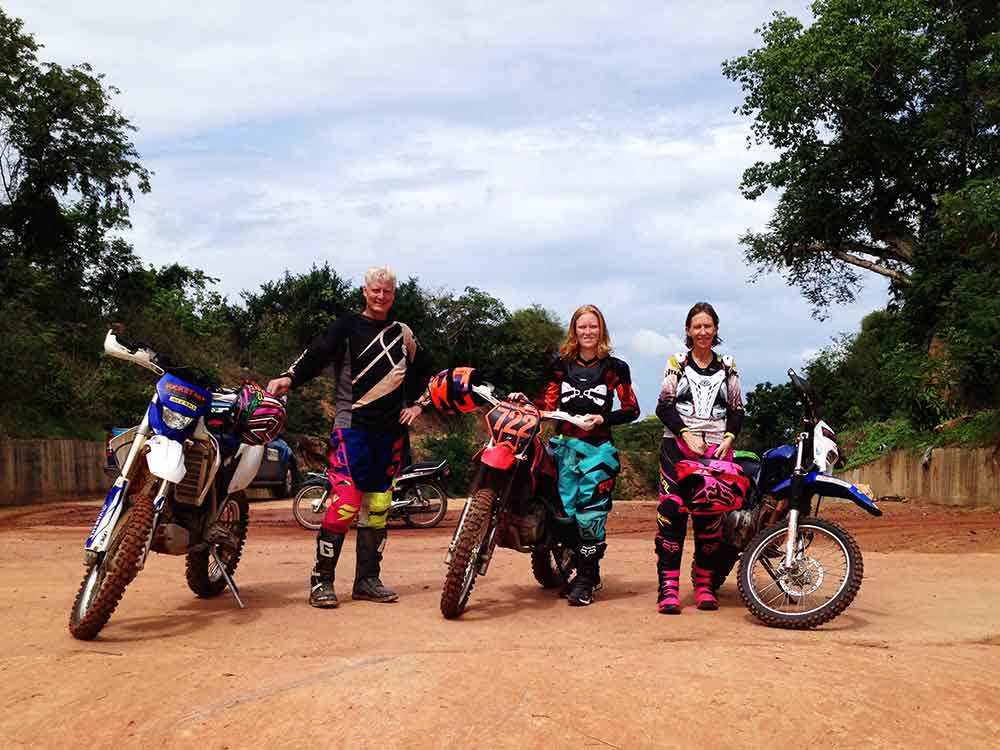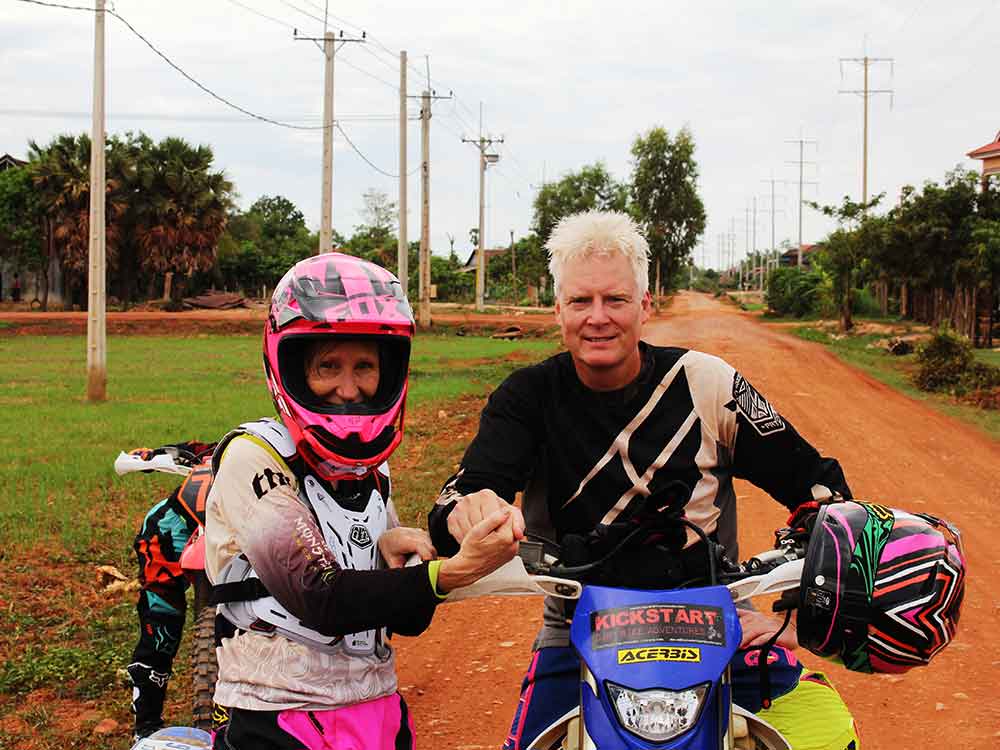 A month or so later David came back with his wife, who also rides, to meet up with Amelia who came up from Takeo to do a half day tour. It was great to meet more of the Katzinskis and it has been really enjoyable getting to know the family and seeing what a strong unit they are with their shared love of dirt biking. It truly is a way of life: Respect!